When you're on the hunt for a new rug, the material it's made of is a pretty big deal. Rug materials have different properties, benefits, and downsides. This can affect the overall look and feel of the rug, how long it lasts and how practical it is.
But don't worry, we've got you covered. In this guide, we're breaking down all the different types of materials used in rugs and carpets, so you can make an informed decision and find the perfect rug for your home.
Natural Fiber
Natural fiber rugs like jute, sisal, and seagrass are eco-friendly and durable. These rugs are great for high-traffic areas but not as soft or comfortable as wool or cotton rugs.
Jute Rug nuLOOM Rigo Hand Woven Farmhouse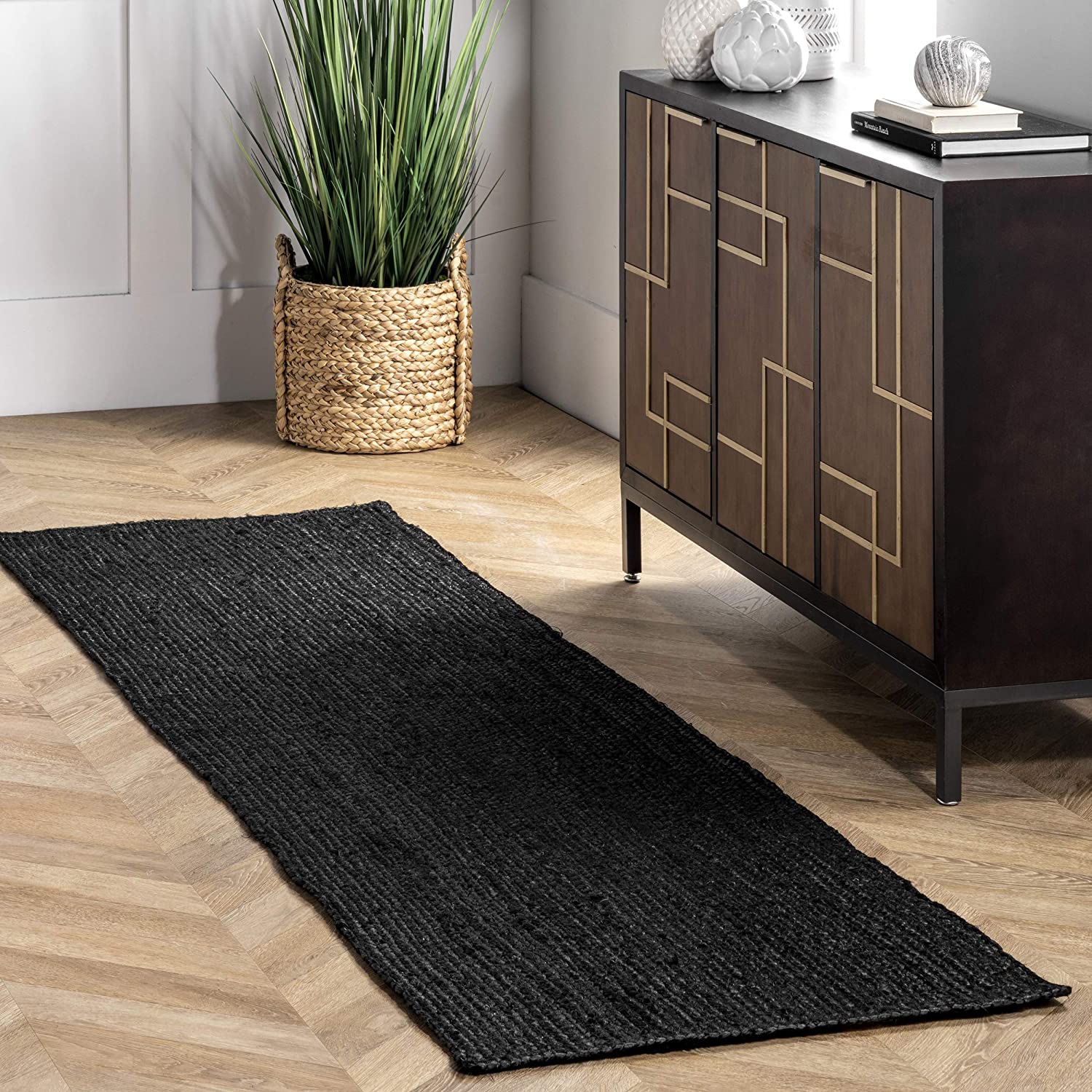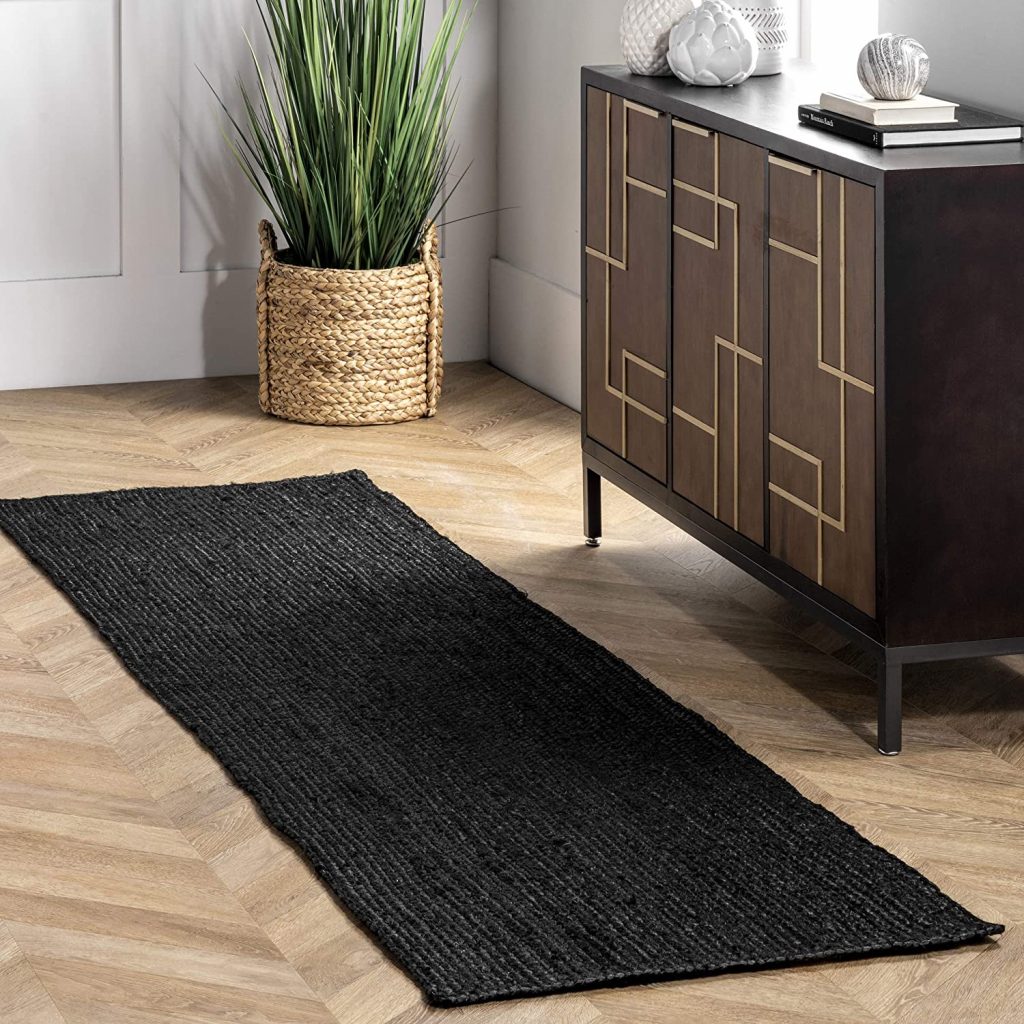 They may also need more maintenance than synthetic or wool rugs.
The new fashion trend this years is to layer any seagrass, jute or sisal rug with other rugs around the home, they are modern and affordable and add that little extra detail.
People often buy natural fiber rugs to make a room look more vintage style.
These rugs also shouldn't be used in a humid area but work great for those with homes by the beach. Sea grass is one of the more appealing of the three as it is more pliable and feels better on the feet as it's not very scratchy.
Seagrass rugs are a great option for those who have pets. They are durable and easy to clean. Check out our guide on the best rugs for pets.
Seagrass Accent Rug – nuLOOM Elijah Farmhouse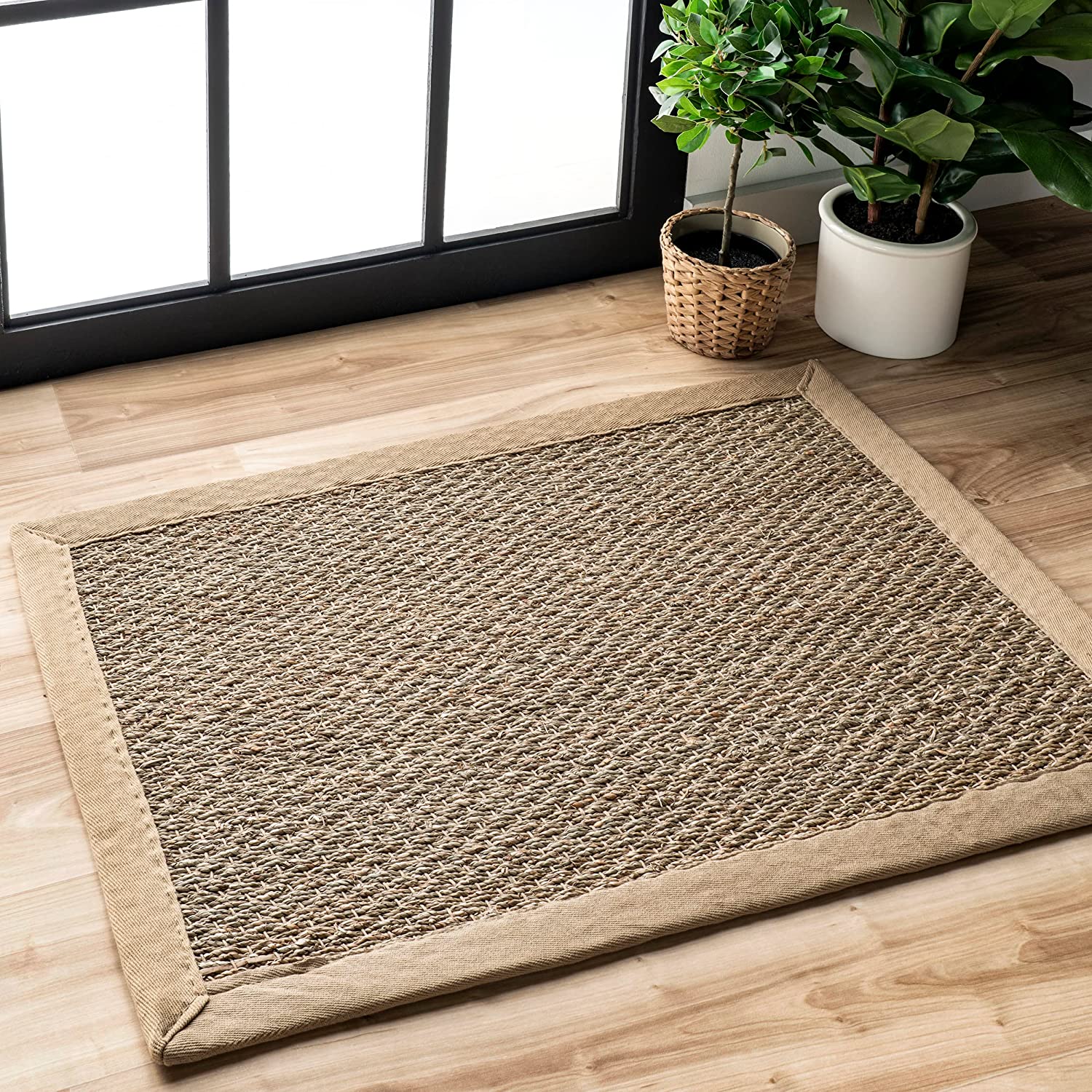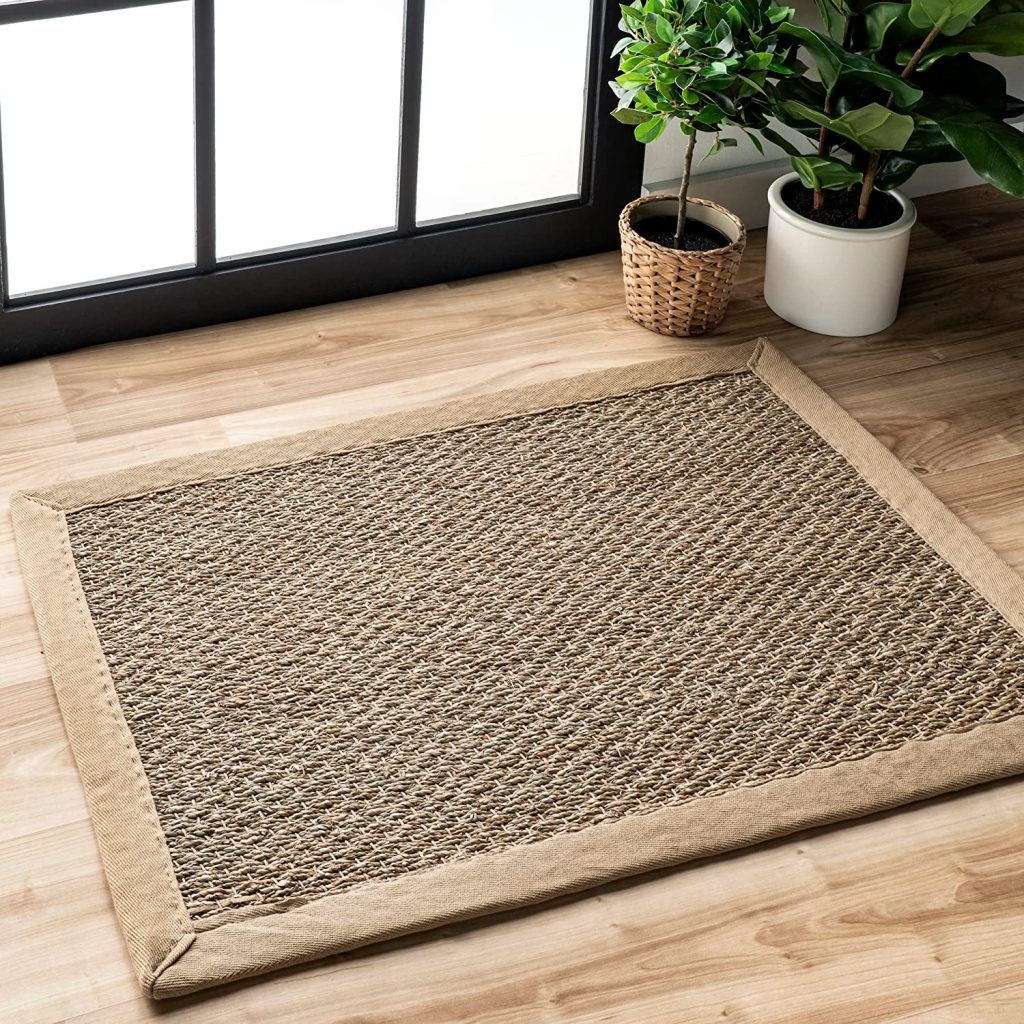 Sea grass rugs are also pretty easy to clean. Jute rugs are more firm and rough, not very comfortable and wouldn't be ideal as a rug for a child or anywhere that you will be barefoot often. Sisal rugs are soft, durable and easy to dye and is a good choice for a bedroom.
Wool
Wool rugs are a popular choice for areas of high traffic because they are fairly resistant to stains and repel water well.
Wool Rug – SAFAVIEH Natura Collection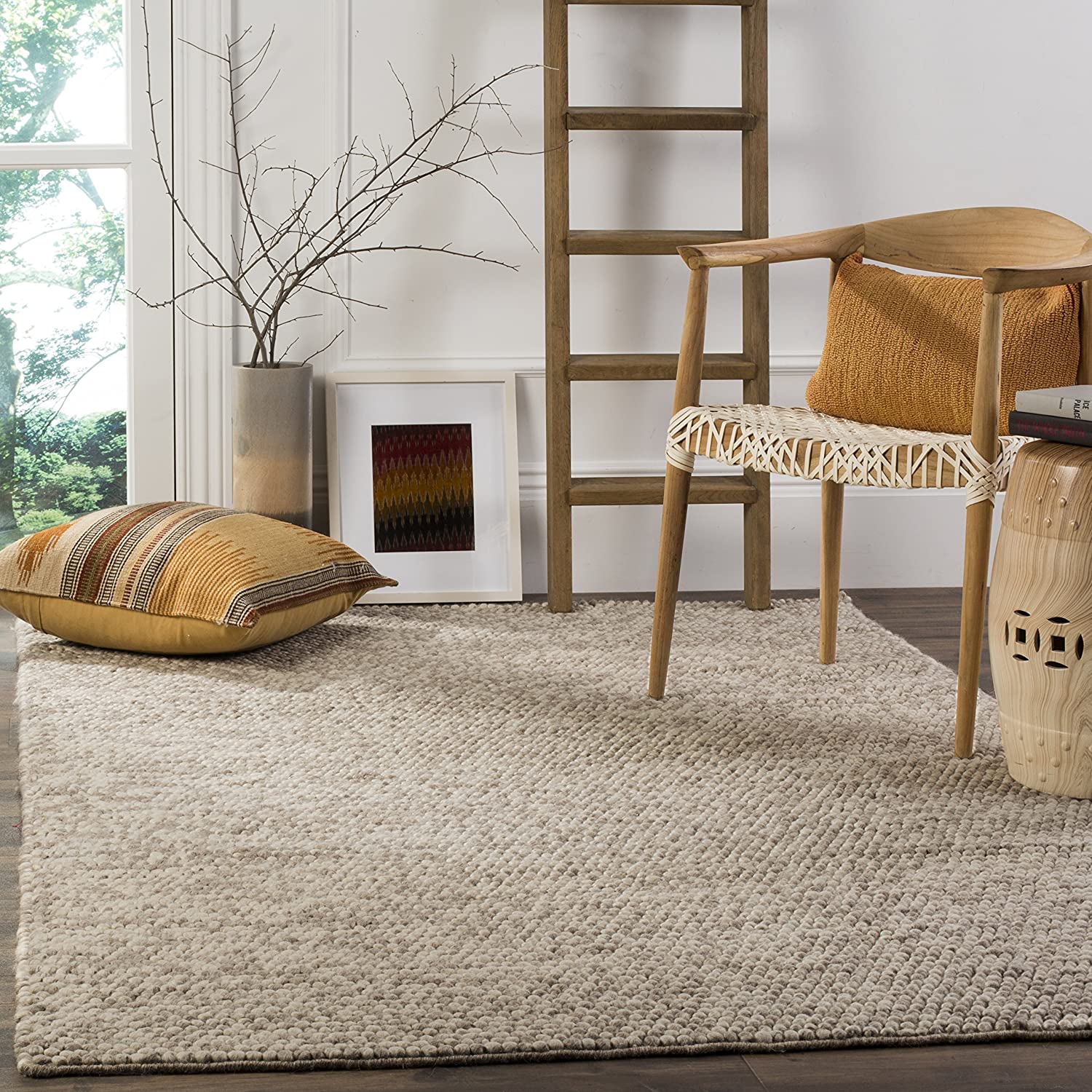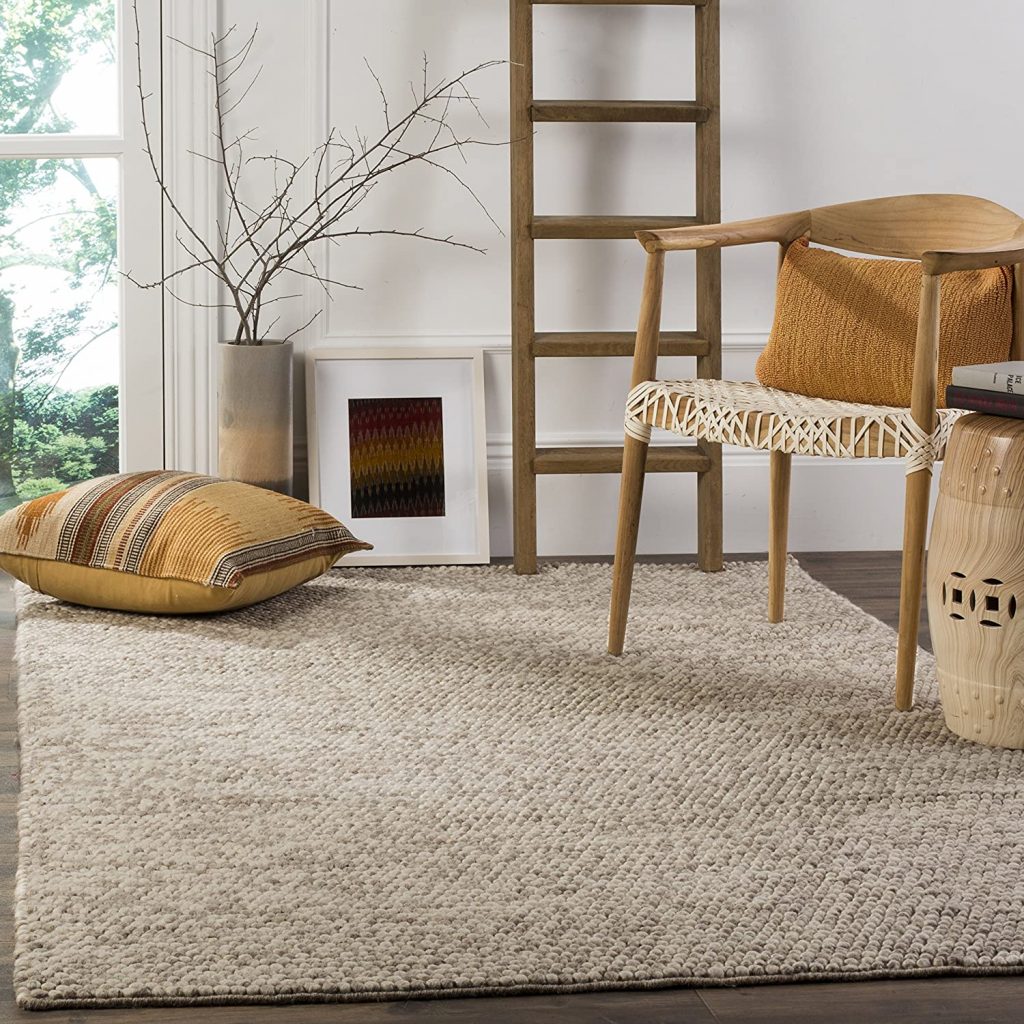 A wool living room rug is pretty soft and feel nice under your feet but should not be used in an area of high humidity as they absorb it up and essentially break down because of it.
Wool rugs are a versatile option that can be used in any room of the house. They are lightweight and fluffy, which makes them comfortable to walk on.
They're also flame-resistant and can help keep a room warm. But, they can be a bit pricey and may require professional cleaning.
Consider to choose a wool rug for the nursery or living room, where durability and stain resistance are of the most importance.
Got a pet? Wool is also a great pet-friendly rug material.
Cotton
Cotton rugs durable and inexpensive with one of the only major downsides being that they are dirt magnets. Taking them outside and beating them can help with that.
Cotton Rug – Chardin home 100% Cotton Diamond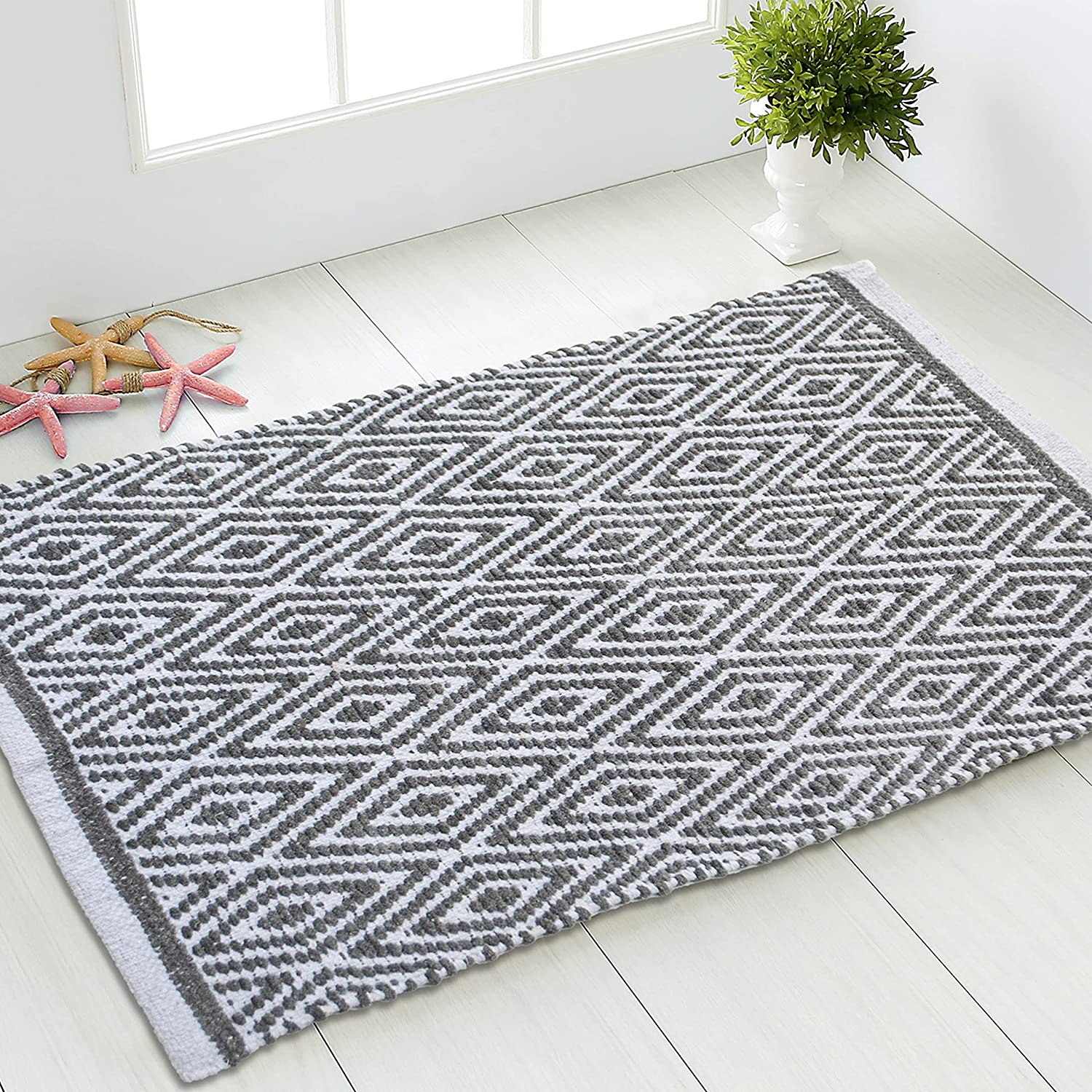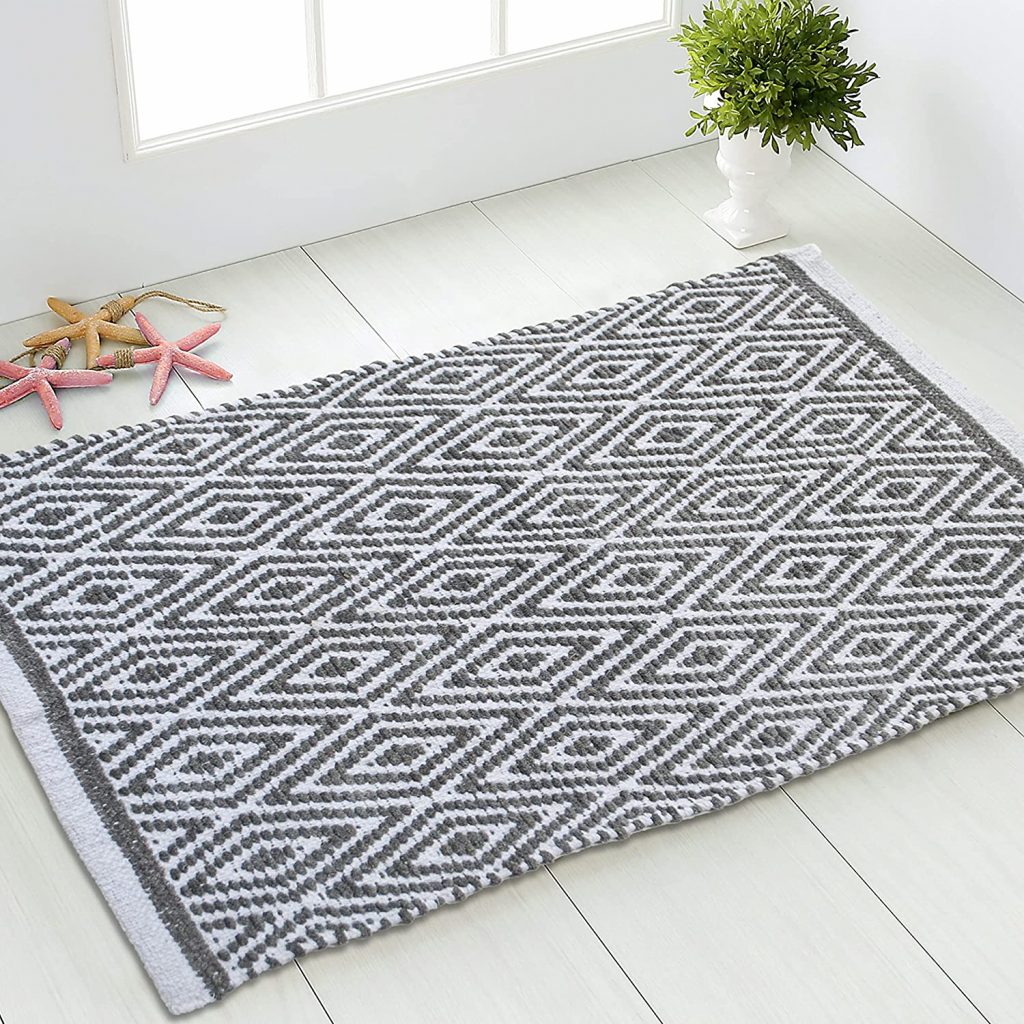 Regular vacuuming of cotton rugs is absolutely necessary. They may not be as tough as wool rugs and might not hold up as well in high-traffic areas
Grounding Sheets
Grounding sheets are blended or pure cotton sheets permeated with silver conductive threads. Those threads are connected to an electrical outlet through a grounding port.
They make sure the negative and positive charges in the body are balanced while sleeping. Find out the best grounding sheets you can buy.
Grounding Sheets – with Grounding Cord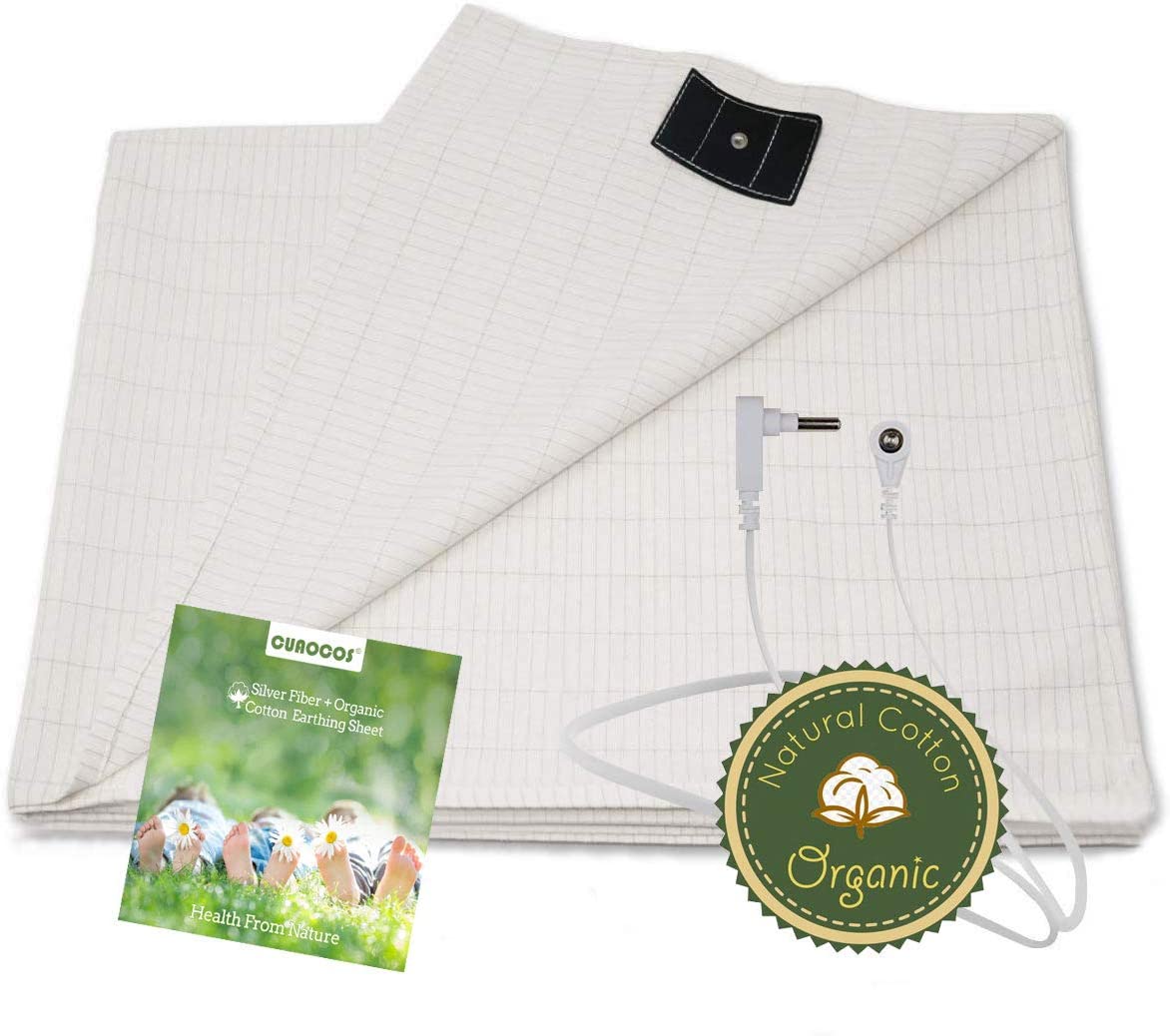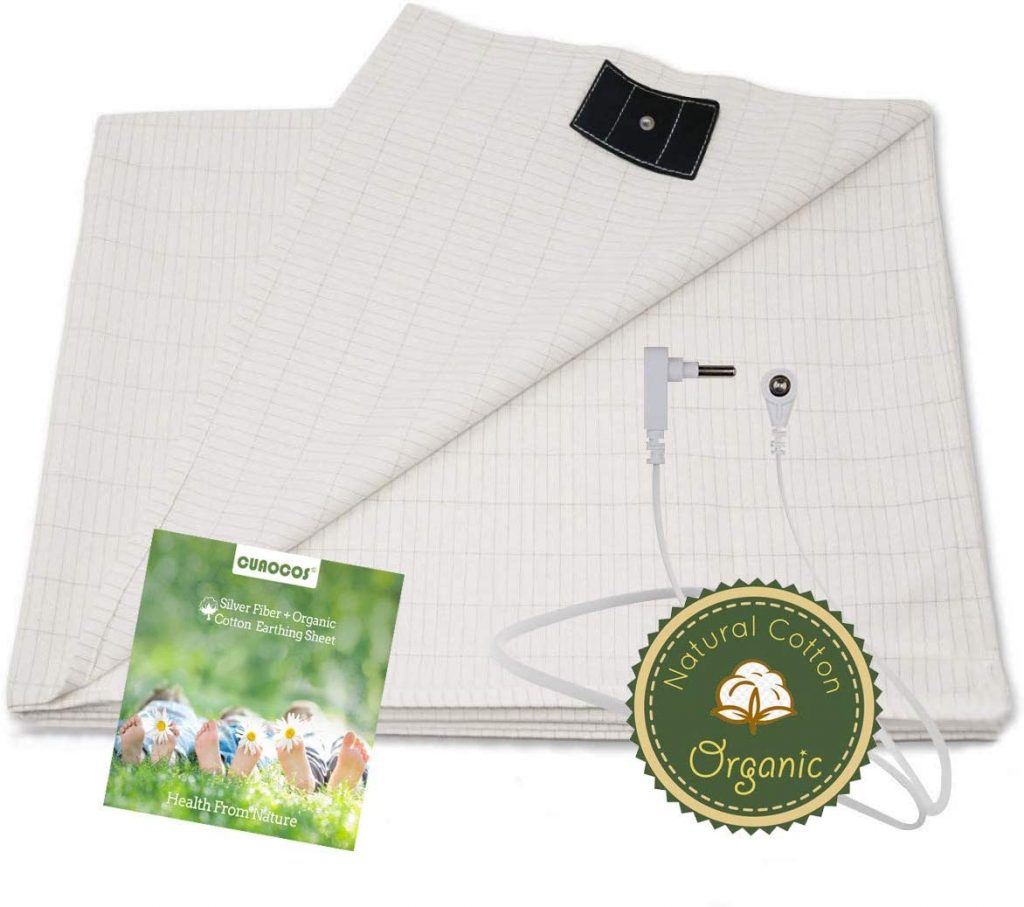 Silk
Silk rugs feel fancy and look elegant. They're also relatively durable and easy to clean. But, silk rugs are more expensive and can be prone to stains and damage from sunlight.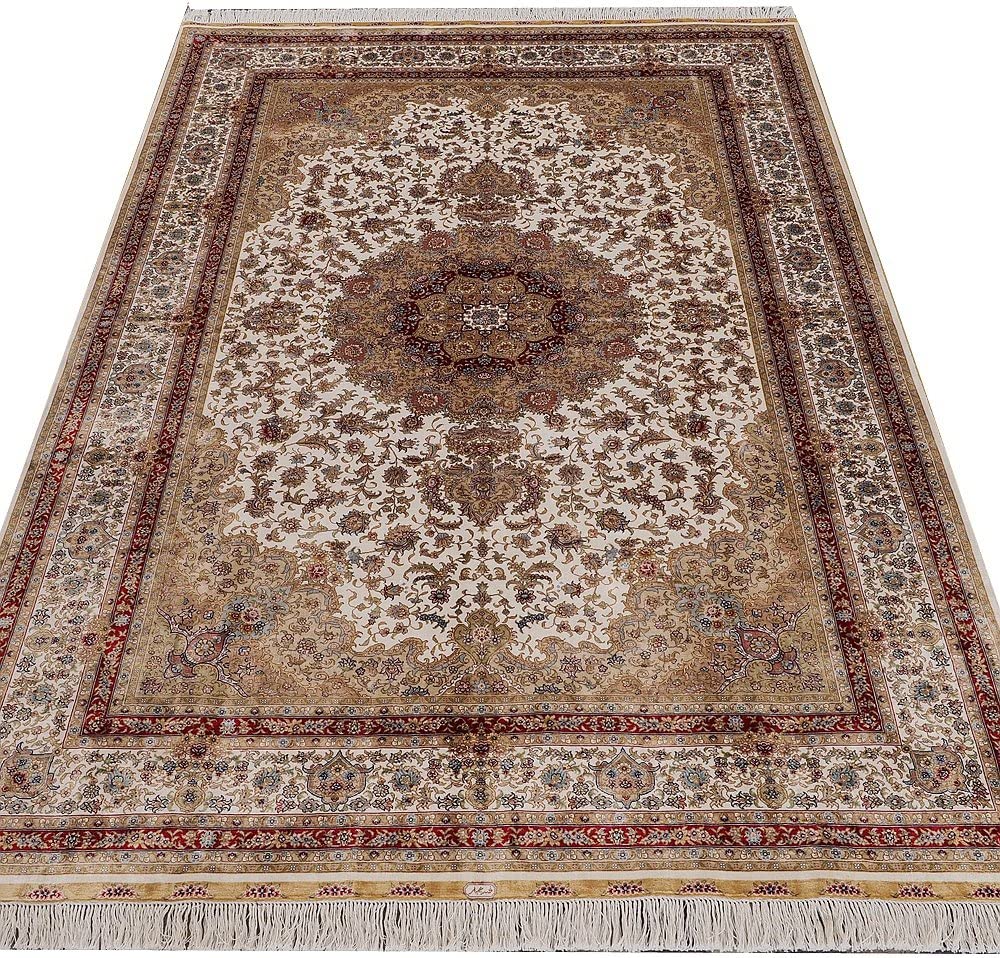 A Silk rug is a beautiful and luxurious option of natural fiber rugs. They are tear resistant and feel great on the skin.
Silk rugs make excellent additions to bedrooms, however, they aren't going to last as long as a wool rug since they lack durability and are very sensitive to moisture.
Silk rugs are expensive and would be recommended for the bedroom of an adult so it can be properly cared for and has less chance of being destroyed, however there is always an option to find an affordable one.
Synthetic Fibers
Synthetic fibers like polypropylene, nylon, and acrylic are often used in rugs because they're durable, easy to clean and resistant to stains and fading. But, synthetic rugs may not be as soft or comfortable as natural fiber rugs.
Synthetic Rug – Mohawk Home Blurred Blossoms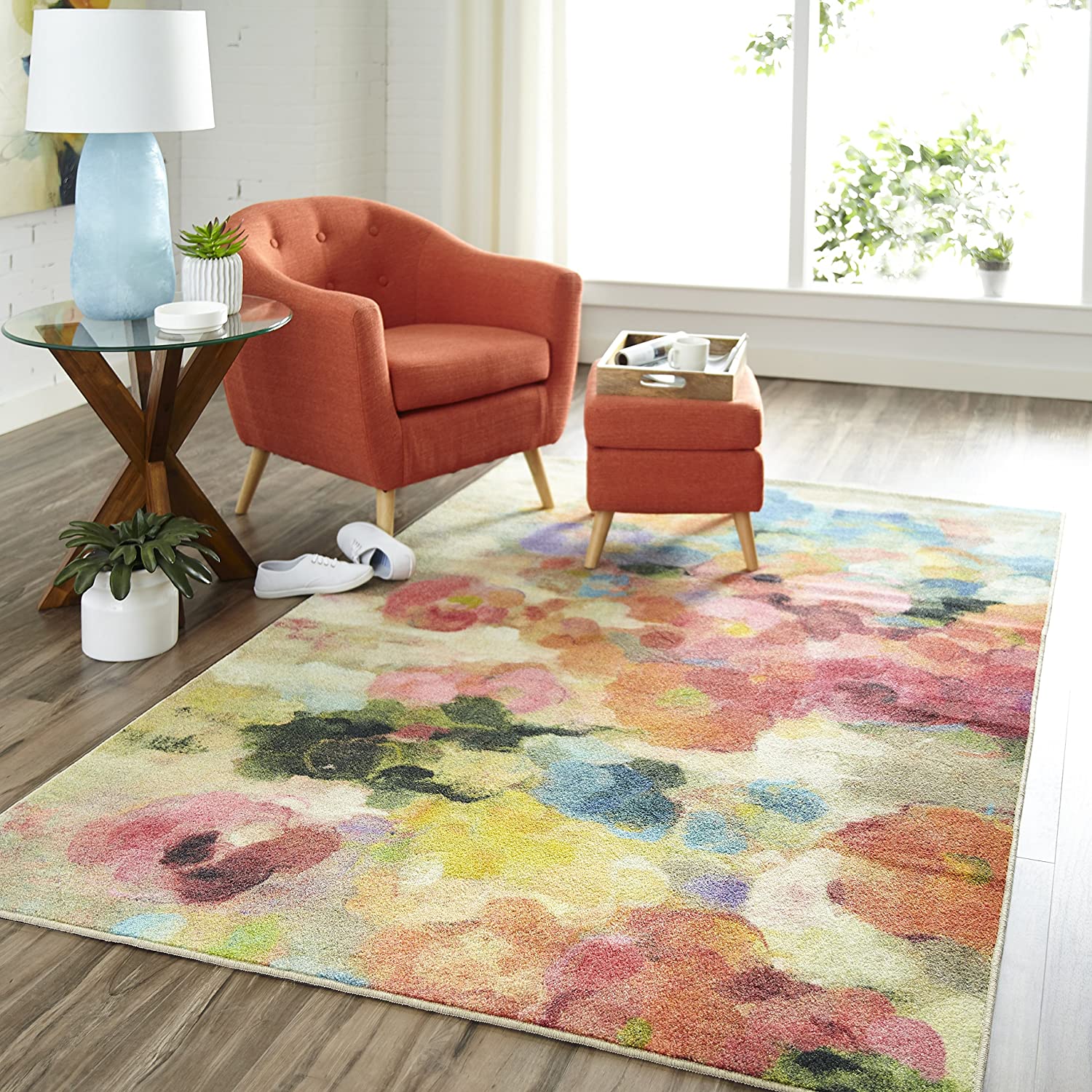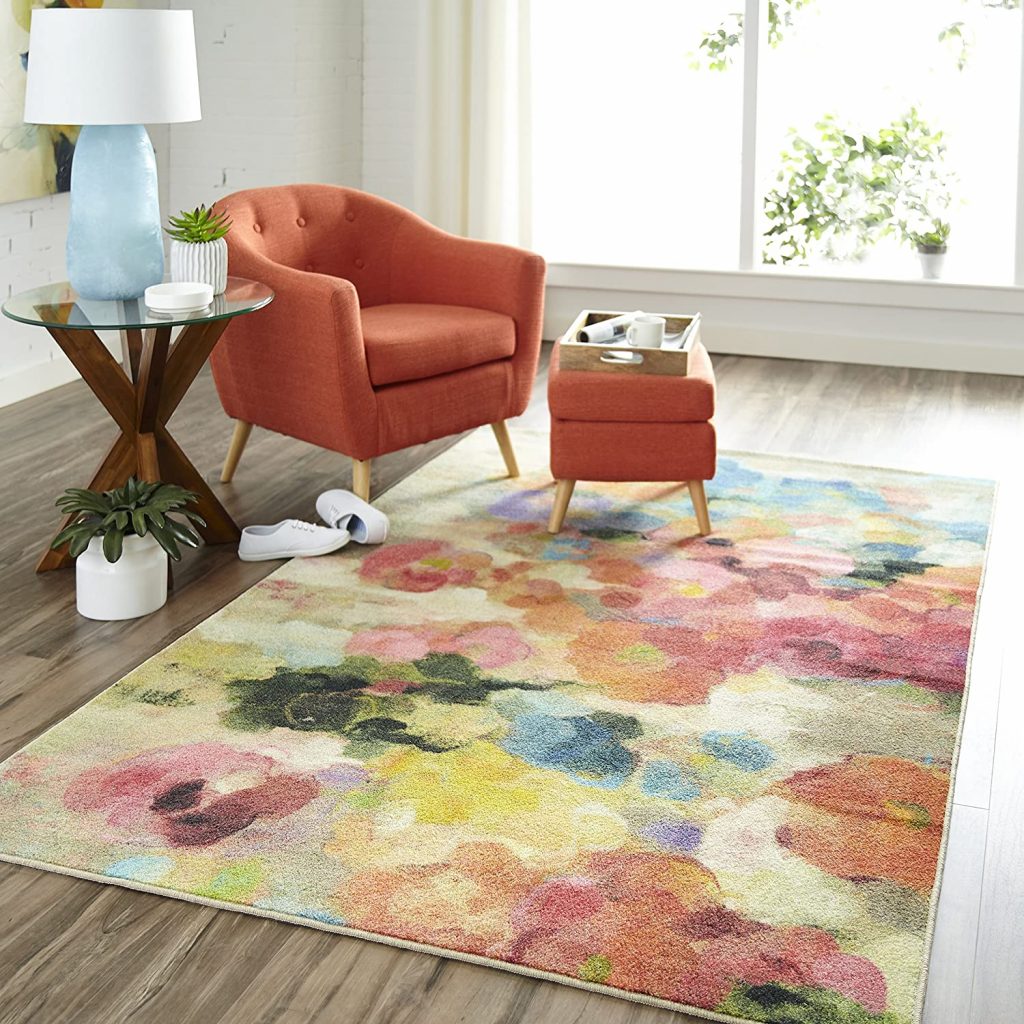 While they aren't natural, they are very affordable rugs to buy for the home.
Synthetic fiber used in indoor and outdoor rugs. The most common synthetic fibers used to make rugs are listed below.
Nylon, Olefin, Polyester, Acrylic Yarn
Nylon, Polyester, Acrylic and Olefin rugs are made to have a similar look to wool rugs. They are also easy to clean and care.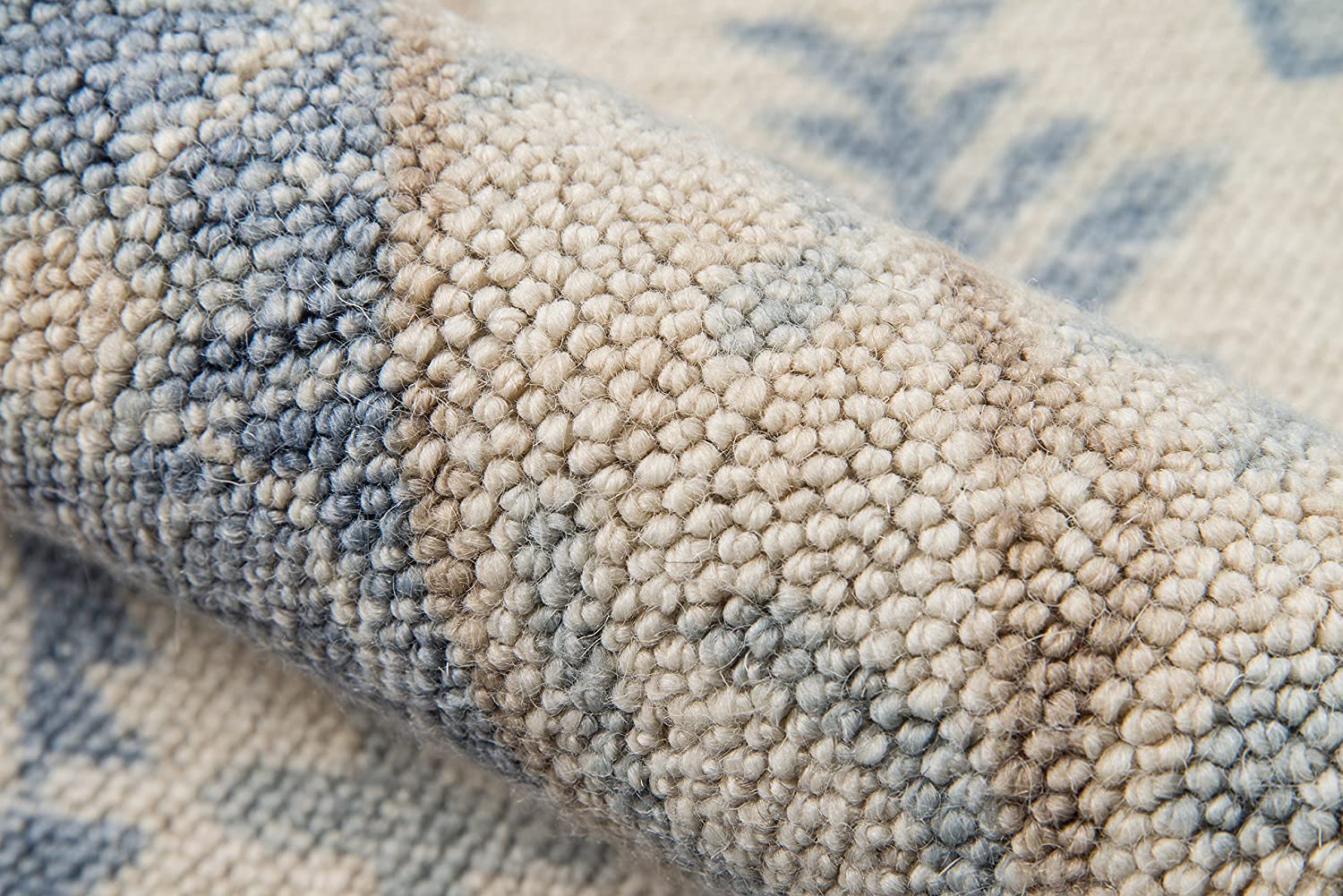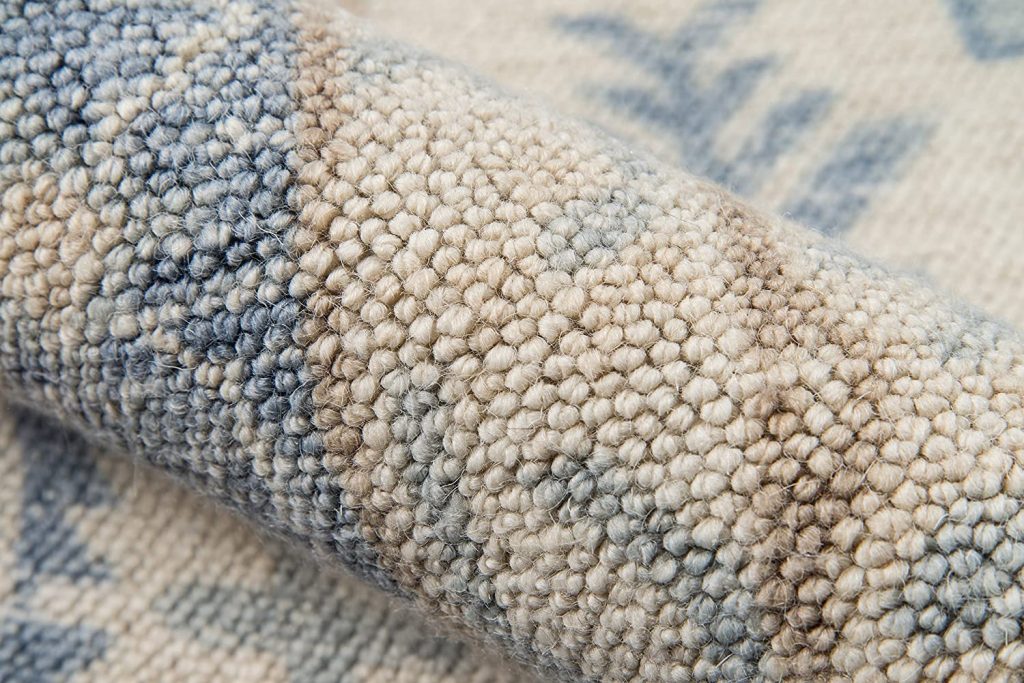 They can also resist stains and handle heavy traffic areas. Synthetic rugs are cheaper imitations of natural fiber rugs and are easy to replace and change style in a room.
Heard of an Olefin rug? This is what a rug made from Olefin looks like:
Olefin Rug – Skid-Resistant Carpet Runner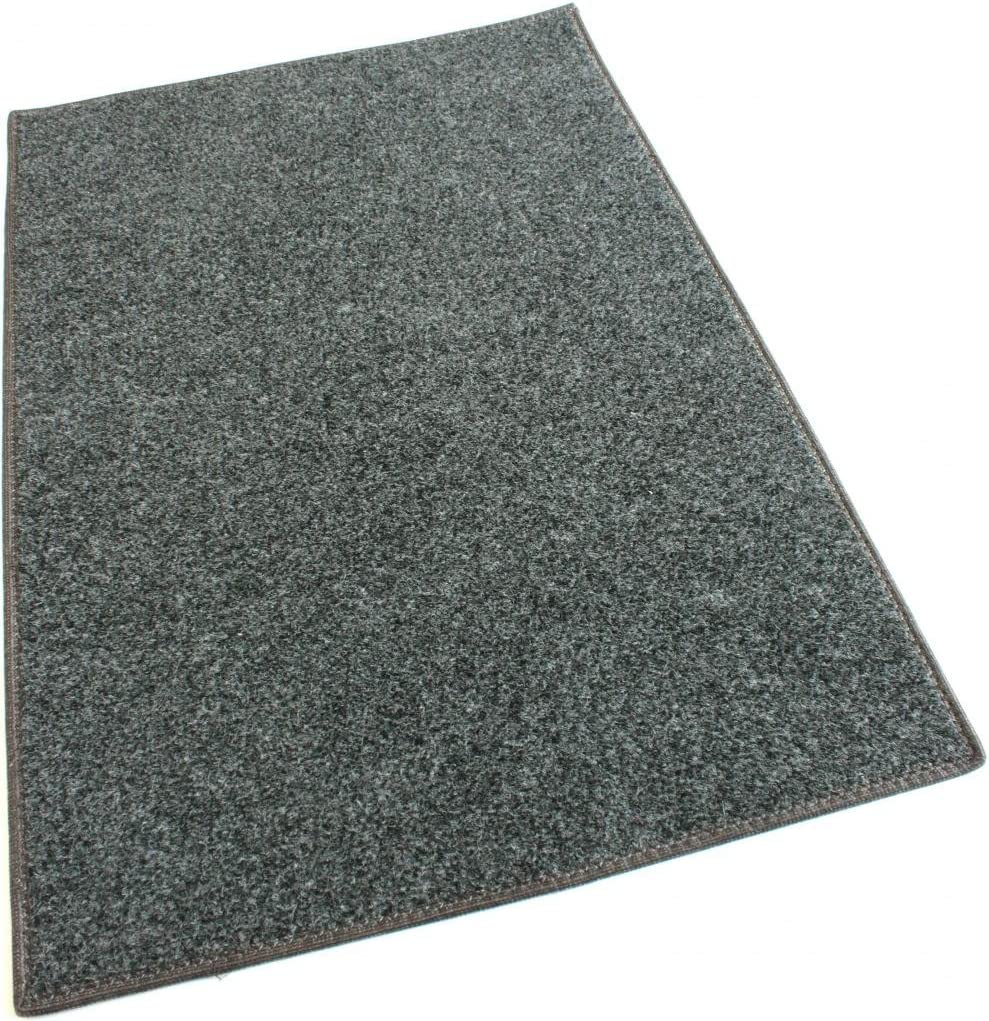 However, since they are not the real deal, you can't expect the same feel as natural fiber rugs.
You wouldn't be needing to worry about taking these rugs to the dry cleaner for a simple clean up or even a major clean up, if something happens it's much simpler to just replace.
Synthetic fiber rugs are versatile and can be used in just about every room of the house without any issue.
Polypropylene
Polypropylene is the material that indoor/outdoor rugs are made of. These rugs are very durable and able to take what life throws their way.
Shag rugs are an example of a polyprophylene rug.
Polypropylene Rug – Artistic Weavers Chester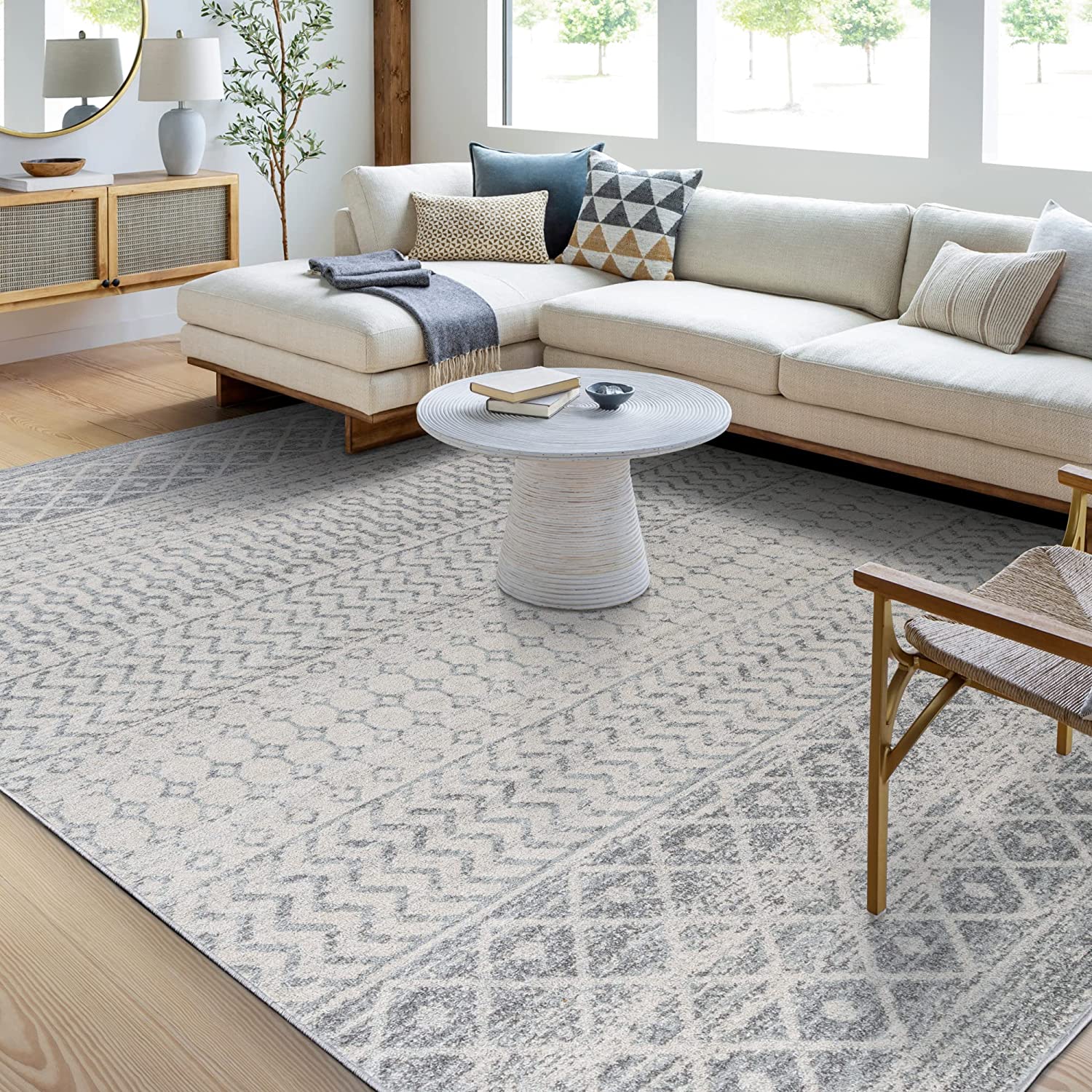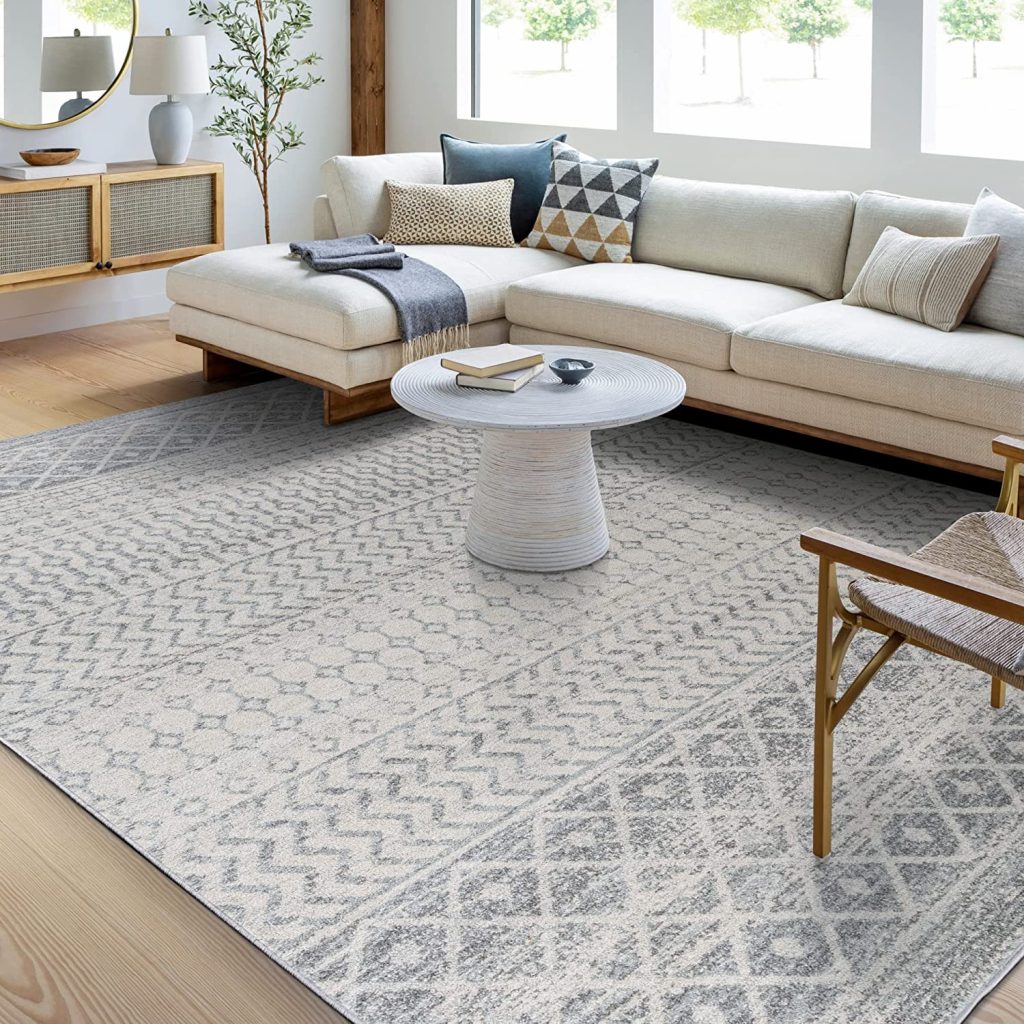 Rugs made out of Polypropylene are less bulky than nylon and can be crushed down over time but are an excellent choice for dining rooms, living rooms or general areas.
They are easy to clean, and are the most stain resistant and fade resistant rugs out there. Before deciding to put this rug in nursery read if polypropylene rugs are safe for babies.
Hand-Knotted: Hand-knotted rugs are made by knotting yarns onto a foundation of cotton or wool. These types of rugs are often considered the most durable and long-lasting. But, they are also the most expensive.
Chenille
A Chenille rug is a thick and heavy twisted yarn into a super soft and plush pile. These rugs are made to imitate the look and softness of silk and are great to use as a baby rug who will need a cozy spot to play and be on their bellies.
Chenille Rug – Gorilla Grip Bath Rug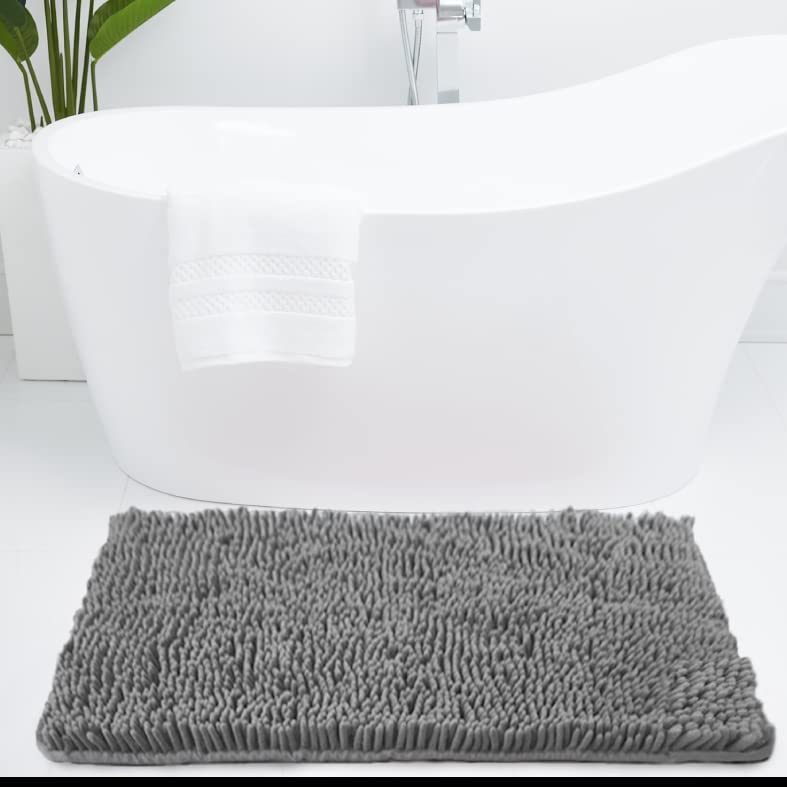 With its softness, a chenille rug wouldn't be recommended for an area of high traffic, but rather as a nice soft place to sit and enjoy how soft and plush it is.
Coir
Coir is made from coconut husks and is rather coarse and not as comfortable to walk on. It does give a nice rustic feel when used in decorating.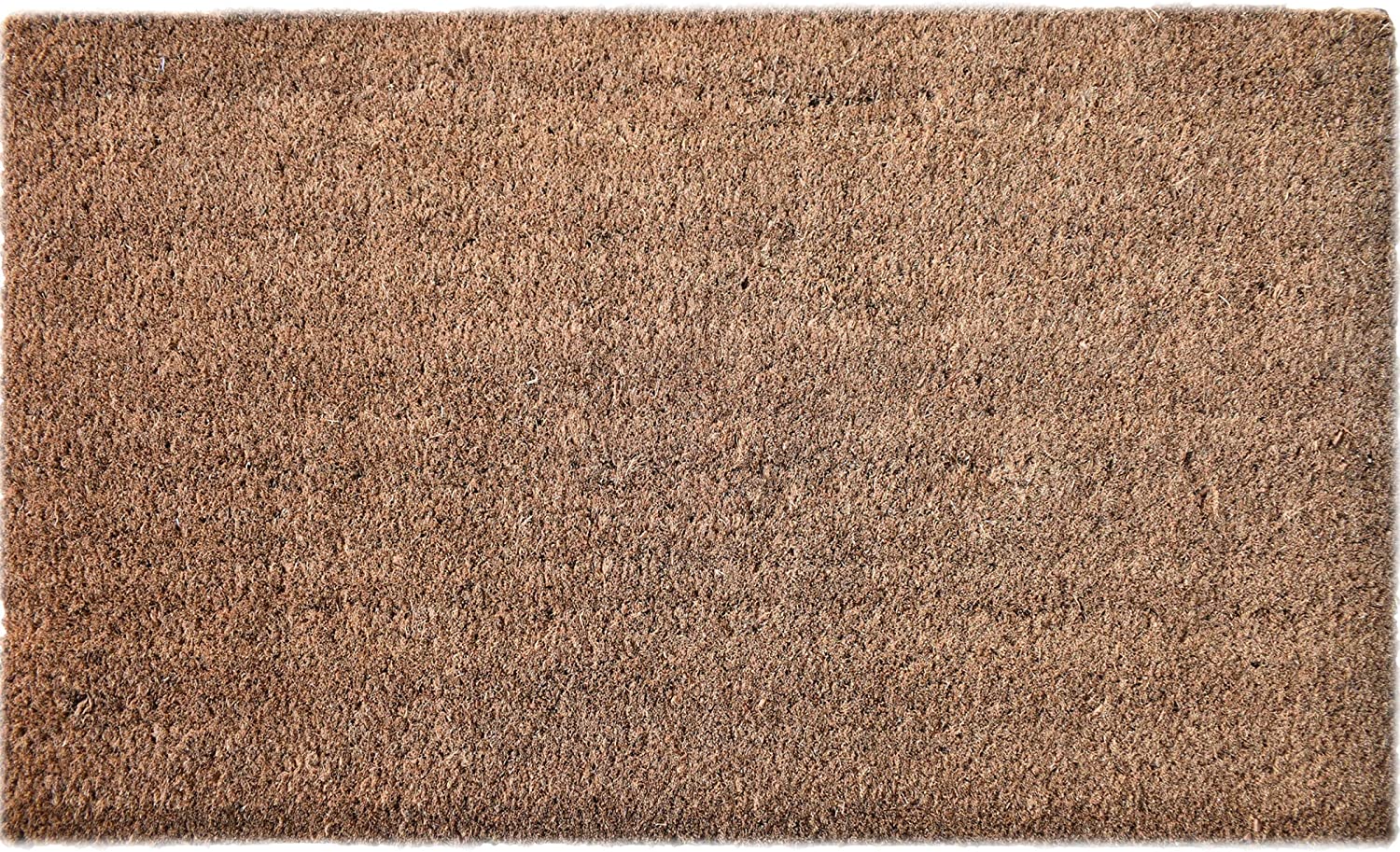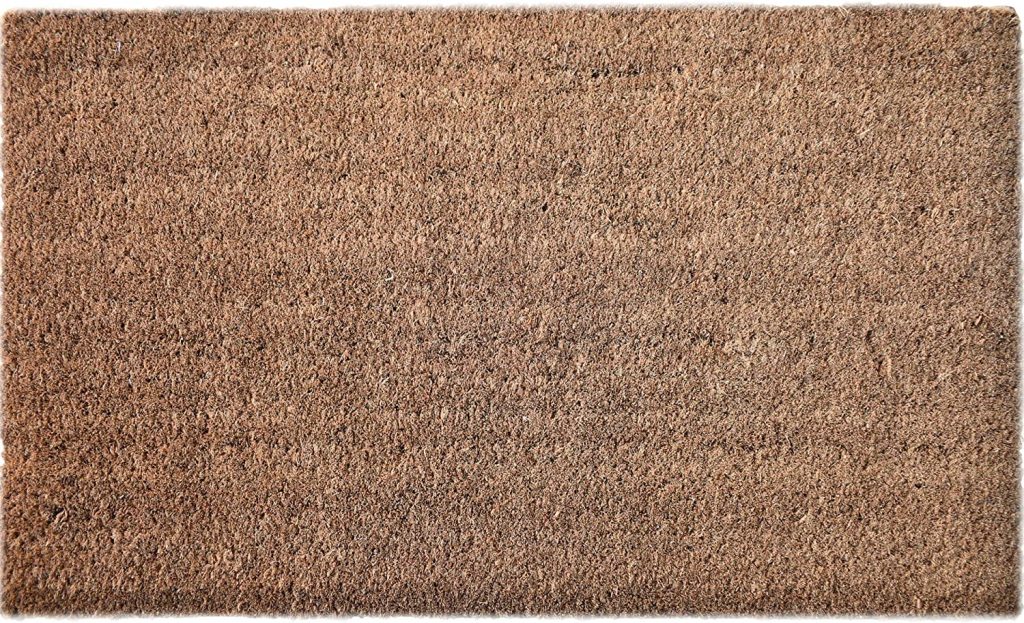 Coir rugs are traditionally used as outdoor rugs and doormats but with the growing trend to bring the outdoor rugs inside, coir rugs are having the space in many people's living rooms.
Coir rugs are durable enough to use in high traffic areas such as hallways and living rooms. Coir needs to be kept dry as it can fall apart and be destroyed easily by excessive moisture and can be discolored easily by spills.
Sheep Skin
Sheep skin rugs are very soft and plush. They also make wonderful decorations both on and off the floor.
It is very common to find a sheep skin rug in a nursery because they are great to crawl on.
Sheep Skin Rug – EasyJoy Ultra Soft Fluffy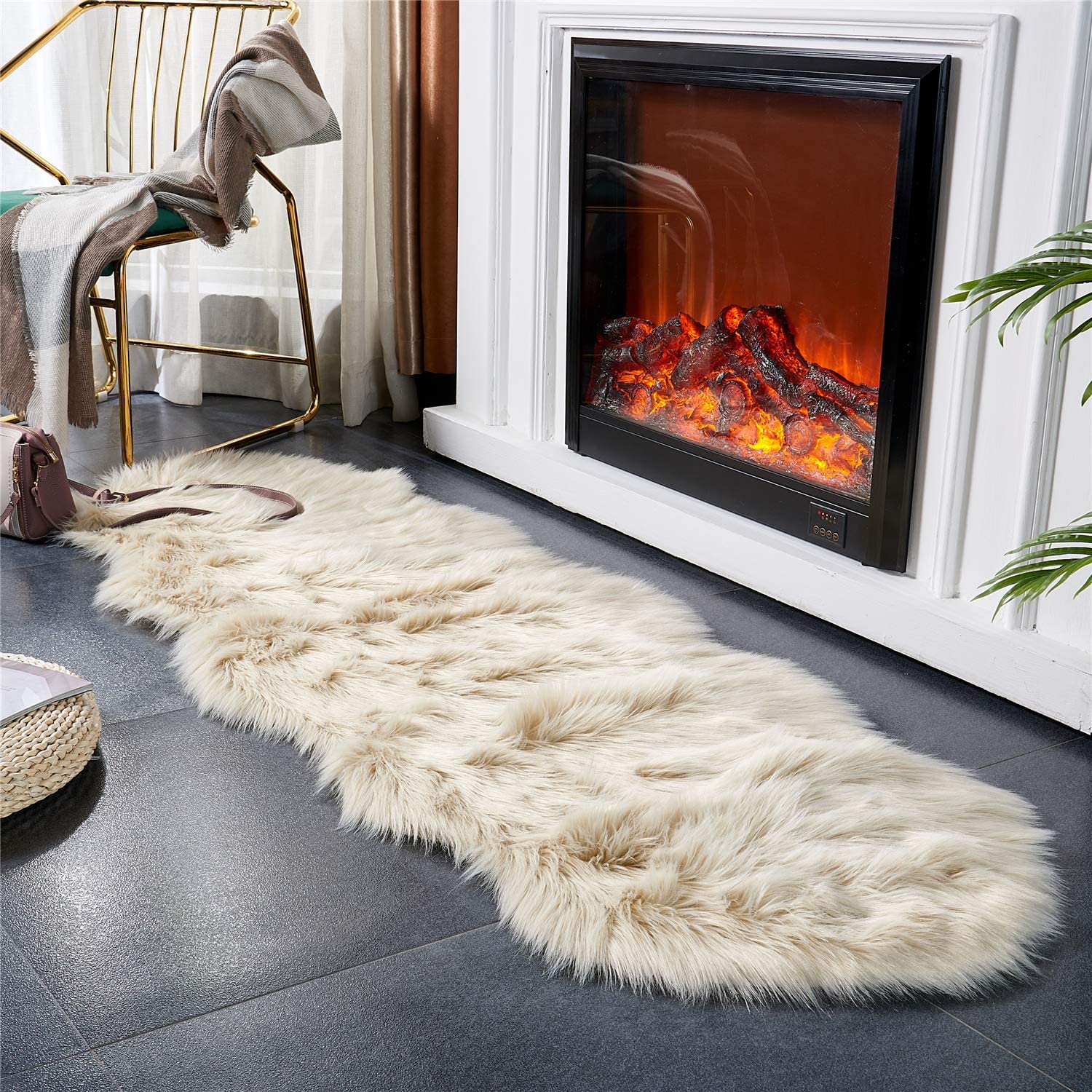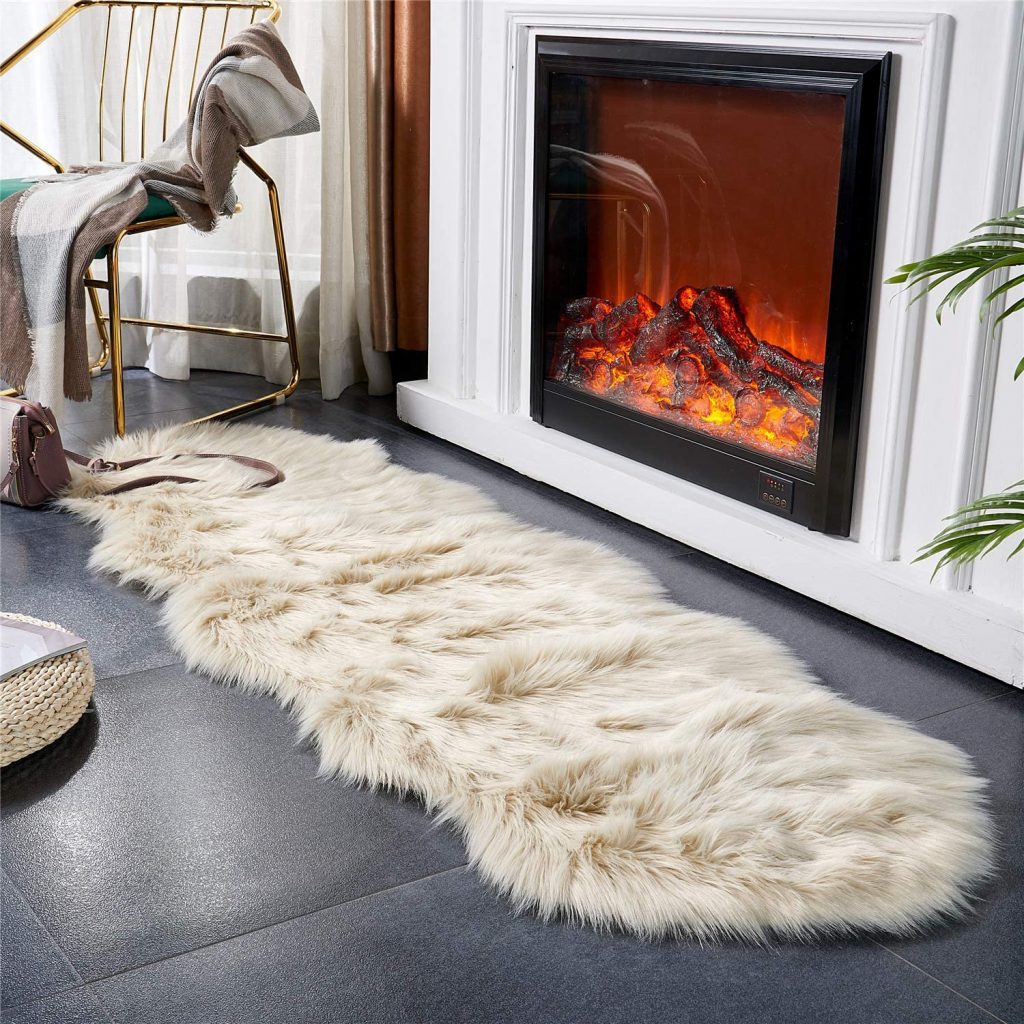 In fact if you were to ask my opinion, a sheepskin rug is one of the safest, most non-toxic and organic as a nursery or kids room rug (not to mention the most appealing and fashionable to finish off the look of the nursery room).
Read more about nursery or kids rugs in the article Best Nursery Rugs for Babies.
Sheepskin rugs come in a variety of colors and sizes. A white sheepskin rug becomes a staple rug for many homes, in living rooms and bedrooms. However, a color alternative in grey isn't so bad, isn't it?!
Outlavish Grey Sheepskin Rug Genuine Fur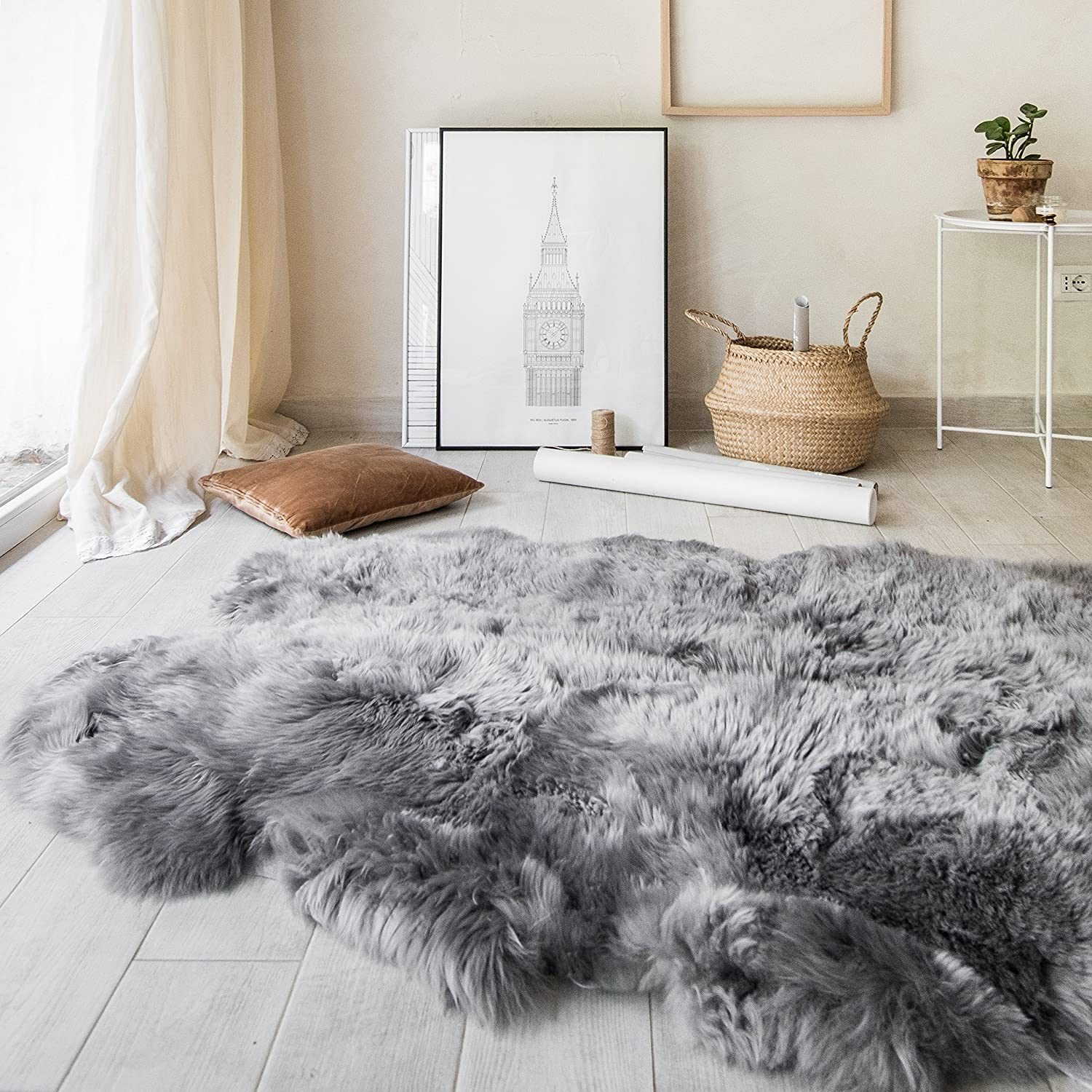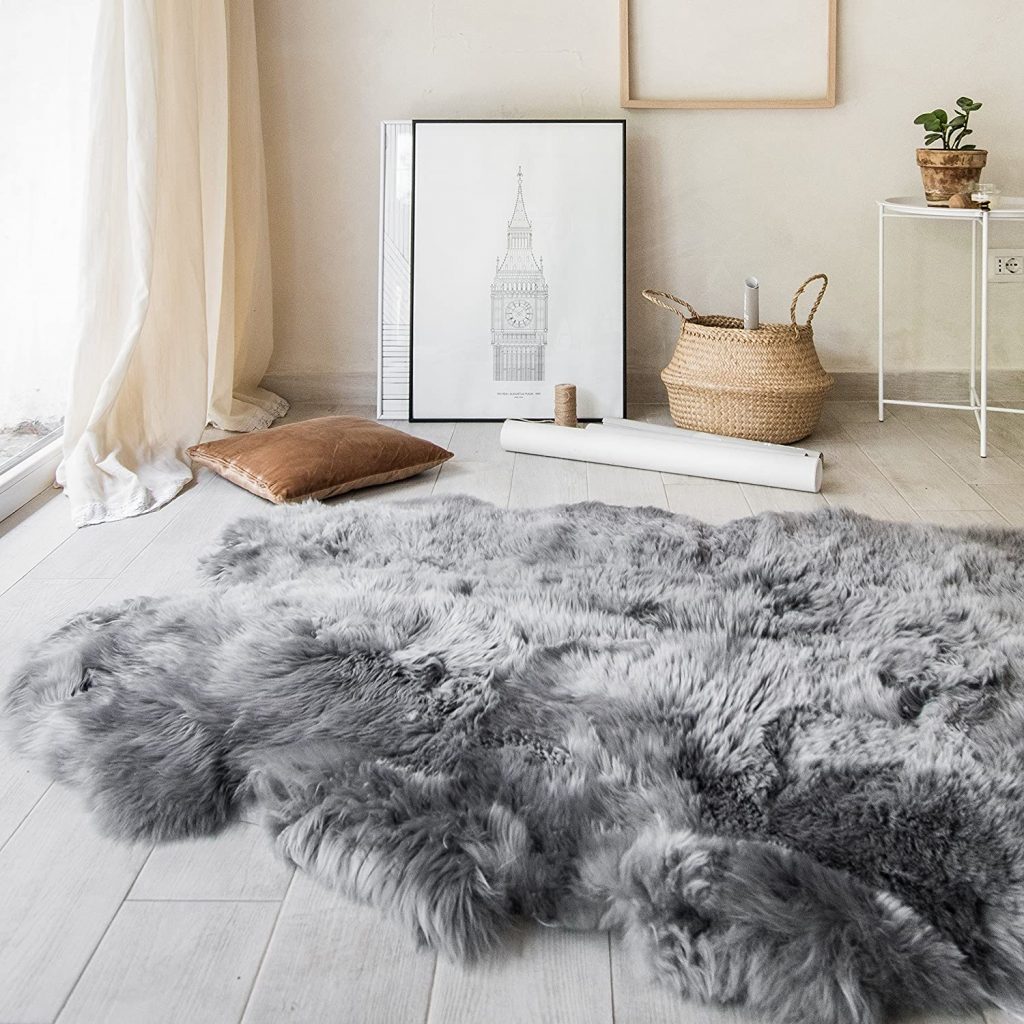 They not only have their place in baby rooms, nursery and kids rooms, many adults use sheepskin rugs to place beside their beds or layer them in the living room areas as-well.
Sheepskin rugs are durable and don't stain too easily. Sheep skin rugs are also a great rug for people who have allergies as they don't build up dust as much as some other fibers (best rug for allergy sufferers).
Bamboo
Bamboo rugs aren't like most rugs. In fact, they're very different, and that is why I have bought an affordable bamboo rug myself. Just like the Seagrass and Jute rugs, Bamboo rugs are a new rug fashion trend that provide a clean and uncluttered look.
Bamboo Rug – iDesign Formbu Bamboo Floor Mat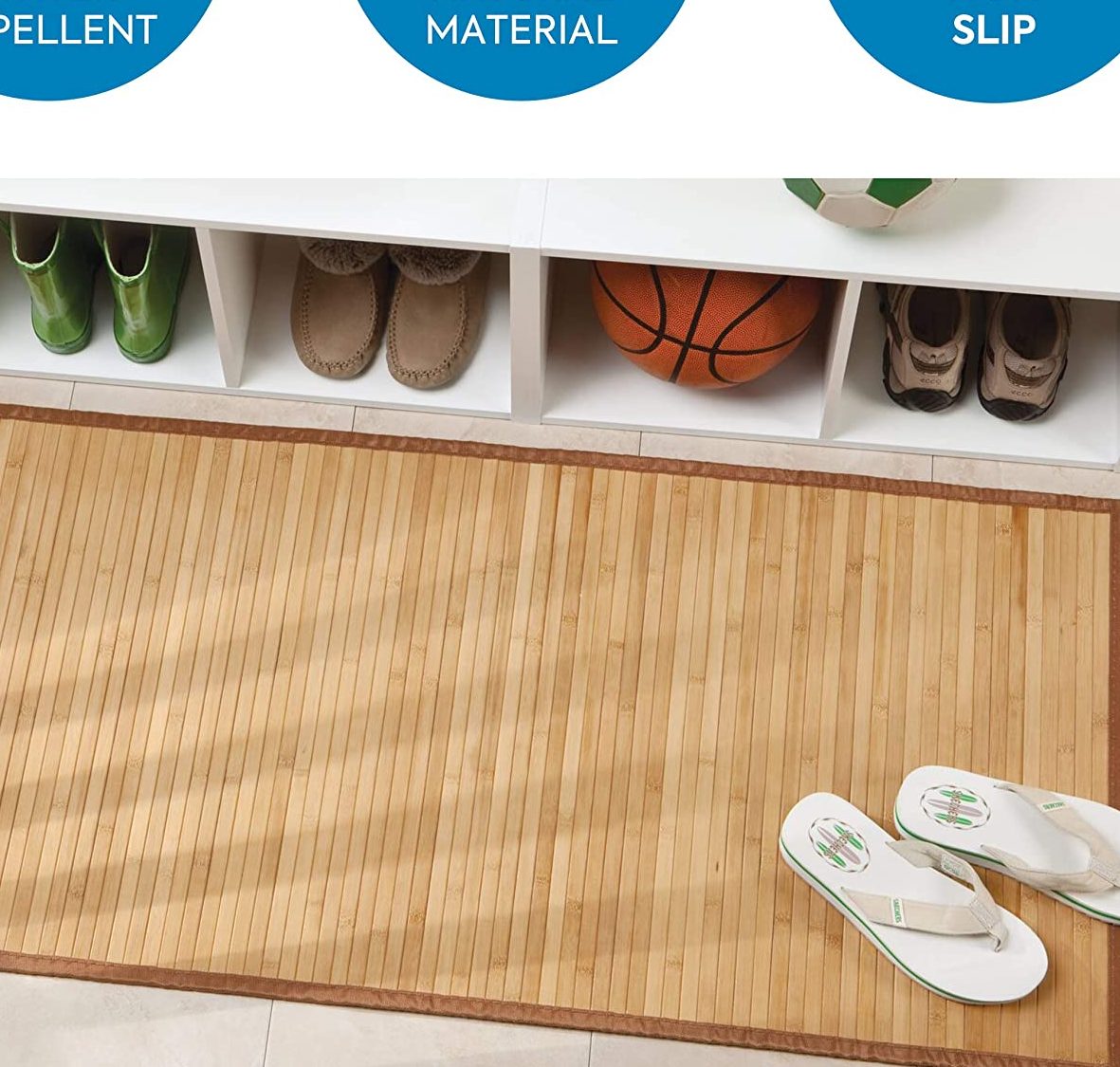 Bamboo rugs give a clean, modern and streamlined look in any living area of the house. They are very cheap and easy to clean. I would suggest buying one for warmer months of the year.
They won't offer softness or cushioned plush under your toes but a bamboo rug is basically a wooden mat placed over an area, layered with other rugs to make your house look modern and clean cut.
Bamboo rugs are also another must buy rug for anyone that has allergies. Lots of people like the way bamboo rugs look over tile, giving a more hardwood floor look. These rugs are also very durable and can last a long time even in higher traffic areas; and of course they are easy to clean. Sweep and wipe clean.
Leather
Cow skin rugs, deer pelt rugs, bear skin rugs, if you can skin it there's probably been a rug made from it at some point. These leather type rugs are very unique and offer a rustic feel to any area.
Leather Rug – SAFAVIEH Leather Shag Collection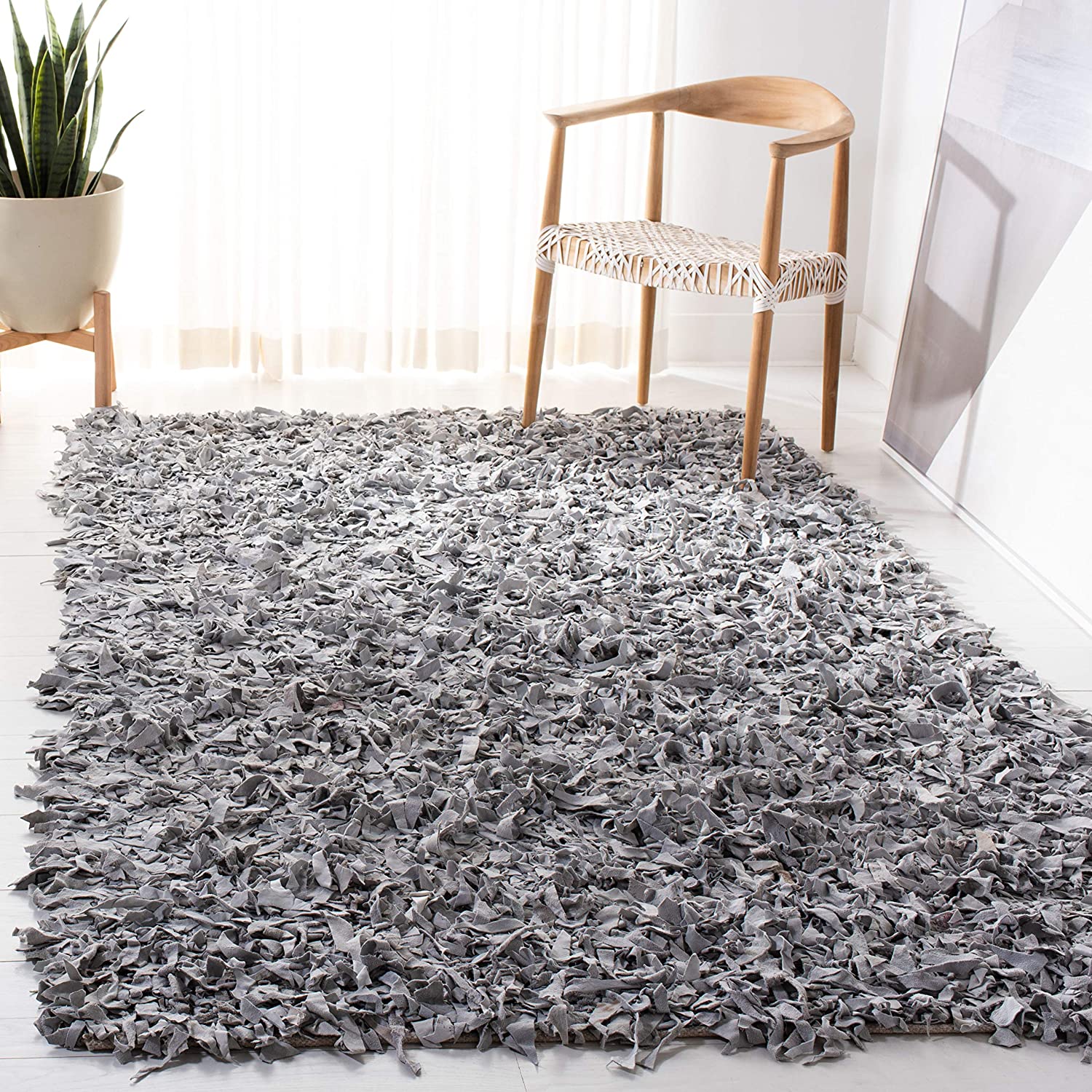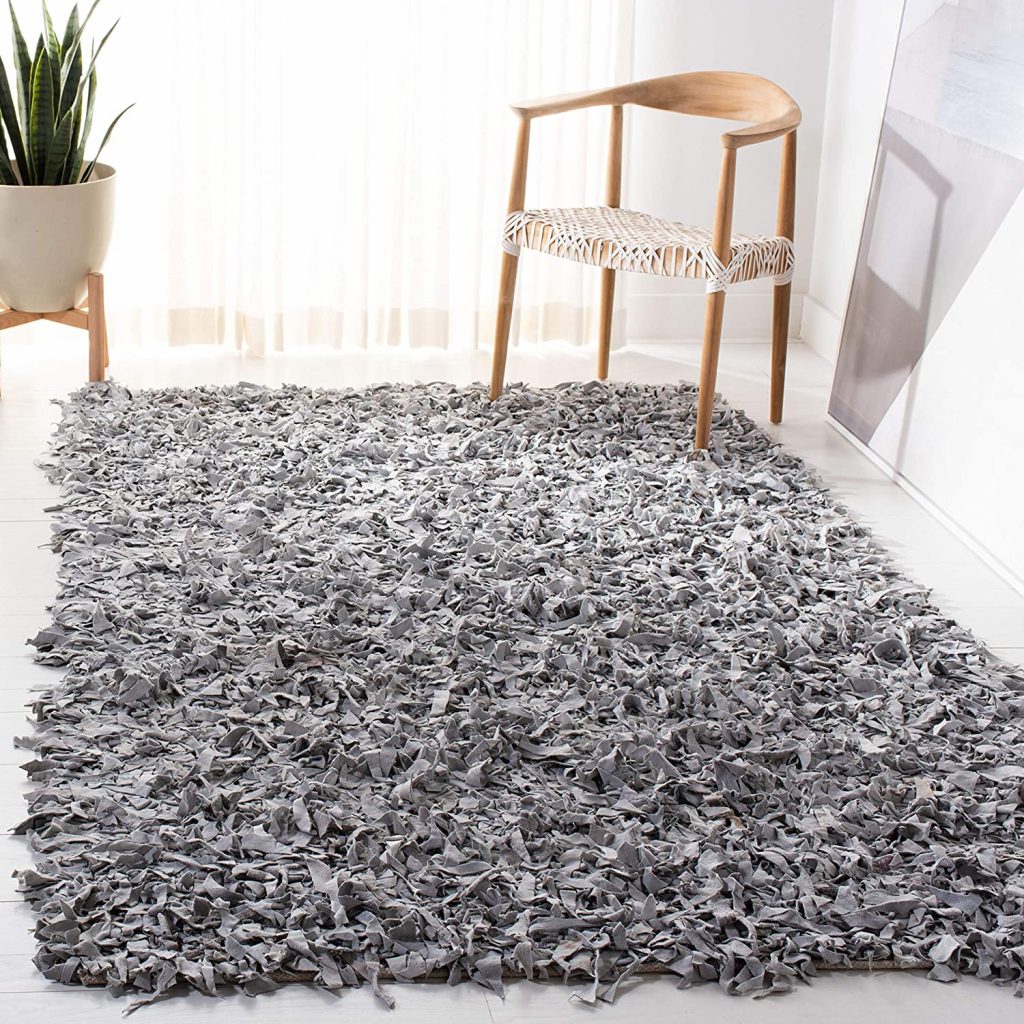 I personally love Cow Skin rugs. They are simple, elegant, light weight and can be layered like this picture with a Seagrass or Jute Rug underneath (remember how I said Seagrass was the new fashion trend above?)
Some even use the skin rugs as a blanket as they are pretty warm. Depending on the animal, your rug could potentially be very soft. Sometimes, the strips of leather can be strung together to mimic the look of a shag rug.
Leather rugs shouldn't be kept in humid areas as this can damage the preservation of the skin or the hide.
Faux Fur
Faux fur rugs are made to look like the natural fibered rugs that are from animal hides, however, these rugs are made from synthetic materials, often dyed and are much less expensive and much less unique than actual fur rugs.
Faux Fur Rug – White Fur Rug Fluffy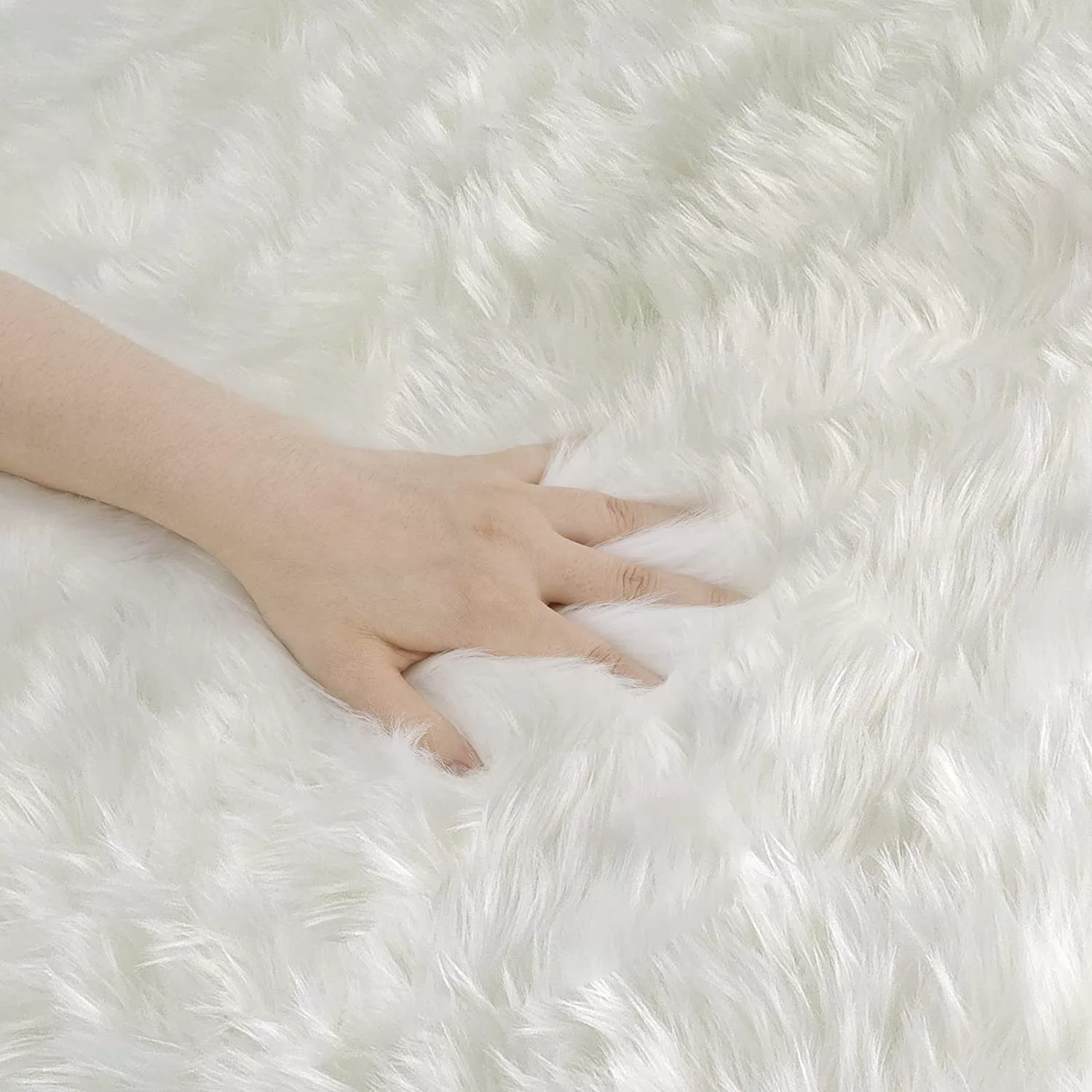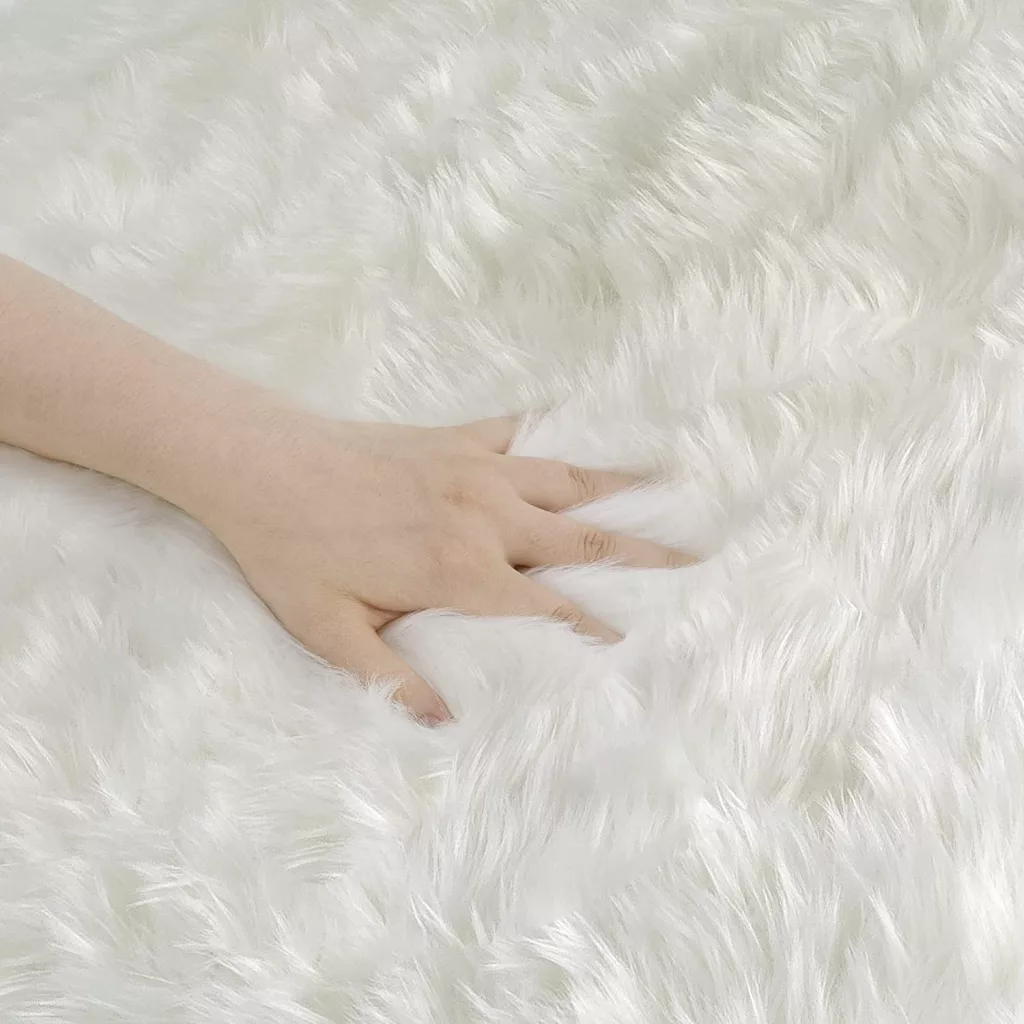 FAQ:
Is wool a natural fiber?
Yes, wool is a natural fiber that comes from sheep, goats, and other animals.
What are the benefits of natural fiber rugs?
Natural fiber rugs are eco-friendly, durable, and add a unique touch to any room. They are also often biodegradable, and can be a sustainable choice.
What are the benefits of synthetic fiber rugs?
Synthetic fiber rugs are durable, easy to clean, and often resistant to stains and fading. They can also be less expensive than natural fiber rugs.
What should I consider when choosing a rug material for my home?
Consider the specific needs of your space, such as foot traffic and potential for spills. Also think about your personal preferences and your budget.
Are natural fiber rugs safe for people with allergies?
Some people with allergies may be sensitive to certain natural fibers such as wool. It is best to check with your doctor or allergist before making a purchase.
Can natural fiber rugs be cleaned easily?
Cleaning natural fiber rugs can be a bit more complicated than cleaning synthetic fiber rugs, as they are more prone to shrinking and discoloration. It's best to follow the manufacturer's care instructions and have them professionally cleaned if necessary.
Can natural fiber rugs be used in a humid area?
Some natural fiber rugs, such as jute, sisal, and seagrass, should not be used in humid areas as they tend to absorb moisture and can rot.
Can natural fiber rugs be used in outdoor spaces?
It is not recommended to use natural fiber rugs in outdoor spaces as they can be damaged by moisture and exposure to the elements.
How can I tell if a rug is made of natural fibers?
Most rugs will have a label or tag indicating the materials used in the rug. If the label is not available, you can also look for natural characteristics such as variations in color and texture, which are common in natural fiber rugs.
Final Words
In conclusion, selecting the right rug material for your home can be a challenging task.
It's important to think about how the rug will be used, and how easy it will be to clean and maintain. By considering these factors, you'll be able to find the perfect rug for your home.
Don't forget to think how rugs will match the room's decor and the amount of foot traffic the room gets.
Wool rugs are a popular choice for their durability, stain resistance and natural insulation properties.
Natural fiber rugs such as jute, sisal, and seagrass add a unique touch to any room while providing a durable, eco-friendly option.
Synthetic fibers like nylon and polypropylene are also a great choice for their durability and low maintenance.
Ultimately, the best rug material for your home will depend on your personal preferences and the specific needs of your space.