Do you struggle with chronic pain?
Maybe you crave a good night's sleep. If you have a sleep problem, a grounding or earthing sheet can be a solution. It can help the body recover naturally by connecting it with the Earth.
Grounding sheets are blended or pure cotton sheets permeated with silver conductive threads. Those threads are connected to an electrical outlet through a grounding port. They make sure the negative and positive charges in the body are balanced while sleeping. This way, earthing mats can help get rid of pain and sleep problems. Read on to learn more.
Best Earthing Sheets for a Good Sleep
After researching the market, I concluded GroundLuxe as one of the best (if not the best) organic grounding Sheets.
Here's why I think so.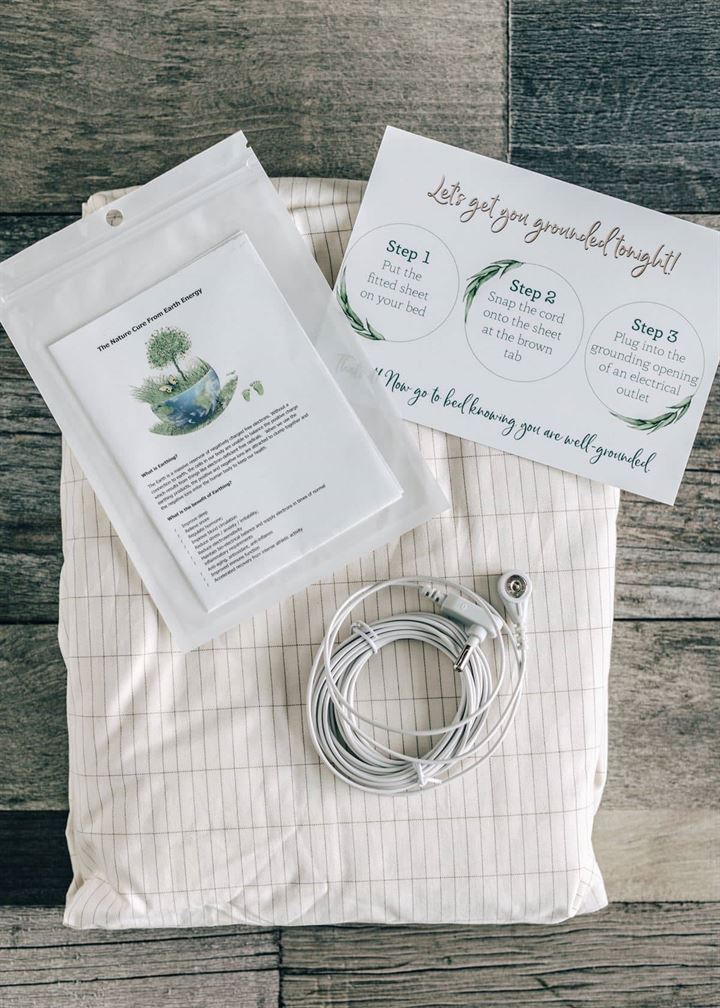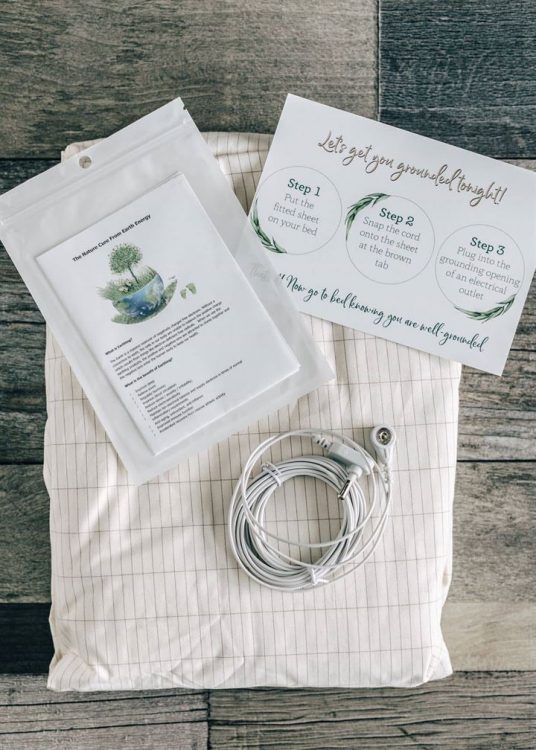 With GroundLuxe, you get a grounding sheet from premium cotton certified with Global Organic Textile Standard. Nowadays, it's especially important because the world of rugs and bedding basics is flooded with products made with synthetic materials. If you care about your health, then you should appreciate a cotton-made sheet.
Organic Grounding Sheet comes with a conductive antistatic metal mesh check pattern made of pure silver. With that said, you'll get all the benefits of grounding while you're sleeping.
As I went through my research, I found out that plenty of people have experienced quite profound health improvements with grounding. These include:
improved sleep;
less stress;
better rest and as a result more energy;
less headaches;
better feelings overall.
Impressive, right? Sleep itself is essential and vital for our health; why not enhance it with grounding?
You don't have to worry about grounding wire when buying this sheet because one is already included.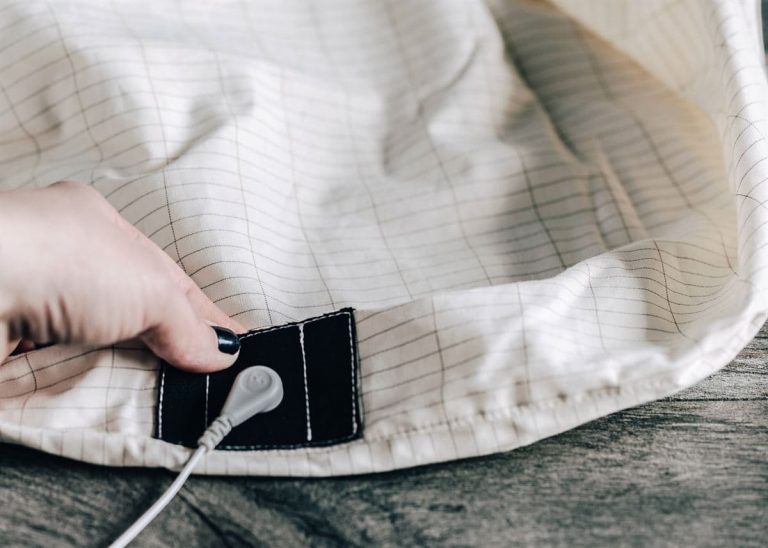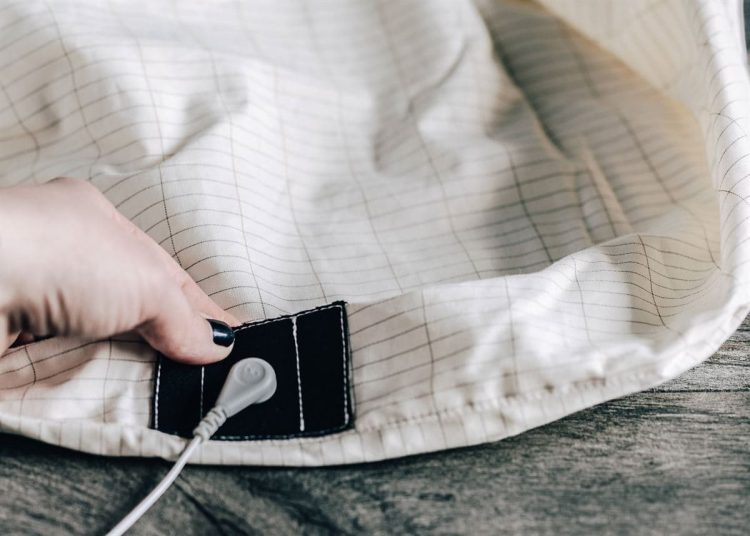 What's even better is that GroundLuxe offers a 100% customer satisfaction guarantee. Didn't like the product? They'll replace it or give you a refund.
The drawback – GroundLuxe doesn't sell single fitted sheets. You can still use it on a single bed, but you have to figure out how to anchor it.
Key Features
Size: 76 x 80 inches
Pure Silver Fiver (99%)
Certified Organic Cotton
Comes with 13 Foot Universal Grounding Cord
400 Thread Count Sheets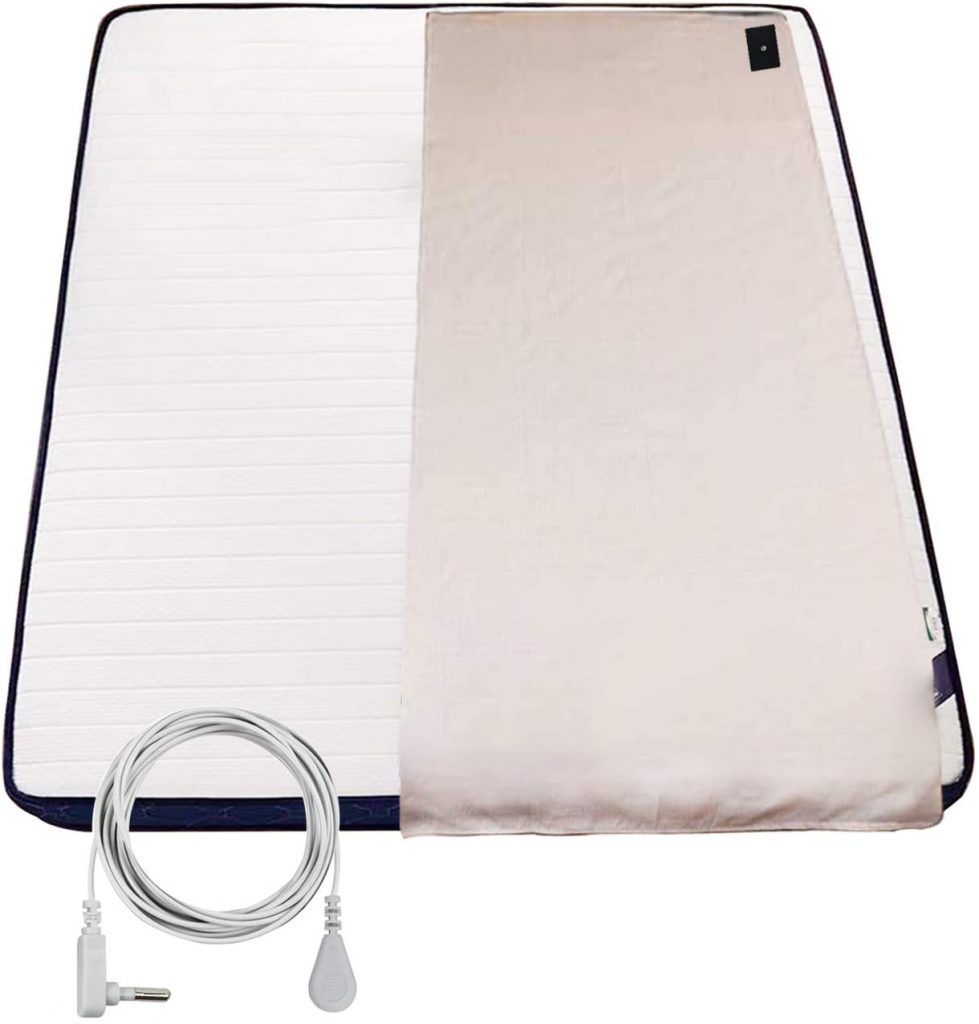 This particular sheet is designed to fit a half bed, but there are also other size options available. It is made of A-grade high-quality cotton fabric with conductive grounding threads. The silver fibers ensure conductivity to the earth.
The sheet comes with both crosswise and lengthwise silver stitching for better earthing. These threads are aimed at delivering anti-inflammatory electrons to the entire body.
That many help in improving well-being and health in a natural way. With this NeatEarthing grounding sheet, your sleep will not suffer anymore. It can improve blood circulation, reduce stress, and regulate hormones besides improving sleep.
While you can launder your sheet, never use detergents with bleach because they can destroy the thread conductivity.
Key Features
Made of renewable, soft cotton fabric with silver threads
Extremely comfortable and durable
Easy connecting with a 15-foot grounding wire
Size: 36 x 91 inches
Affordable price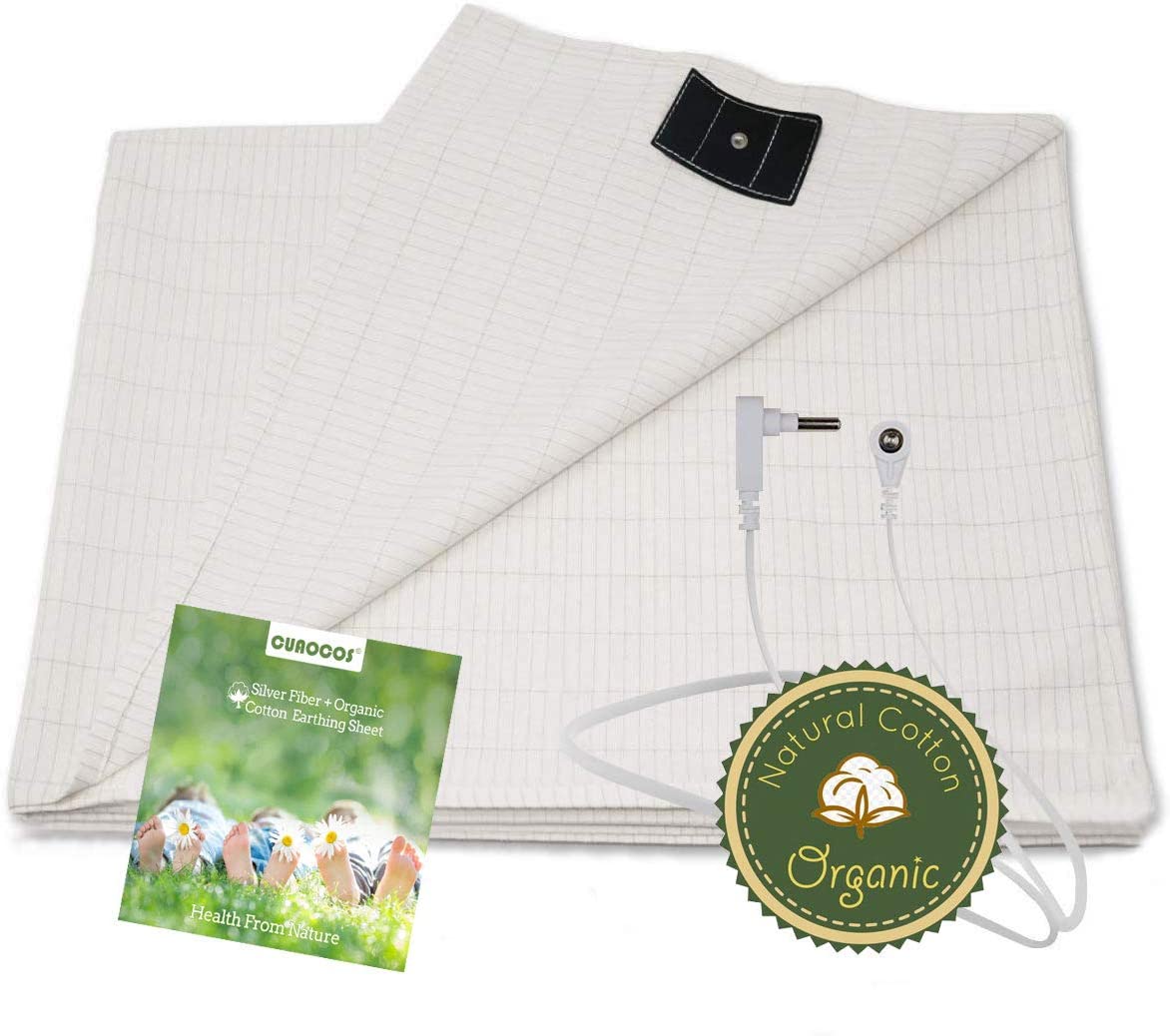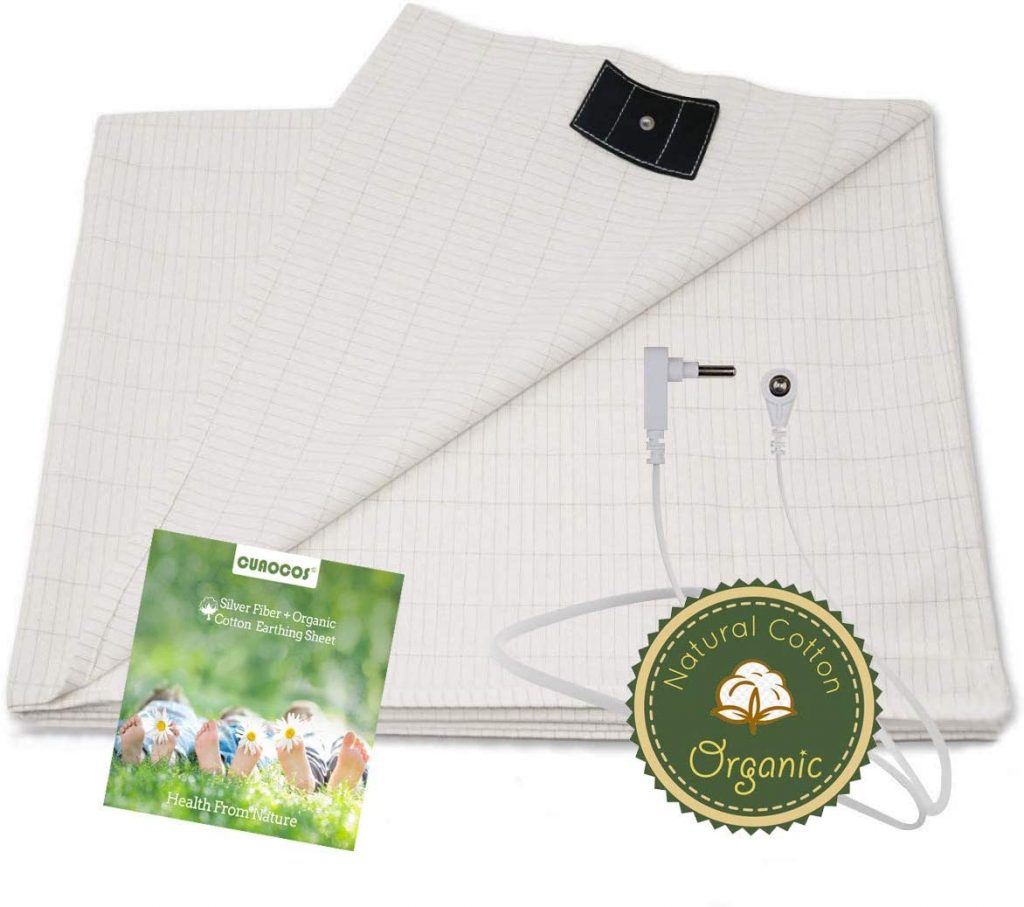 If you're looking for an affordable grounding sheet that provides great value for money, look no further than CUAOCOS. The mixture of 95% cotton and 5% silver ensures high-quality construction of this sheet. It contains plenty of crisscross silver fibers that run through it for enhanced conductivity.
There are 3 different size variations to choose from:
27 x 52 inches (the most affordable option)
36 x 91 inches, and
60 x 80 inches (the most expensive option).
The use of this earthing grounding sheet can improve blood circulation and sleep quality while providing pain relief. It is very easy to use. Simply connect the grounding cable to the power strip. Insert the other end of the wire into a wall outlet. That's it.
Make sure it's plugged into the ground (not the electrical part) on your outlet. You can use an extension cord (make sure it's grounded) with multiple plugs. While you can put the CUAOCOS mat beneath your fitted sheet, it's advisable to lie directly on it for the best results.
Key Features
Made of pure natural top-quality organic cotton as well as pure silver fiber
Crisscross conducting silver wires for the grounding function
Comes with everything you could ever need for assembly
Convenient and simple to use
Affordable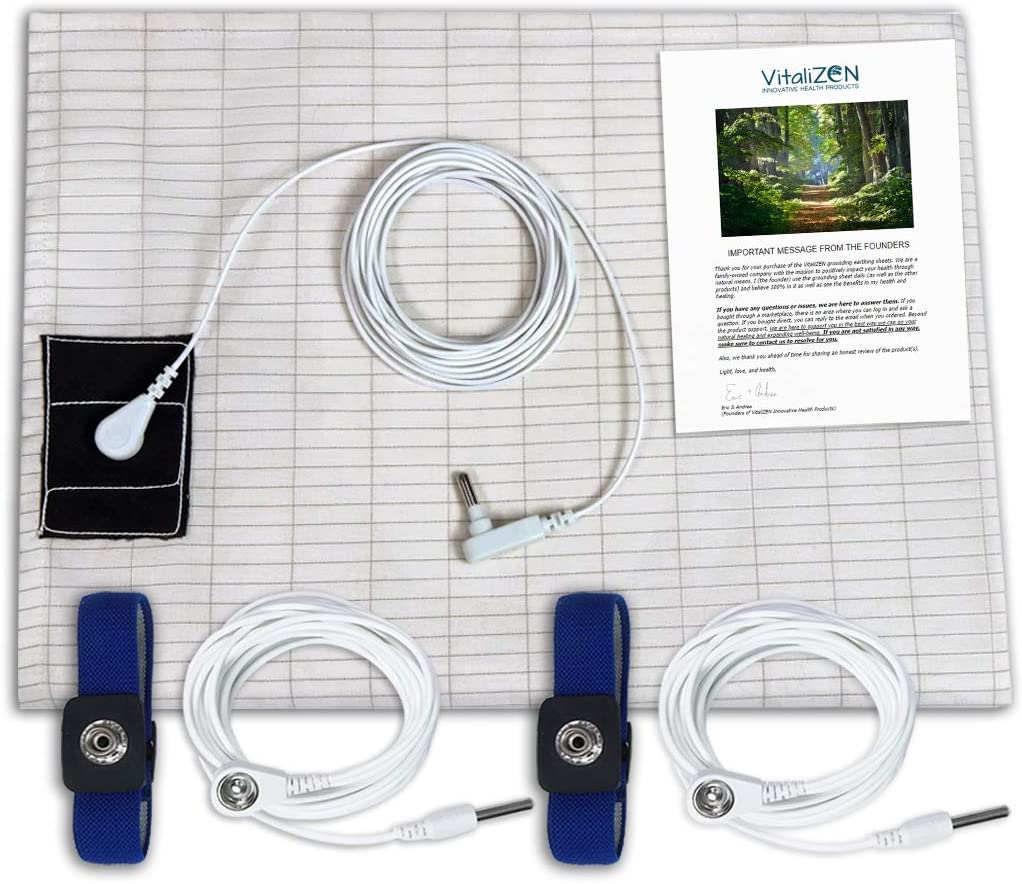 The VitaliZEN sheet is another excellent option on our list of the best grounding sheets. It is made of certified organic cotton and pure silver thread. Besides, it's very soft to ensure complete comfort. You can use this versatile sheet in several ways on different surfaces.
Even if you sleep on a concrete floor or in a metal bed, you will notice the health benefits of this grounding mat while lying on this spectacular sheet. It may boost your vitality by balancing the negative and positive forces between the earth and your body.
Furthermore, it may improve your immune system, reduce inflammation, and help you get more restful sleep. While the mat can be used on any surface suitable for lying down on, it is perfect for a twin-sized bed.
The included straps and grounding cords allow for easy conducting of ions. You just need to plug it into an outlet that is properly grounded to start taking the restorative power of nature. It works!
Key Features
Made of premium quality organic cotton
5% pure silver thread
Size: 118 x 51 inches
Cords for connection
Machine washable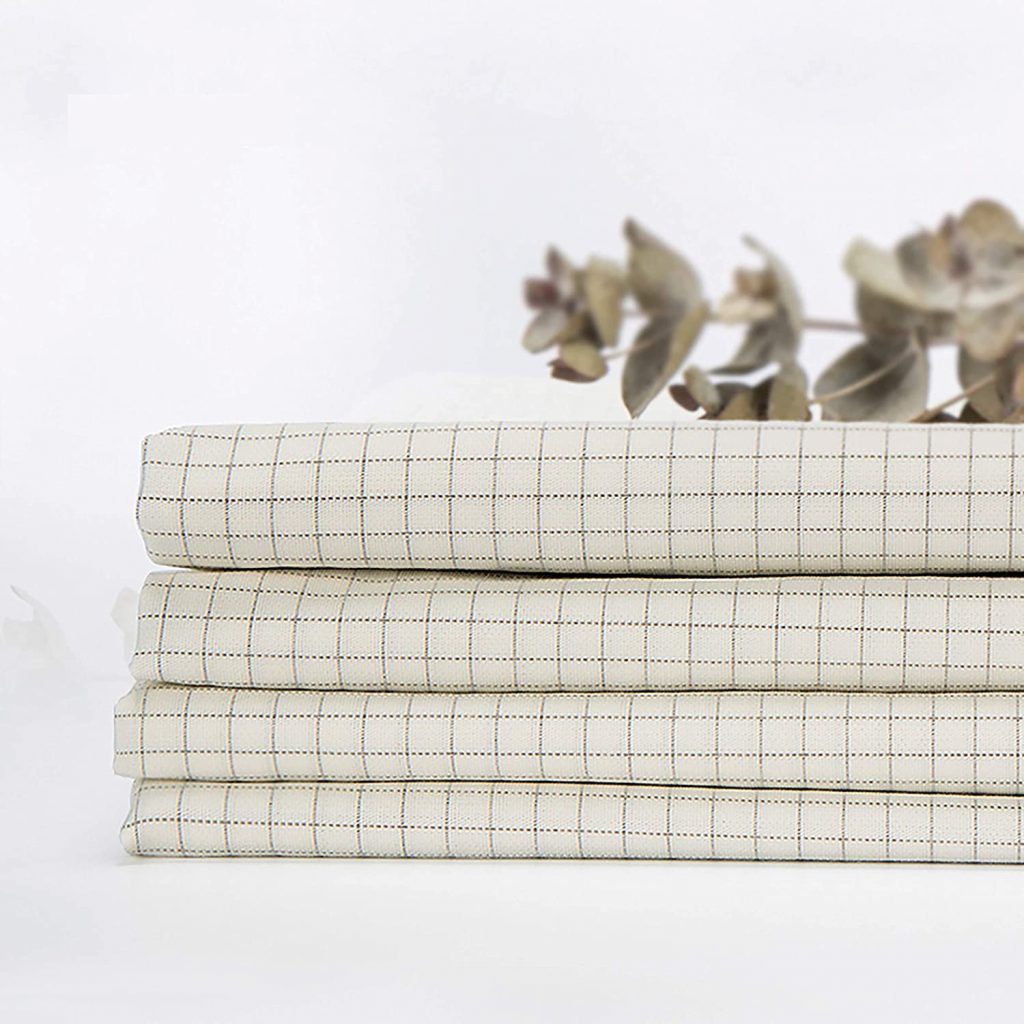 The sheet measures 79 x 39 inches. It is important to note that there's only a half sheet option. However, that's not a shortcoming since the sheet fits most beds from Twin XL to King sizes.
For optimal earthing capabilities, the sheet features 6% pure silver threading. It is also made of natural cotton to be soft and convenient to use. A ground cord is meant to conduct the negatively charged electrons from the earth. This way the mat will let you recharge while sleeping.
The free electrons will make their way into your body through the cord and silver threads. Once they have absorbed into your body, free radicals will get neutralized and you will recharge yourself with vital energy.
If you doubt that the sheet really offers healing effects, try it out on your own. Don't worry, it has a money-back guarantee.
Key Features
94% cotton and 6% pure Silver
Comes with a cord that measures over 16 feet
Fits just about every bed size
Reversible design with patented safe plug
The risk-free trial period of 110 days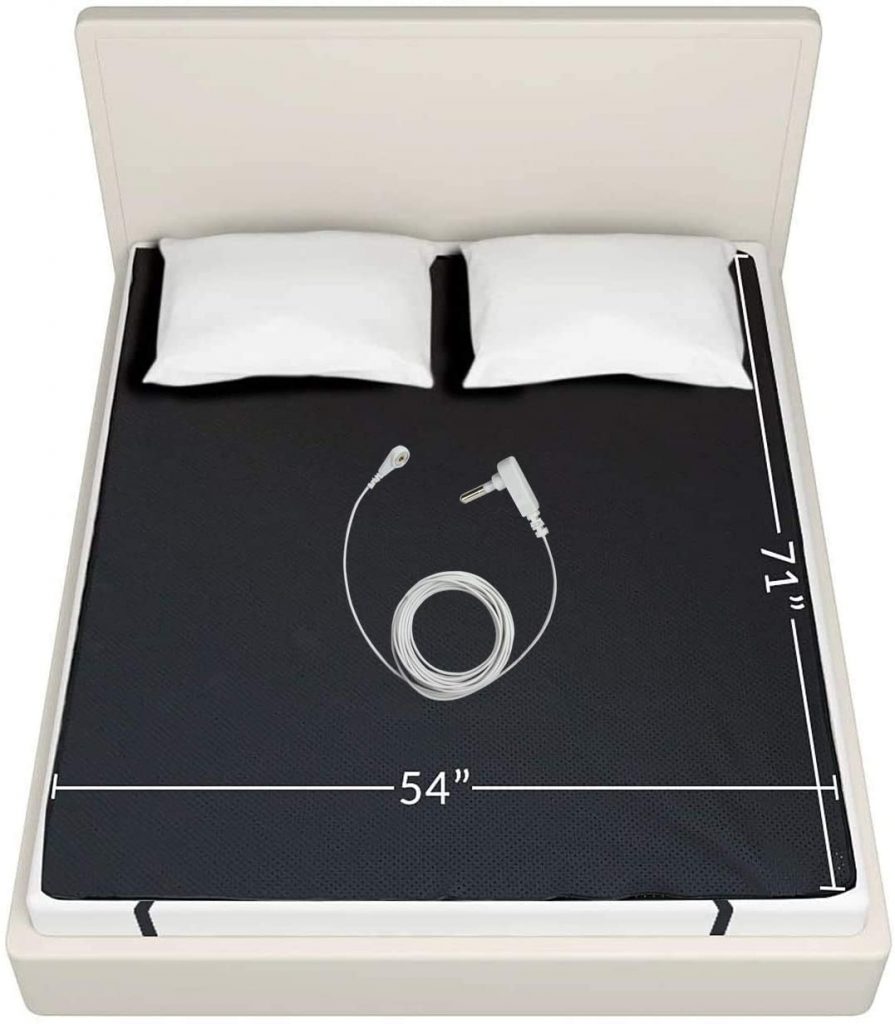 With this therapy grounding mat, you will touch the Earth through your skin and may get many health benefits. By reconnecting yourself to the Earth, you will be able to utilize natural energy and feel less sore.
In addition to better sleep, it can help with stress, body inflammation, chronic pain, and much more. It will help you normalize your blood pressure, boost energy, and lessen jet lag while protecting you from the negative effects of EMFs.
This full-size sheet is made of high conductive PU carbon leatherette. The cotton side should go down whereas the leather-like side should go up. To fix the mat on the mattress, there are elastic straps and breathable holes.
When it comes to washing, you're advised to wipe your mat off with a damp cloth. Don't use natural oils and detergents with bleach as they can reduce its work efficiency by destroying the silver conductivity.
Key Features
Material: PU carbon leatherette
Size: 54 x 71 inches
15-foot grounding cable
Easy to install and use
EMF protection
Here's another grounding sheet from NeatEarthing you should consider buying if you want to reap earthing benefits. It may revitalize your body and mind by using natural energy. With its earthing properties, this conductive sheet can reduce inflammation and pain.
It may also reduce the harmful EMF voltage of your body and re-energize it with a flow of beneficial electrons. Whether you're enjoying a vacation outdoors, sleeping in your home, or working at the office, this earthing sheet will do wonders for your health.
The sheet is fairly easy to connect. All you need to do is hook up the power cord (a grounding wire is included) to your outlet's ground socket. It comes in different size options to be convenient to use just about anywhere.
Key Features
Amazing health benefits
Long-lasting and comfortable
High-quality materials
Several size options.
Inexpensive
How Grounding Works
Grounding or earthing puts the human body in uninterrupted, direct contact with the Earth. That means your body, i.e. skin should touch a conductive surface – whether it is the soil, water, or sand – that's in direct connection with the ground to turn to a neutral state.
In fact, your body builds up a positive charge over time, which may cause different health issues. Once it gets in contact with the ground, new electrons will enter your body, which will cause the collected positive charge to get nullified. This is how grounding works.
Grounding sheets allow people to ground their bed to the grounding wire and thus ground themselves to the Earth. That lets electrons find their way into the human body and works on scavenging free radicals.
Science Behind Earthing
As stated earlier, earthing is all about connecting the body to the Earth. The science behind earthing and its positive effects on health is based on negatively charged free electrons (negative ions). These particles come from the Earth and neutralize free radicals on our cells that are positively charged.
This topic is still not covered by science completely even though many studies have found that earthing can improve health in many different ways. Future research is needed to get a better understanding of the health effects of grounding. That will help us realize all the health implications associated with grounding.
Health Benefits
Earthing (also known as grounding) relates to the connection between the body and the Earth with the goal of balancing the positive charge. Here are some research findings on the health benefits of earthing:
Will the Effects of Grounding Be Immediate?
There is no definitive answer to this question since everyone experiences the effects of grounding differently. Some people may feel an immediate sense of calm and relaxation, while others may not notice any difference at all. However, most people who regularly ground themselves report feeling more grounded and connected to the earth, which can lead to improved physical and emotional health over time.
How to Use Earthing Sheet
Earthing mats are very easy to use.
Whether you have a flat sheet, fitted mat, or a half sheet, you need to connect it to an appropriate grounding wire. You may use them all, but one would be just enough. Make sure the grounding sheet performs as described to be effective.
Hook up your earthing mat to the ground outside or insert it into the ground port of your electrical outlet. Test the outlet with a circuit tester to ensure it is grounding indeed. Most earthing sheets come with an outlet checker. It is important that your bare skin touches the sheet while you sleep.
How to Take Care of Your Earthing Sheet
Special care can extend the longevity and effectiveness of your grounding sheet. By taking care of your earthing sheet, you will maintain its conductivity. Here's how to do it the right way.
Wash your earthing sheet regularly in warm water – It's recommended to wash earthing sheets once every 10 or 15 days to keep the fiber conductivity steady. Use lukewarm or warm water and a gentle wash cycle.

Avoid dry cleaning in a machine – Many people don't dry-clean their grounding sheets either. If you want to dry your sheet, use the 'no heat' or 'low' setting whether you select tumble dry or line dry.

Use mild laundry detergents – While most mild detergents work well, it's best not to use detergents at all. Remember that there's no harm at all if you opt to wash your earthing sheet with no detergent. 

Never wash with fabric softeners and whitening detergents.

Do not use bleach and detergents that contain bleach – Just like lotions, oils and fabric softeners, bleach can destroy or reduce the fiber conductivity by tarnishing the silver. Bleach can ruin the conductive properties of your sheet over time and make it useless.
Avoid applying lotions or night creams before bedtime – Lotions interfere with the thread conductivity when coming in contact with the earthing sheet. If you like to use them at night, wait at least an hour or two before going to bed.
Safety Precautions
One of the common fears of many people is: Are earthing sheets really safe? What if I get electrocuted? Don't worry. There's no danger of drawing current as long as you use your earthing mat properly.
Earthing isn't recommended in an environment with lots of ungrounded, unshielded electricity. While some people are eager to create an earthing sheet on their own, we don't recommend it. This is not only a complex but also a dangerous process that requires a lot of experience.
It's best to buy a grounding sheet from a trusted company that is proven to work. When it comes to safety precautions, check the outlet and grounding cable to reduce the risk of exposing yourself to intermediate frequencies and voltages.
Other Things for Earthing
Pillows
Similar to grounding sheets, earthing pillowcases conduct free electrons through silver fibers from the Earth. They are geared toward people who struggle to sleep at night and those suffering from chronic pain.
Silver fibers usually come in a nylon fiber core for hygiene purposes and improved conductive qualities. Most grounding pillows are made from natural fibers.
When buying your ideal earthing pillowcase, look at the thread count and make sure it's made of natural materials like pure silver threading and cotton. Choose the correct size so that it fits your pillow. The grounding wire should fit into your outlet and be long enough.
Mats
Grounding mats can be used in different ways while standing or sitting, watching TV, working at a desk, etc. They are usually used under bare feet, however, some people also use them on desks with their hands resting on them. By putting an earthing mat under your mouse and keyboard, you will ground yourself while clicking or typing.
Earthing mats are very flexible and soft as well, so you can use them in your bed instead of a grounding sheet. They are a more affordable alternative to earthing sheets. No matter how you want to use it, make sure some areas of your bare skin are touching the smooth upper surface of the grounding mat.
Natural Ways of Earthing
There are a variety of methods of earthing. They are all aimed at improving overall health. This therapeutic technique involves different activities that electrically connect or "ground" the user to the Earth through either indirect or direct contact.
The good news is that many of these methods are free. While the free methods don't require any accessories or earthing equipment, you should consider using grounding sheets, mats, and pillows for this purpose. Here are a few natural grounding techniques to try out:
Cover your crown – As the name suggests, you should place one of your hands over the crown of your head. Close your eyes while doing this grounding exercise to avoid distractions.

Follow your breath – Trace the air while you're inhaling as it hits your nose and reaches your lungs. Follow the air on the exhale while it leaves your lungs and goes out through your mouth or nose. Make sure your eyes are closed all the time.

Feel your feet – This grounding technique is fast and effective too. It only takes about 30 seconds. All of the awareness should be placed on the bottom of the feet while standing or sitting.

Stand like a tree – You need to stand so that your feet are shoulder-width apart and parallel. Besides, your head needs to float above the body. Place your hands over your navel or rest them at your side. All of the tension and body weight should be sunk into the feet.
Conclusion
We have seen the potential benefits of earthing and the best grounding sheets on the market. Acting as stress-relievers, these sheets can get your mind and body to be in sync. They offer many health benefits from improving sleep to managing pain and reducing chronic inflammation.
There are a few things to consider before choosing the best earthing mat, including the length of the cord, material, and size. Whichever sheet you choose from our list, you won't go wrong since they are all proven to work.
We recommend choosing the NeatEarthing Grounding Sheet. What makes this half bed sheet the best choice is high-quality cotton fabric, sleek design, and affordable price. You will feel energized while using it, thanks to the crosswise and lengthwise silver threads that ensure enhanced grounding. That makes it worth buying.