Many people overlook a rug when they decorate a room or nursery. In addition to gliders, changing tables, and cribs, the best nursery rugs are necessary to complete the baby's room. They add a cozy, soft surface to the nursery and have a great aesthetic impact.
When choosing the best rugs for baby nursery, you want them to be durable, lightweight, washable, and stylish. Don't worry, I will help you find nice and safe nursery rugs your child will love for sure.
The Nursery Rug Dilemma
Something so simple, like the floor even comes with some hard choices.
Should I put an area rug in the nursery or no rug at all? Can I have one with carpet or would it look tacky? Should I buy a nursery rug with natural or synthetic fibers?
Feel like pulling out your hair yet? Don't.
This nursery and kids rug guide will help you eliminate the confusion from picking a rug for the nursery. That final touch to tie it together won't be difficult.
Do I Need a Rug for the Nursery?
Simply put, yes, it should be one of those items that's on the 'nursery to do list'. If you want a safe, baby friendly and complete nursery, all rooms should have one.
When you have a newborn, they will be spending most of their time in your arms, but when they are a little bigger, tummy time becomes very important. Of course you could just put a blanket down on the floor and pick it back up again every single time you want baby on the floor, but that's not very convenient, not to mention safe, clean or comfortable for your baby.
As your baby gets older and spends more time playing on the floor, it's going to become more and more essential for them to have a soft, clean, safe, area to play. And let's not forget about design. A baby room rug can really tie the room together and give clean defining lines so it doesn't seem like everything is just hanging around. Nursery room rugs are also great for that pop of color that hardwood, tile, or carpeted floors just don't have.
You're probably wondering, why would I put a rug on carpet? The options for baby friendly rugs add an extra measure of safety when baby is playing on the floor. Most carpets are made of synthetic fibers and they can contain toxic chemicals. Having a barrier between your baby and those chemicals is better overall for the health of your little one.
What to Look for in Nursery Rugs?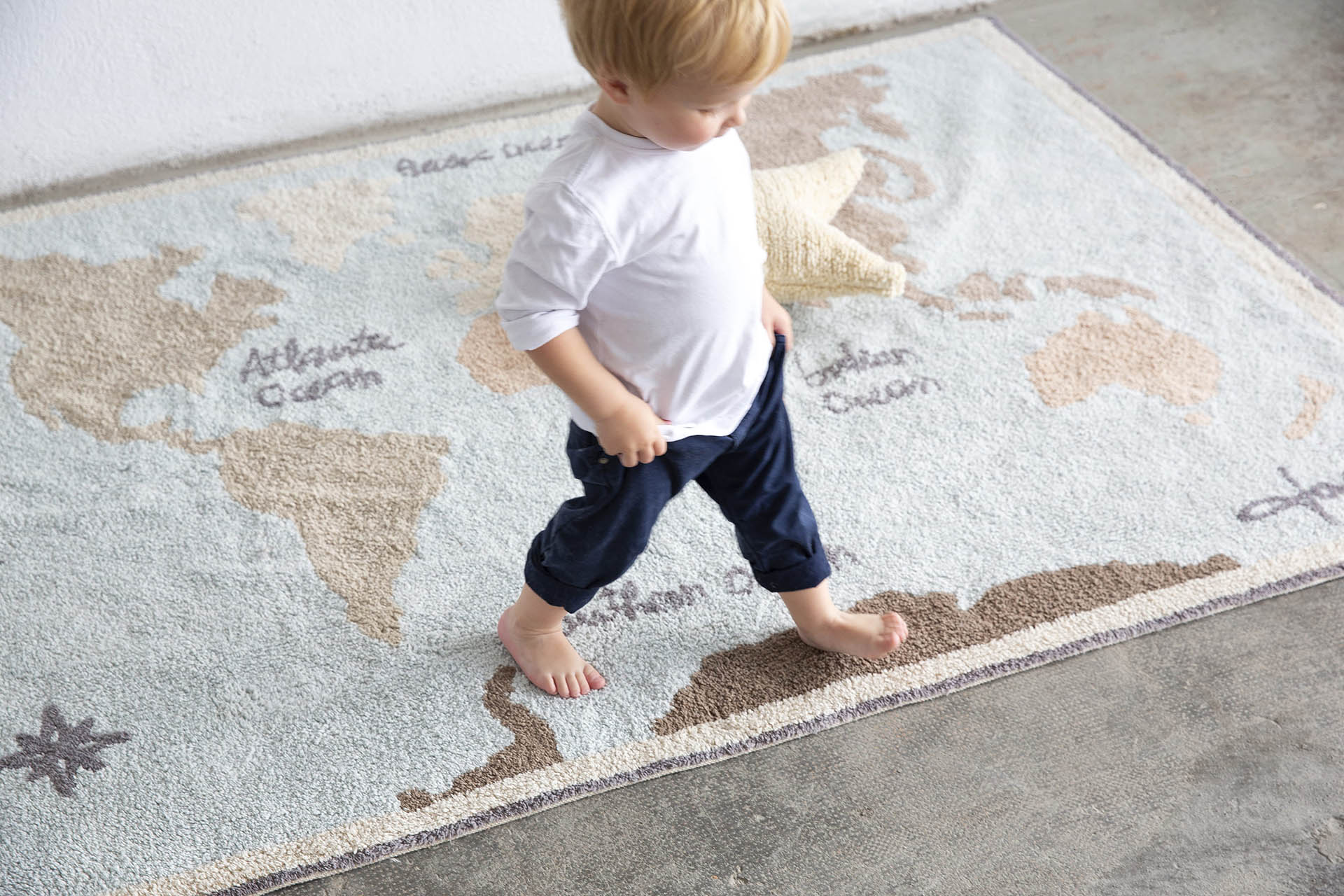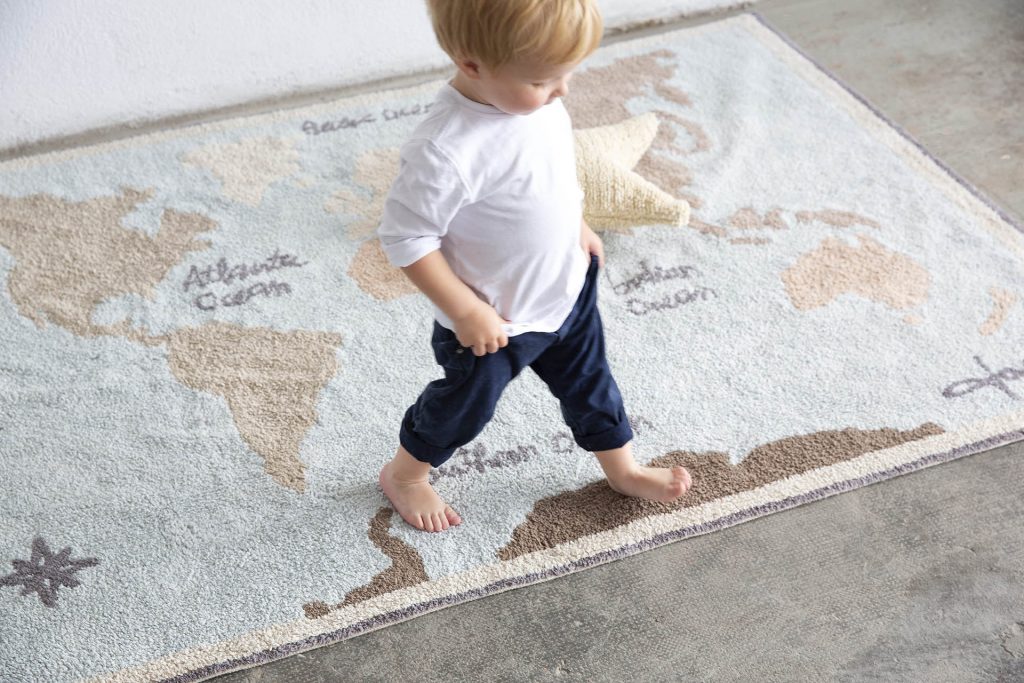 Safety
Safety should be your top concern. This is important because your kid will spend a lot of time rolling around and crawling on the floor. A safe rug is one that is made of natural materials without toxic chemicals.
Material
The best rugs for babies are usually made of materials like wool, cotton, and jute. There are also acrylic and synthetic rugs out there. While synthetics are easy to wash and very durable, I recommend choosing natural materials.
Price and Size
The bigger the rug, the higher the price. That said, you should know how and where you'll use the rug when selecting the size. Smaller rugs highlight particular areas, while larger ones often run under furniture thus anchoring the room altogether.
Style
There is a wide range of styles to choose from, including classic, neutral, fluffy, themed, navy pier, trend-forward, rose tufted, and flat weave rugs. Pick one that fits in with your child's room and balance its décor properly.
Washable
While some rugs are spot-cleaned, others are machine-washable. Your choice will depend on how you will be using and washing the rug. You wil want a nursery rug that is easy to clean anyway.
Durability
Buy a rug that can withstand foot traffic and many years of use. Otherwise, it may fall apart or tear up after a couple of months. Cotton, wool, and other natural fabrics excel in terms of wear resistance and durability.
RugCritic's Preference For Nursery Rugs
When it comes to natural materials in a nursery room rug, my personal preference is a sheep skin rug.
In the nursery or your children's room, you can't go wrong with a sheep skin rug.
Why do I love baby sheepskin rugs in the nursery so much?
Here's why.
A baby sheepskin rug is soft to the touch and they offer plenty of cushion, they are breathable and they are washable! That's right, it will keeps its softness after you put it in the wash.
Sheep skin rugs are rather durable and they naturally resist spills from the lanolin they contain, it's very simple to just wipe up any spill that may happen. They are also a healthful option as they naturally repel allergens and bacteria. Sheepskin rugs are really one of the better options (if not, the best baby rug) or a nursery rug.
A good nursery rug is one of the most important items you can have in your nursery room to make it beautiful and a healthy environment for your child.
10 Best Rugs for Babies by Rugcritic
Popular Questions
What type of rugs is safe for babies?
It's important to create a safe environment for toddlers because of their vulnerability. It should allow them to scoot and play safely. I recommend choosing wool rugs. However, you can buy any type of rug that is baby-friendly and non-toxic.
What size should a nursery rug be?
If the cost is no object, you should go for the larger rugs (like 5×7 and 6×9) that cover more area. They can do a great job of anchoring furniture pieces and adding a cohesive look to the room. Smaller rugs, such as 2×3, 3×5, or 4×6 sizes, sit independently and are easy to move around. However, they can chop the room up and make it look smaller.
Where do you put a rug in a nursery?
The rug is supposed to fill the empty space in the nursery so that the distance between the furniture and its edges is a couple of inches only. It should anchor the main pieces of furniture. You can group them directly on the mat. Alternatively, center a smaller rug on a single piece (like the baby crib) so that the front half overlaps it a bit.
Key Takeaways
Nursery rugs come in different colors, styles, sizes, materials, and textures. The great rugs can completely transform a playroom or nursery and keep it feel refreshed. When buying a rug, make sure it suits your child's needs and personality as well. Match your decor so that it makes your space cozy, fun, inviting, and warm.