Rugs are great for a nursery because they add comfort and warmth to a surface while cushioning the falls children have when they play and learn to walk. How to find the best rugs for babies to crawl on? You want it to be soft, easy to clean, non-toxic, and durable. Keep scrolling to learn more about what to look for in nursery rugs and see my top picks.
What Rugs are Safe for Babies?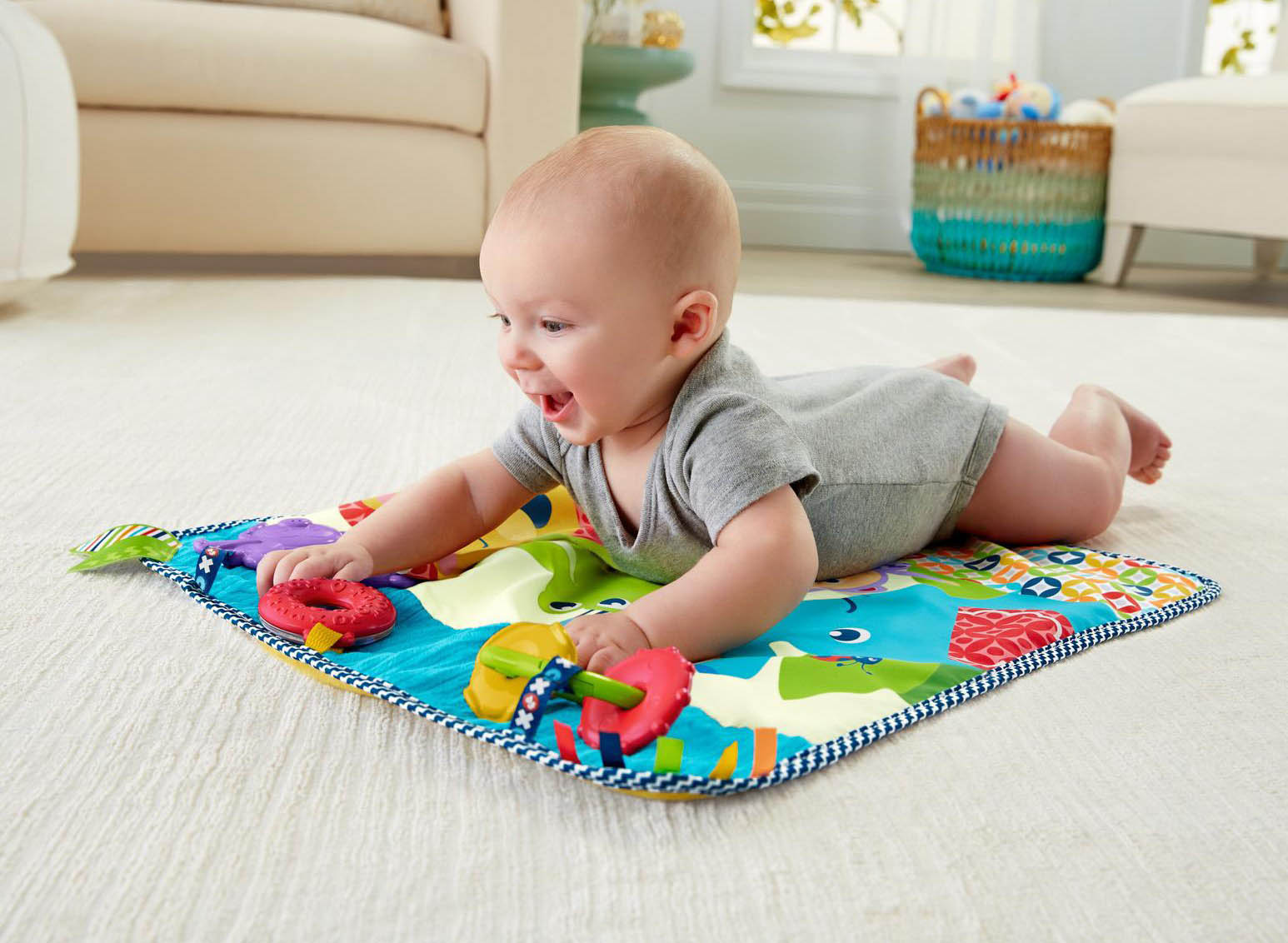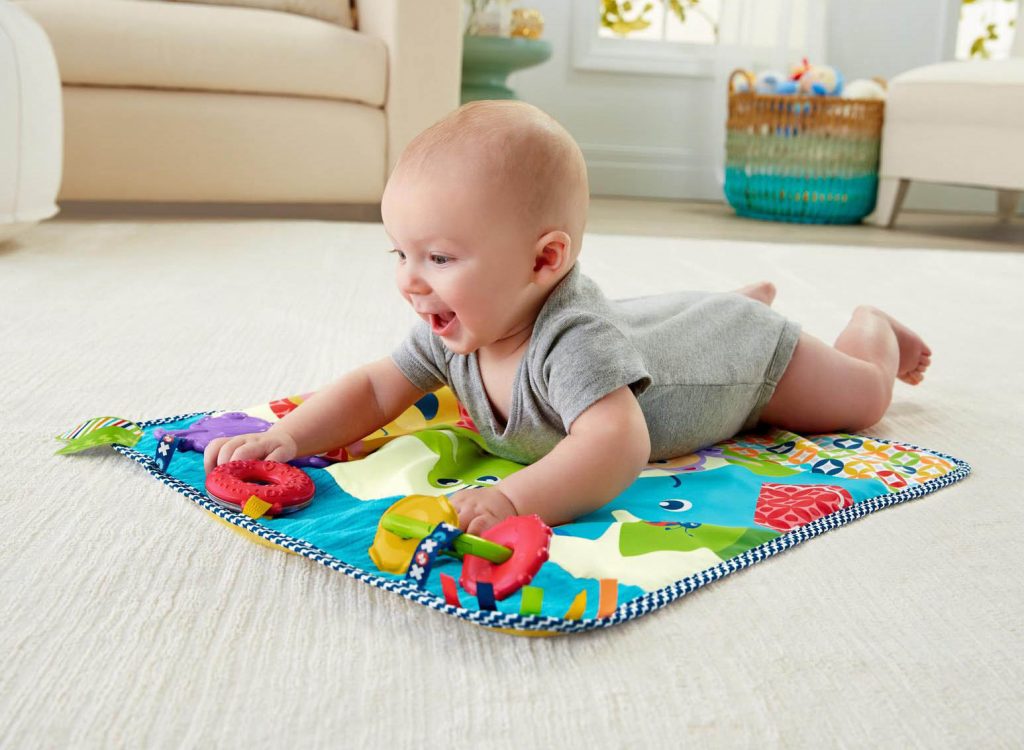 Safety is the most important factor when choosing a rug for your child. It is imperative to pick a non-toxic rug that is made without dangerous chemicals and compounds. Here are some most common material options for nursery rugs.
Wool
As a natural material, wool is not treated with any harmful chemicals. It is durable, hypoallergenic, resilient, flame resistant, luxurious, and very soft. Apart from that, wool can repel stains and water, which is why it lasts a long time. That's why wool is often considered the best rug material for baby . The only drawback of wool rugs is that they are usually pricey.
Cotton
Cotton is also a good choice because it is breathable, comfortable, exceptionally soft, versatile, lightweight, and inexpensive. While rugs made of cotton are usually thin, they work perfectly over hardwood floors and carpets alike. Moreover, they add warmth to rooms and make them more baby-friendly.
Jute
Jute is a popular choice for area rugs because it's eco-friendly and all-natural. Aside from being durable and non-toxic, jute rugs are easy to clean. Jute can resist dirt and harmful toxins, meaning your baby's skin will be safe from itching or allergic reactions while crawling on this mat. However, this type of rugs has a pretty rough surface and it's tough to crawl on.
Polyester
Polyester is generally soft on children's knees and it adds comfort and warmth to babies while they are crawling. Additionally, polyester rugs are highly durable and resistant to pests, stains, and harmful chemicals. However, this material may irritate the skin of some children, so be careful.
Nylon
Nylon a popular material for rugs since it is resistant to mildew, dirt, toxic materials, and insects. The most significant benefit of nylon rugs is that they are easy to maintain and clean. On the downside, nylon is not as soft, comfortable, and warm as natural materials like wool and cotton. So, I don't recommend it.
Acrylic
This material accepts colors well, so it's no surprise that these rugs come in different patterns and colors. It is also soft and moth repellent. A typical acrylic rug has a plush design. Even so, keep in mind that it's made of textile fibers and synthetic resins.
What About Polypropylene Rugs? Are They Safe for Babies?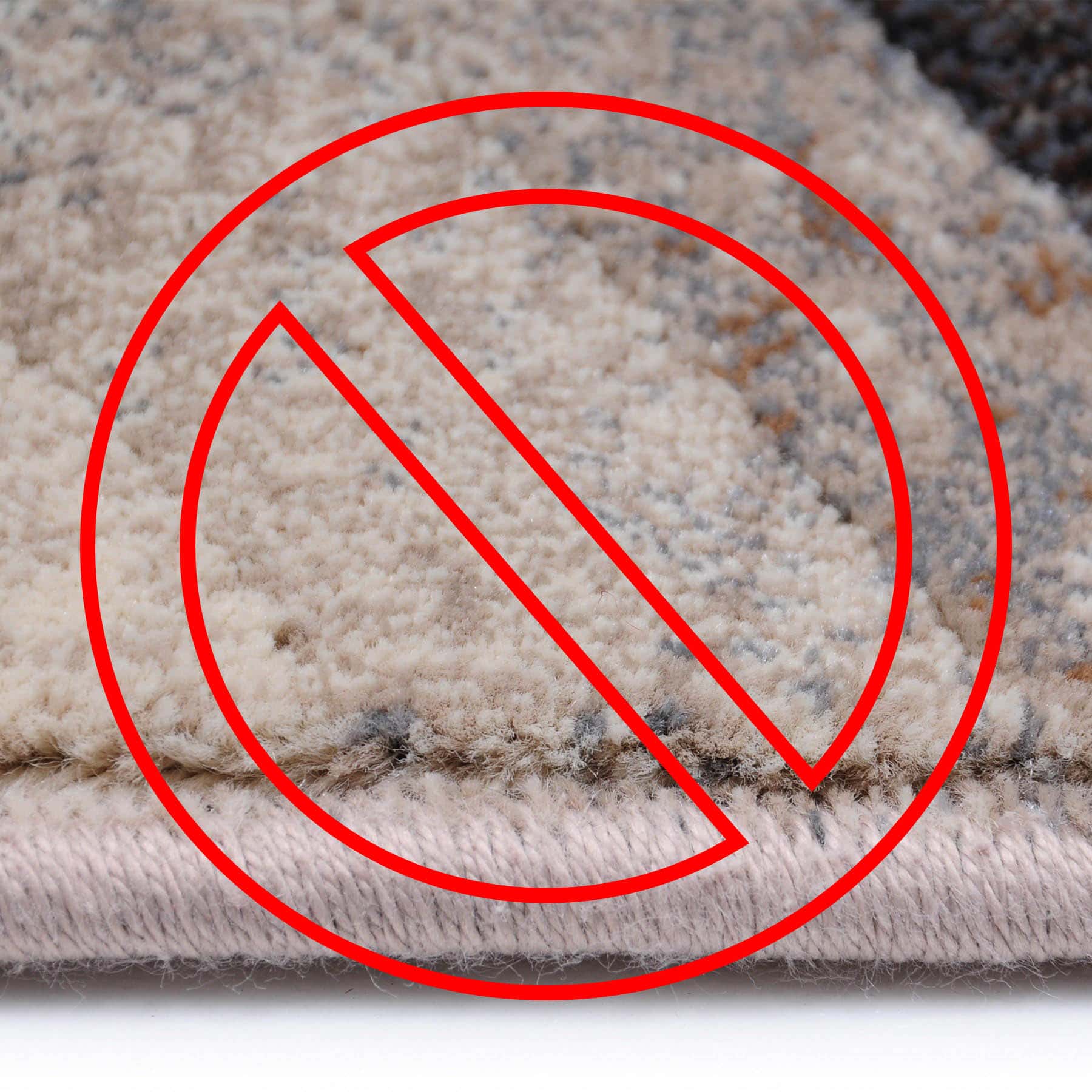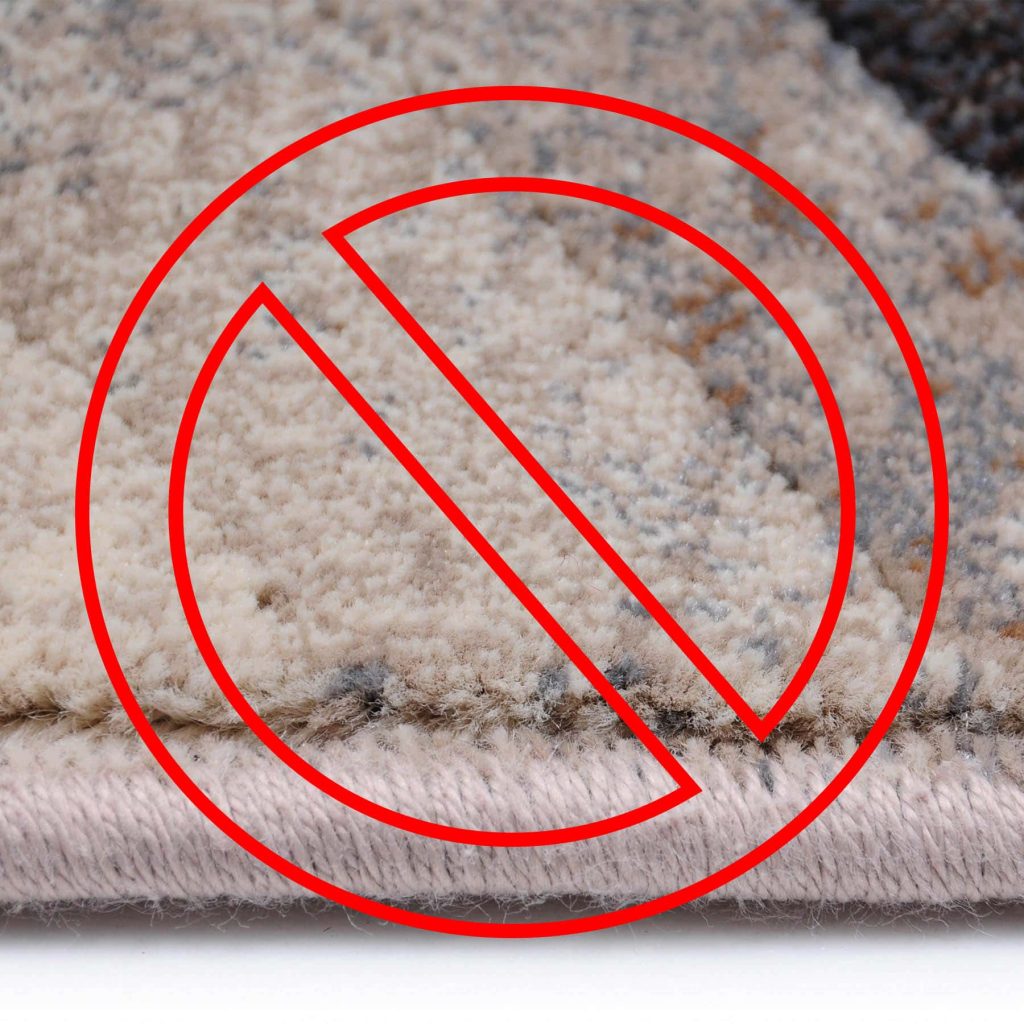 Polypropylene is very durable and affordable. However, it's non-resilient, particularly when exposed to high foot traffic and the sun. Just like most other synthetic fibers, polypropylene releases toxic compounds into the air. These machine-made rugs are treated with different harmful chemicals to be resistant to stains. With that being said, polypropylene is a BIG NO when it comes to nursery rugs.
I recently wrote the whole article about polypropylene rugs.
What to Look for in Rugs for Babies?
Here are the most important things to consider when shopping for a nursery rug.
Safety
Many manufacturers treat area rugs with a variety of chemicals, especially with volatile organic compounds (VOC). These dangerous chemicals can make rugs more durable and flame retardant but also may cause harm to your kids. You should search for soft rugs for babies that don't contain these harmful compounds.
Material
Avoid rugs treated with flame retardant compounds because they are harmful to kids. Make sure the rug you choose is made of natural, non-toxic fabric. Cotton and wool are a safe bet. These rugs are soft, toxic-free, and easy to clean. On top of this, they can prevent allergens and dust from getting trapped and finding their way into your child's lungs.
Size & Placement
Size is the next critical consideration. Make sure your children have enough space to crawl, play, and move around. The rug you plan to buy should fit the size of the room where you intend to place it. In addition to the living room and nursery, you need to put a rug in the kitchen.
Consider furniture when choosing the size. It's okay if the rug sits underneath your furniture. However, remember that dressers and cribs can leave indents and are pretty heavy.
Style & Design
There is a comprehensive range of design options when it comes to baby rugs. Pick a color and pattern that compliment the decor of your living space. As for the shape, round rugs are great for small spaces to make them look larger, while rectangular ones are more suitable for larger rooms.
Many people prefer neutral tones because they can retain their versatility for many years to come. Others choose colorful area rugs since they are fun. It's a matter of personal preference.
Ease of cleaning
Your baby spends a good amount of time crawling on the floor. That's why you should keep your floors and rugs clean. Most area rugs can be easily vacuumed or cleaned, especially the ones made of wool and cotton.
Thick rugs for babies offer more comfort at the cost of cleaning. They trap dirt, dust, allergens, and mildew. The rugs with a dirt-resistant property make cleaning a breeze. They allow you to clean them effortlessly with water and organic detergent.
Durability
Sheepskin, wool, and woven cotton rugs are extremely durable, so you can't go wrong with them. They all can hold up to foot traffic and years of daily activities like rolling around, jumping, crawling, and so on.
Price
Synthetic nylon and acrylic rugs are the most affordable choices. Be cautious about them, though, as they are also the most harmful choices. Between the options of wool and cotton, the former is more expensive. However, wool rugs can last longer and withstand the rigors of continuous use. They are also safe and warm in the cold winter months, which makes them worth extra money.
Features of a Good Rug for a Baby
Maybe you're still wondering, what is a good rug for your baby? The ideal nursery rug should be:
Comfortable — The comfort of your baby is of great importance. Some rugs come with memory foam for improved softness and comfort.
Safe — You want a safe area rug that is not treated with harmful compounds. It's best to look for baby-specific all-natural rugs that have no strings or fibers hanging off, as your little one may swallow them.
Easy to clean — Of course, everyone needs a rug that is easy to keep clean. Look for one that is resistant to dirt and stains for ease of cleaning.
Functional — A good rug for babies is one that's non-abrasive, thick, and soft.
Durable — You need to purchase a rug that is built to last. It should withstand a great deal of use and abuse.
Waterproof — A waterproof rug will make it easy for you to wipe it occasionally using a wet cloth.
6 Best Rugs for Babies to Crawl on by Rugcritic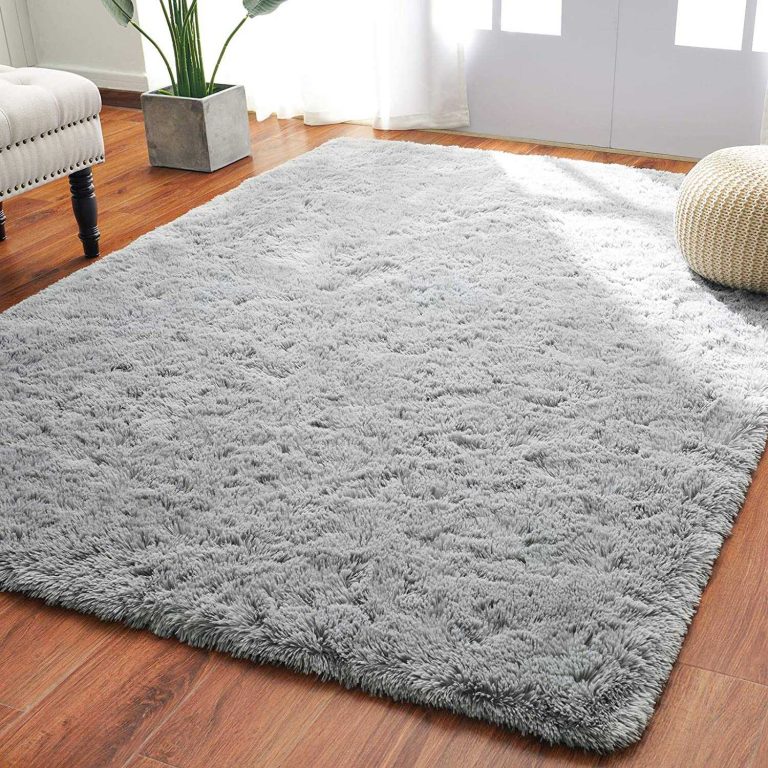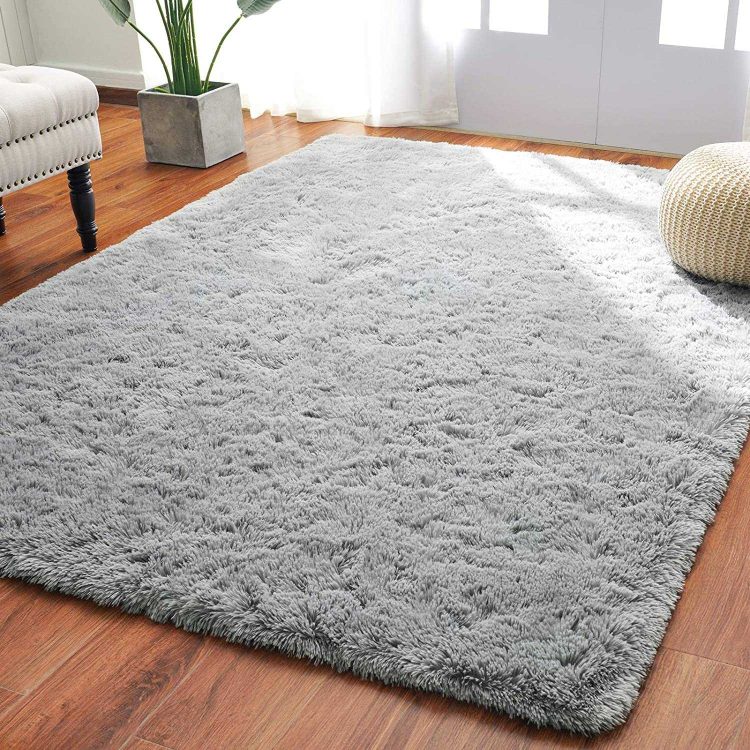 Made out of high-quality materials, this area rug feels extremely comfortable and soft. That makes it a good choice for babies crawling on the floor. They can feel comfy and warm while playing on it. The rug can do a great job of keeping warm during cold weather. Its bottom is fitted with rubber spots for anti-slip properties of the rug.
While this lightweight fluffy rug is suited for the bedroom, you can also put it in the living room, baby room, nursery, and other places. It features a simple yet modern style and design with a solid pattern. There are several color options to choose from.
Key Features
Material: Microfiber + Polyester Fibres
Pattern: Solid
Modern design
Rubber spots on the bottom
Dimensions: 5.3 x 7.6 feet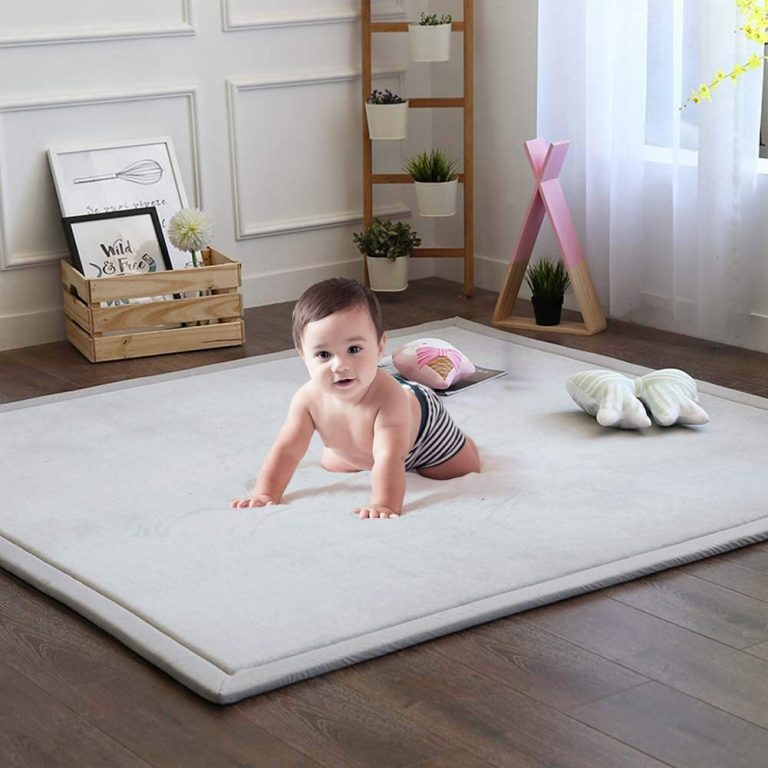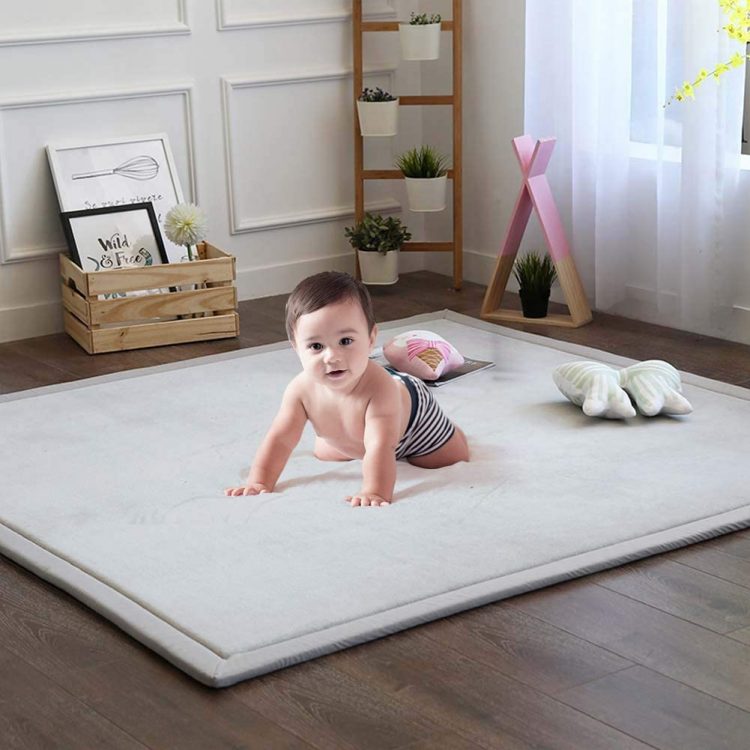 If you need a thick, soft, and large rug for a nursery, the MAXYOYO play mat is right for you. This modern 2-centimeter thick rug provides exceptional cushioning for babies to crawl on. Its top is made of microfiber, a material that is very soft and pleasant to the touch. In the middle of the mat, there's foam filling for extra comfort. The rug comes with underlying non-slip dots that are added to prevent slipping.
Despite being thick, the mat is quite simple to clean, thanks to the top velvet layer. It wipes clean quickly and easily. Washing the rug with a wet cloth is recommended by the manufacturer. Please note that it's not machine washable.
Key Features
Material: Microfiber
Memory foam interior
Non-slip spots on the bottom
Dimensions: 71 x 78 inches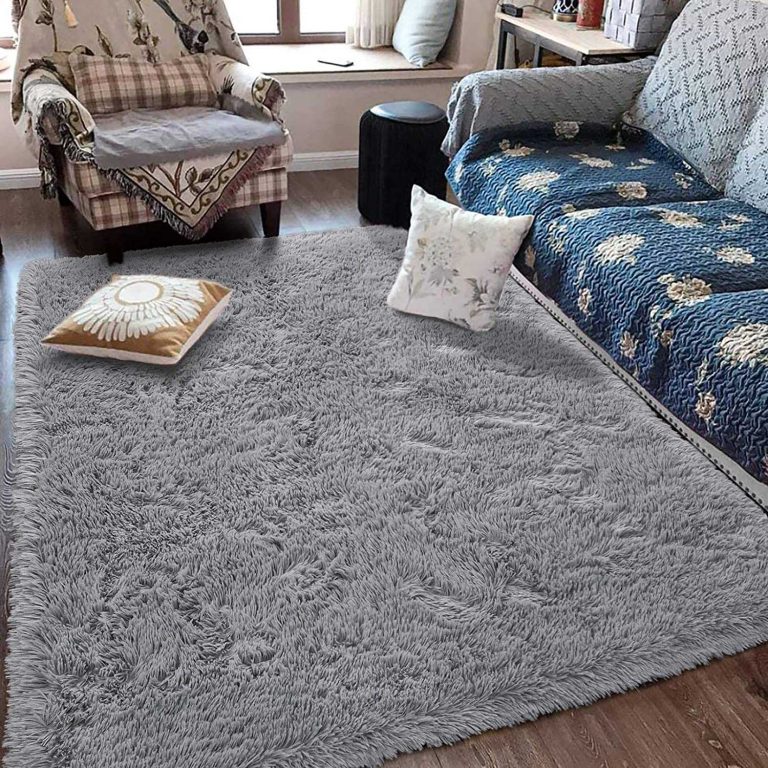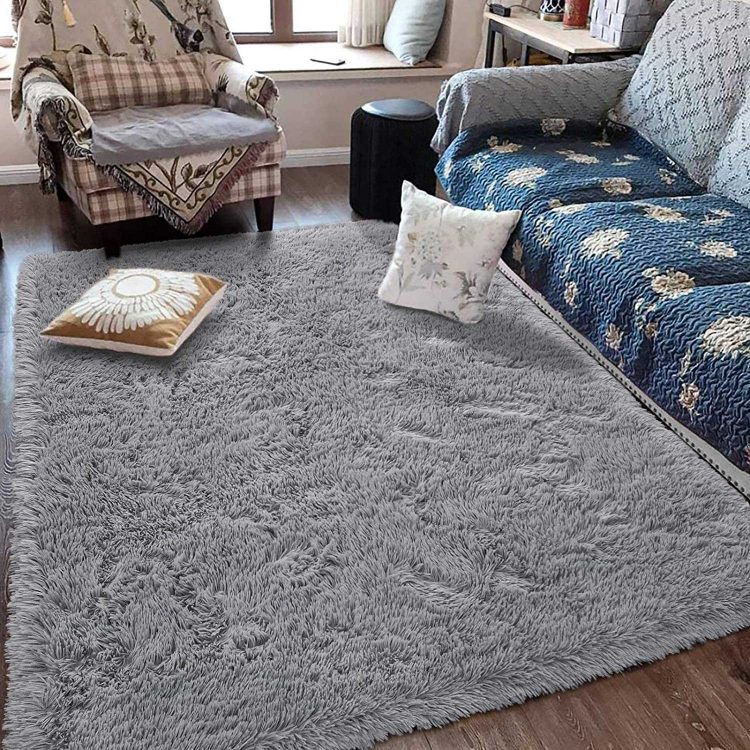 Do you have a baby boy? He will love this fluffy rug for sure. In addition to kids, it is also perfect for pets playing, lying, or crawling on it. The rug is ideal for home decor due to its size and design that fit in well with nearly every room. You can place it in your living room, bedroom, nursery, playroom, and so on.
Comfortable and soft, the mat has non-slip grips on the bottom for enhanced safety. Whether you put this area rug on the hardwood floor or another surface, it won't move at all. It is made from microfiber and comes with a sponge interlayer as well as a velvet surface.
Key Features
Material: Velvet
Pattern: Solid
Shape: Rectangular
Non-slip bottom
Dimensions: 5 x 8 feet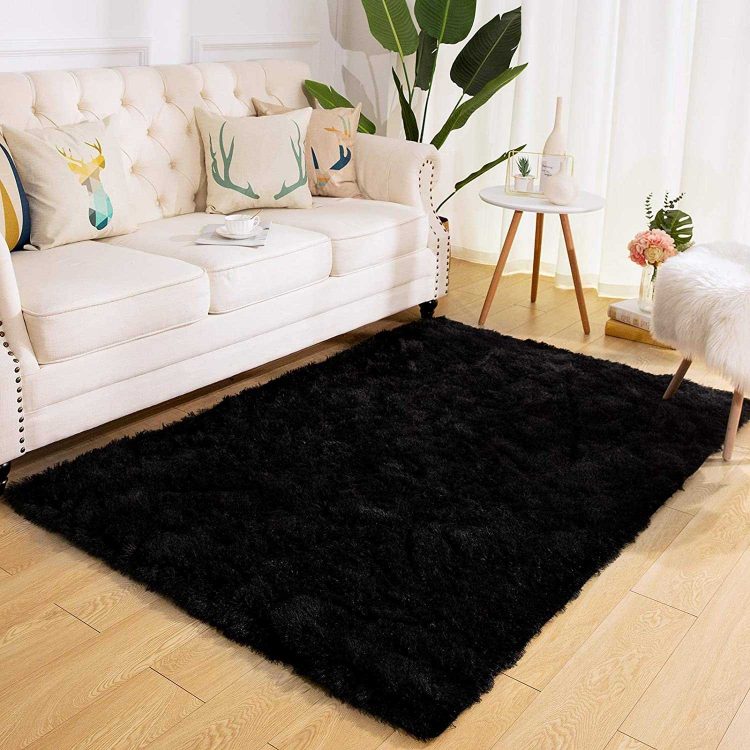 Some people prefer rugs made of ultra-soft microfiber. If you're one of those people, I suggest that you choose this mat. It comes with a sponge high-density interlayer for improved comfort of children. With soft memory foam and a 3.5-centimeter thick plush, this nursery rug provides a warm and cozy feeling to kids and babies while playing on the floor.
It's also great for adults who want to add extra cushion under their feet. There are grip dots from below that keep the rug from moving. You can place it under a table, in front of a sofa, or along a bed in the girl's room or playroom.
Key Features
Material: Polyester and Polyester Blend
Shape: Rectangular
Pile Height: Low Pile
Dimensions: 4 x 6 feet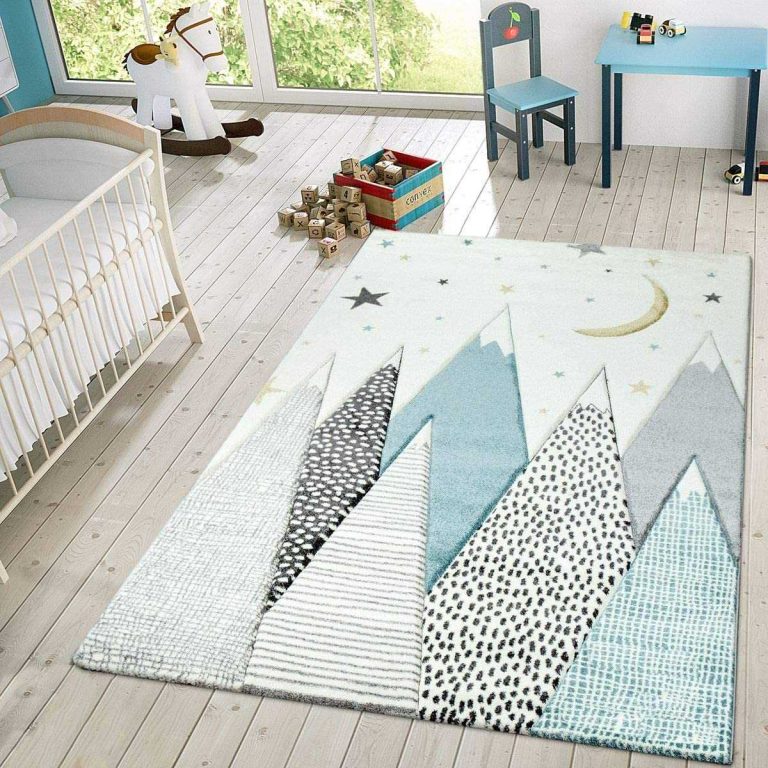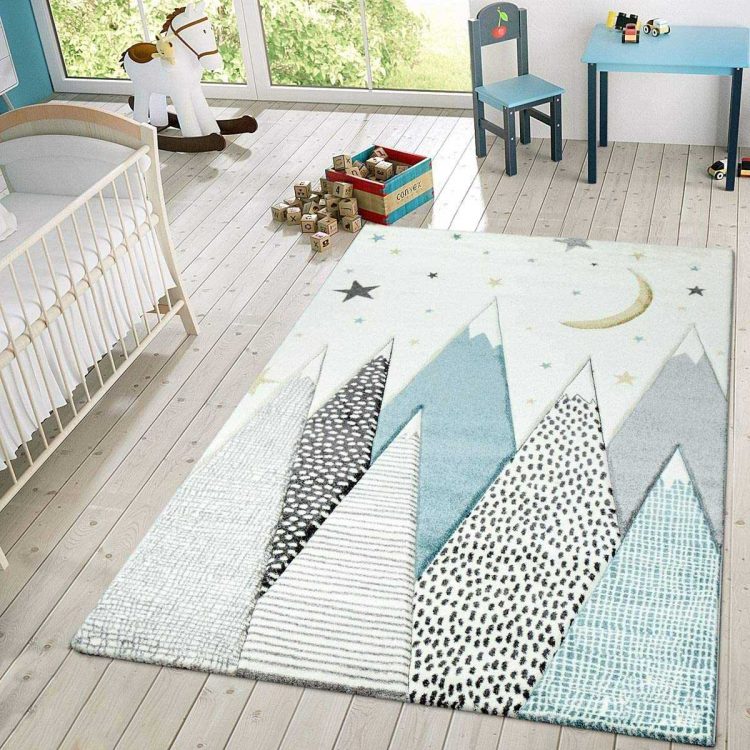 Whether you have a baby boy or baby girl, this modern power-loomed rug will be a great addition to his/her room or a spot where your baby crawls, sits, lies, and plays. It can create a cuddly and pleasant atmosphere in the space where your little one likes to spend time during the day.
Actually, it's designed as a playmate that gives children a chance to play while writing their stories. There are no harmful substances, so you will not have to worry about the safety of your baby. It is made of polypropylene, an easy-care material that allows for effortless cleaning and maintenance.
Key Features & Specs
Material: Polypropylene
Construction Type: Machine Made
Weave Type: Power-Loomed
Dimensions: 52.3 x 52.3 inches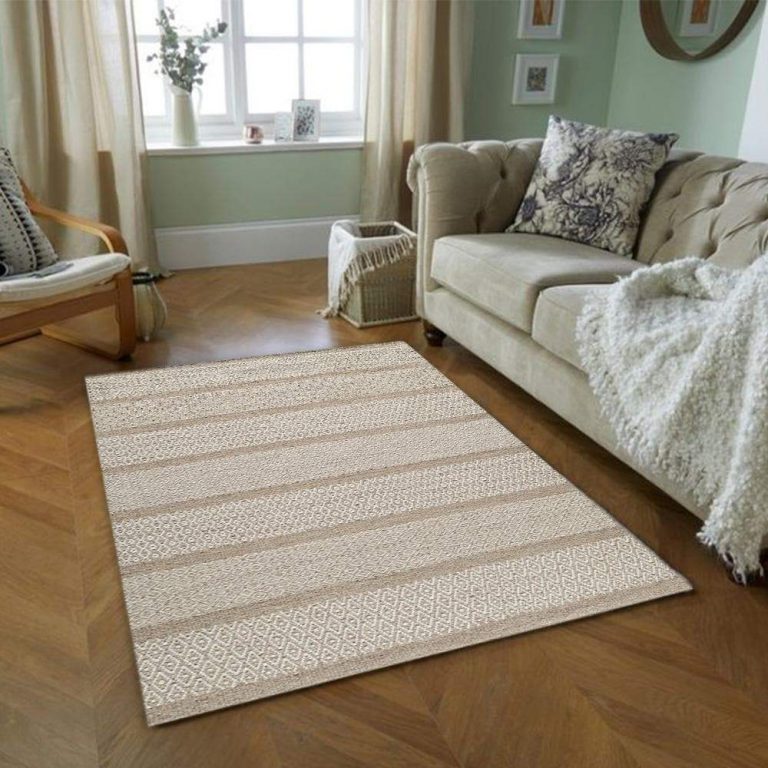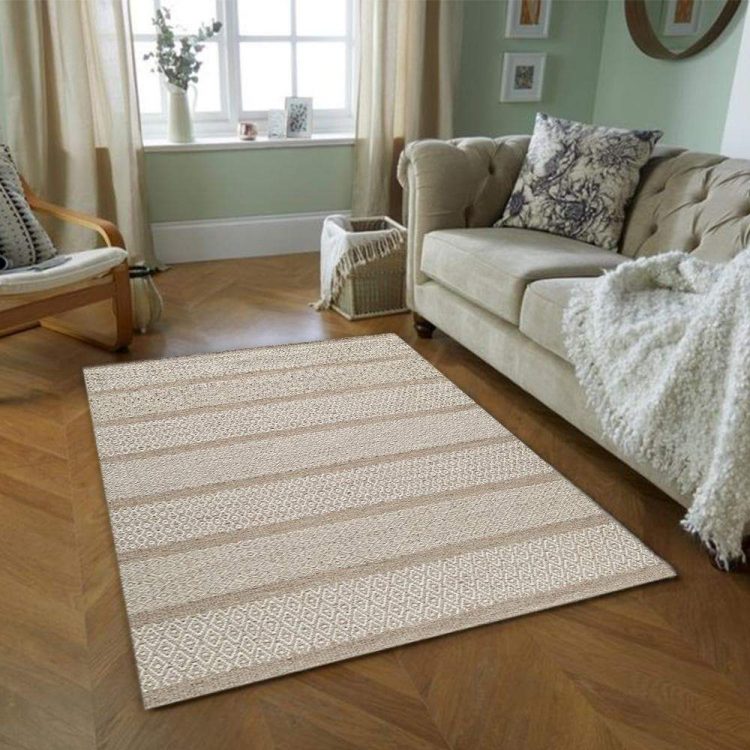 Wool rugs are the best choice for baby nurseries because they are safe, luxurious, resilient, and extremely durable. Furthermore, they provide a cozy and warm feeling under the knees and toes. Made from 100% natural material (spun wool of sheep), these rugs are completely safe for kids and adults too.
You can put them in high traffic places of your home, nursery, living room, bedroom, etc. Be sure to pick the right design and size for your room. You'll be able to wash these wool rugs with neutral detergents and dry them quickly. Vacuum the rugs regularly to keep them new.
Key Features
Natural and renewable
Durable and Resistant
Insulating and Warm
Water-resistant
Flame resistant
Dirt Repellent
Dimensions: 8'11×11'11
FAQ
Are rugs bad for babies?
Only the natural rugs made of non-toxic materials are good for babies. They cannot harm your baby by any means, so you can use them with peace of mind.
Can babies crawl on carpet?
Even if you have a thick carpet, it's recommended to put a rug over it for better comfort and safety. Nursery rugs give extra layers of cushioning between the floor or carpet and babies, allowing little ones to pleasantly crawl on it.
What type of rug is best for a nursery?
Toddlers, newborns, and infants are very sensitive to toxic materials. Wool and cotton rugs don't leave them exposed to any toxic or harmful substance. That's why they are considered to be best for nurseries.
Final Word
Purchasing the best rugs for babies to crawl on takes mindful planning and some time. You should buy a non-toxic rug that is thick, durable, stylish, and safe. Safety needs to be the most important factor when choosing an area rug. Look for natural options that will allow your child to roll around and crawl safely without getting exposed to potentially harmful compounds. Stay safe and healthy!