There is a wide range of area rugs on the market these days. Choosing organic rug is a great way to add style and sustainability to your space.
Rug safety is crucial for babies because they must grow up safely while being protected from harmful substances. Potential dangers toxins from rugs can affect children by exposing them to a variety of chemicals.
Read our post about Polypropylene Rugs for Babies. Are they safe for them?
You want something toxic-free and soft underneath your little ones, as they spend much time playing and crawling on the floor.
Today, we will pay special attention to organic rugs for nursery and review the best options available.
What Makes an Area Rug Toxic?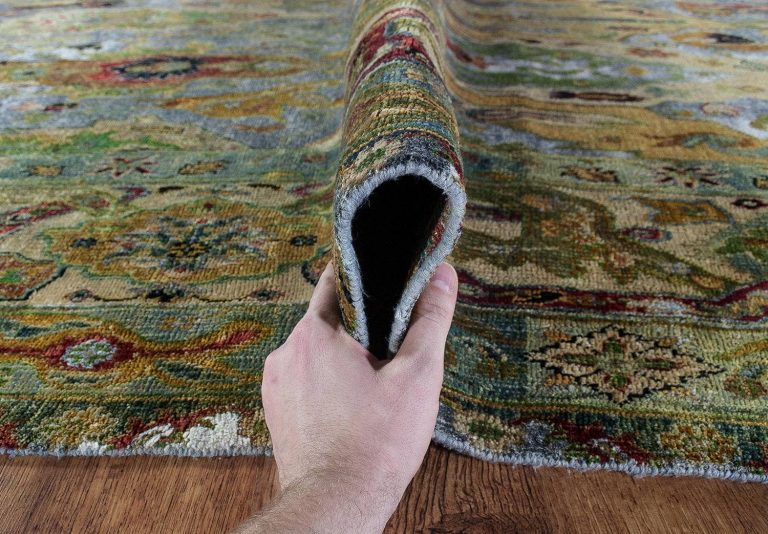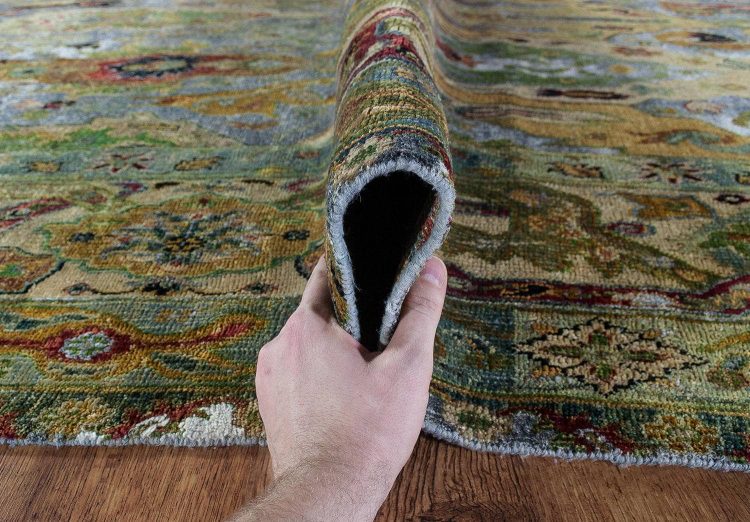 Synthetic Primary Materials
Toxic rugs are usually made of synthetic materials such as:
Polypropylene, nylon, or PET fabric – They all emit VOC (volatile organic compounds) into the air.
Chemical materials like Styrene and PVC
Synthetic dyes
Make sure your rug doesn't contain the above-mentioned synthetic materials and chemicals.
Toxic Backing
Rugs with latex backing are popular because they are slip-resistant. These rugs often contain toxic compounds like PVC, Styrene, and 4-phenyl cyclohexane. The last thing you want is to get you exposed to dangerous chemicals.
Toxic Dyes
Check if a rug contains any toxic dye before buying it. If yes, it's a big NO. Let's face it. Most rugs on the market are treated with dyes.
That's because they allow mats to come in various patterns and colors, and thus make them more beautiful.
No dye or paint is 100% natural and safe today. Check guide about all available materials for carpets.
Glues and Other Adhesives
Avoid rugs that use an adhesive in their production. They oftentimes contain toxic benzene. This is not a good carpet for your pet or even you.
Flame Retardant Chemicals
Steer clear of rugs that come with flame retardants. These toxic chemicals can easily find their way into the body through the dust.
In addition to the rugs, flame retardant chemicals are also often used in mattresses, sofas, carpets, and many household products.
Other chemicals: PFCs, PBDEs, pesticides, and fungicides
The list of harmful and toxic chemicals in area rugs goes on and on. Besides the compounds mentioned above, other chemicals to beware of include:
PFCs and PBDEs
Pesticides
Fungicides
Stain and moth repellents
Things to Avoid in Rugs
Avoid machine-made rugs. They are made using synthetic materials and chemical dyes that are harmful to people. You should look for hand-knotted alternatives because they are woven in natural materials.
Latex or plastic backing that gives off harmful VOCs. Rugs often have latex backing with plastic dots to prevent slipping. That's great, but not good for health.
Synthetic rug fibers. Polypropylene, polyester, viscose, and other synthetic fibers aren't a safe option, so you need to avoid them.
Toxic dyes. If you decide to buy a rug using a dye, make sure it is non-toxic and low-impact too.
8 Best Non-Toxic Rugs by Rugcritic
Safavieh Handmade Traditional Oriental Ivory Wool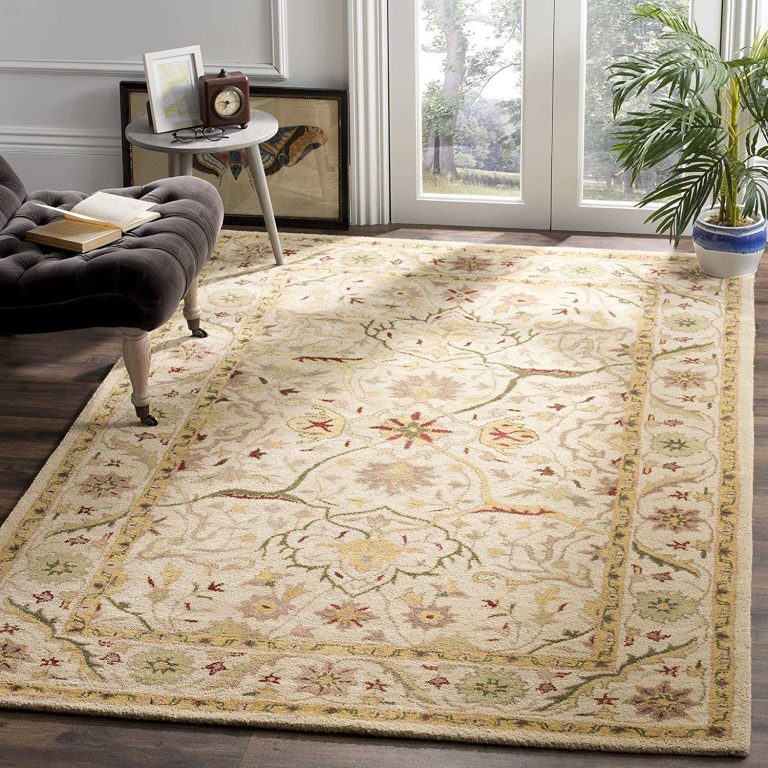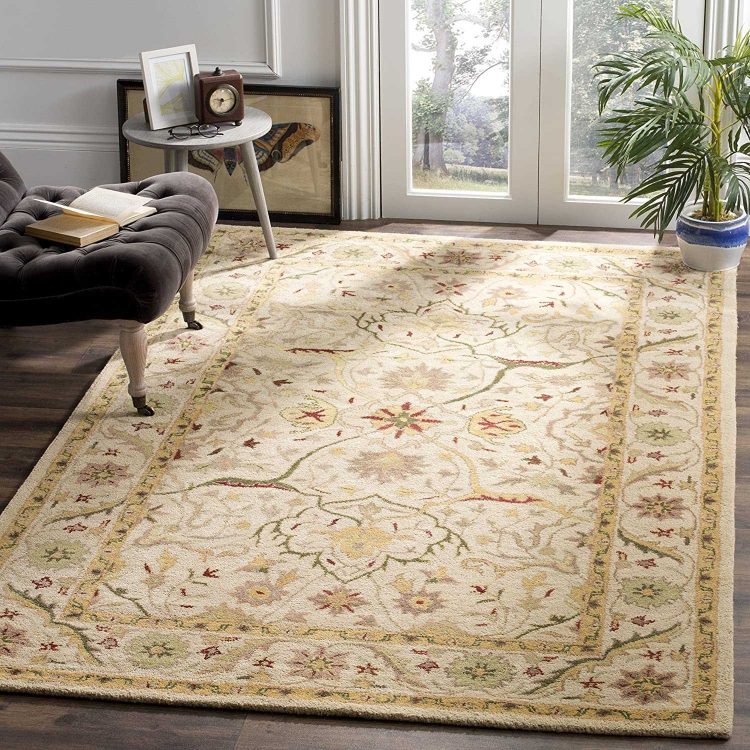 This wool area rug is aimed at customers who love traditional old-fashioned things. While this rug brings traditional sophistication, it also employs hand-tufting modern techniques.
It's designed as a Persian rug from the 19th century. Made of hand-spun wool, it uses an old pot-dying technique with a lot of open fields and soft palettes.
What I like about this handmade rug is that it features a soft pile. That's something you will like.
Its construction is hand-tufted for improved durability. It can be used for different types of surfaces like hardwood floors, concrete, carpet, pavers, tiles, and so on.
Key Features
Material: Wool
Pattern: Oriental
Shape: Rectangular
Dimensions: 6 x 9 feet (108 x 72 x 0.5 inches)
Safavieh Handmade Flatweave Grey and Ivory Organic Cotton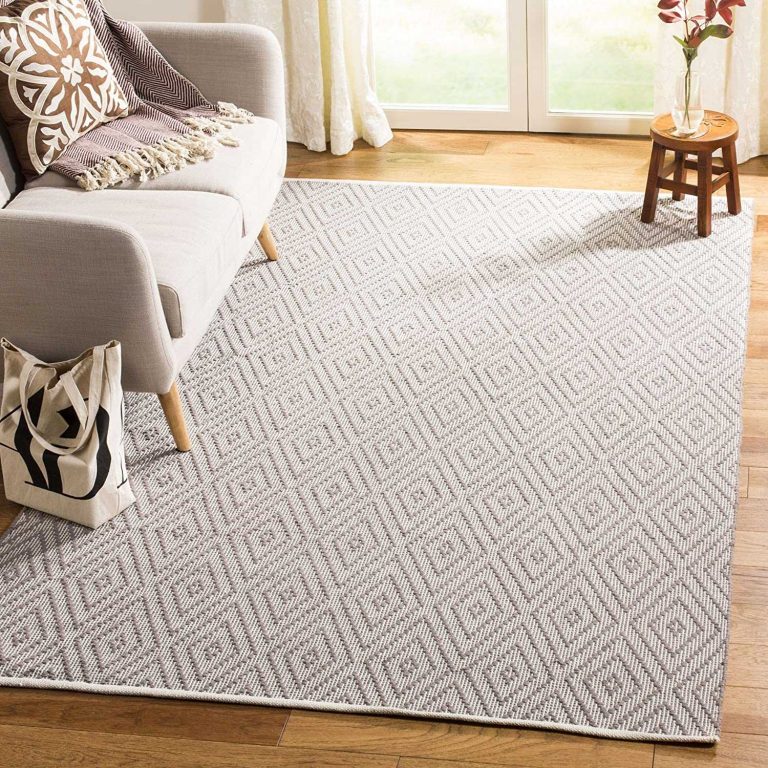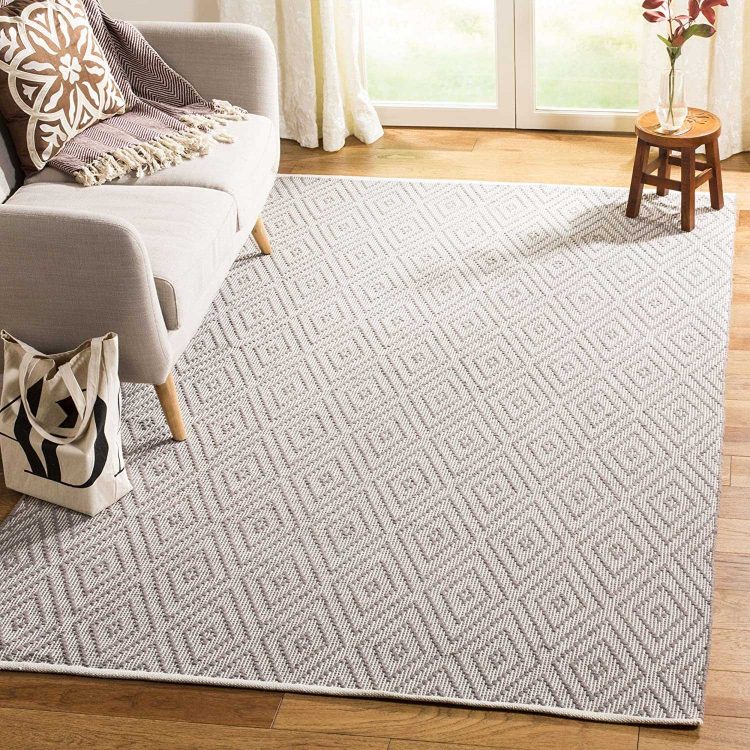 Here's another Safavieh area rug but it's made of cotton. You can also put it in the living room or bedroom. Your space will get an elegant look with this beautiful handwoven rug.
It comes in vibrant colors and transitional patterns to match almost any decor. The superior design and premium high-quality materials add to the comfort and durability of the rug.
It is very durable and lightweight as well. This ensures that it can hold up to heavy usage while serving you for many years to come.
Key Features
Material: Cotton
Pattern: Geometric
Shape: Rectangular
25-inch pile height
Dimensions: 6 x 9 feet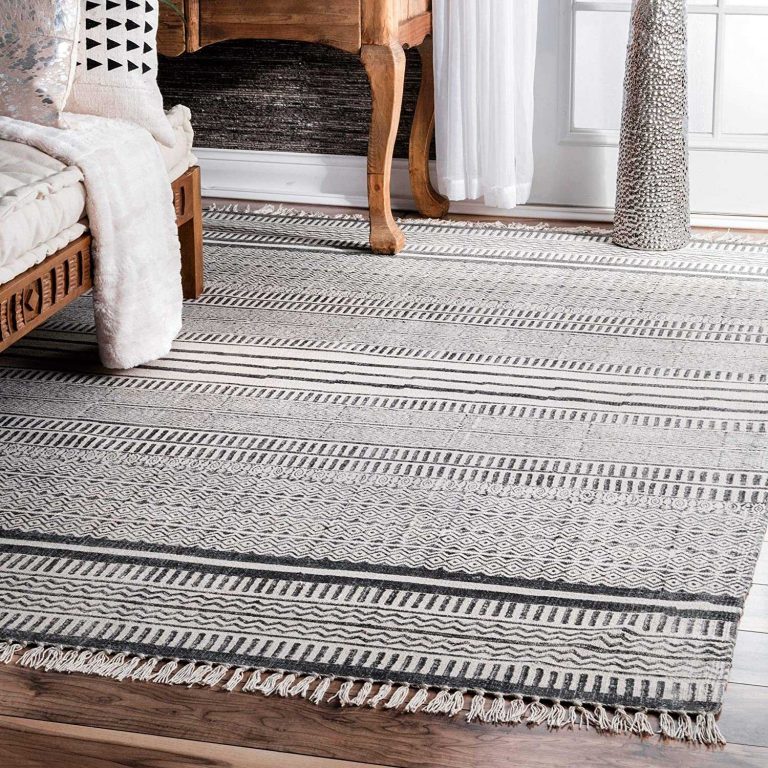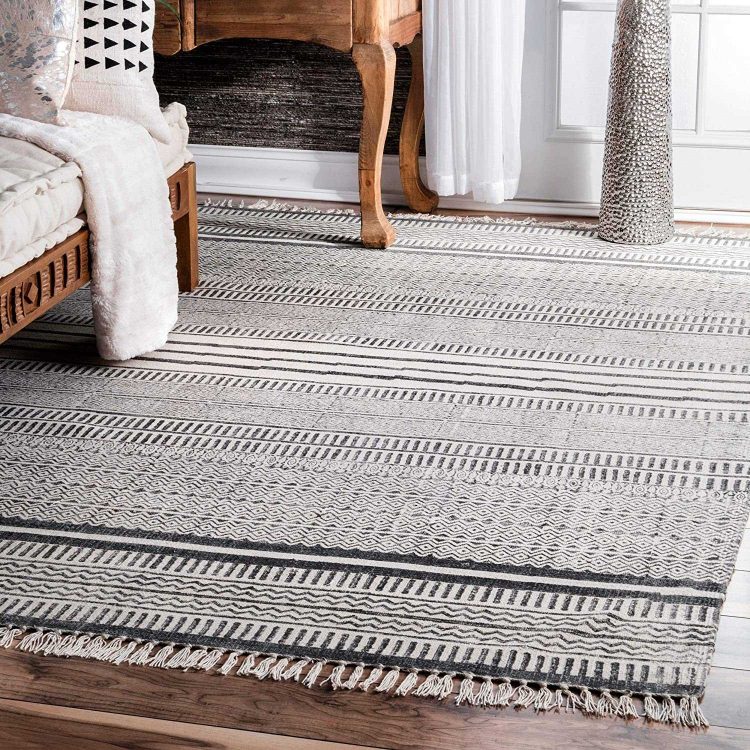 This awesome carpet comes from India. As you may already know, nuLOOM is a reputable manufacturer of floor coverings. They offer a whole host of mats, rugs, and other floor coverings.
It is designed as a power-loomed rug. The contemporary style adds to its appeal and makes it suitable for modern styles.
This rectangular mat is made of 100% cotton and it comes in a grey-white color. There are several pattern and size options to choose from, but I like this one in particular.
Key Features
Material: Cotton
Weave Type: Power-Loomed
Shape: Rectangular
Pile height: 0.33 inches
Dimensions: 7′ 6″ x 9′ 6″
Safavieh Cambridge Collection Handmade Wool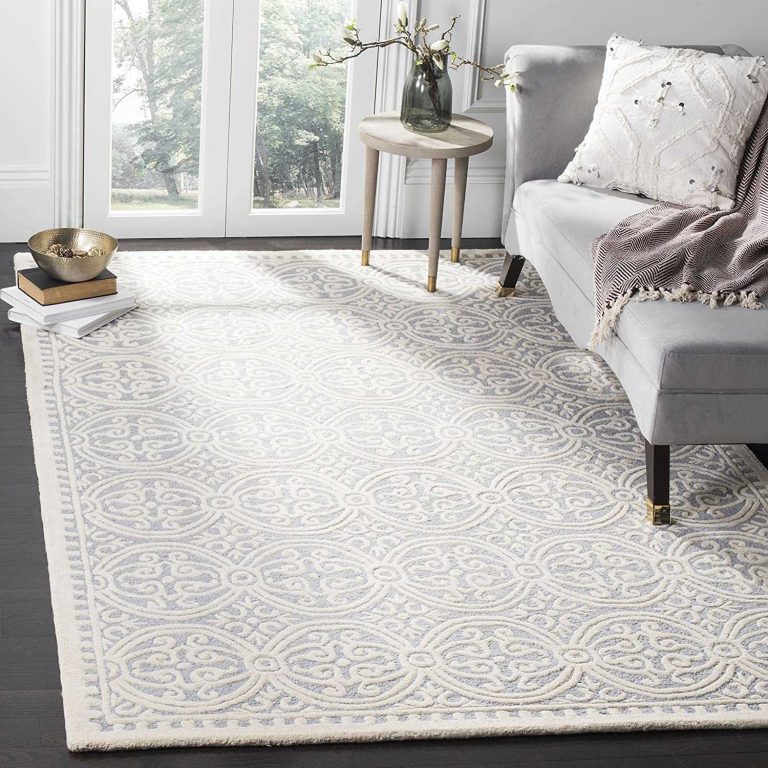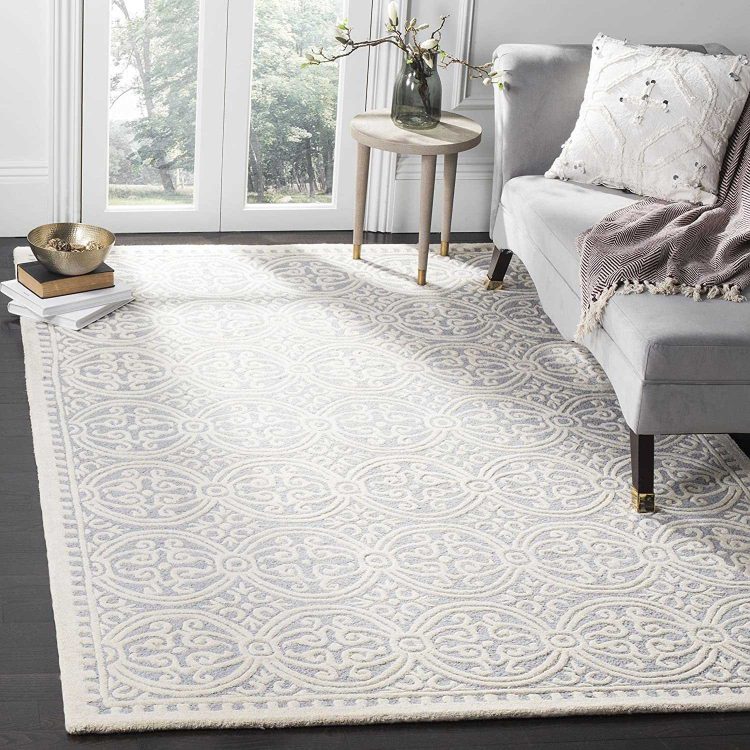 Let's get back to Safavieh's rugs, and there is a good reason for this. Its name is Cambridge Moroccan Rug.
This handmade rug features a geometric eye-catching design as well as a geometric high-low pattern that gives it an elegant look and feel.
It is made of premium wool and comes with a durable cotton backing to be suitable for any type of flooring.
The rug is beautifully textured and it works great with both modern and traditional decor styles. That makes it easy to pair it with just about any home decor.
Key Features
Material: Wool
Cotton canvas backing
Shape: Rectangular
Pile height: 0.5 inches
Dimensions: 7'6″ x 9'6″
nuLOOM Caryatid Handwoven Solid Wool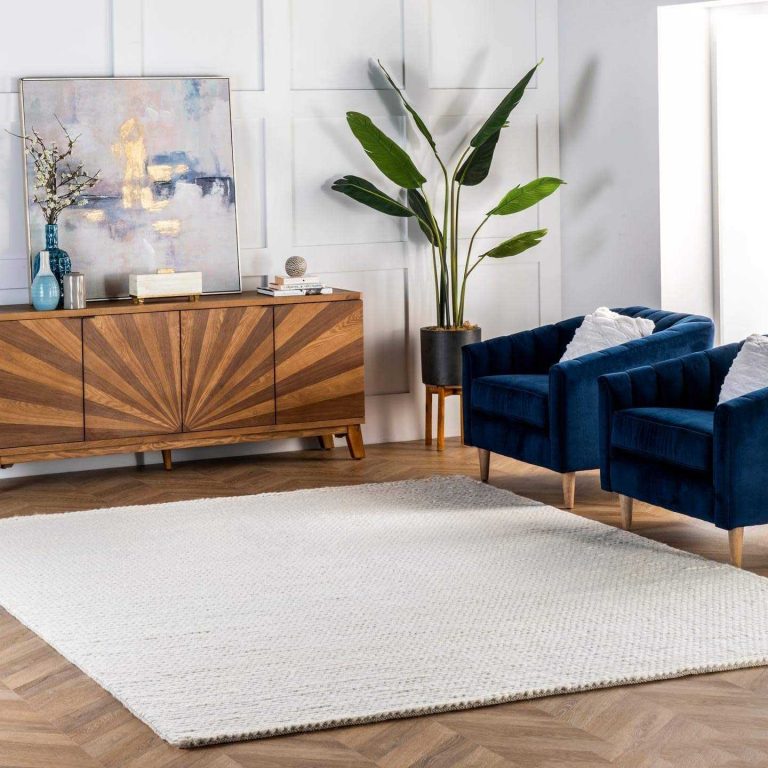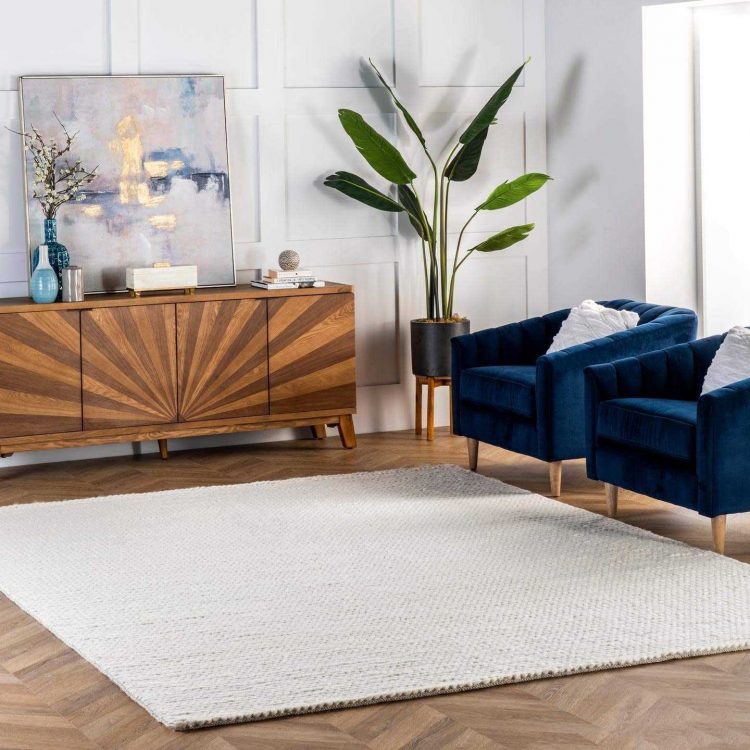 The combination of natural materials — 20% cotton and 80% wool — makes this rug ideal for bedrooms.
This top-quality and safe floor covering by nuLOOM is crafted with care and love. This particular model comes in a rectangular shape, white color, and contemporary pattern.
However, there are also other options to choose from. Be sure to pick something that will go with the rest of your room. They are all handwoven and non-toxic
What's more, nuLOOM caryatid handwoven are stylish, durable, and comfortable. These handmade carpets are treated carefully with safety in mind.
Key Features
Material: Wool
Pattern: Contemporary
Shape: Rectangular
Dimensions: 8′ x 10′
nuLOOM Emmeline Wool Modern Trellis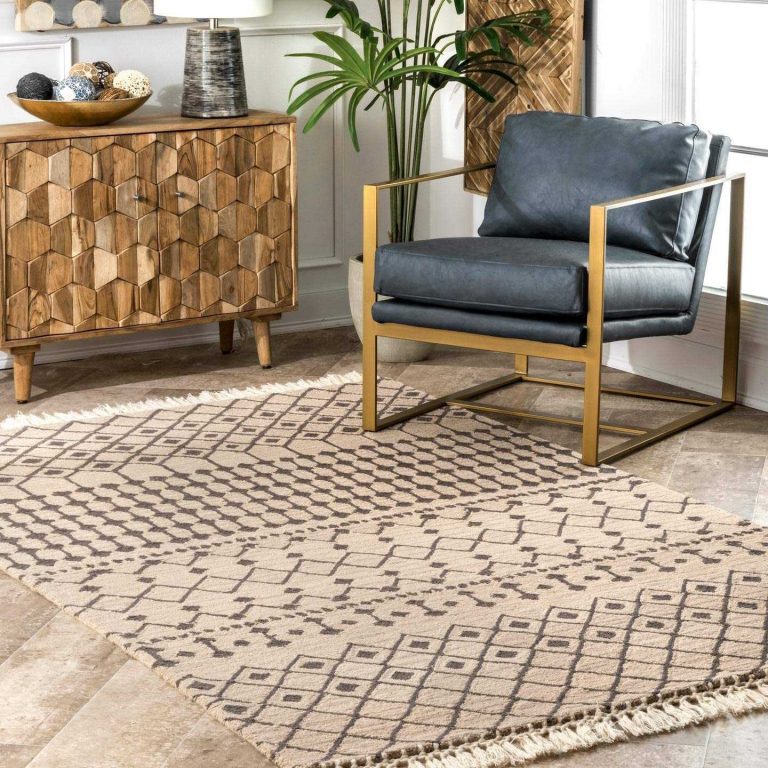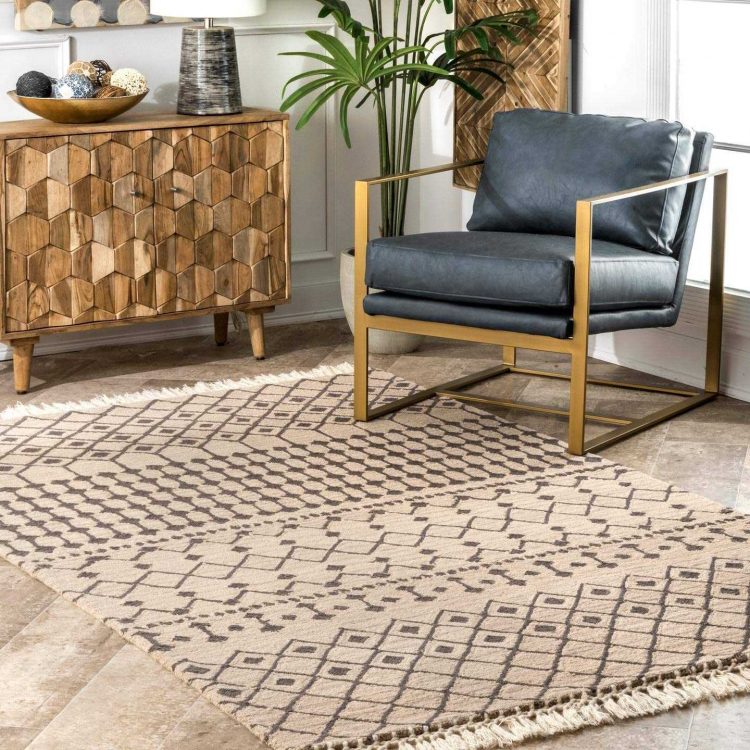 The next area rug you need to consider putting in your room is nuLOOM Ismeny Wool Modern Trellis. It can do a great job of adding warmth to your space and making your floor more eco-friendly.
You may use it in the dining room, living room, kitchen, or bedroom. The rug is extremely soft to touch, so your baby will love crawling on it.
Made of high-quality wool, this mat is very durable and safe. It's also easy to maintain and clean. Dry cleaning is only suggested for larger, stubborn stains. Spot treating and vacuuming should be done on regular basis to get rid of smaller and mild stains.
Key Features
Material: Wool
Pattern: Trellis
Shape: Rectangular
Dimensions: 4′ x 6′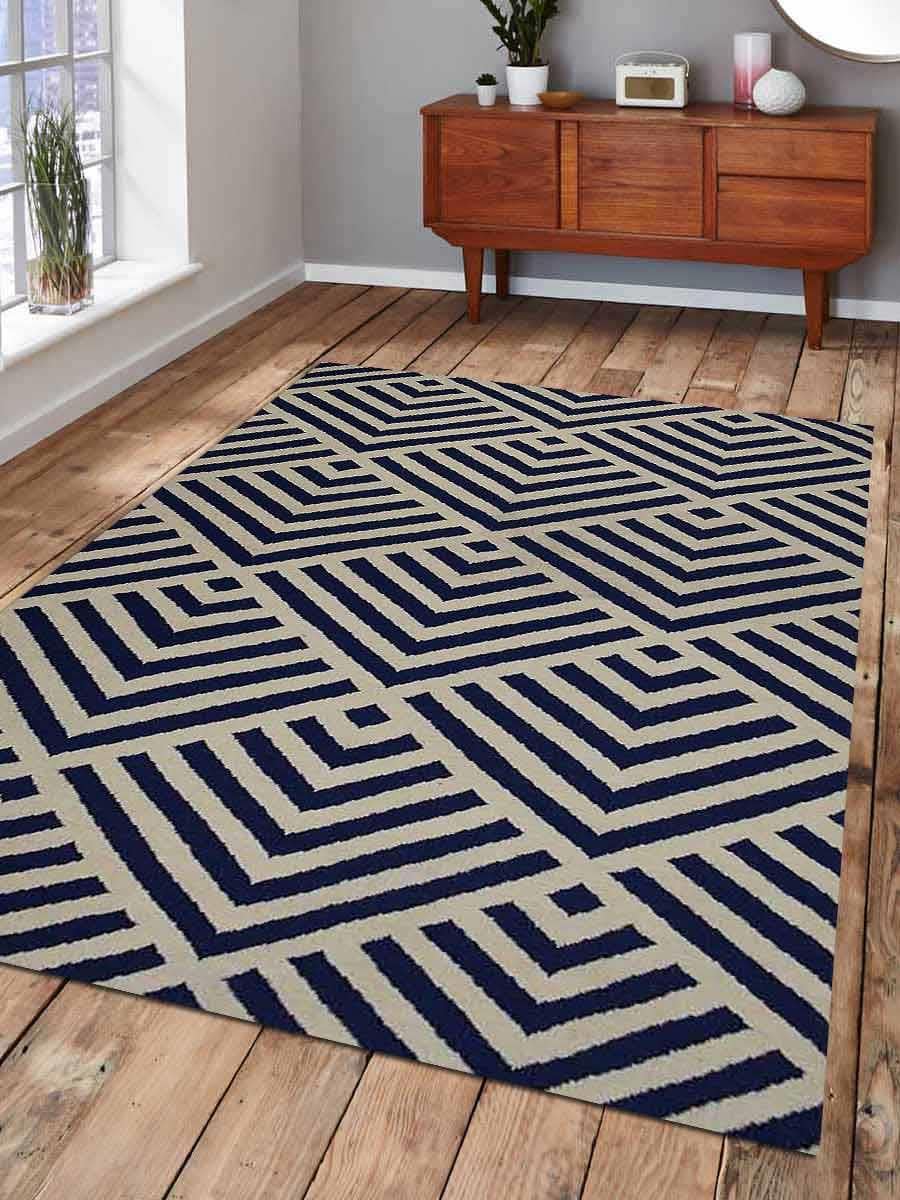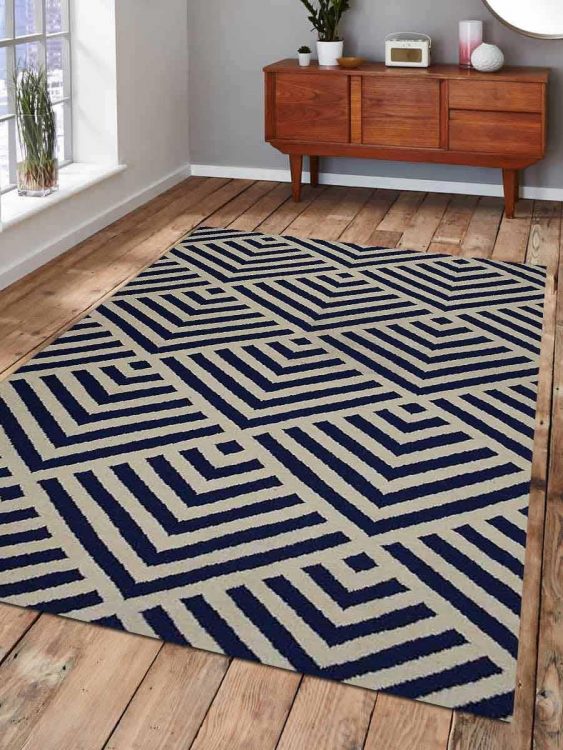 Kilim Area rugs have been around for decades on the market. They offer a wide variety of flooring coverings, each of which is specific and unique.
Each has a distinct design, pattern, style, and combination of colors. However, all of these rugs share one common trait: they are all designed as wool handwoven area rugs.
Kilim Area rugs are all flatweave and eco-friendly. No toxic compounds. No glues and other adhesives that are harmful to the health.
Handmade by experienced artisans, these area rugs use soft wool yarns made of natural materials. They are weaved by hand weaved flatweave technique and designed contemporary.
Key Features
Material: Wool
Pattern: Contemporary design
Shape: Rectangle
Weave: Hand Woven
Multiple size options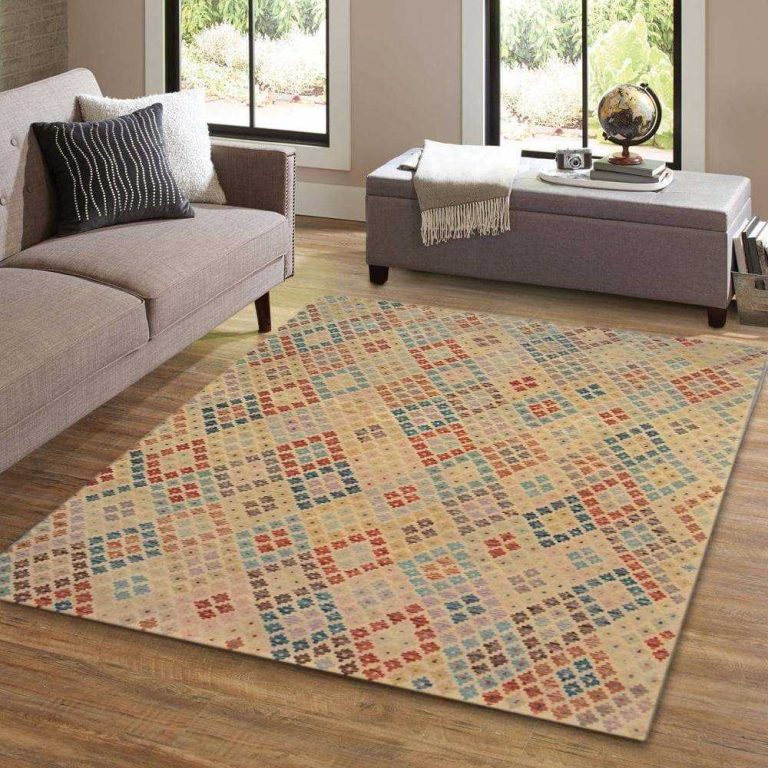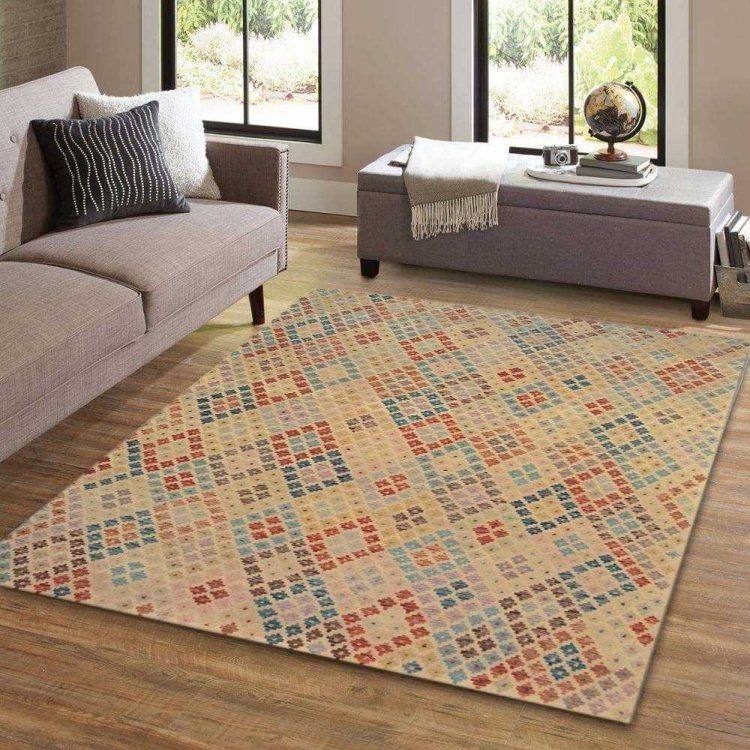 Do you like natural multi-color things? If so, you will certainly like this Kilim wool carpet too.
It comes in numerous pastel colors, including pink, yellow, blue, and orange. These vibrant colors are combined beautifully. It features a colorful diamond design. While it's rustic and vintage, it still looks great on the hardwood floor.
Find out more about Best Entryway Rugs for hardwood.
Being made of 100% wool, this large rug offers a spacious and safe area on the floor. It is suited for larger rooms, so make sure you have enough space.
The rug can make your house feel cozy, update your space, and create insulation from cold flooring.
Key Features
Material: Wool
Construction: Handwoven
Lightweight yet very durable
Dimensions: 6′ 5″ x 9′ 6″
What to Look for in Non-Toxic Carpets?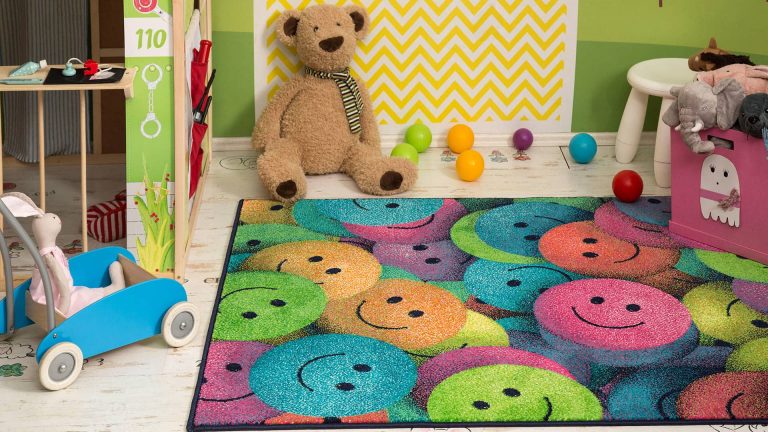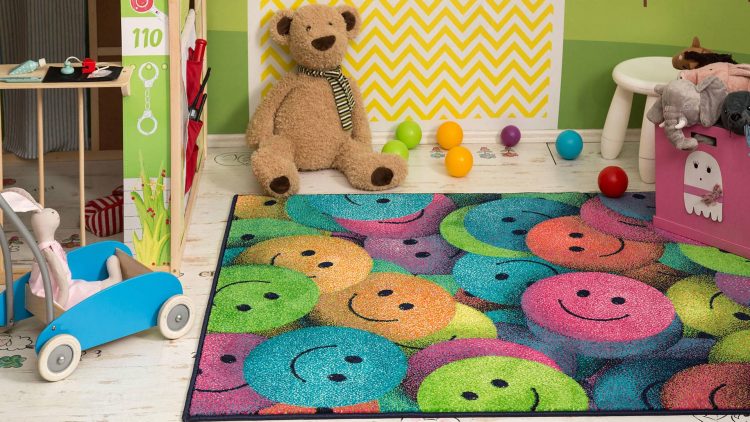 Material
The best rugs are made out of 100% natural materials like cotton and wool. It's best to choose a handwoven rug made by hand.
What about jute and sisal? While these are also natural fibers, they are not a good choice for babies since sisal and jute rugs have rough surfaces and they are tough to crawl on. Complete guide to carpet materials.
Backing
If you see latex or plastic backing, my advice is to stay away from it. The backings made of synthetic or toxic materials off-gas substances into the air.
Handwoven area rugs that don't have a latex backing are the safe bet. It is recommended to put safety pads under these rugs to avoid slipping.
If possible, place the edges of the rugs under the furniture. That will help prevent the rugs from moving.
Price and Size
Size is an important factor when buying a new rug. Avoid cheap synthetic rugs. Go for wool and cotton options. While these organic rugs are more costly, they are also safer.
Style
Rugs come in different design options and styles, such as flatweave, kilim, handwoven, etc. Be sure to choose a color, shade, and pattern that will blend in with the room you will put the rug in.
You can pick an oriental, geometric, or another pattern based on your preferences. There are also a variety of styles like vintage, contemporary, boho-chic, and transitional styles of decor.
Durability
Just as with any other product, you want to buy something durable that will serve you well for many years. The same is true for carpets. You are advised to buy one that can withstand many years of daily use as well as a lot of foot traffic.
Popular Questions
What is an organic rug?
An organic rug is made from natural, sustainable materials such as bamboo, cotton, jute, and sisal. These materials are grown without the use of harmful chemicals or pesticides.
Are organic rugs durable?
Yes, organic rugs are often made from strong, durable materials such as bamboo and sisal. They can withstand heavy foot traffic and everyday wear and tear.
Are organic carpets easy to clean?
Organic carpets are generally easy to clean, especially when made from materials like cotton or bamboo. They can be vacuumed or spot cleaned with a mild detergent and water.
Are organic rugs more expensive than traditional rugs?
The cost of organic rugs can vary depending on the materials used and the quality of the rug.
They may be slightly more expensive than traditional rugs, but they are often worth the investment in terms of durability, sustainability, and eco-friendliness.
What are some good brands for organic carpets?
Some popular brands for organic rugs include Natural Area Rugs, Safavieh, and nuLOOM.
Are Nuloom Rugs Toxic?
No! This company is well known for handwoven environmentally-friendly rugs. They are made of 100% natural non-toxic materials such as wool, jute, sisal, and bamboo.
Final Word
In conclusion, organic rugs are a great choice for those looking for a sustainable and stylish floor covering. Whether you are looking for a wool, cotton, jute, or sisal rug, there is an organic rug out there that will fit your needs.
As you can see, it's very important to find a natural non-toxic rug.
Always chose organic rugs over synthetic ones. Make sure it doesn't have toxic backing and dyes as well as flame retardant chemicals, glues, and adhesives.