There is a wide range of area rugs on the market these days.
Not all rugs are good for a baby nursery though.
Are rugs safe for babies?
If you want something completely safe for your baby, you should narrow your search down to organic non-toxic nursery rugs.
Rug safety is crucial for babies because they must grow up safely while being protected from harmful substances. Potential dangers toxins from rugs can affect children by exposing them to a variety of chemicals. You want something toxic-free and soft underneath your little ones, as they spend much time playing and crawling on the floor.
Today, we will pay special attention to organic rugs for nursery and review the best options available.
Read on to learn more!
What Makes an Area Rug Toxic?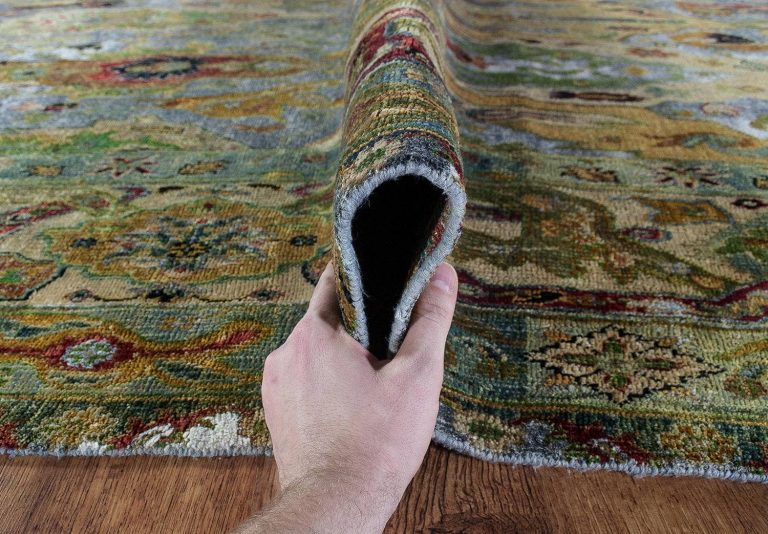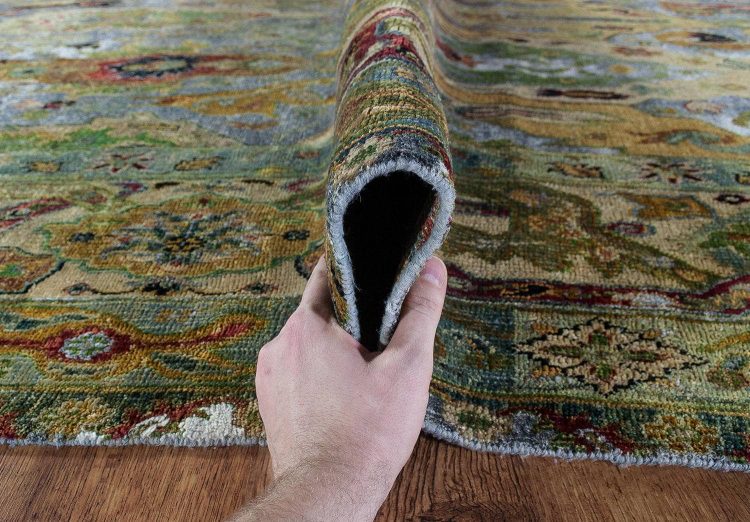 Synthetic Primary Materials
Toxic rugs are usually made of synthetic materials such as:
Polypropylene, nylon, or PET fabric – They all emit VOC (volatile organic compounds) into the air.
Chemical materials like Styrene and PVC
Synthetic dyes
Make sure your nursery rug doesn't contain the above-mentioned synthetic materials and chemicals.
Toxic Backing
Rugs with latex backing are popular because they are slip-resistant. Nevertheless, they are not good for babies. That's because these rugs often contain toxic compounds like PVC, Styrene, and 4-phenyl cyclohexane. The last thing you want is to get your baby exposed to dangerous chemicals.
Toxic Dyes
Check if a rug contains any toxic dye before buying it. If yes, it's a big no to baby rugs. Let's face it. Most rugs on the market are treated with dyes. That's because they allow mats to come in various patterns and colors, and thus make them more beautiful. No dye or paint is 100% natural and safe today.
Glues and Other Adhesives
Avoid rugs that use an adhesive in their production. It should be noted that rug adhesives and glues oftentimes contain toxic benzene. This is not a good choice for babies and kids.
Flame Retardant Chemicals
Steer clear of rugs that come with flame retardants. These toxic chemicals can easily find their way into the baby's body through the dust. In addition to the rugs, flame retardant chemicals are also often used in mattresses, sofas, carpets, and many household products.
Other chemicals: PFCs, PBDEs, pesticides, and fungicides
The list of harmful and toxic chemicals in area rugs goes on and on. Besides the compounds mentioned above, other chemicals to beware of include:
PFCs and PBDEs
Pesticides
Fungicides
Stain and moth repellents
Things to Avoid in Rugs for Babies
When searching for safe nursery rugs for babies, there are certain things to avoid. Read on to discover them.
Avoid machine-made rugs. They are made using synthetic materials and chemical dyes that are harmful to babies. You should look for hand-knotted alternatives because they are woven in natural materials.
Latex or plastic backing that gives off harmful VOCs. Rugs often have latex backing with plastic dots to prevent slipping. That's great, but not good for babies.
Synthetic rug fibers. Polypropylene, polyester, viscose, and other synthetic fibers aren't a safe option, so you need to avoid them when buying a nursery rug.
Toxic dyes. If you decide to buy a nursery rug using a dye, make sure it is non-toxic and low-impact too.
8 Best Non-Toxic Rugs for Babies by Rugcritic
What Else Can You Do for Baby Safety
Floors
Instead of vinyl study, flooring in the nursery, go with safer flooring options like cork and wood. If you have young kids or babies, it is highly recommended that you cover your hardwood floors with safe and soft rugs because little ones spend much of their time crawling on the floor. This way you will place an additional layer underneath them and improve their safety.
Walls
If you are living in an older home or apartment, chances are good your walls have lead paint. Consider replacing wall-to-wall carpets or wallpapers as they are a haven for dust and mold, which are capable of triggering asthma in babies and kids.
Look Into an ERV (Fresh Air Recirculation for Your HVAC)
Look into your ERV if you have it installed in your house. Check the places where your HVAC sits. It's usually in the attic. Maybe you have a VOC detector installed too. Besides, it is worth investing in EMF protection in places with high exposure to electromagnetic radiation. All of this plays an important role in improving the quality of indoor air and the health of your baby.
Avoid Plastic Toys
Infants like to put toys in the mouth. Soft plastic toys are fun. Yep, but keep in mind that they may contain phthalates, lead, and other harmful substances. Therefore, avoid them for the safety of your child(ren).
Popular Questions
Are Polyester Rugs Safe for Babies?
No, they are not safe – not only for babies but also for adults. The polyester rugs use harmful chemicals like carcinogens in their production.
Are Polypropylene Rugs Safe for Babies?
No, they are not safe for babies and children. These rugs off-gas dangerous volatile organic compounds (VOCs) into the air.
I've wrote the whole article about it.
Are Rugs Bad for Babies?It depends on their design and the materials used. The rugs that use synthetic materials and contain toxic compounds like polypropylene, nylon, styrene, and synthetic dyes are bad for babies.
Are Area Rugs Toxic?Not all. Certified area rugs made of organic natural materials like wool, jute, and cotton are not toxic. So you can use them for nursery without worrying about your baby's safety.

Do All Rugs Have Formaldehyde?The glues that have been used by some rug manufacturers contained a certain amount of formaldehyde that is very dangerous. Formaldehyde has often been used in carpets since the 1970s. It is now rarely used in rugs, but you need to avoid products that have this harmful compound.

What Is the Difference Between Polypropylene and Polyester Rugs?Polypropylene (also known as olefin) is a material that features excellent stain resistance. Polyester is not only stain-resistant but it's also fade-resistant. These compounds are added to increase the resistance and durability of rugs. There's no considerable difference between polypropylene and polyester rugs. They are both bad for babies.
Are Nuloom Rugs Toxic?No! This company is well known for handwoven environmentally-friendly rugs. They are made of 100% natural non-toxic materials such as wool, jute, sisal, and bamboo.
Final Word
As you can see, it's very important to find a natural non-toxic rug for the nursery. Your baby must be safe while sitting, playing, and crawling on it.
Always chose organic rugs over synthetic ones. Make sure it doesn't have toxic backing and dyes as well as flame retardant chemicals, glues, and adhesives.
The safety of your child should be your top priority in life!