Hardwood floor protection is of great importance. This is where rugs for hardwood floors come in. These area rugs can help with this by keeping the floor from getting scratched or warped. Besides, they provide additional comfort and insulation while making rooms feel more welcoming and warmer.
In this article, I will help you select the best area rugs for hardwood floors by covering the essential considerations like the design, materials, size, backing, colorfastness, and more. You will also see the top pics for both area rugs and rug pads.
Let's get started, shall we?
Type of Rugs for Hardwood Floors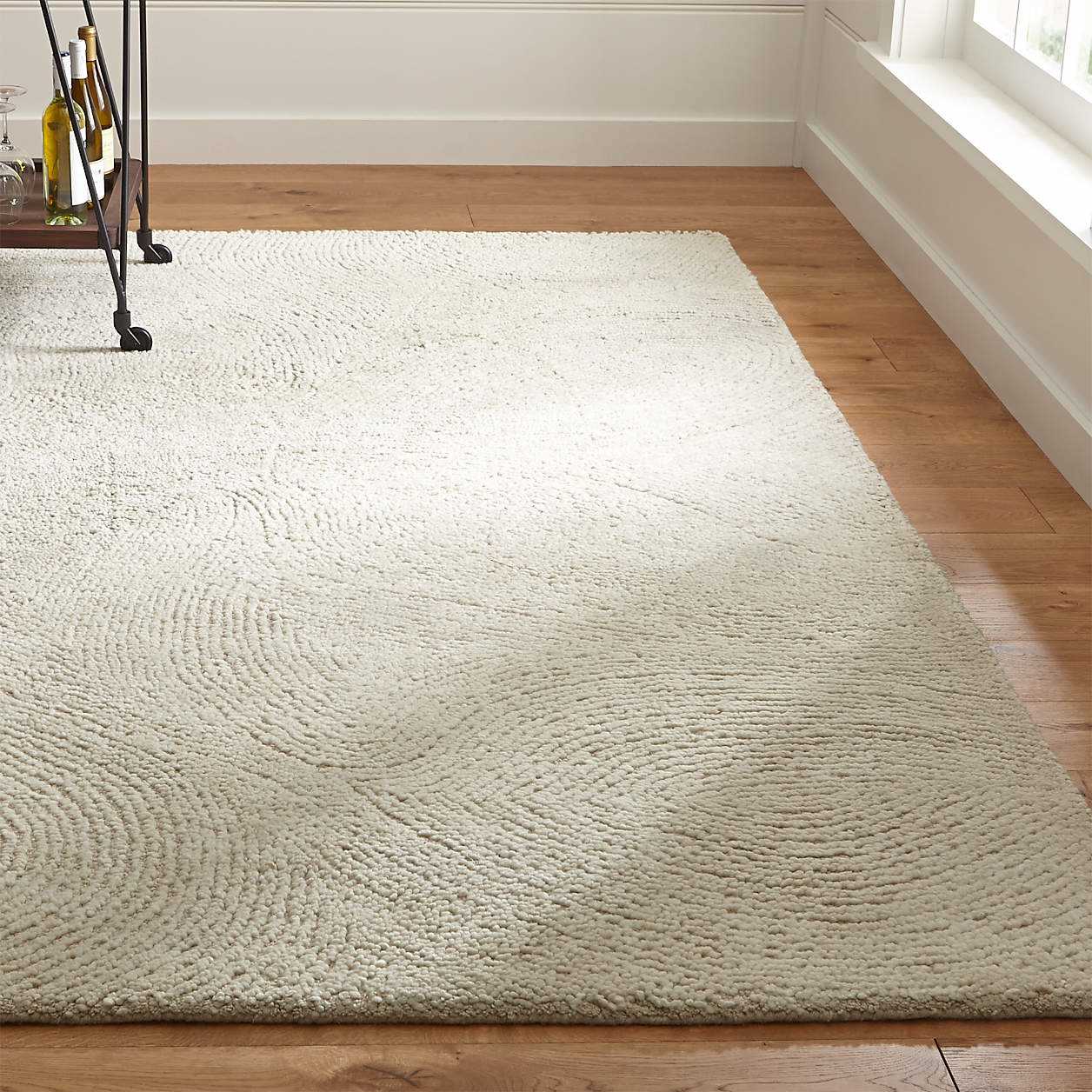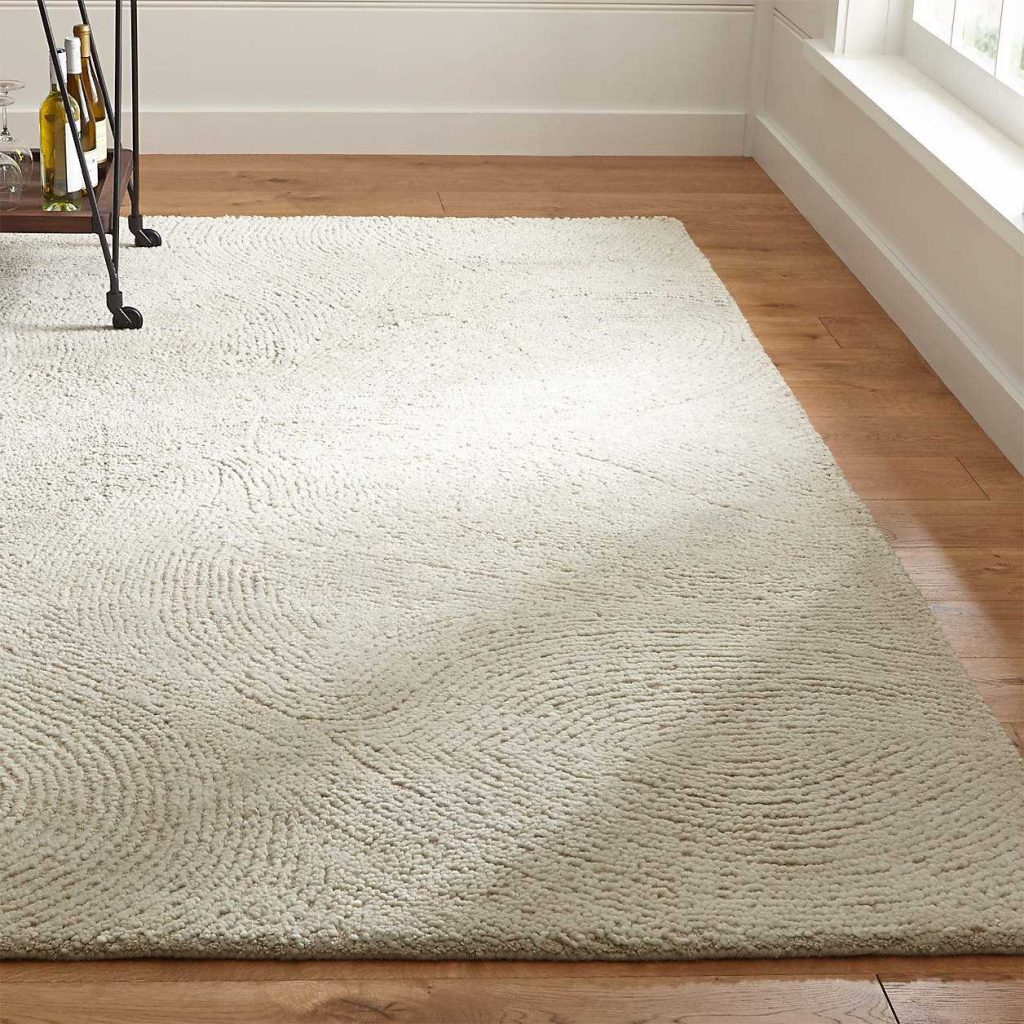 It is imperative to determine which type of rugs for hardwood floors is right for you and your home. You need to avoid PVC and plastic rugs, especially those with a latex backing, to prevent scratches on your flooring.
Wool, cotton, natural fiber, and synthetic rugs are the safest and most common options. That's why we will pay particular attention to these materials.
Wool
Most area rugs for hardwood floors are made of wool. This is the most common choice because wool is easy to clean, very durable, warm, and comfortable. There are flatweave hand-tufted and hand-knotted wool rugs. They both come in different colors, patterns, and styles to fit in with various types of wood floors and furniture.
Natural Fiber
Natural-fiber area rugs are made of coir, seagrass, jute, sisal, as well as other plant fibers. These rugs are more suitable for contemporary spaces. They usually don't blend in with rooms with a traditional look.
Are natural-fiber rugs safe for hardwood floors? Most are flat woven and reversible. However, seagrass and coir rugs often come with a latex backing. I recommend watching out for them because they can scratch and harm your carpet if you place them directly on your floor.
Cotton
Despite being made of plant fibers, these area rugs are categorized separately. They can add a casual look and extra beauty to your room. If you are one of those people having a rustic sensibility, this could be an ideal option for you. Choose a style and pattern that suits your floor and your preference when looking for a cotton rug.
Synthetic
For added flexibility and durability, consider buying a synthetic area rug. Make sure its backing isn't made from hard plastic since it can cause damage to your floor. The most common materials used for synthetic area rugs include polypropylene, acrylic, nylon, viscose, and rayon. They look like rugs made of natural materials and are available in a variety of styles, such as short-pile rugs, flatweaves, shags, and more.
To suit just about any decor and complement different kinds of hardwoods, there's a large selection of solid-color and patterned options to choose from. While some synthetic rugs feature a matte look, others are decorated with patterns with a lot of details or a shiny surface.
Where to Put Rugs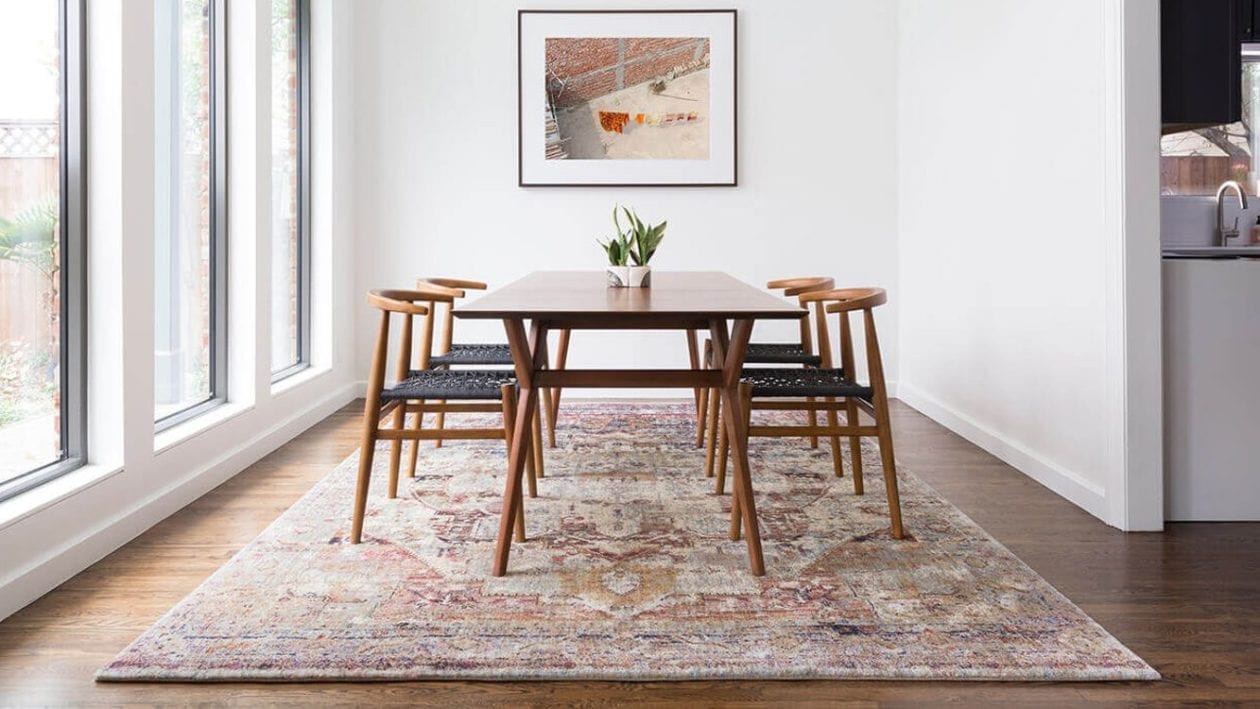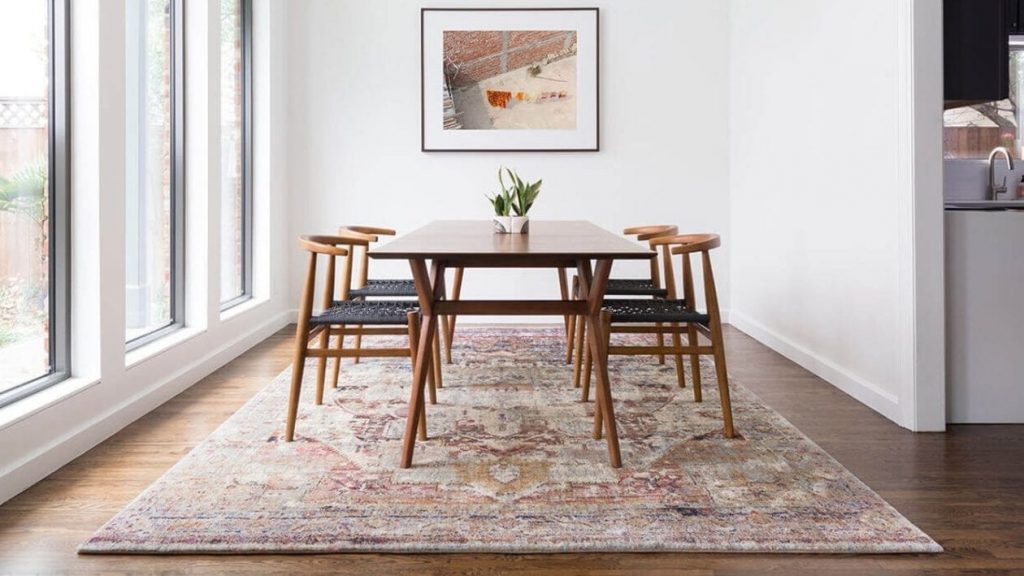 Put them in high-traffic zones like entryways and hallways. You should also place rugs under the furniture, including tables, chairs, and sofas. Consider sweeping the areas where you plan to place the rugs.
Hallway
As a high-traffic area in your home, the hallway needs a rug not only to protect the floor from scratches and dirt but also to warm your feet. Wood flooring in hallways can easily get chilly during the winter months. That said, place a welcoming runner rug in your hallways. Make sure it is dirt-resistant and matched correctly to the size and shape of your hallway.
Living Room
The living room is one of the most heavily used rooms, so putting an area rug in this room is highly recommended. I recommend placing all-wool rugs or hard-wearing rugs that are made of polyester. They will withstand everyday foot traffic and have a visual impact on your living room. Oversized rugs are suited for larger living rooms because they offer more protection by covering a greater area.
Kitchen
If you need an area rug for your kitchen, a cotton flatweave rug is a safe bet. These rugs are perfect for the kitchen because they allow for effortless spot cleaning. Moreover, most cotton flatweave rugs are machine washable and waterproof. They can protect the hardwood floor from liquid spills and dirt as well.
Bedroom
The bedroom is a private, low-traffic space, so you need to place a high-pile, plush rug in it. Both wool and polypropylene are soft, long-lasting, and hard-wearing materials that fit perfectly in such a setting. Sheepskin is also a good option for the bedroom.
Main Features of Rugs for Hardwood Floors
Now that you have a better idea of area rugs, let's see what kind of rugs are safe for hardwood floors and what features to seek for maximum protection.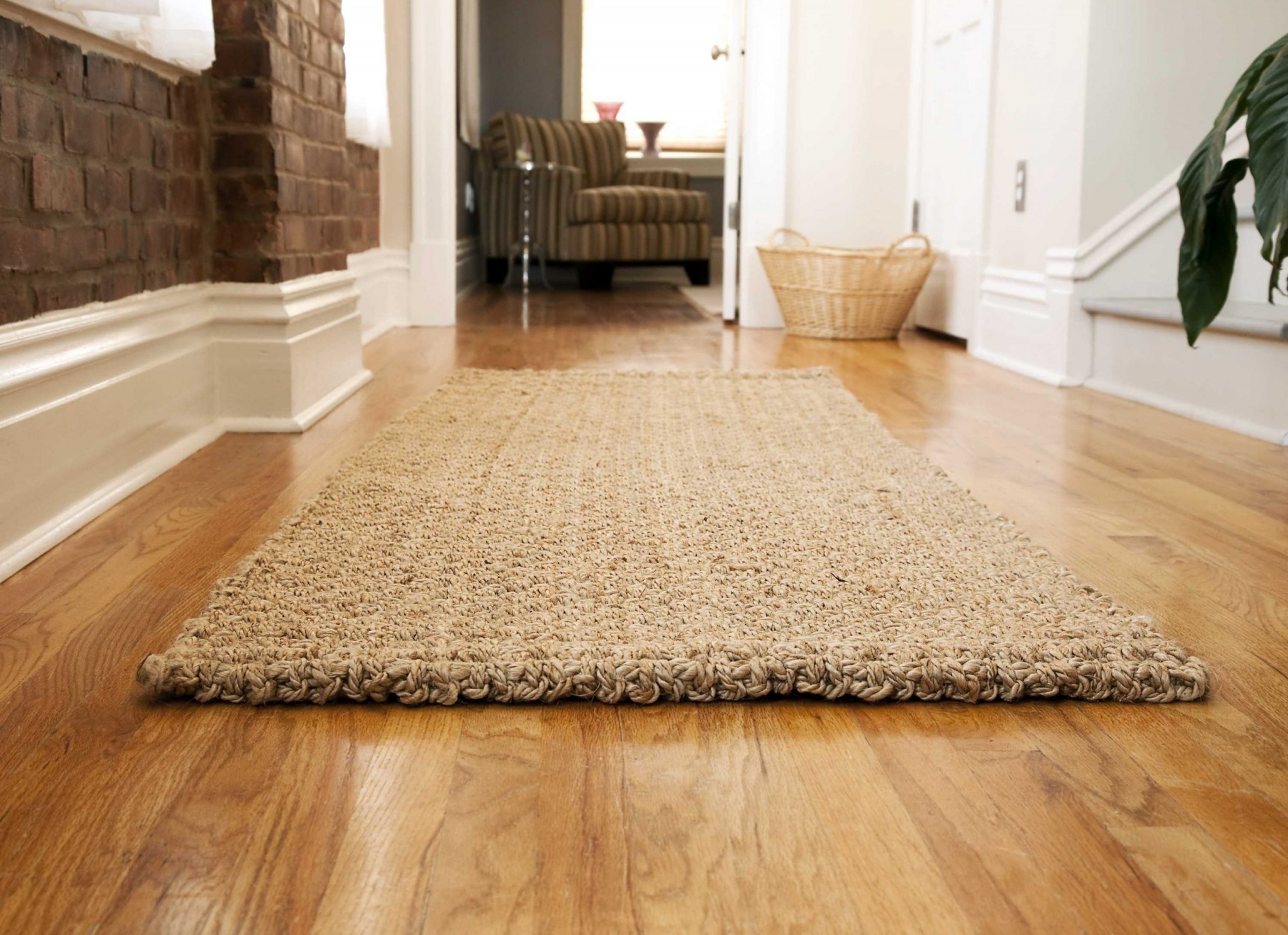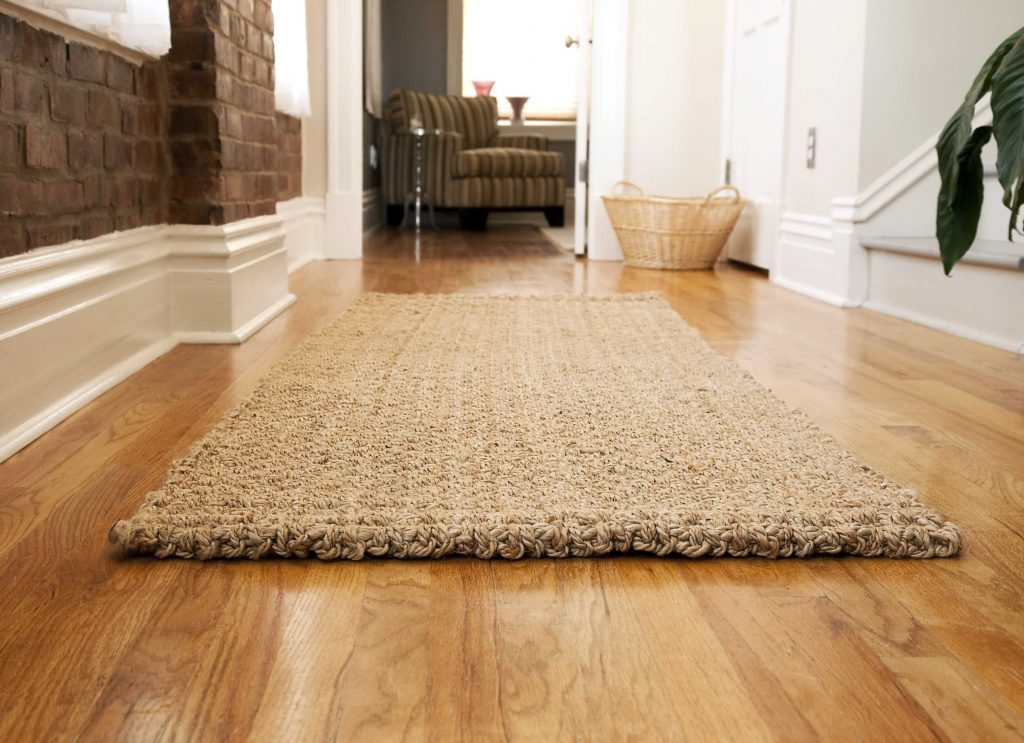 Soft Backing
When it comes to the backing of the area rugs, there are two options: a latex (rubber) and a woven backing.Which one is better? You want a backing that is soft and harmless to your floor.
Rubber or latex backing prevents slipping by holding the rug in place, which is important for areas with a great deal of foot traffic. Nevertheless, you need to AVOID latex because it can scratch your hardwood floor. Moreover, this type of backing doesn't allow for air flow, so it can ruin the floor finishes by trapping gasses and moisture.
On the other hand, woven backing gives healthier airflow to the hardwoods. Healthy ventilation prevents floors from getting discolored. Most importantly, woven soft backing made of natural materials is completely harmless to hardwood floors. However, it doesn't provide a strong grip, so you need to put the rug pad under your area rug.
Waterproof
It is always a good idea to look for waterproof rugs for hardwood floors. That's because these rugs can considerably reduce the exposure of the floor to spills and moisture. While some rugs are completely waterproof, others hold and capture water.
The best ones can create a waterproof barrier between the floor and rug without compromising breathability. If your area rug is not waterproof, you should consider putting a rug pad under it, just in case.
Colorfastness
It refers to the leakage of colored paint. Not all area rugs feature colorfastness. Make sure the colored dyes are colorfast, meaning they won't fade or get washed out when undergoing a chemical reaction that may result in discoloration. When exposed to cleaning solutions, moisture, fluids, light, and heat, it should be capable of holding on to the color to prevent bleeding into the flooring and other areas.
Rug Pads and Why You Should Use Them
Investing in rug pads is a wise decision. They are necessary for rugs with latex backing. However, you are advised to use them always no matter the backing of your rugs.
Rug pads are intended to prevent or reduce the transfer of scratches, dyes, heel marks as well as damage from the legs of your furniture. Additionally, the pads prevent exposure to water and moisture and thus keep the hardwoods protected. Listed below are the main reasons to put pads underneath area rugs:
They can prevent scratches and rugs from sliding
Reduce sound transmission
Provide extra softness and cushioning
Help area rugs last longer
Avoid cheap PVC or plastic pads. I suggest choosing rug pads made of natural rubber or felt. These thick pads provide better cushioning and air flow while protecting the floors from scratches. Consider the texture and thickness of your rugs when buying the pads. Here are the best rug pads on the market.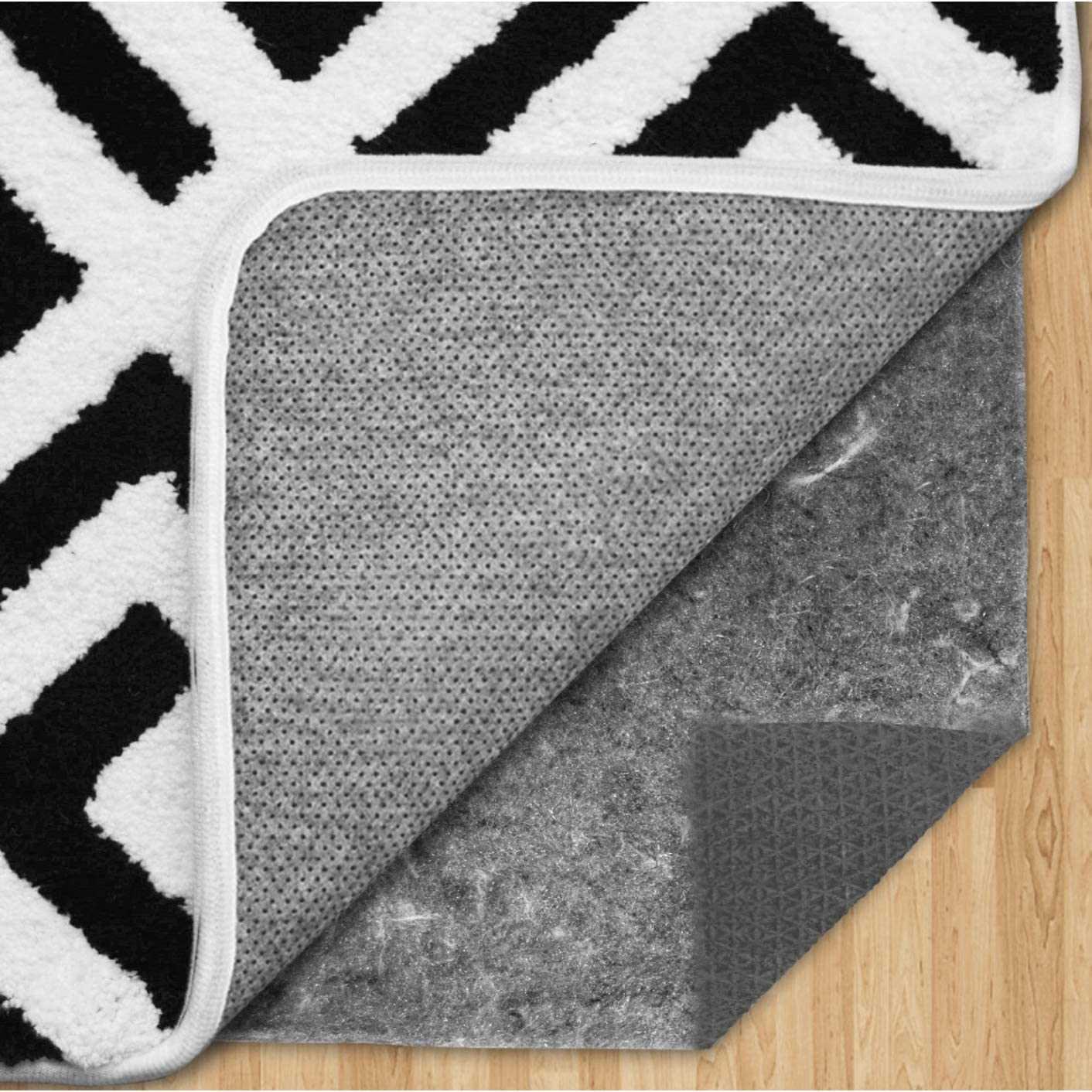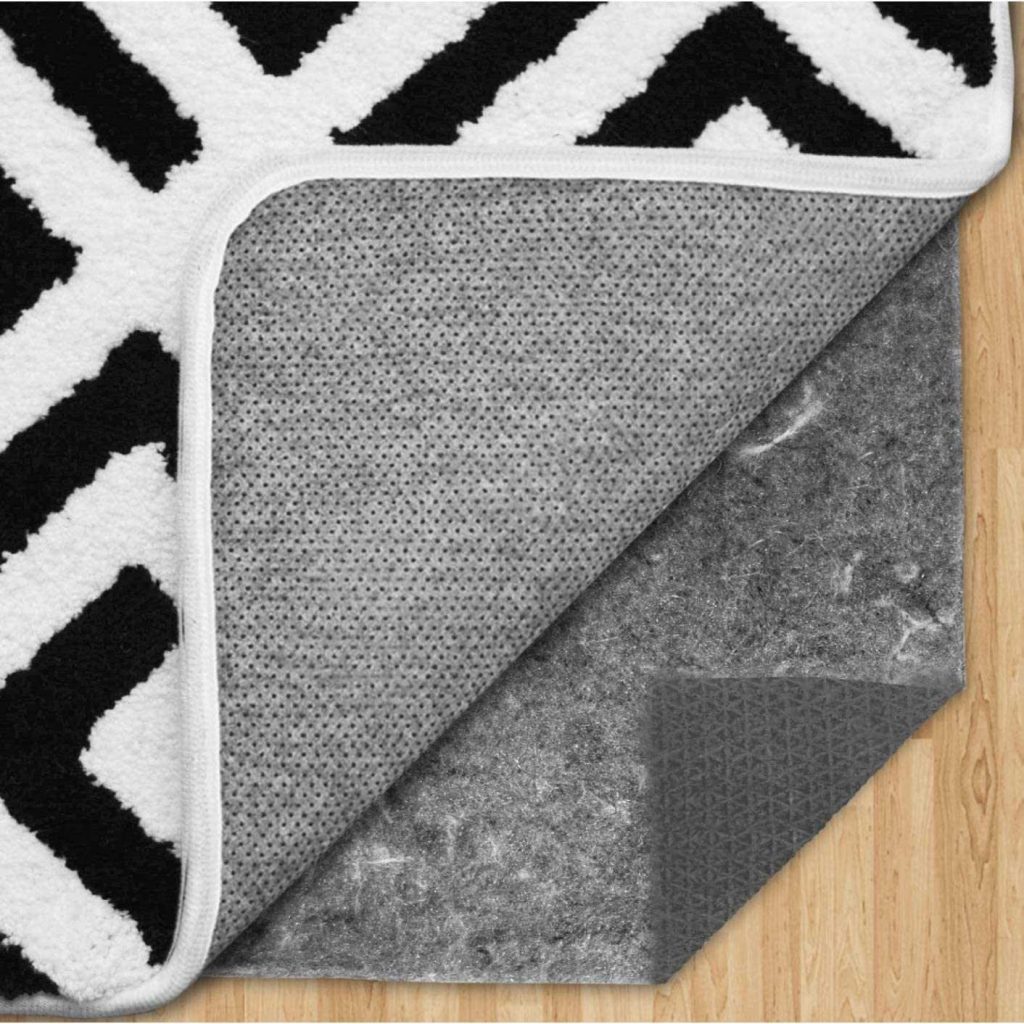 Durable and thick, this rug pad can reduce sound while providing good floor protection. It is made of condensed felt for improved cushion and strength. To keep the rug in place, this pad comes with a textured ultra-durable backing that's made of natural rubber.
Key Features and Specs
Dimensions: 21 x 5 x 5 inches
Weight: 15.8 ounces
Style: 1/4″ Thickness
Materials: Felt and rubber backing
Made in the USA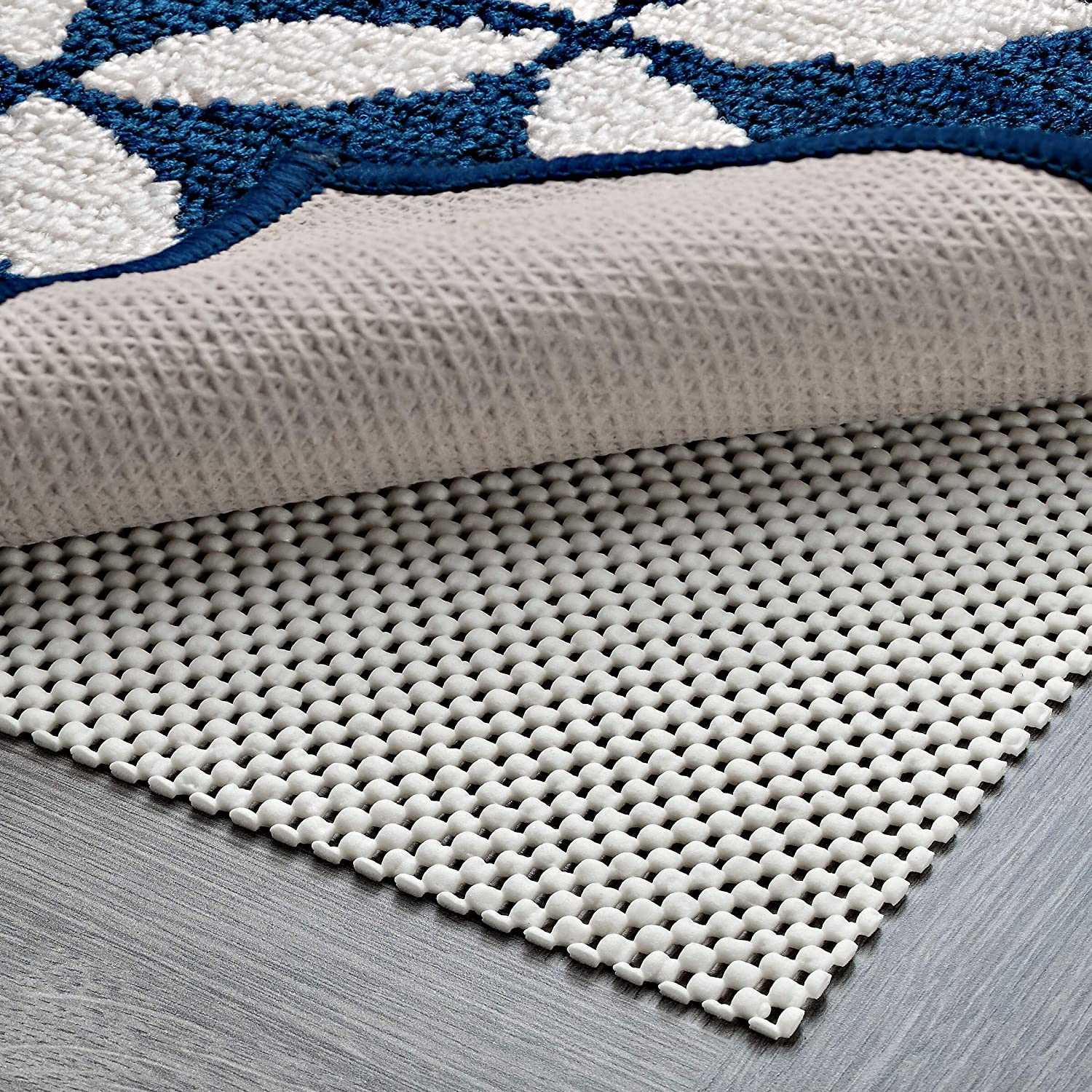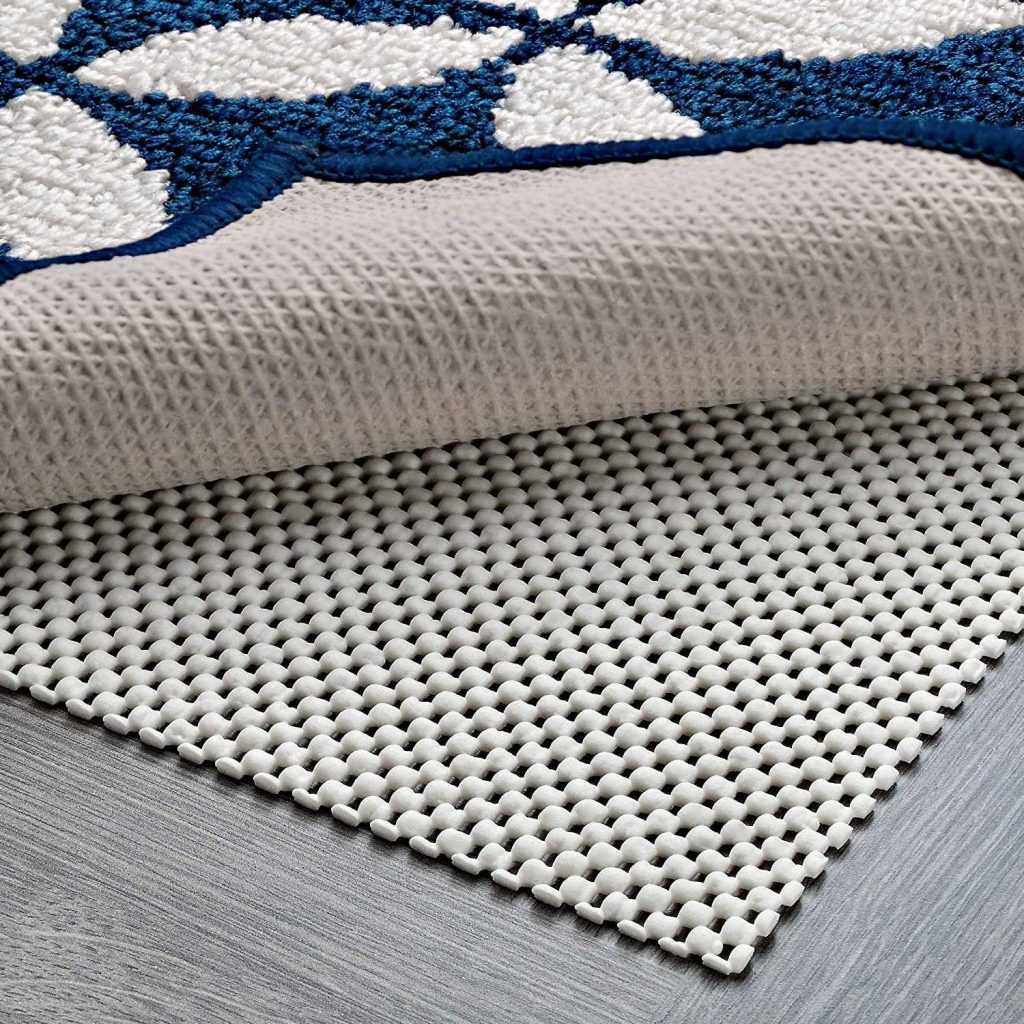 Made of soft and stretchy materials, this rug pad works perfectly with hardwood floors. The thick padding doesn't only add cushion, but it also prevents sliding thanks to a good grip. It can prevent bunching while keeping your rug in place and extending its life.
Key Features and Specs
Dimensions: 13.5 x 12.28 x 2.28 inches
Weight: 1.23 pounds
Shape: Rectangular
Materials: Microfiber + rubber backing
Thickness: 1/16 inch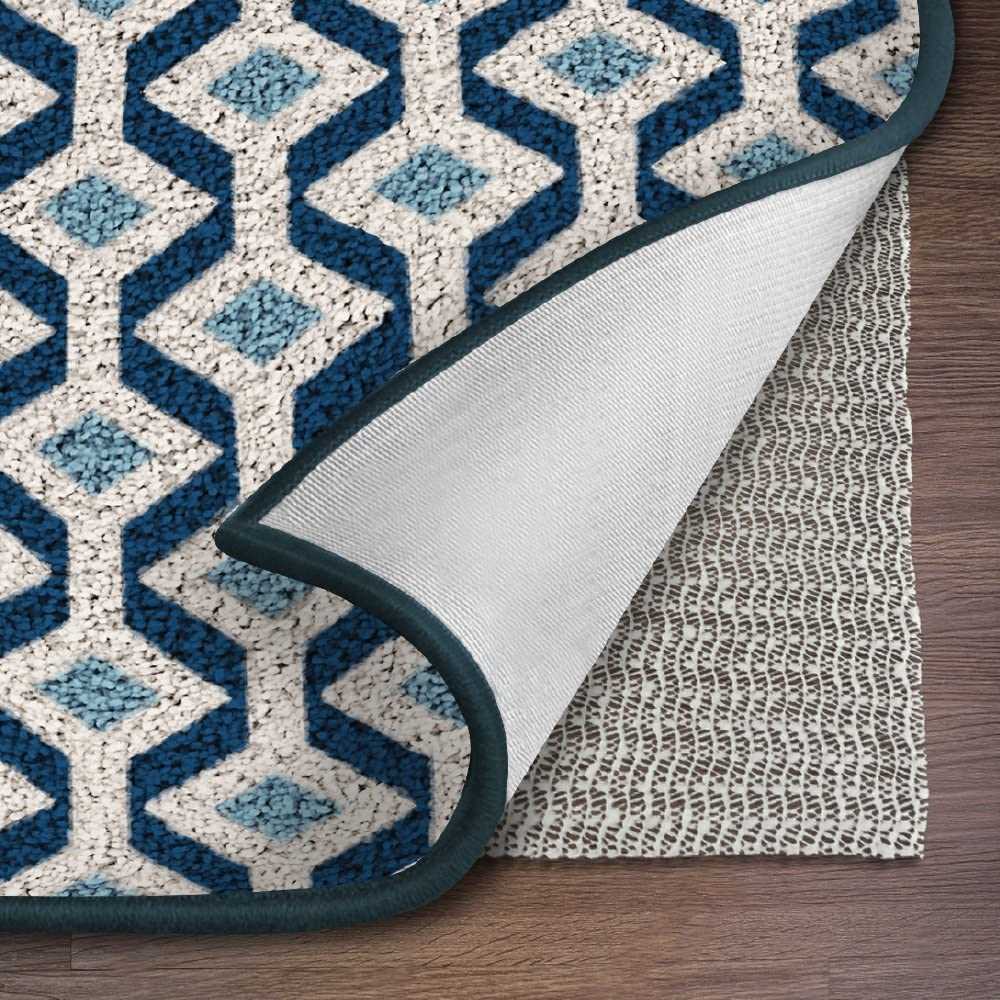 This low-profile pad can be used on just about every type of hard floor. However, it neither suitable for carpet nor great for refinished, lacquered, and vinyl surfaces. It prevents curling and wrinkling while keeping the rugs in place. Furthermore, the resilient foundation of the pad can keep the rugs from being worn out and preserve the pile.
Key Features and Specs
Dimensions: 13.3 x 12.52 x 4.33 inches (8×10 ft)
Weight: 3.23 pounds
Design: Open weave
Materials: It's made of foam-like material with coated rubber backing
Lightweight, low-profile and non-adhesive
Design Tips for Choosing the Right Rug
Check design trends before purchasing a rug and adding it to your space.
Do you need some idea?
If you like carpet layering, then you may create rustic décor with layered rugs by placing a jute neutral-ton rug over a smaller southwestern fringe. You can also combine rugs of equal size that come in different colors and patterns.
If you prefer traditional designs, make a unique art statement by framing a floral area rug in the hallway with a bigger underneath that has solid color. Match an underlying wicker or bamboo mat with a fringe, colorful rug for an exciting boho feel. The design options are endless!
Choosing the Right Size
Needless to say, you need to consider the size of your room when choosing an area rug so that it can properly fit into the room. If you want to buy a rug pad too, make sure your area rug is slightly larger than it. On each dimension, the pad should be from one to two inches smaller. If you have an 8×10 rug, for example, your pad should be 7'x9′ to be invisible.
Colors Selection
Choose the color depending on your flooring. If you have dark hardwood floors, select a natural lighter shade like a tan or brown. The light, sandy-colored rugs stand out well against dark floors. Natural tones, such as greens and browns, always look great on dark wood. They can add an earthy look to the rooms.
By contrast, lighter hardwoods scream out for richer and darker tones. The dark blue area rugs look impactful on light flooring. It's more warming as well. Rich tones like burgundy, royal blue, and deep purple can make your room warmer and increase its aesthetic value.
Pattern
Light hardwoods allow much more expression through both patterns and colors. You'd have a greater scope for rug patterns because they are showing up more beautiful on pale backgrounds. As for dark wood floors, most patterned area rugs do not show up well or make rooms look and feel busy.
Tip: Lay the rugs perpendicular (at an angle of 90°) to the wood grains of your floor to make a distinction between their patterns. That will prevent the patterned rug from diminishing the charm of your hardwood floor.
Best Rugs for Hardwood Floors by Rugcritic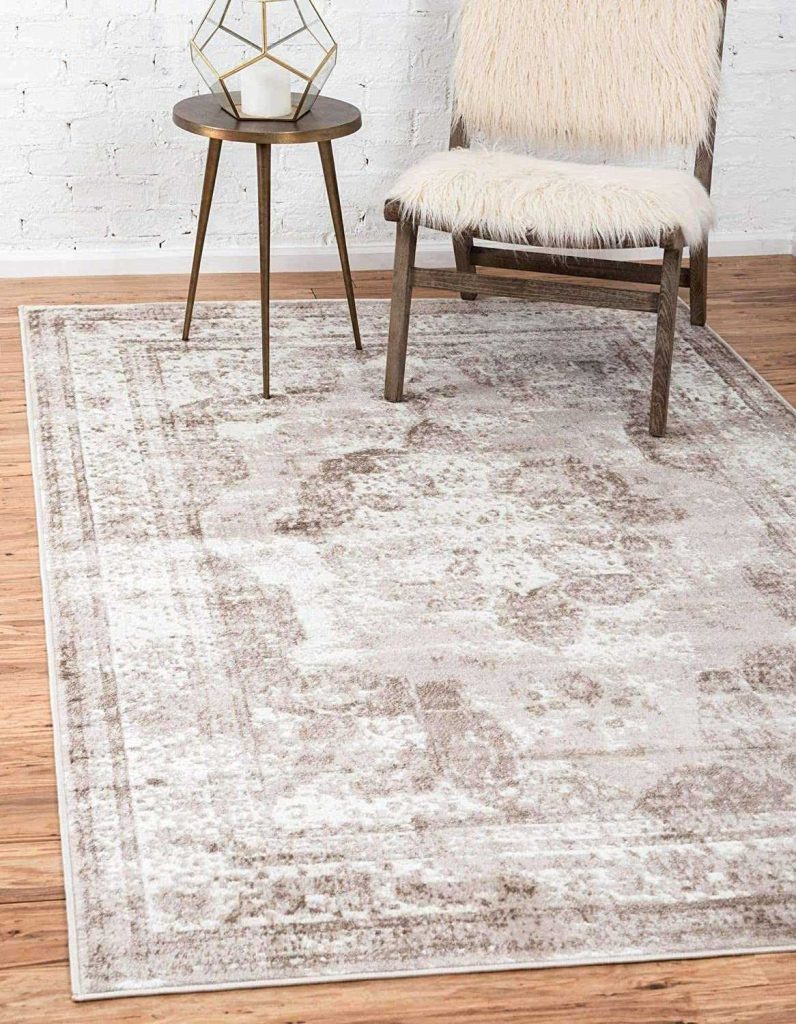 If you are searching for a stain-resistant, easy-to-clean area rug that doesn't shed at all, this is an excellent choice. With this short-pile rug, your hardwood floor will be protected and safe. It is made of polypropylene and has a jute backing. Be sure to add a pad underneath to prevent sliding or slipping.
Key Features and Specs
Size: 4′ x 6′
Weight: 8.8 pounds
Shape: Rectangular
Pattern: Geometric
Material: Polypropylene
Backing: Jute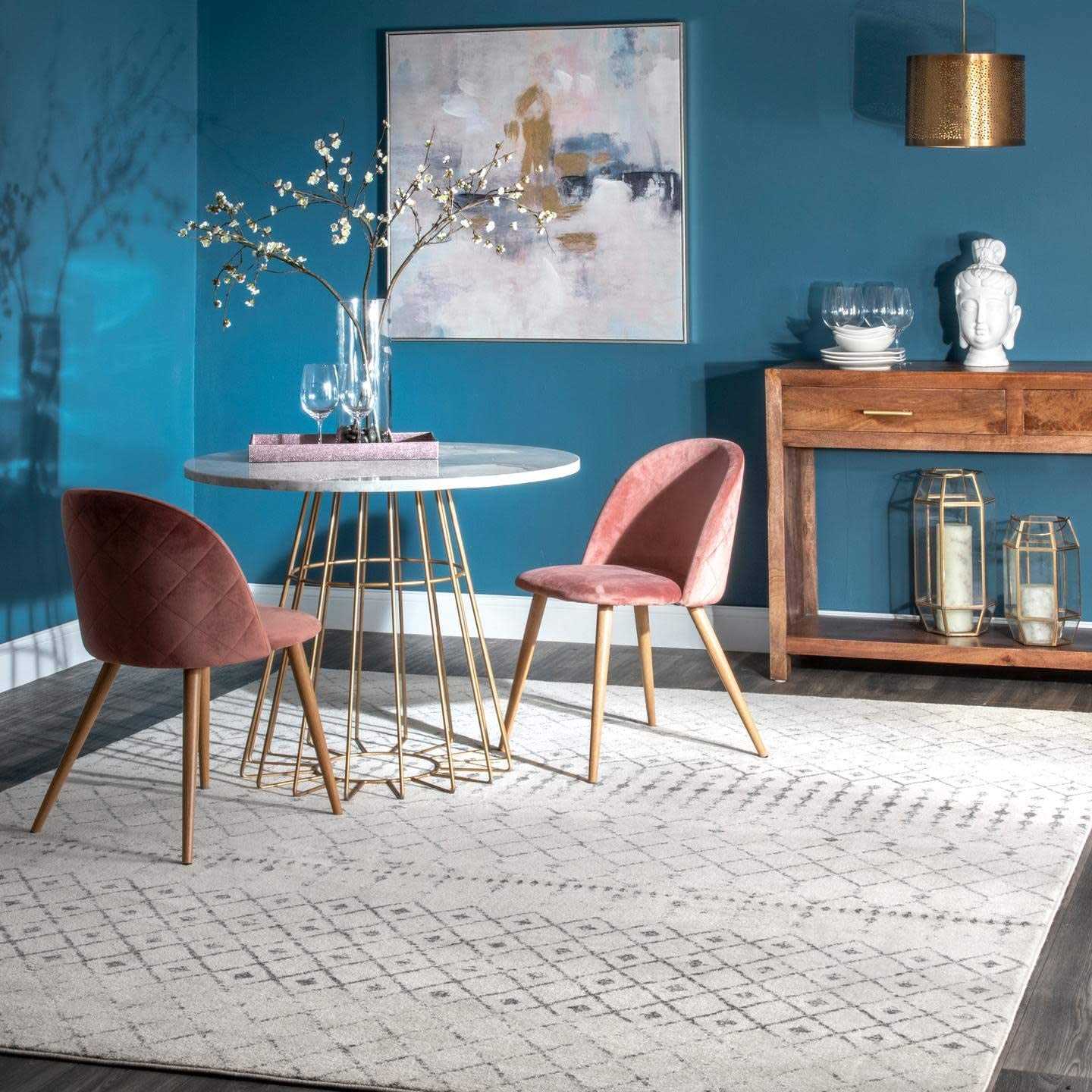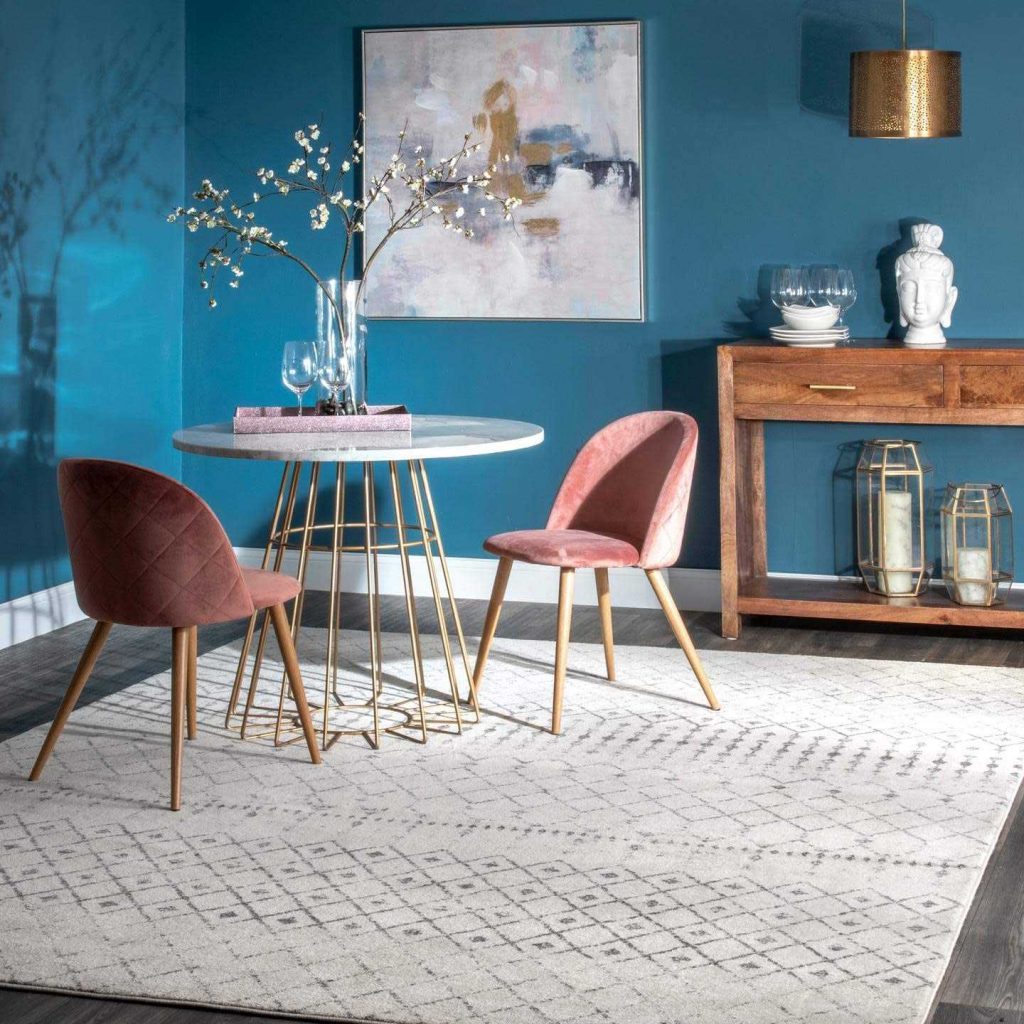 Versatile and stylish, this polypropylene area rug can add charm to your room and make it more welcoming without obstructing doorways. It blends in with nearly any décor thanks to a neutral color palette. Also, the rug is functional and durable as it is designed to withstand regular wear and tear.
Key Features and Specs
Size: 5′ x 7′ 5″
Pile height: 0.37 inches
Weight: 8 pounds
Material: Polypropylene
Backing: Synthetic vinyl
Pattern: Moroccan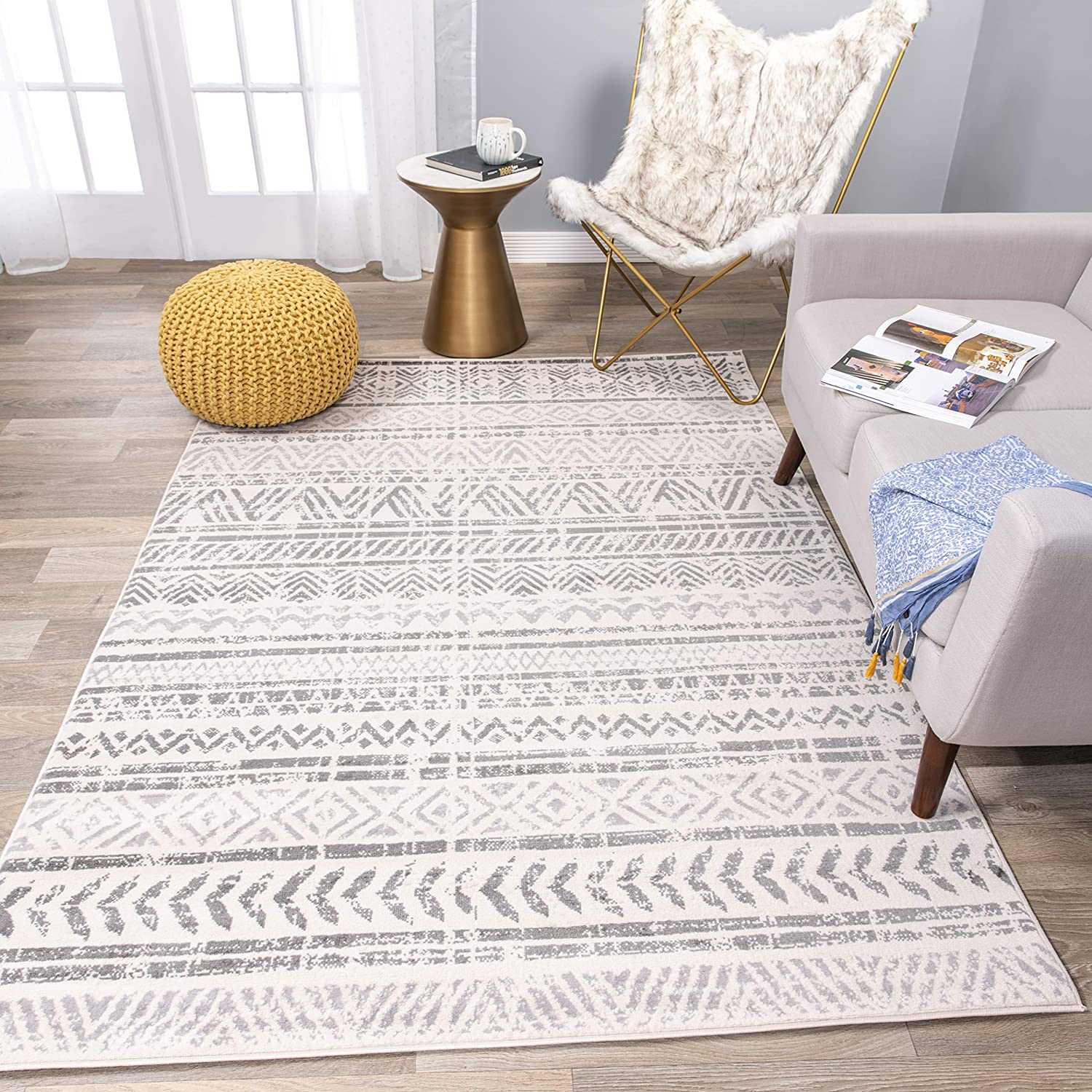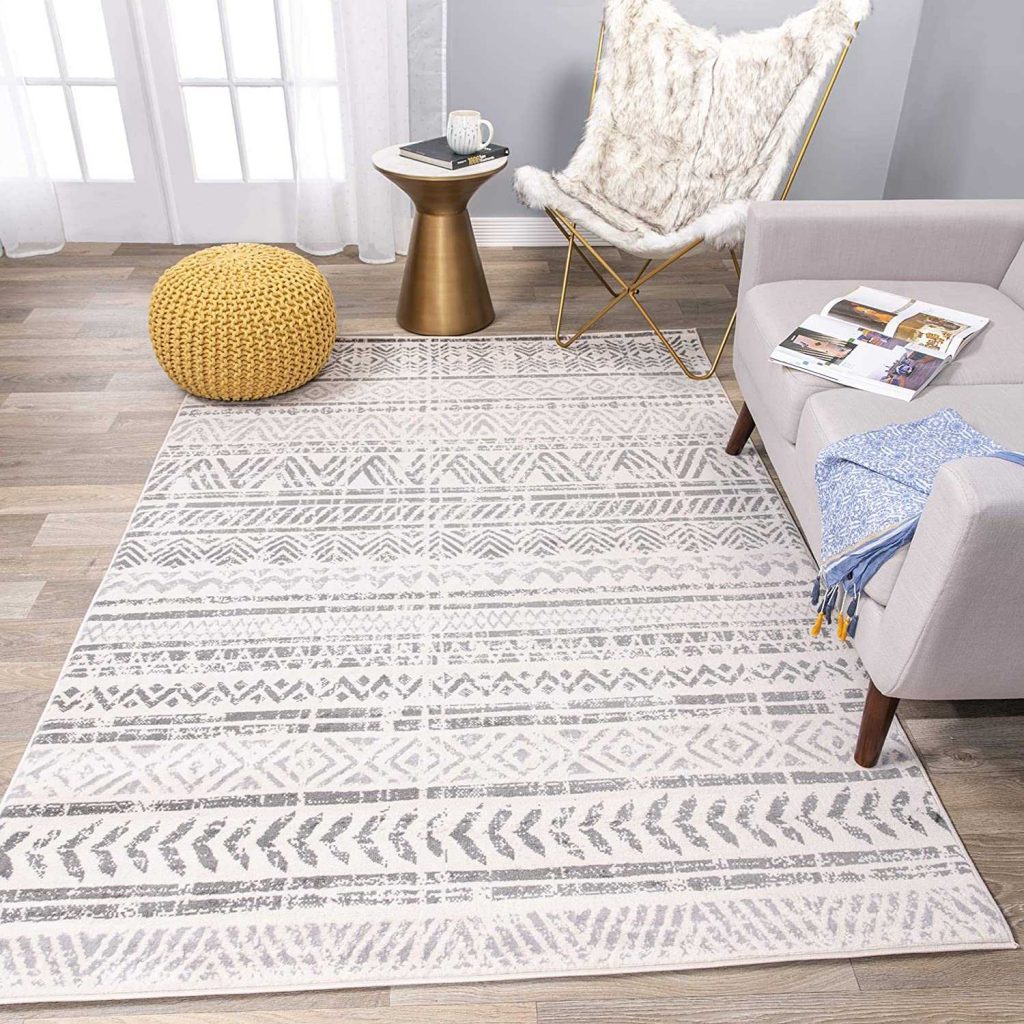 Why do many people like this machine-made area rug? Because it is stain-resistant, easy to clean, and very durable. In addition, the rug doesn't shed and adds warmth to every home decor style. It's great for homes with pets and children due to its ability to resist fading, soil, and stains. Adding a rug pad is recommended.
Key Features and Specs
Size: 5′ x 7′
Pile height: 0.31 inches
Weight: 10 pounds
Material: Polypropylene
Backing: Jute
Key Takeaways
Area rugs come in different sizes, shapes, and fabrics. You should pick the best one for your flooring. Choosing the wrong or low-quality rug can result in damage to your floors and substantial repairs. To help you make the right choice and avoid this scenario, we have covered the most important things to consider when choosing an area rug for hardwood floors. Keep them in mind when you go shopping.