Hardwood floors increase home value besides adding warmth and beauty to a living space.
Carpets can further improve the look of your rooms. To take care of both of them, you should invest in the best vacuum.
A bad vacuum cleaner can not only leave rugs and carpets dirty, but it can also cause damages to your floor.
You want a vacuum that is powerful yet gentle to avoid any damages and scratches. It should be capable of cleaning deep into fibers without spoiling the carpets and scratching the wood floor.
In this article, you will learn what to look for in vacuums for carpets and learn which features to consider to make a wise purchase. I will also provide reviews of the best vacuum cleaners on the market.
Without further ado, let's dig into it.
Short on time? Here is a quick overview of the best vacuums:
Types of Vacuums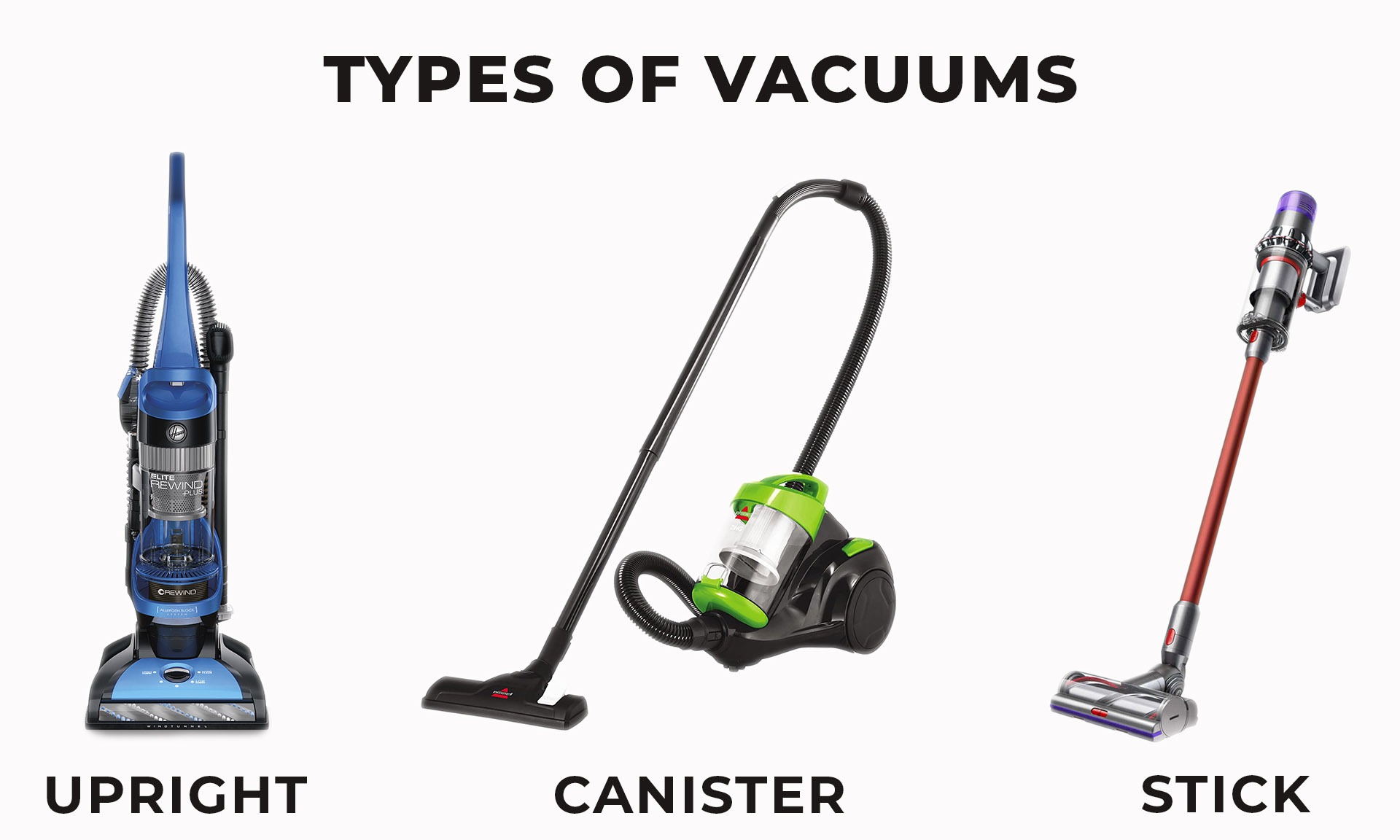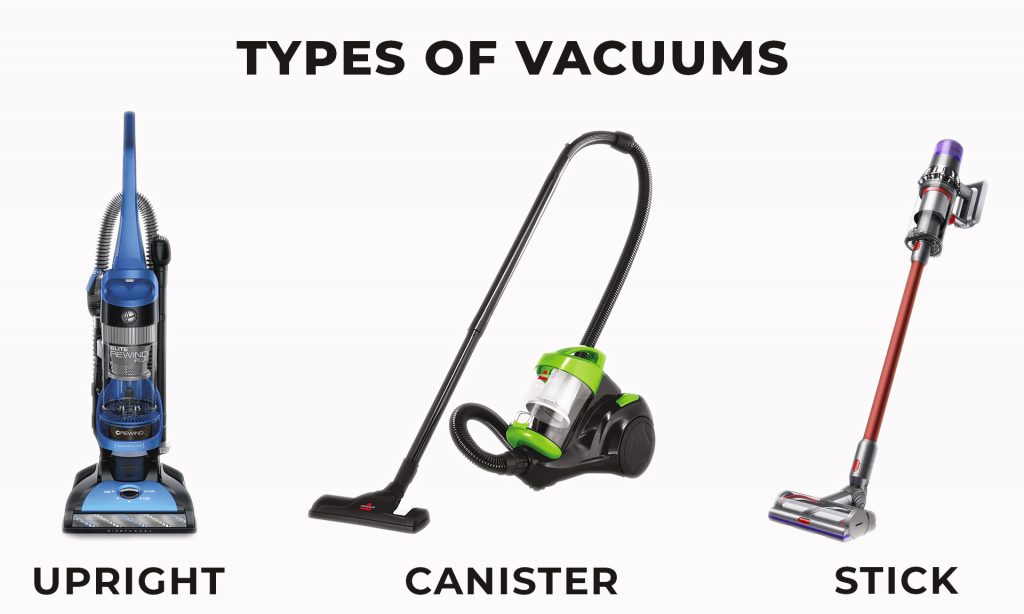 Upright Vacuums
Upright vacuum cleaners are perfect for carpets. They can clean deep into fibers thanks to a powerful engine and vigorous beater brush.
Most upright vacuums are designed specifically for carpeted areas. However, you can also find models with adjustable heights that can be adapted to almost every surface.
Canister Vacuums
Canisters are more gentle on hardwood floors than upright vacuums.
Besides, canister vacuums are less likely to raise dust while you're cleaning the floor, since there are no aggressive brushes. They come with attachments for hardwoods instead.
In my opinion, these versatile vacuums are the best choice for area rugs and hardwood floors alike. While sitting on the floor, the canister hoovers dirt and debris into a compartment or bag.
It is connected to the head and suction hose through the wand. The hose can be detached from the wand when vacuuming hard-to-reach spots such as bookshelves and window sills.
Stick Vacuums
These vacuum cleaners are most suitable for smaller areas such as a bathroom and kitchen. With the stick vacuum you will be able to give your room a quick clean up.
While stick vacuums are not as powerful as their upright counterparts, they are lightweight and easy to maneuver.
9 Best Vacuums for Area Rugs by Rugcritic
Best Overall Vacuum
Hoover MAXLife Pro Pet Swivel HEPA Media Vacuum Cleaner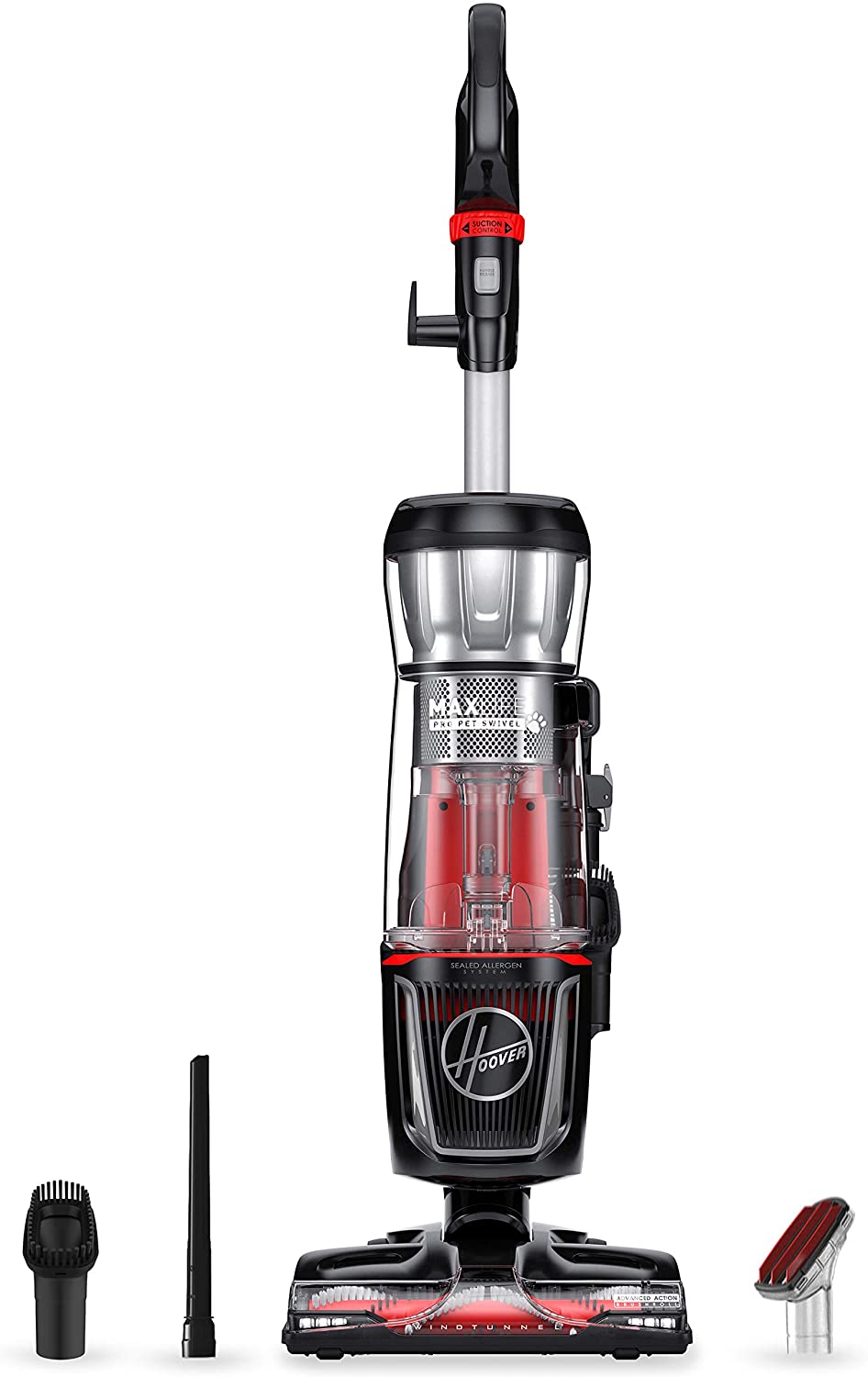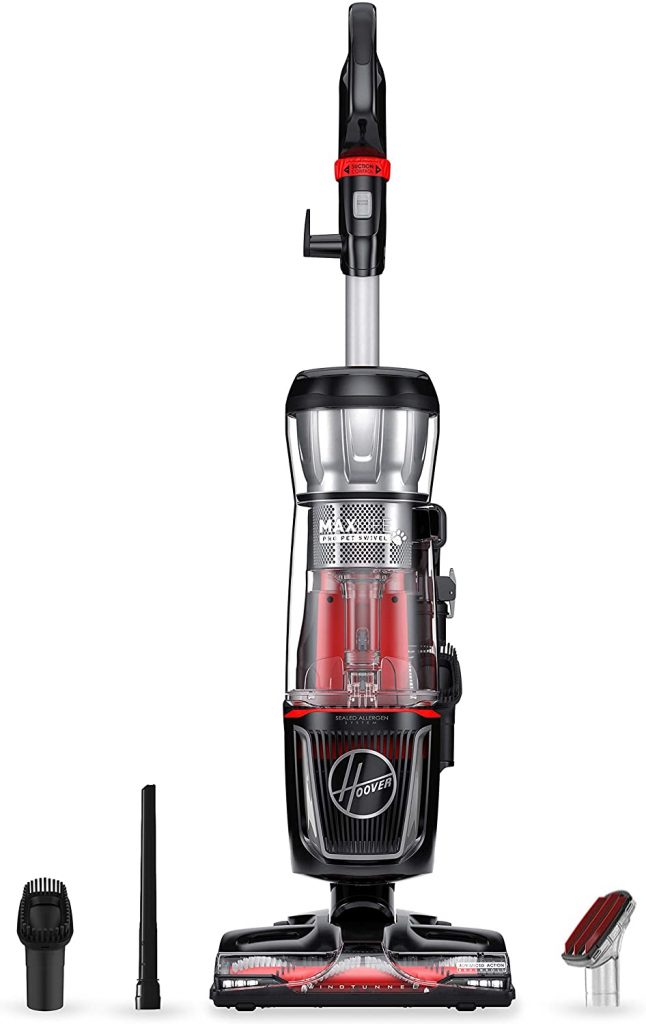 Specs
Type: Upright
Power input: 1320 Watts / 11 amps
Cord length: 30 feet
Color: Black
Dimensions: 11.5 (L) x 12.5 (W) x 45 (H) inches
Weight: 17 Pounds
If you are looking for an upright vacuum that can go wherever your pets go, I recommend choosing this product.
It can reach all the places the dirt and pet hairs might hide. Check out our post about the best rugs for pets.
While it's a bit hard to handle because the swivel takes some time to get used to, you will be amazed by how strong the suction is.
With this powerful machine, you can steer into tight spaces and around furniture without effort.
Key Features:
The enhanced MAXLife System
Quick-release wand
High Intensity LED Headlights
Swivel steering
Bagless design
Dual Action
Best Canister
Miele Compact C1 Pure Suction Powerline Canister Vacuum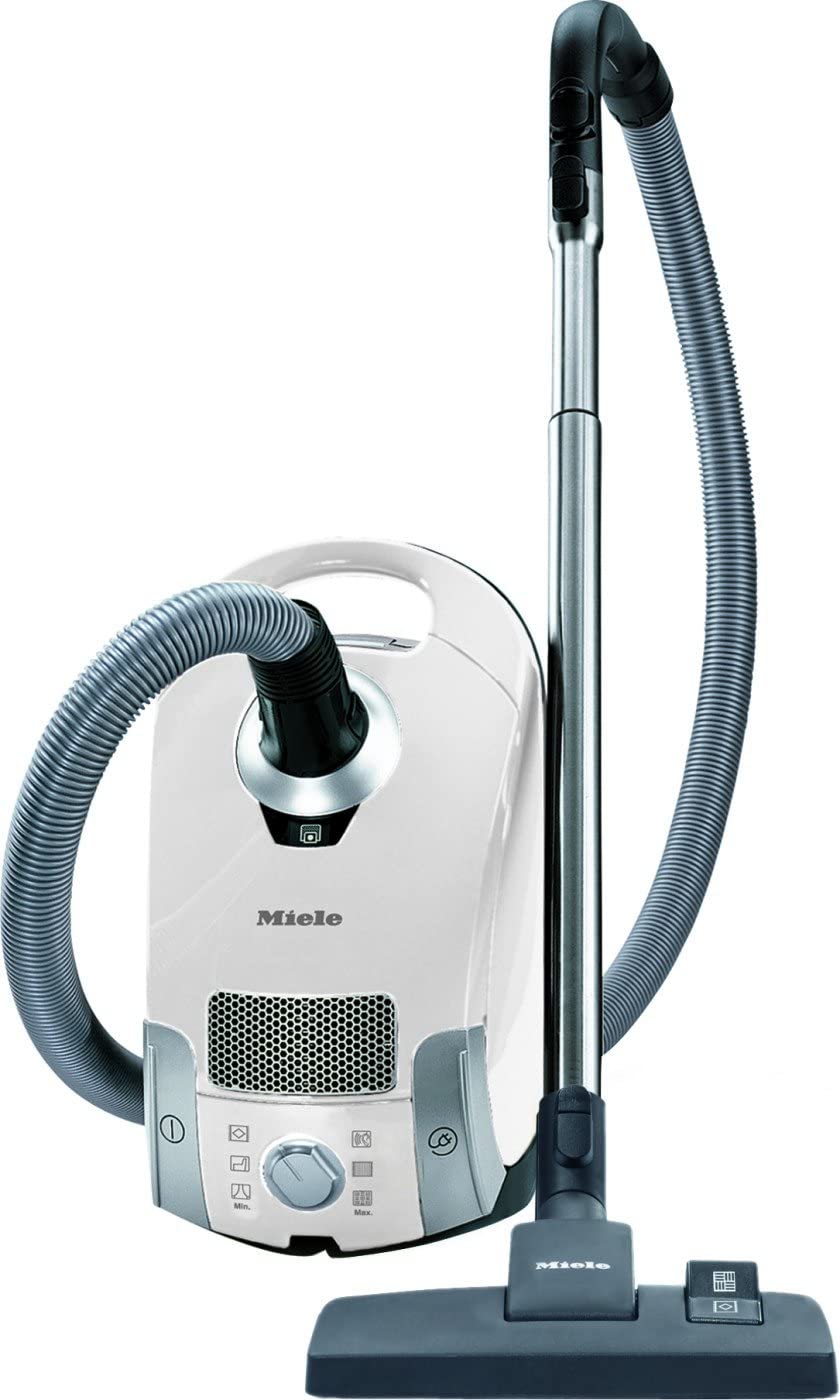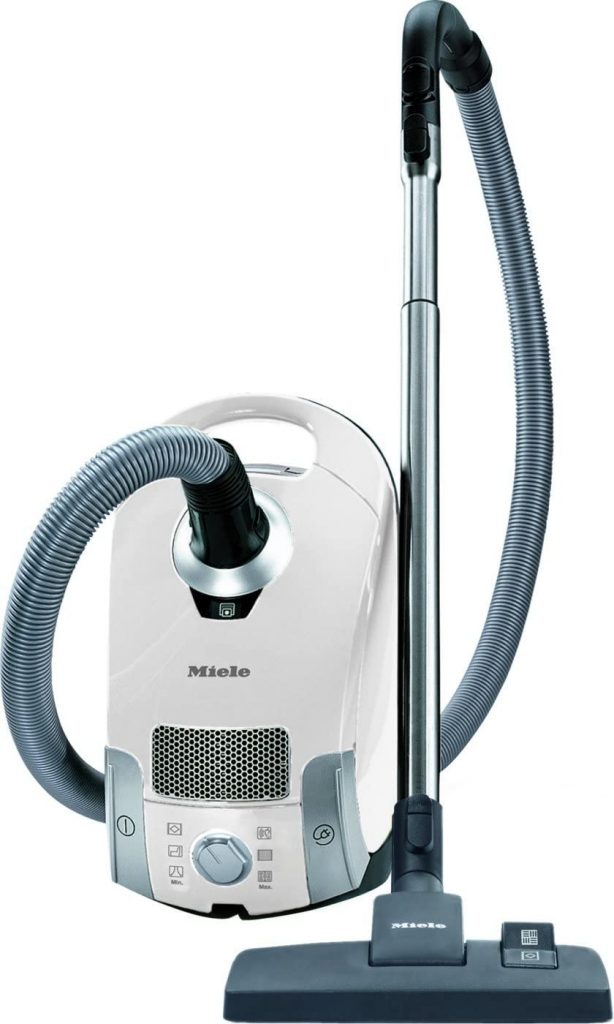 Specs
Type of vacuum: Canister
Power: 1200 Watts
Cord length: 18 feet
Operating radius: 29 feet
Filter Bag Volume: 3.5 liters
The diameter of the Air clean filter: 17 inches
Dimensions: 16.9 (L) x 9.8 (W) x 9.1(H) inches
Weight: 14.8 pounds
What you will appreciate about this canister vacuum cleaner is its compact design. You'll also like the suction power. You can use it on hard floors and low pile carpets as well.
Adjust the suction power to the surface you want to clean and attach any of the 3 additional accessories when vacuuming tight places like shelves and blinds.
Key Features
Miele-Made Vortex Motor
6-setting Rotary Dial for improved suction control
AirClean Sealed System
Accessories on VarioClip
Suitable for low-pile carpets and hardwood floors
Best Stick Vacuum
Hoover PowerDash Pet Compact Carpet Cleaner, Lightweight, FH50700


Specs
Type: Upright
Power: 7 amps
Cord length: 15 feet
Head width: 10 inches
Dimensions: 15.25 x 10.13 x 43.5 inches
Weight: 12.5 pounds
Made in: China
Designed to be lightweight and compact, the Hoover PowerDash vacuum allows for efficient storage and cleaning. It leverages the power of the HeatForce system to deliver fast drying.
This carpet cleaner can be used for any space and is geared toward pet owners looking to clean up pesky stains and pet messes.
Key Features
Powerspin Brush Roll
Heatforce technology
Compact design
Comes with a cleaning solution
Perfect for pets
Best for Pet Hair
Rug Doctor Pet Portable Spot Cleaner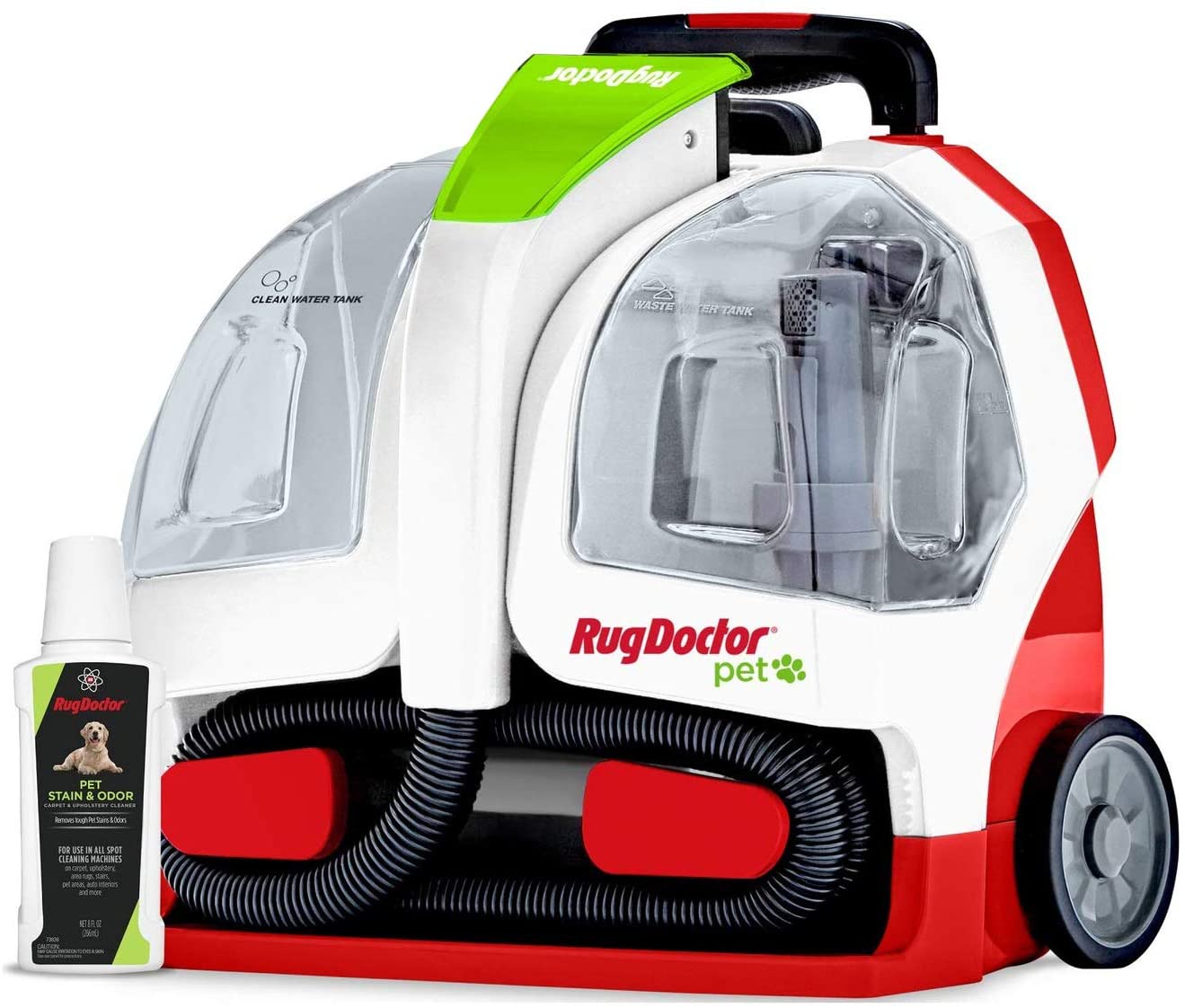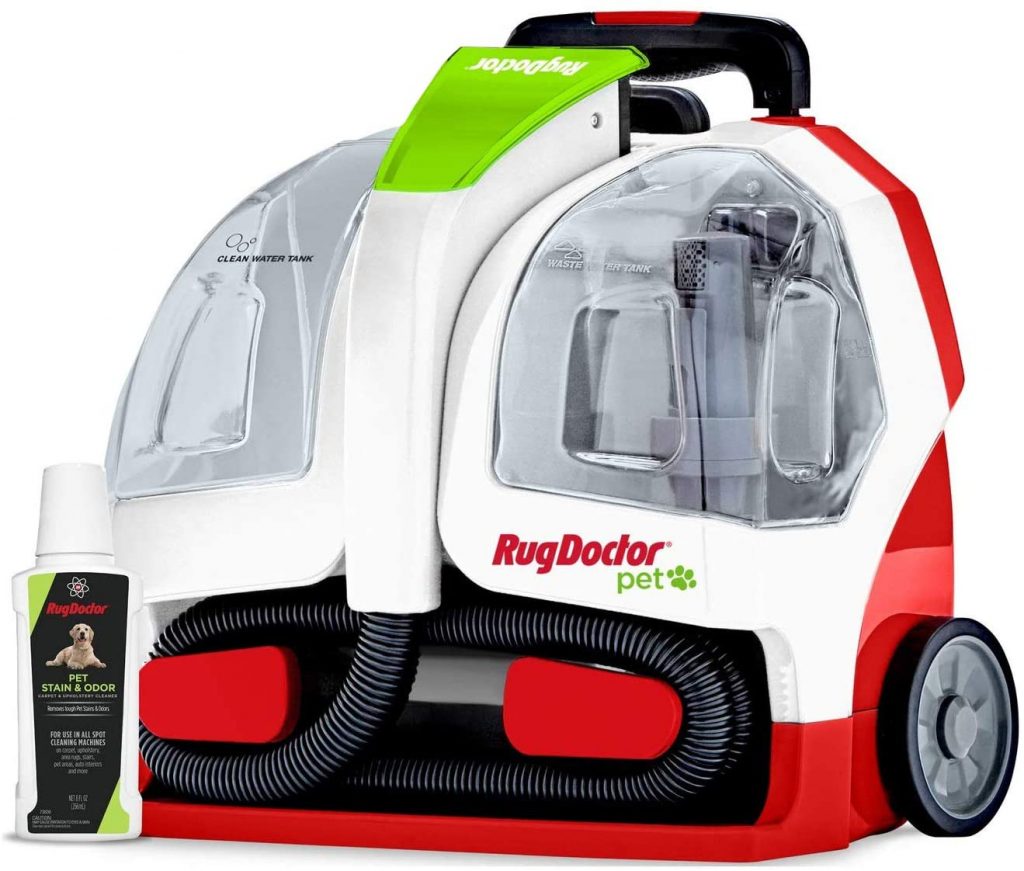 Type: Canister
Power: 1200 Watts / 10 Amps
Voltage: 120V
Volume: 7239.29 in3
Cord length: 15 feet
Dimensions: 16.02 x 10.94 x 15.63 inches
Weight: 18.76 pounds
Are you a pet owner? Do you struggle with tough stains, pet hair, and odors? If so, I suggest that you choose this portable vacuum cleaner.
It can tackle pet hair and messes like vomit and urine. With this amazing cleaner, you will also remove embedded dirt and stains from your rugs.
It is equipped with a dual tank system that separates dirty water from clean water.
Key Features
Dual tank system
Rubber bristles
Carpet friendly wheels
Retractable handle
Specialized cleaning formulas
Best Robotic
Max Suction Robotic Vacuum for Rugs and All Floor Types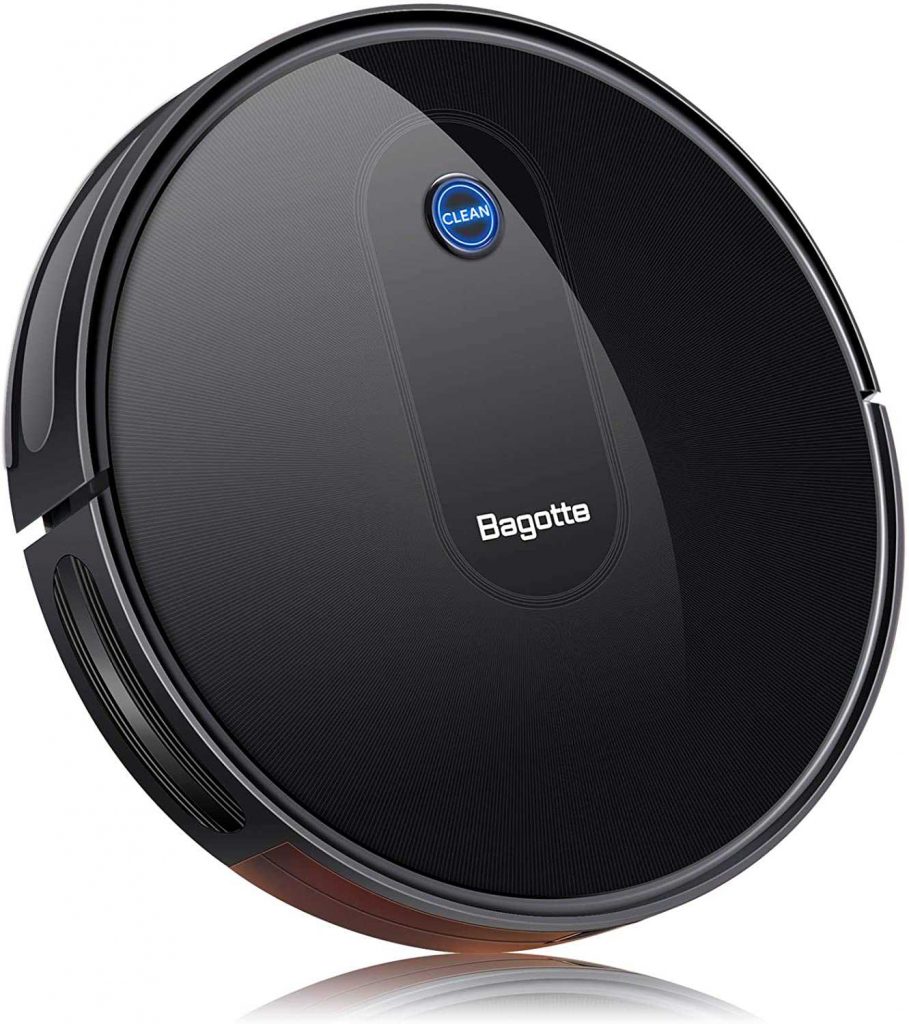 Type: Robotic
Color: Black
Controller Type: Remote Control
Power Source: 2600mAh li-ion batteries
Dimensions: 12.8 x 12.8 x 2.7 inches
Weight: 9.11 pounds
Robot vacuum cleaners have exploded in popularity. If you need such a vacuum, this is an excellent option.
With strong suction power and 3 brushes, this machine gives a superior clean by loosening, extracting, and vacuuming dust.
It can hold up pet hair and debris simultaneously, thereby reducing the emptying frequency. There are various cleaning modes for different types of flooring.
Key Features
Multiple Cleaning Modes
3-Point Cleaning System
Advanced Climbing Ability
Ultra-Thin Design
IR Technology
Best Upright
Kenmore Intuition BU4022 Bagged Upright Vacuum Cleaner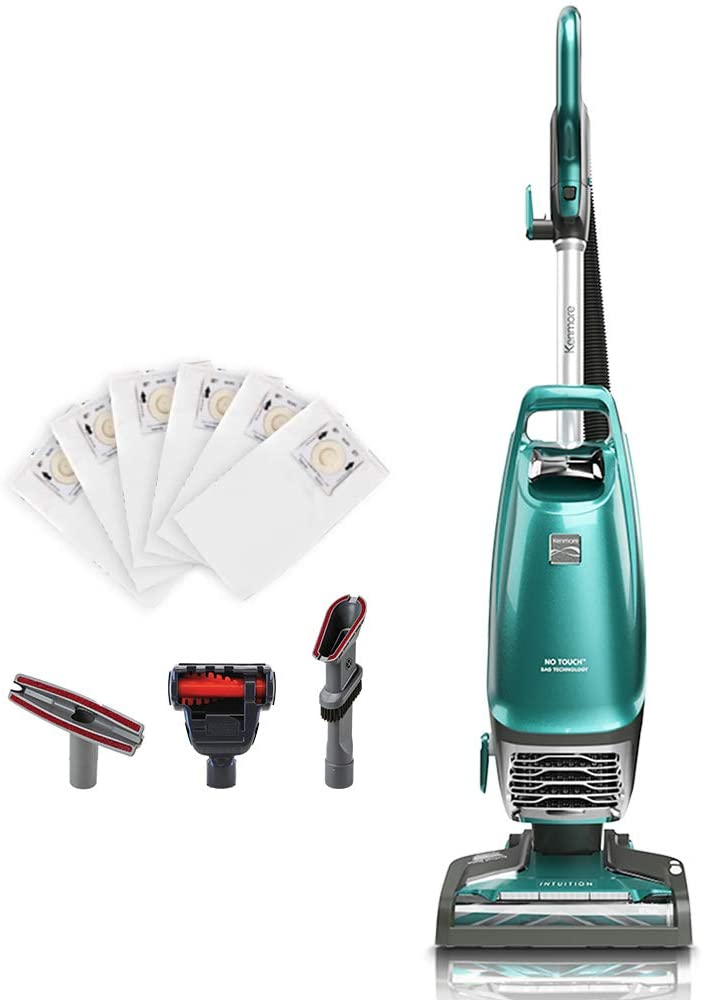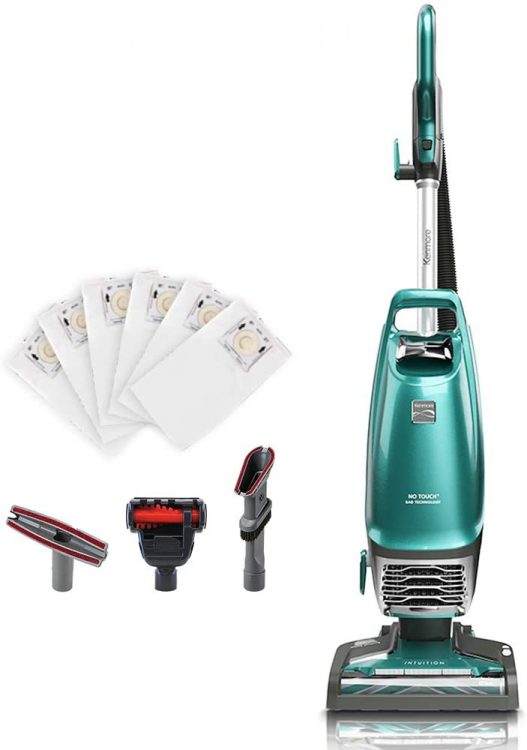 Specs
Type: Upright
Suction Power: ≥200 Watts
Voltage: 120 Volts
Sealed Pressure: ≥19.5 kPa
Cord length: 30 feet
Dust Bag Capacity: ≥3.1 liters
Air Flow: ≥27.5 L/s
Weight: 21.4 pounds
To make it easy to clean stairs, furniture, and other items above the floor, this bagged upright cleaner lifts away as needed. Cleaning tight spaces, car interiors, and furniture is super easy thanks to a detachable handle.
It also comes with a detachable wand for extended reach. Additionally, there are a few functional attachments and Pet HandiMate that's specially designed for stairs and pet hair cleaning.
Key Features
Power Flow Technology
Lift-Away System
Pet-Friendly Design
Swivel Steering
Bag Fill Indicator
Best Cordless
Dyson V11 Animal Cordless Vacuum Cleaner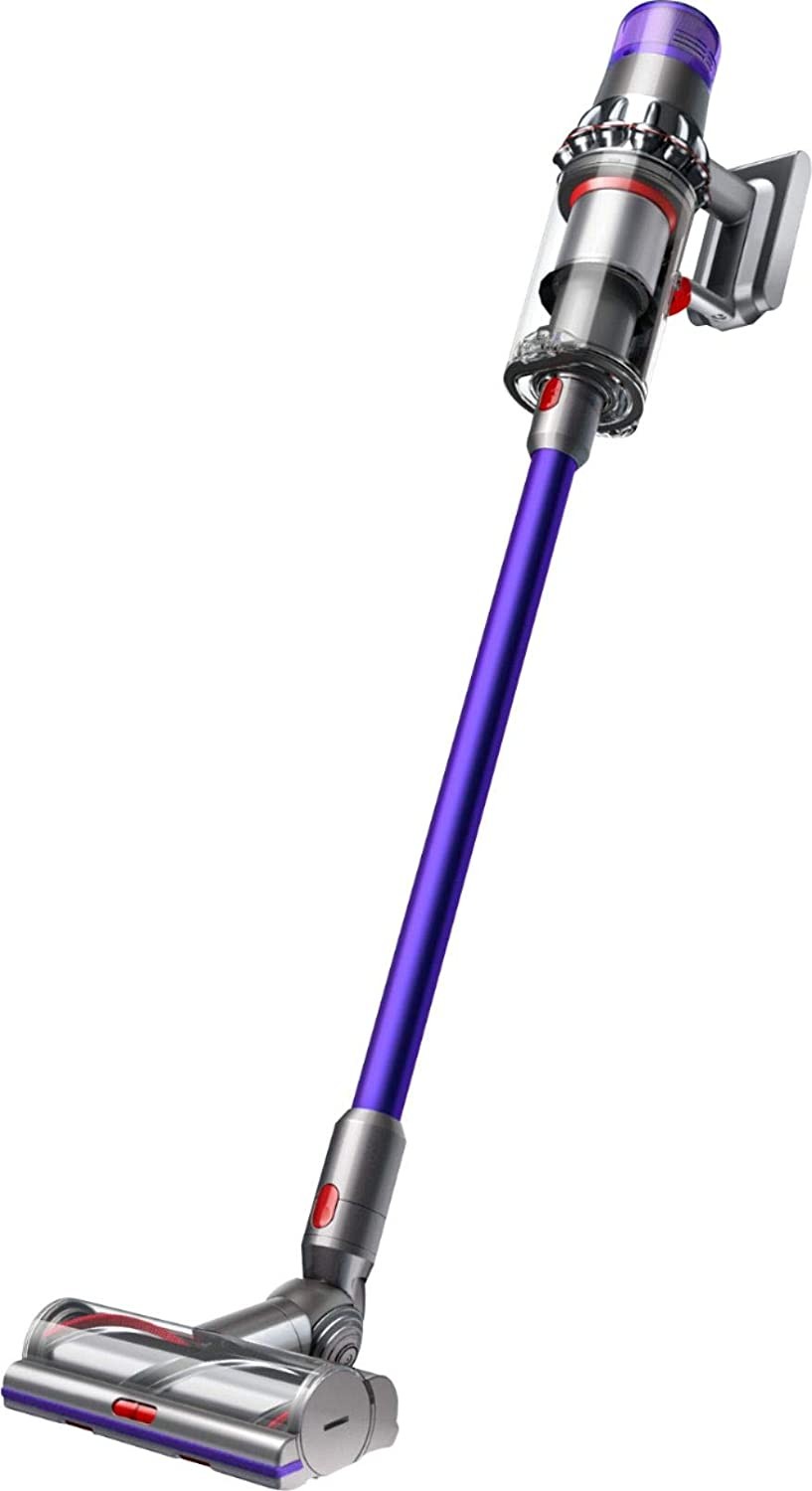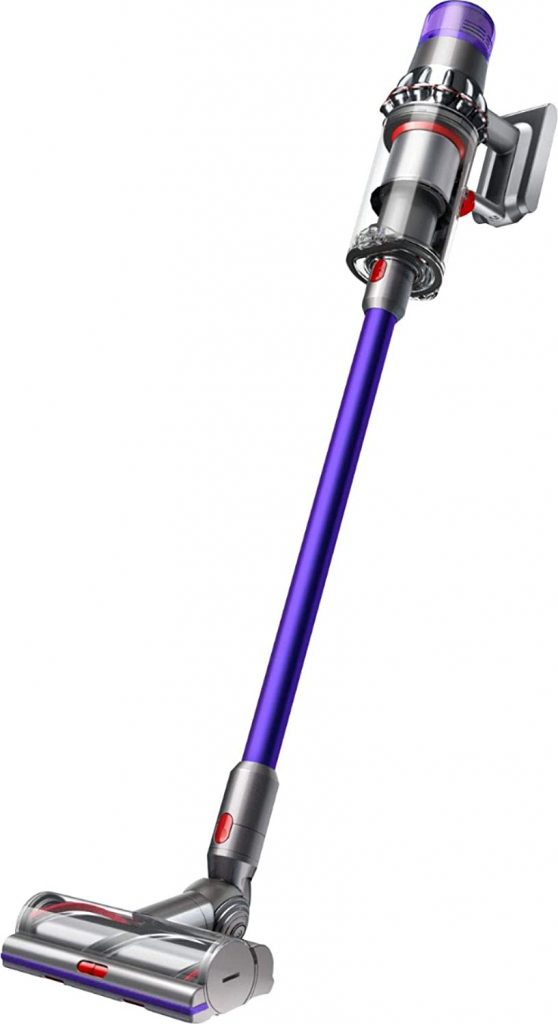 Specs
Type: Stick, Cordless
Power Source: Battery Powered
Max Suction: 185 AW
Volume: 3.15 Ounces
Run time: 60 minutes
Dust Bin Capacity: 0.76 L
Dimensions: 49.65 x 9.84 x 10.28 inches
Weight: 6.68 pounds
Cyclonic vacuum cleaners have eliminated the need for a bag. If you prefer those vacuums to bagged cleaners, check out this powerful cordless vacuum by Dyson.
It can capture tiny particles like bacteria and allergens besides dust and dirt by driving deep into the rugs.
There are 3 cleaning modes to choose from: Boost, Eco, and Auto. You can view or set modes, filter maintenance reminders, and blockages on the LED screen.
Key Features
Dyson DLS system
LED screen
Drop-in docking
7-cell lithium-ion battery power system
Intelligent cleaning modes
Best Bagless
Bissell Powergroom Multicyclonic Bagless Canister Vacuum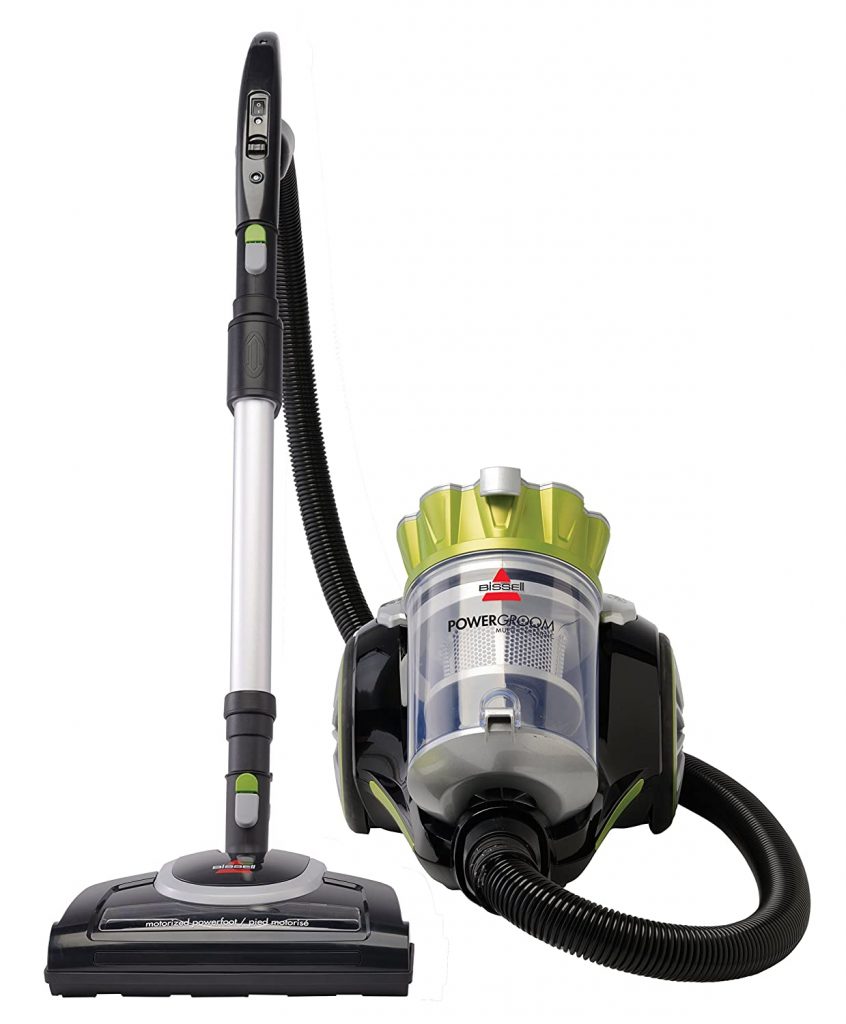 Specs
Type: Canister, Bagless
Power Source Type: Corded
Dirt cup capacity: 2 L
Dimensions: 11.8 x 15.1 x 13.5 inches
Weight: 10 pounds
Warranty: 1 year
With this powerful bagless vacuum, your cleaning will be a simple task. It uses a motorized brush roll to lift pet hair and dirt from rugs and hardwood floors.
Once lifted away, the dust and dirt get sucked up in the canister. The vacuum comes with a wand that has brush and suction controls. That allows you to change the way you vacuum based on the surface you're cleaning.
Key Features
15x Multi-cyclonic technology
Motorized Brush Roll
Fingertip controls
Multi-Level Filtration
Best For Low Budget
beyond by BLACK+DECKER Cordless Handheld Vacuum Cleaner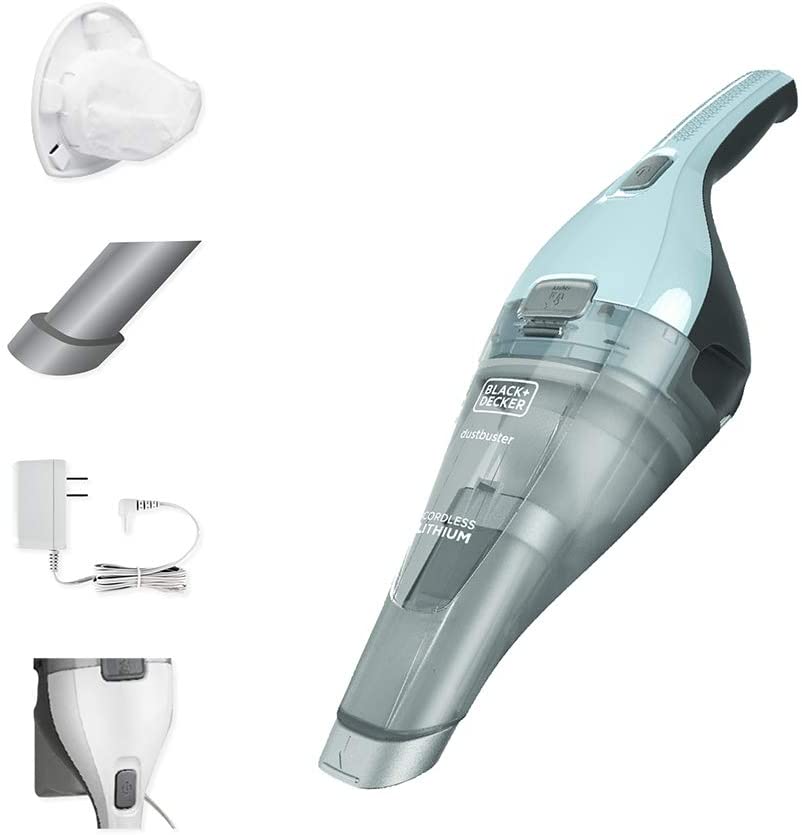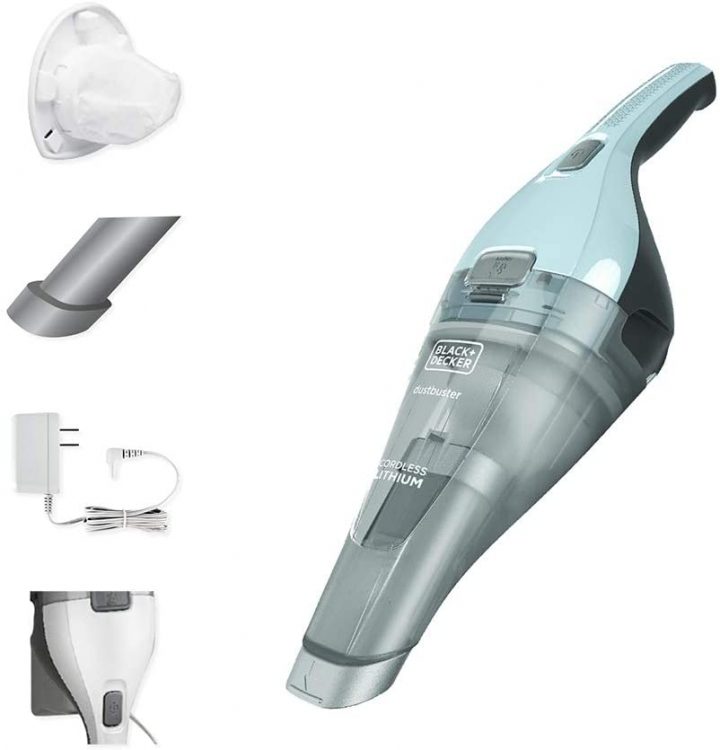 Specs
Type: Handheld Cordless Vacuum
Power Source: 1 Lithium-ion battery required
Color: Blue
Voltage: 8 Volts
Capacity: 0.325 liters
Dimensions: 17.24 x 5.67 x 4.65 inches
Weight: 2.25 pounds
If you need a cordless hand vacuum for small cleaning jobs, then I recommend buying this dustbuster. Keeping the space potless is quite easy with this small yet powerful device.
In addition to wood floors and rugs, it can be used on curtains, furniture, and shelves. It can also do a great job of cleaning your car.
Key Features
2x More Suction
Cordless Portable Cleaning
The washable clear dirt bowl
Wall mountable charger
One speed only
Buying Guide: Choosing the Best Vacuum for Rugs and Hard Floors
From vacuum type and power to attachments, capacity, versatility, ease of use, and price, there are quite a few things to consider when choosing the ideal vacuum for your area rugs. Let's take a look at the most important features to take into consideration.
Size & Type
As mentioned above, the most common types of vacuum cleaners on the market are canister, upright, and stick. There are also robotic vacuum cleaners and dust-busters.
Which type of vacuum is the best?
Well, they all have a special purpose and advantages you need to take into account to figure out which one is right for you.
When it comes to size, the smaller vacuums are easier to maneuver, store, and move around. However, the larger models are usually more powerful and better for heavy-duty jobs.
So you should have a good idea of what you need a vacuum for when choosing the size.
Versatility
If you need to clean different types of rugs and floorings, then you should look for vacuums that offer more versatility.
Choose one that is created to easily adjust to a wide variety of floors and carpets rather than buying a vacuum that is designed specifically for a certain type of flooring or surface.
In any case, make sure it thoroughly cleans the area rugs as well as floors without damaging or scratching them.
How to recognize a versatile vacuum? Highly versatile vacuum cleaners offer multiple power options as well as several brush roll adjustments and suction settings.
They also come with numerous cleaning modes and attachments to be suitable for different types of cleaning tasks.
Ease of Use
Just as with other cleaners and devices, you want a vacuum that is easy to use. It's supposed to be easy to clean, empty, maintain and maneuver.
Aside from this, your cleaner should allow you to carry it up and down the stairs effortlessly when you are vacuuming upstairs. If it comes with a dirt can, make sure it can be emptied with ease.
Reach
The reach of the vacuum cleaner depends largely on the length of the power cord, hose, and wand. There are different design options with regard to the reach.
Some vacuums come with a telescoping wand and/or flexible attachments, while others have adjustable heights and components to adapt to various surfaces.
You are advised to buy one that comes with attachments that will let you vacuum hard-to-reach spots like ceilings, window sills, and drapes. These are the favorite places of dust and pet hair where they hide and go unnoticed for quite a while.
It should also enable you to easily maneuver under or around furniture.
Flexible Attachments
Vacuum cleaners come with a whole spectrum of attachments. They are intended to make vacuums useful for different kinds of cleaning purposes and add flexibility. These additional attachments include:
Dusting brush
Utility nozzle
Extended or telescoping wands
Crevice kit
Upholstery tools
Pet Handi-Mate
While some of the above-listed attachments help in cleaning stairs, corners, and other hard-to-reach areas, others are designed with a specific type of flooring in mind.
The dusting brush is the most important and helpful attachment. I recommend choosing a flat or beater brush with soft bristles for hardwood floors.
There are special head attachments. The extended wand is extremely helpful for curtains and walls.
Power
There's a broad range of metrics associated with suction power. The most essential ones include Voltage, Watts, and Amps. Take the time to compare these metrics before making up your mind.
Unfortunately, many manufacturers don't give all of these specs, so you may need to do a little research to reveal them.
It's best to pick a vacuum that provides adjustable settings in terms of suction power. That will let you switch between power settings and select the suction power based on the surface that needs clean-up.
Flatter area rugs require less power than thick rugs. Typically, area rugs need more power than hardwoods.
Weight
Nobody likes heavy vacuums because they make vacuuming a tiresome job. That would make it difficult for you to carry your cleaner upstairs and move it from one place to another.
That's why you need to choose a lightweight unit that allows for effortless portability and cleaning as well.
Stick vacuums are usually lighter than upright and canister ones. However, they have less suction power. Besides, they offer fewer options in most cases.
My advice is to never purchase something lightweight at the cost of power and functionality.
FAQ
How can you make carpets last longer?
Move your carpets away from direct sunlight and rotate it occasionally. Rotation will prevent one part of the carpet from fading or losing color more than another. This is also good due to the traffic pattern.
How often should you vacuum the area rugs?
A good rule of thumb is to vacuum the area rugs twice a week. Regular vacuuming and cleaning can make the rugs look good and last longer.
Can you clean area rugs on hardwood floors?
Yes, you can. You may steam clean on area rugs or use either sodium bicarbonate or shampoo. It is imperative to keep the hardwood floor protected from water while removing the stains to avoid any damages.
Do the vacuums for area rugs also clean the stains?
Vacuuming alone isn't enough to get rid of stubborn stains and ground-in dirt that hold tightly on carpet fibers. This is especially true for vacuums without a water container. Choose one that allows you to use the stains cleaner or rug stain removers.
Can I use a regular vacuum on a carpet?
Yes, but it may not be as effective as a vacuum specifically designed for use on carpets. These vacuums often have specialized brush heads and suction settings that are optimized for use on carpets.
Should I vacuum my area rug before or after I clean it?
It's best to vacuum your area rug before cleaning it to remove any loose dirt and debris. This will make it easier to clean the rug and prevent the dirt from spreading during the cleaning process.
Can I use a steam cleaner on my carpet?
It depends on the type of carpet and the material it is made of. Some carpets, such as wool, should not be steam cleaned as the heat can damage the fibers. Synthetic carpets may be steam cleaned, but it's important to check the manufacturer's recommendations before doing so.
Key Takeaways
While all vacuums for area rugs work in a similar way, they are not created equal. They come in a variety of sizes, shapes, types, and with all the different features.
The best ones set themselves apart from the rest with advanced cleaning systems and additional features like fingertip controls, bag fill indicator, and heatforce technology.
You want to buy a vacuum cleaner that has strong suction, multiple attachments, carpet friendly wheels, powerful brush rollers, various cleaning modes, and so on.
Whatever your needs, make sure it works perfectly for both your area rugs and hardwood floors so that they get the best cleaning.