Pets and stylish rugs are a delightful yet perilous combination. Don't you agree? If you are like me, then you enjoy styling up your place with pet-friendly rugs. You need to pick the material wisely. Be sure to choose something nice, easy to clean, and durable. It should also be stain and water-resistant as well as washable and low-pile.
The key is to combine the style and durability of the rugs the right way. In this post, I want to present the best area rugs for pets available right now. Hopefully, it will help you choose the best pet-friendly rug for your house that your pet(s) will agree on.
Short on time? Here is a brief overview of the best pet-friendly rugs:
What Materials to Look for in Pet-Friendly Rugs?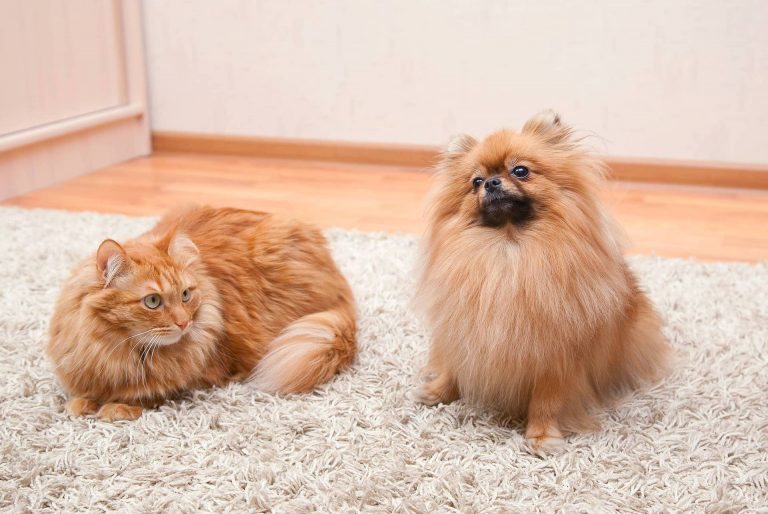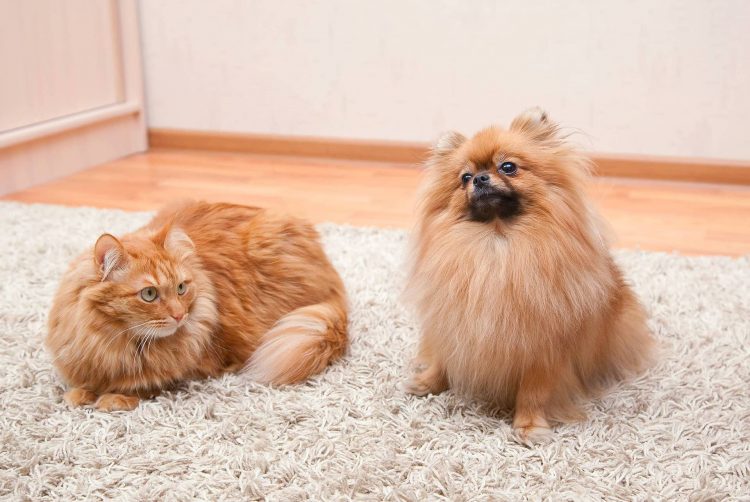 One of the first things to consider is the type of material. The most common options include:
Wool rugs
Synthetic rugs, and
Cotton rugs
Wool
Wool is an excellent winter sock material as it gives warmth to the body and paws. It's neither stringy nor fluffy, which makes it pet friendly. The rugs made of this material are extremely durable, thanks to the flexible wool fibers. This stain-resistant material can resist moisture and stains in a natural way.
If dirt finds its way into your rug, you can easily remove it with a vacuum cleaner. I recommend taking a broom before vacuuming to loosen up your dog or cat hair. Regular vacuuming can not only clear up dirt and pet hair, but it can also save you the hassle of washing your rug frequently.
While wool rugs create a luxurious and rich look, not every construction is pet-friendly indeed. Loop pile or knotted rugs are prone to catching and snagging on the pets' claws. That's why I suggest choosing tufted wool rugs, especially if you have a cat.
Synthetic
Synthetic materials like nylon, polyester, and polypropylene are known for ease of cleaning and durability. These are usually non-absorbent and low-pile rugs. As such, synthetic rugs do not stain easily. Another good thing is that your pup will not be able to chew or claw it easily.
On top of this, synthetics rugs are generally inexpensive compared to other materials. Not every pet like synthetic materials, though.
Cotton
The favorite pastime of most pets is sleeping. Your four-legged friend would rather fall asleep on a plush cotton rug than doze off on the carpet. That's because the cotton is very cozy and soft. Moreover, cotton rugs are durable and stain-resistant too.
The biggest downside of these rugs is that they attract a lot of pet hair and fur. Luckily, you can easily get rid of hair and dust through vacuuming.
Features of a Good Rug for Pets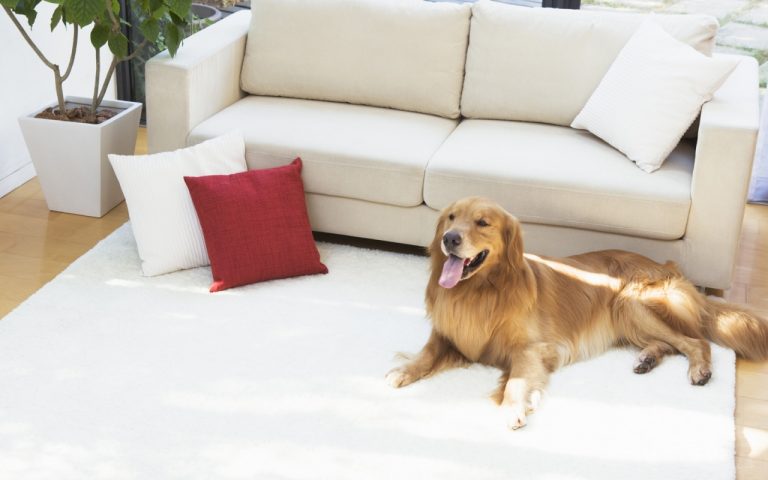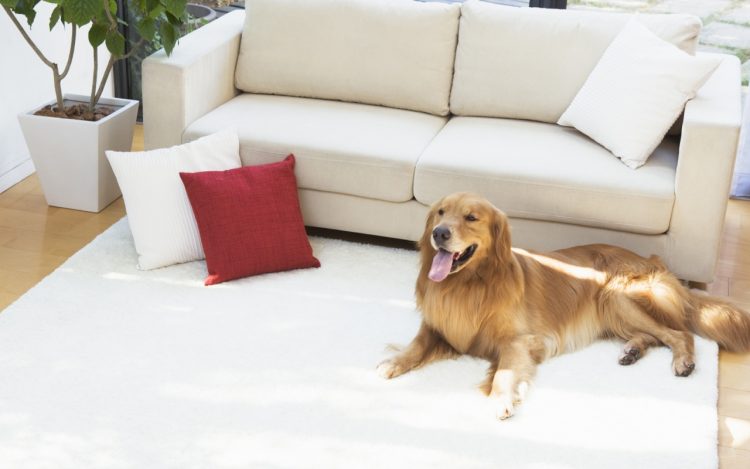 You need to check several features when buying a rug to ensure it is really good for your pet(s). Without further ado, let's take a closer look at the most important features.
Washable
First things first, you should make sure the rug is washable. Many pets like to get dirty by rolling around in the mud outside. Others are prone to pee and poo accidents indoors. Does that sound familiar to you? If so, get a washable rug and save yourself a headache. Simply wash it up as needed and it will look like new.
Durability
It is all about fiber construction. Different rugs for pets are made from different fabrics. Nylon and wool are considered to be the most durable and resilient options. They can withstand a fair bit of abuse. Polyester rugs are also quite durable.
Stain Resistant
Stain-resistant rugs are easy to clean and maintain. With such a rug, you will not have to worry too much about removing a stain. It will clean up great no matter what your pet throws at it, so shedding will not be an issue.
Low-pile
I agree that a fluffy, looped rug feels wonderful under the feet. Nevertheless, I would rather choose a low-pile rug for pet households. It prevents pets from catching their claws and burying unpleasant stuff in the rug.
Water-Resistant
In addition to being stain-resistant, your rug should also be resistant to water, mold, and moisture. Look for water-resistant rugs made of materials that can withstand humidity and hold up to different types of spills as well.
Cotton or Synthetic Foundation
The foundation material is an important consideration. Cotton is often used in the foundation of rugs because of the stability and durability of the fiber. It is also highly breathable. Synthetic foundation rugs are usually cheaper and easier to maintain. These rugs can do a better job of fighting off dirt but are less durable, generally speaking.
Best Rug Styles for Pets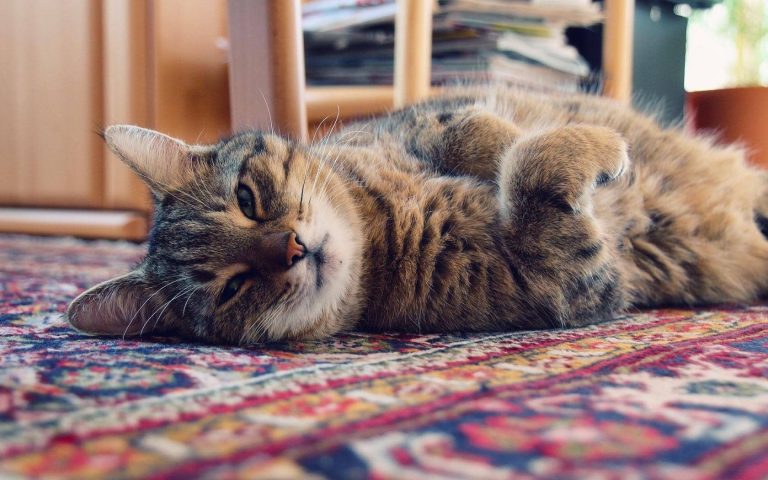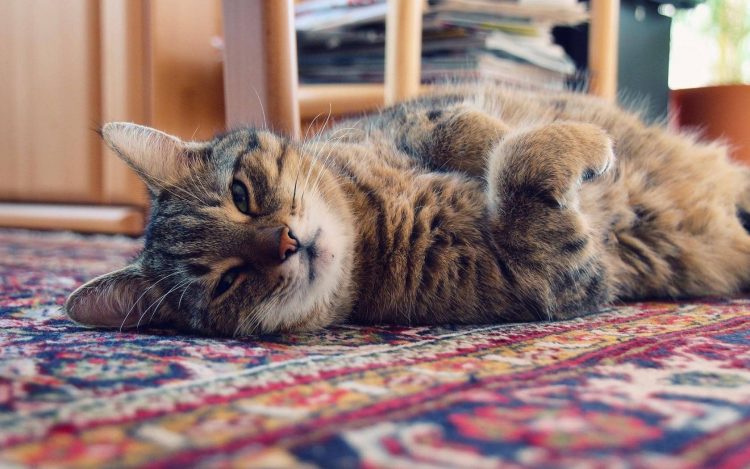 There is a wide variety of rug styles out there. You will want to opt for one that fits in with the style of room and home in general. This doesn't mean you need to compromise functionality. Let's check the most popular rug styles for pets.
Outdoor
I recommend that you look for a pet-friendly rug designed for both indoor and outdoor use. The outdoor rugs are meant to hold up to rough weather conditions. They are also resistant to stains and water in most cases. It only takes a quick shake, actually a few shakes, to clean it up.
Tile
These rugs allow you to replace one or more tiles as needed, thanks to their piece-by-piece arrangement. They are easy to move and configure. You are advised to order more than you actually need, depending on the room size. It is always a good idea to have extra carpet tiles if you have pets.
Patterned
The pattern also plays a big role in showing pet hair. Single-color plain rugs make hair more visible, especially on solid backgrounds. That's why I suggest buying a busily patterned, complex rug that de-emphasizes the shed fur of pets.
Cowhide
Cowhide is also a pet-friendly option for rugs. This material might not be great for those who like traditional rug options. However, its texture has the added benefit of repelling pet hair naturally. It is very durable and thus pet-friendly.
Dark or Light Colors
As a pet owner, you should consider your pet's color when choosing between dark and light-colored rugs. The dark area rugs are usually preferred since they don't show dirt so obviously. If you have a light-colored dog or cat, avoid putting a dark rug in your home because you will end up vacuuming up your pet's hair time and again.
Traditional or Abstract Designs
Which style is the better – traditional or abstract? I prefer abstract designs, but it is a matter of personal taste. Make sure it blends in with your space and your pet(s) anyway. The rug you choose needs to go well with your furniture, floor, and the rest of the room.
What to Avoid in Rugs for Pets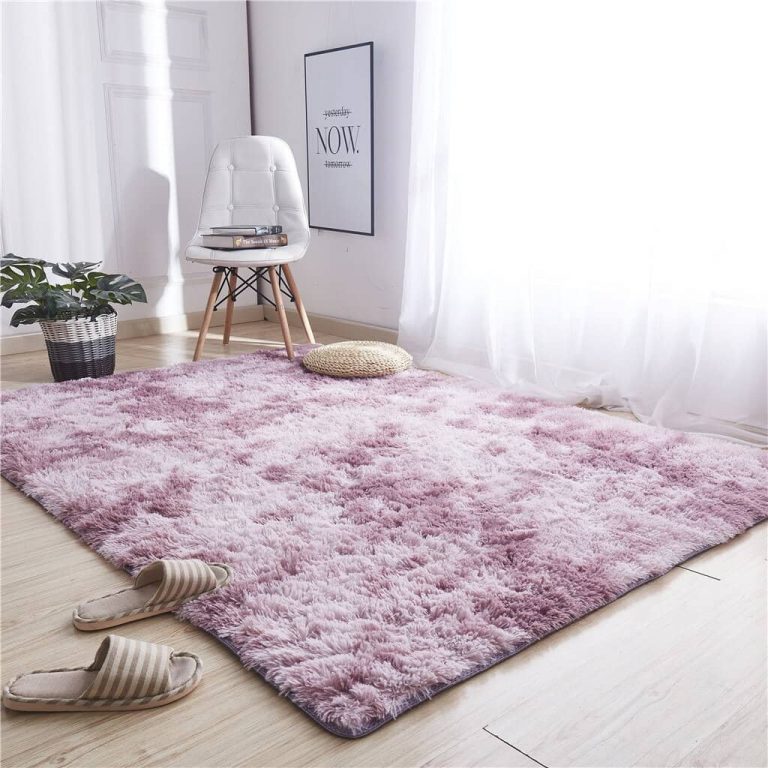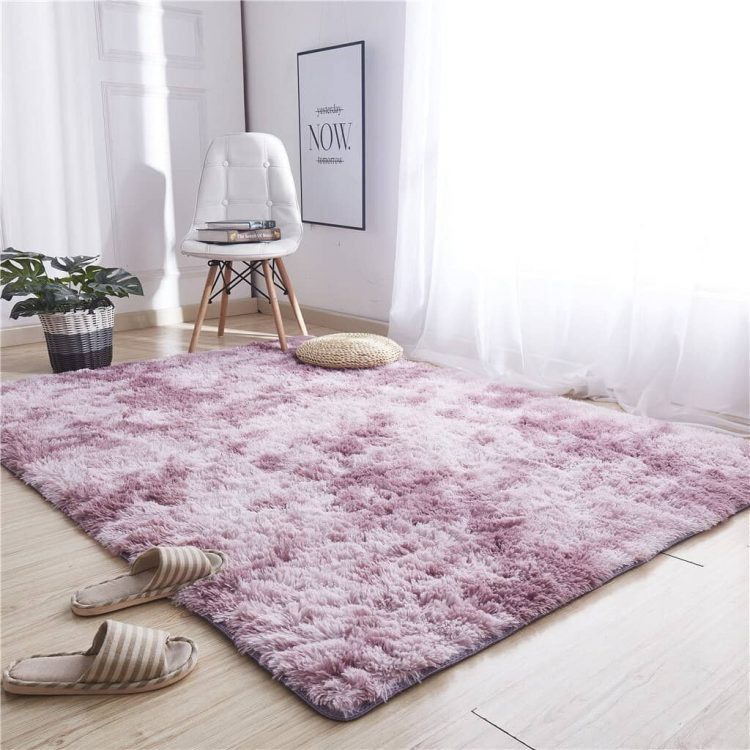 Once you know what to avoid in rugs, you will more likely pick one that is good for your pets. Here are some rugs you should avoid.
Shag Rugs
Although many people love shag rugs because they are fluffy and thick, I don't recommend buying them. These rugs are made of stringy material that collects a lot of dirt and hair. Plus, shag rugs are easy for dogs and cats to claw at or chew on.
High-pile Rugs
Avoid high-pile rugs, too. They require special cleaning due to their delicate design. Hair and dirt easily get stuck in the crevices of these high maintenance rugs, so you will have a hard time pulling them out even with the best vacuum cleaner.
Tassels or Fringes
From my personal experience, rugs with long fringes or tassels should also be avoided. While the frilly exteriors look nice, many pets regard them as their play toy. So your rug will be ruined by your pet after a while.
Jute and Sisal
For pet owners who like natural materials, a sisal or jute rug is a popular choice. Rugs with a jute foundation are easy to clean and extremely durable. Besides, they fit just about any decor style. Even so, you should be careful because natural-fiber rugs absorb smells.
Loop-pile
Pass on loop-pile rugs even though they are very durable. Why? First, pet nails easily get stuck in loop piles. The second reason to avoid loop-pile rugs is that many dogs and cats enjoy ripping up the loops. My advice is to choose cut piles over loop piles.
Plain or Solid Rug
Solid and plain rugs with small details can do a great job of decorating your home. Nevertheless, I don't suggest buying these rugs. That's because stains and dirt can hide and get stuck in them with ease.
5 Best Pet-Proof Area Rugs by Rugcritic
I've sorted through the hundreds of rugs available to find the 5 of the best pet-friendly rugs on the market. Whether you're looking for the best rugs for dogs or the best rugs for cats, you can't go wrong with them.
Tips on Buying Pet-Friendly Rug
Tip #1: Consider an Indoor or Outdoor Rug
They aren't just for outdoors, they are perfect for indoors as-well, especially if you have a pet!
Ever considered an indoor-outdoor rug? Not just suitable for outdoors but fashionable enough to use inside your home as-well. If you haven't thought of this already, think again because you should, especially if you have pets as its one of the best best rugs for dogs and cats that you can buy.
Gone are the days of outdoor rugs looking like patio or door mats, outdoor rugs are actually quite funky and cool and can complement pretty much any living room. Not only are they voted as the #1 best rugs for pets, many people opt to use them as a living room rug in warmer months also – so it's not just for animal loves either.
I've written entire post on the Top 5 Indoor & Outdoor Rugs which you can read here or to view the best indoor and outdoor rugs to buy, click here.
Indoor & Outdoor Rugs are double duty, hence why they are great as pet proof area rugs. These are definitely are top choice for many people, not only if you have a pet, they are a great in-expensive and simple solution.
They are soft for your bare feet and it's also really easy to clean. This will be especially useful for dog owners. They go outside and play and bring the outside… inside. Areas of heavy traffic won't be a major problem anymore.
The ease of cleaning an indoor/ outdoor rug means you won't have to dread rug maintenance. Hours of scrubbing with chemicals and a scrub brush are a thing of the past, and with pets, that saves an awful lot of time. Pets are messy. It's just a part of life.
Tip #2: Small Patterns are Key
Patterned Rugs are a good type of rug to have when you have pets. Click here for latest price & colors available.
I love patterned rugs to decorate any home, but they are a popular choice for pet lovers also. Not only are patterned rugs nicely fashionable in any home as an area rug but are they functional with pets? Yes and No – If you have a pet, a patterned rug is great, but you need to buy the right one (see below for exactly that!).
It's so tempting to find a rug with big patterns with large areas of exposed solid colors in white and neutral tones, but when it comes to being able to disguise stains from our pets such as the odd dog urination, the best way to find a pet stain resistant rug is to go one with smaller patterns, this is the one you need to go for.
If you have a pet and want a pet proof rug, look at buying rugs with smaller patterns and mostly consist of darker colors. Rugs with smaller patterns disguise stains easier than flat large exposed colors that will reveal a stain more easily; the bigger the pattern, the bigger the stain.
Obviously, it won't be the actual size of the stain that matters. If it's on an area of solid color, it's going to be more visible than that tiny little discoloration on that little striped area. Tight patterns, that are small and don't have many big open areas will be your best bet for stain disguise. It's also a good idea to choose darker colors for your rug. Light colors tend to show everything, not exactly being dog or cat friendly.
Tip #3: Switch from a Fluffy Rug to a Low Pile Rug
A low pile rug such as this one shown below, will sustain less damage from whiskers, voted #1 cat rug. Not to mention, higher pile rugs encourage your pets to do some digging. It's just a weird animal instinct. Lower pile carpet can be soft too, don't think you have to buy an ugly rough uncomfortable rug when you think low pile. You definitely won't.
Fluffy plush carpets and rugs such as sheepskin and shag rugs are a cats delight. Cats are infamous for digging their claws into plush carpets (which can tend to be expensive) so to save your bank balance and your cat gripping it's claws into your plush rug, the best rug if you have a cat is a low pile rug.
Dogs could also have an issue with getting their nails stuck in the loops of the higher pile carpets and rugs. Not to mention, higher pile rugs will encourage your pets to do some digging. It's just a weird instinct. Lower pile carpet can be soft too, don't think you have to buy an ugly rough uncomfortable rug. You definitely won't.
Tip #4: Try Seagrass Rugs as Pet Proof Rug
It's no secret that I am an advocate for seagrass rugs as in my recent blog post, I declared my love for them as a stylish, practical and modern area rug. They are in fashion, they are stylish and they are a low cost option to make your home look really modern, neat and sleek. Another great plus with seagrass rugs is that they are good rugs for pets.
Not only a seagrass rugs popular they have added benefits. A sea grass rug is rather water resistant and would be an excellent choice of natural fiber area rug if your home includes pets and if you don't prefer wool. A seagrass rug is also inexpensive and wouldn't be too bad to replace. Don't be put off by the name, seagrass rugs are actually quite fashionable and can suit any neutral colored homes.
A sea grass rug would be a better option for cat owners more so than dog owners as cats tend to leave fewer stains since their litter box is already inside, they are less likely to have an accident waiting to go out.
Tip #5: Wool Rugs Are Also a Good Option
Wool is a great fabric for pet households. It's durable and easy to clean (which is a must when you have a pet around). So you want to look for a rug that has wool fibres so cleaning the rug is easy.
What needs to be considered with wool rugs and the reason I don't really suggest them is that they are not a cost effective option. If your pet ruins the rug beyond repair, it's quite a big deal to go out and another quality wool rug.
Tip #6: Nylon Rugs Are a Durable Rug For Pets
If you don't want to use a wool rug or other natural fibers in your home, another excellent choice when it comes to buying the best materials for rugs with pets would be a 100% nylon rug. These nylon rugs are easy to clean with a vacuum and can even be steam cleaned.
They are a little more expensive than your typical wool rug, but if you would rather use a steam cleaner on your rug in case of a major stain instead of just tossing it and getting a new one, nylon is a great choice. A nylon rug is a pet stain resistant material, making maintenance pretty easy. Nylon rugs are one of the better choices in rugs for households with pets.
RugCritic's Advice
Since we're all on the same page when it comes to the need for a rug for your pets, where do you start looking? There is pet proof rugs which are made of the materials that are stain resistant and durable for your pets. Even better, you can have a stylish rug that will work for you and your pets.
To help guide you in the direction of the best rug for you and your fur babies, we hope our tips and tricks for picking out the best rug to buy for a household with pets has helped you narrow down your option.
Slippery floors can also be hard on the joints of your pets. It's hard for their paw pads to give good traction on hard surfaced floors, which would lead to lots of slipping and sliding as well as some scratches on the floor from your pet trying to get a grip.
Having a rug on your floor will also be nice and soft for your pets to lay on and carpeted floors tend to hide messes a little better and they also can dull some of the noise from the pitter patter of 4 (or more) happy little feet running about.
But hey, dog and cat lovers, there is hair and let's face it (lots of it) – they have paws that scratch and dig, which can often ruin that much loved rug that your in-laws bought when you first moved into your house.
When you're thinking about a rug for your home and your pets, think for yourself and your pet and keep the above in mind – remember, you have to do the cleaning up after them. The choices, tips and ideas I have given above should make the decision alot easier for you.
Remember – think about stain resistance, fibers, high pile vs low pile, care?
Vacuuming will be a big part of your cleaning routine as a pet owner and you need to make sure that any living room rug (or any household rug for that matter) won't fray from the suction. Don't forget to take a look at the indoor outdoor rugs! They will seriously surprise you.
Finding a pet friendly rug won't solve all your pet related issues, but it can certainly make life simpler for you and more comfortable for your furry roommate. Keeping up with regular care in accordance to what the manufacturer specifies will extend the life of your rug. There are also rugs made especially for pets, so if you choose, you can put out the money and get one that is designed specifically for dogs and cats to be stain resistant, scratch proof and easy to clean.
How to Clean Pet Stains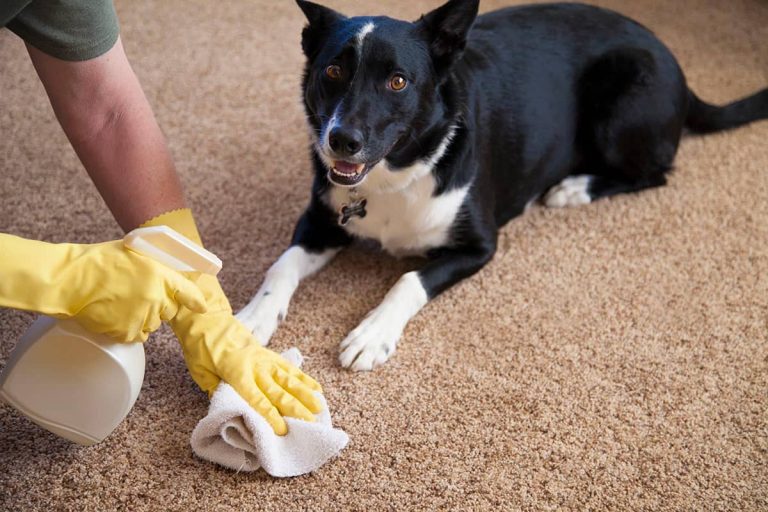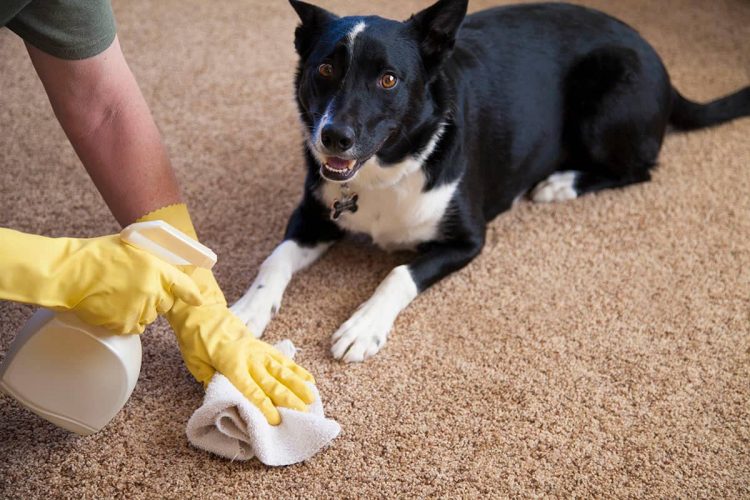 If you want to remove pet stains from your rug, follow these steps:
Soak with vinegar – Mix water and white vinegar (50/50 solution) in a water bottle or a bucket and apply it over stains.
Sprinkle with baking soda – Pour baking soda over the saturated stains while the area is still wet. Wait a few minutes. When it begins to fizz and crackle, this means the vinegar and baking soda are starting to react. That should lift odors and stains out of the rug fibers.
Vacuum it up – Leave the affected area to get dry thoroughly. It may take up to 48 hours. Once it is completely dry, clean up the remaining substances of baking soda using your vacuum. I've also written a complete guide on how to buy the best vacuum cleaner for area rug.
Wash it up – If your rug is still not perfectly clean and fresh, you should wash it in the washing machine. This extra step is only recommended for washable rugs.
Bring in the professionals if needed – While this simple stain removing process works well without discoloring the carpet, some stains and odor may remain. Deep professional cleaning with commercial cleaning supplies will get stubborn stains out of your rug for good.
Key Takeaways
Now that you know what to avoid and what to seek, you're more likely to choose the perfect rug for your furry friend. Consider the materials, key features, and styles mentioned above when shopping for a pet-friendly rug. Match it to your living space and pet to make sure they function together in harmony.
Happy shopping!