What I love about these most popular outdoor rugs I have selected here is that they are suitable for inside the house. Yes you read that right. Bring the outdoors, indoors with these indoor/outdoor rugs.
All these best selling rugs are that categorized as indoor/outdoor rugs, so they definitely have a place in a household. That place is pretty much wherever you want them to be.
Gone are the days that outdoor rugs looked like outdoor rugs, and I am not using the indoor/outdoor rugs as one or the other, I am talking about rugs that are both Indoor AND Outdoor.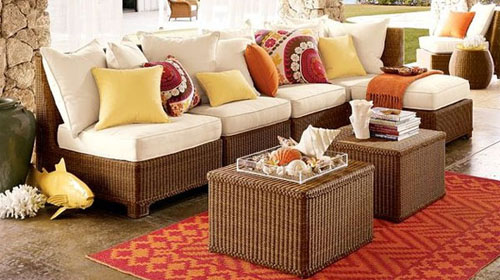 Outdoor rugs, when I was a child reminded me of door mats made from hard scuffed material only suitable for scraping boots or hard shoes against. Now I've reminded you, now forget it, because gone are those days!
Well if you are not update to date with the rug trends, let me help you out. Outdoor rugs are the new 'in thing' when it comes to decorating inside your home. You can surely bring that outdoor rug, inside. It's pretty common (and a fast growing popular home décor rug idea) to find rugs that are indoor/outdoor suitable in dining room areas, living room areas, under coffee tables, in hallways, lanais, pool decks, foyers and other high traffic areas.
Now it's time to get started with the Top 5 Indoor/Outdoor Rugs currently available today.
TIP: If you don't like any of these rugs, don't worry, there is more options. Within my circle of friends, I am known as the home décor queen and although I do have the first couple of indoor/outdoor rugs in my home, I do understand that bright colors do not suit anyone (one of my friends is an all black person). Me personally, I am going with the new rug trend of layering 'outdoor rugs' such Exotic Rugs (eg. Seagrass and Jute Rugs) with wool rugs inside my home.
Cancun Indoor/Outdoor Rug By Fab Habitat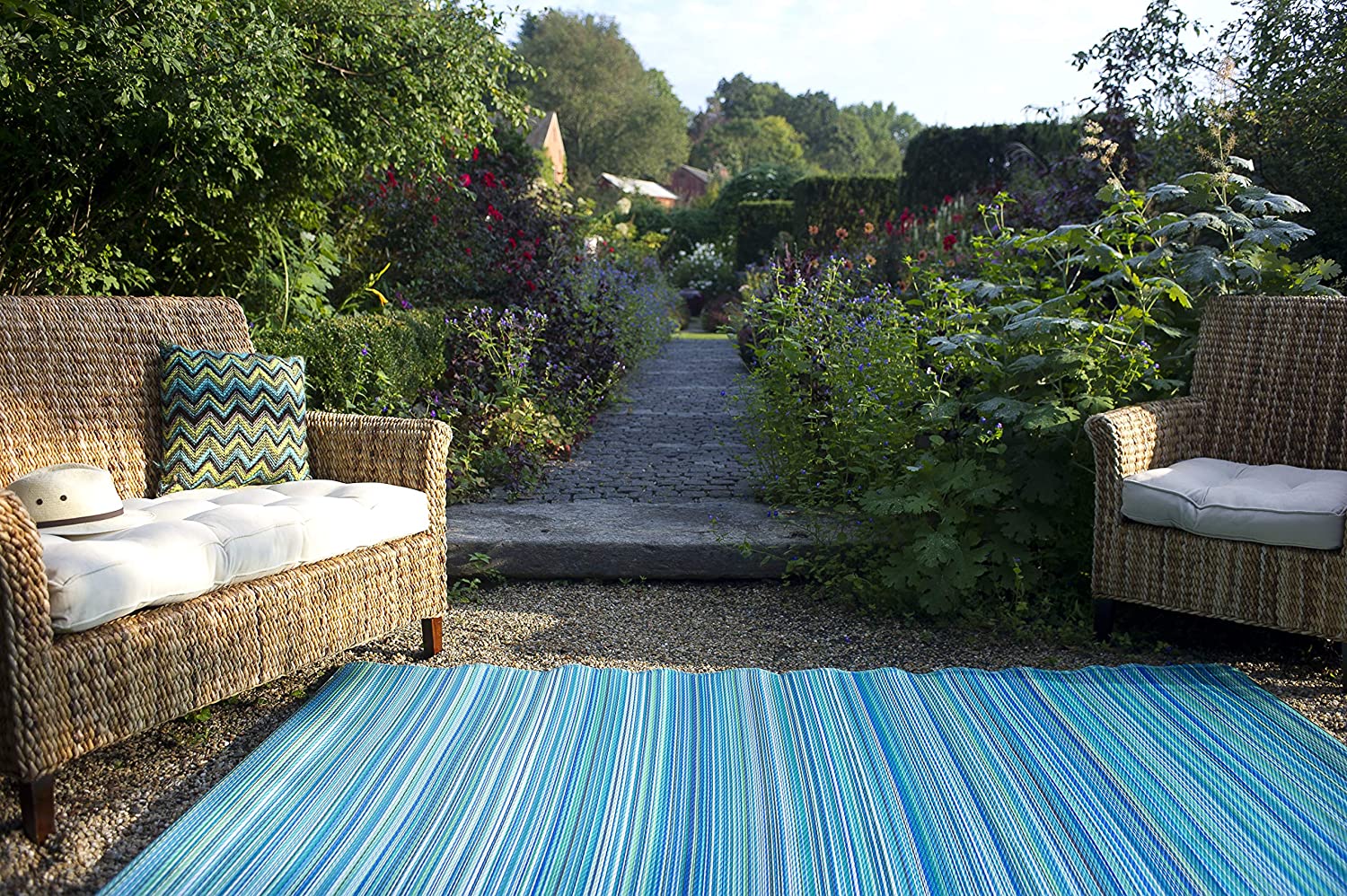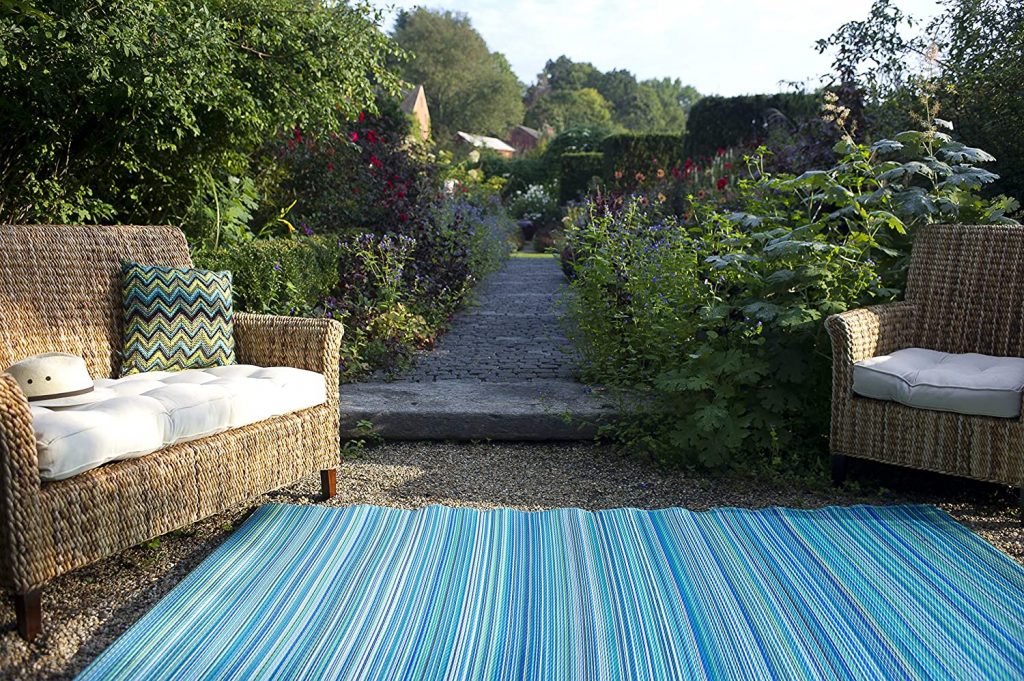 Fab Habitat sure knew what they were doing when they came up with this rug. It's a woven rug made from upcycled plastic. If this doesn't appeal to a full crowd of people, I don't know what will.
You can rinse this rug off with a hose if you need to and you can rest easy knowing that this rug did something great for the environment with used plastic that otherwise would have been sitting in a landfill somewhere.
Available in turquoise and moss green, this rug gives a tropical feel to any room or area that you put it. This rug is also reversible, so feel free to change up your style at any time. Don't be discouraged about the strength of the rug, it's woven tightly to ensure its durability. It wouldn't be made for outdoors if it couldn't handle the heavy traffic indoors.
Lhasa Indoor/Outdoor Rug By Fab Habitat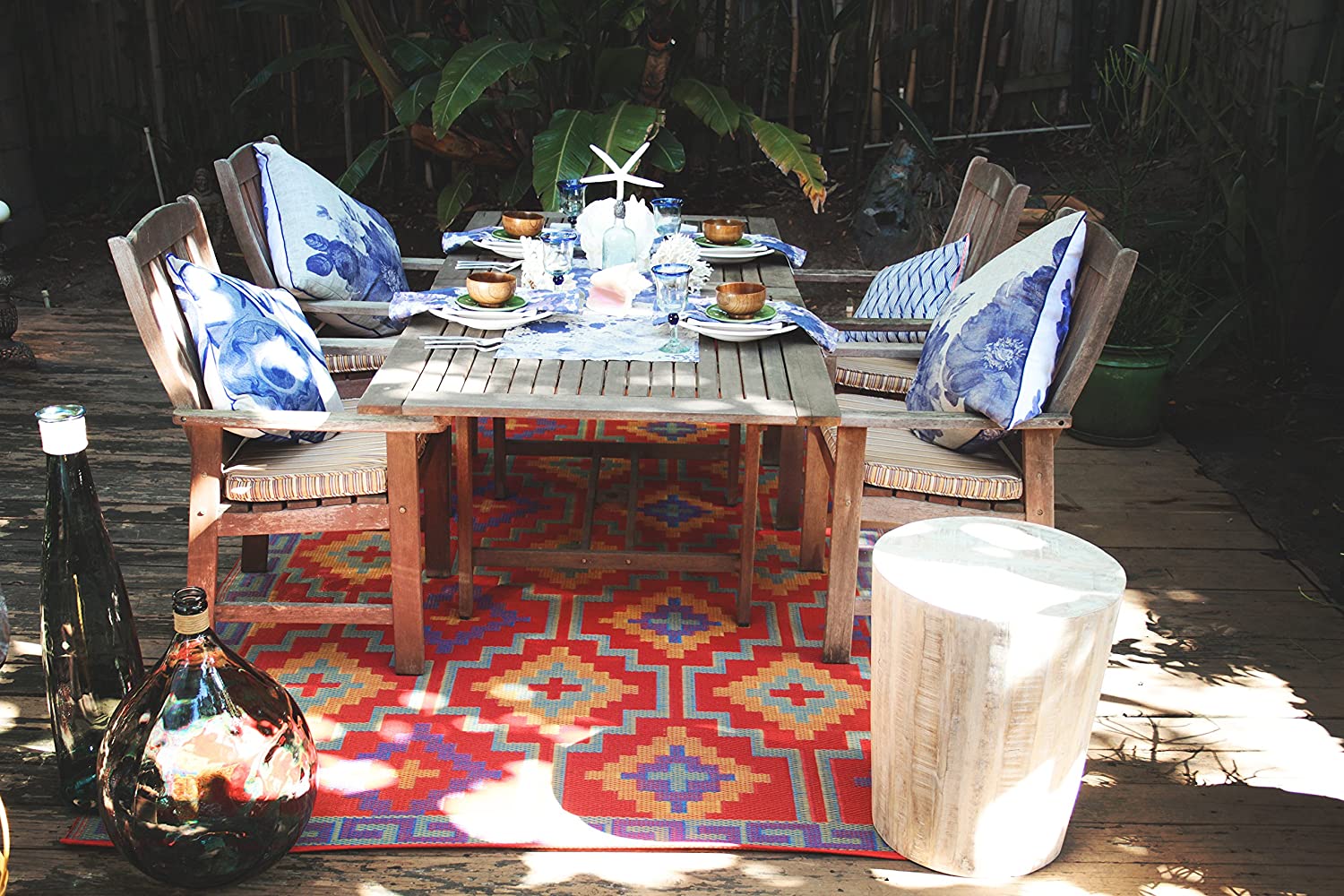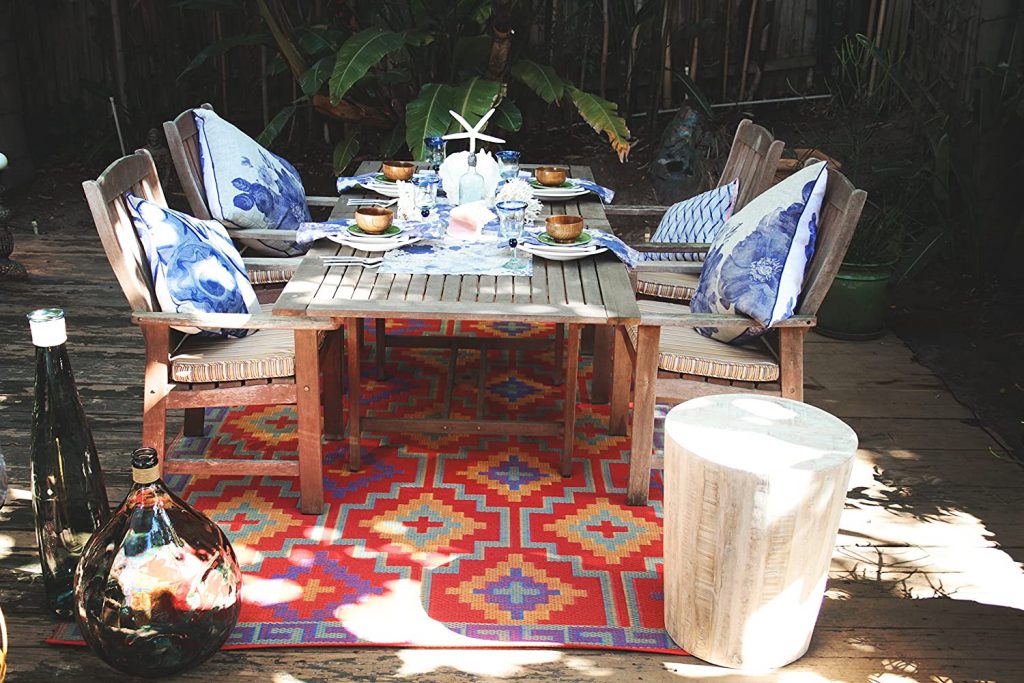 Another fab rug by fab habitat is the Lhasa. Also made from upcycled plastic, this rug offers sophisticated style and functionality no matter where you put it. Is your dining room a little formal? Would you want to add a touch of class to it? This rug would definitely be a top contender for you.
You can shake it off to clean it and even give it a good rinse off with the hose. It's also reversible to offer more than just one style choice. Mix it up a little, this rug will still be the strong durable rug you've wanted in your area for so long. If you have an outdoor patio area, this rug would be perfect. Host a summer dinner party, fondue is mega fun under the stars. This rug will pop and wow your guests with its style and simple yet intricate design. A little more expensive than the Cancun rug by Fab Habitat, but you can't really put a price on such style and functionality.
Murano Indoor/Outdoor Rug By Fab Habitat
I know what you're thinking by now. Fab Habitat has it all, can't really deny it, they make some pretty amazing rugs. Like the other rugs, this one is also woven from straws made from upcycled plastic. What makes it stand out though, is its elegant design.
Fab Habitat Murano rug is available in 2 different colors and 4 different sizes.
This design is so beautiful, you might not want to put it outside. It is nice to know that you could if you decided to make a beautiful stand out sitting area or dining area in your backyard. It's also reversible, however the reverse side is just as elegant but would also make a nice rug for the entry way as well as the dining area, living room or wherever else you can imagine putting this rug. Beauty and simplicity really come together in perfect harmony here. Take a look for yourself!
Tangier Regatta By Fab Habitat
Looking for something that looks stylish and classy but can also handle the mess your family dishes out? The tangier regatta rug is exactly what you're looking for.I personally love the pattern of this rug, it is very fashionable right now, I've seen it in quite a few gardens and patios of recently.
Fab Habitat Tangier comes in a variety of colors and sizes.
The style of it is a simple pattern in a nice blue and white color. It's a reversible rug and both styles would suit a dining room area both indoors and outdoors. Easy to clean, a simple shake and occasional rinse with the hose is all it needs.
Venice Indoor/Outdoor Rug By Fab Habitat
This beautiful rug is the perfect piece to add class and beauty to a simple area. You don't need much in combination with it to tie a room together. The best part is yet to come, it's made of upcycled plastic and is so easy to clean.
Reverse it for another look and feel to your room, nothing that is fun ever stays the same all the time. Switch it up every now and then and rest assured knowing that you won't have to put much work into maintaining it. You can shake it off or spray it off every once in a while. Don't worry if your kids crunch cheerios into it, just take it up and shake it off, good as new. This rug was made to stand the test of the years and really stand up to what life has to throw its way.
Why Are Outdoor Rugs So Popular?
We used to only refer to outdoor rugs as outdoor rugs, now they have the dual purpose of being both suitable for indoor and outdoor use. Indoor/Outdoor rugs are made for heavy duty use and can handle moisture and be resistant to stains and spills. The reason why a lot of people buy indoor/outdoor rugs is for many reasons; one is because they are notoriously easy to clean and another, because they are one of the best rugs you can buy if you have pets.
Buying and indoor/outdoor rug is also a major benefit for rooms where spills can happen or anywhere kids or pets can run amuck.
If you have kids, you know how important it is to have an easy to clean rug in the dining area. They are messy eaters and sometimes, dinner time artists. That bowl of spaghetti quickly finds itself on the floor. Sauce, red sauce especially is a very stubborn stain to get out of carpet, so a rug that can resist stains is an absolute must.
The job of a rug isn't just to add color and personality to a room, it's also to make life a little bit easier for you. Besides, who doesn't want a rug that they can take the hose to? Cleaning isn't fun… but if you have an indoor/outdoor rug that is super easy to clean, at least it doesn't have to be such a daunting task or time consuming task cleaning it.
Unfortunately, it won't make doing the laundry any less boring. (Sorry!)
RugCritic's Final Word
Indoor outdoor rugs are a fabulous way to have a beautiful and simple area both inside your home and in your backyard. You know what they say, your backyard is another great room in your home. Decorate the rooms in your home with the peace of mind that you don't have to work hard to maintain it. Go ahead and shop about, find what you like and enjoy the simplicity of an indoor/outdoor rug in your home.