On the market for a new area rug for your home? If you aren't already, you should be.
Why?
Because rugs really tie a room together. Your furniture is no longer floating around the room. A rug brings everything together and finishes off your home. A rug ties together all the furniture around the center area of the room, the area rug. For more on why you need an area rug, read the end of this article.
Now that we can agree on how important an area rug is, let's check out the Top 5 Living Room Rugs a.k.a Area Rugs on the market right now.
Safavieh Shag Collection Shag Area Rug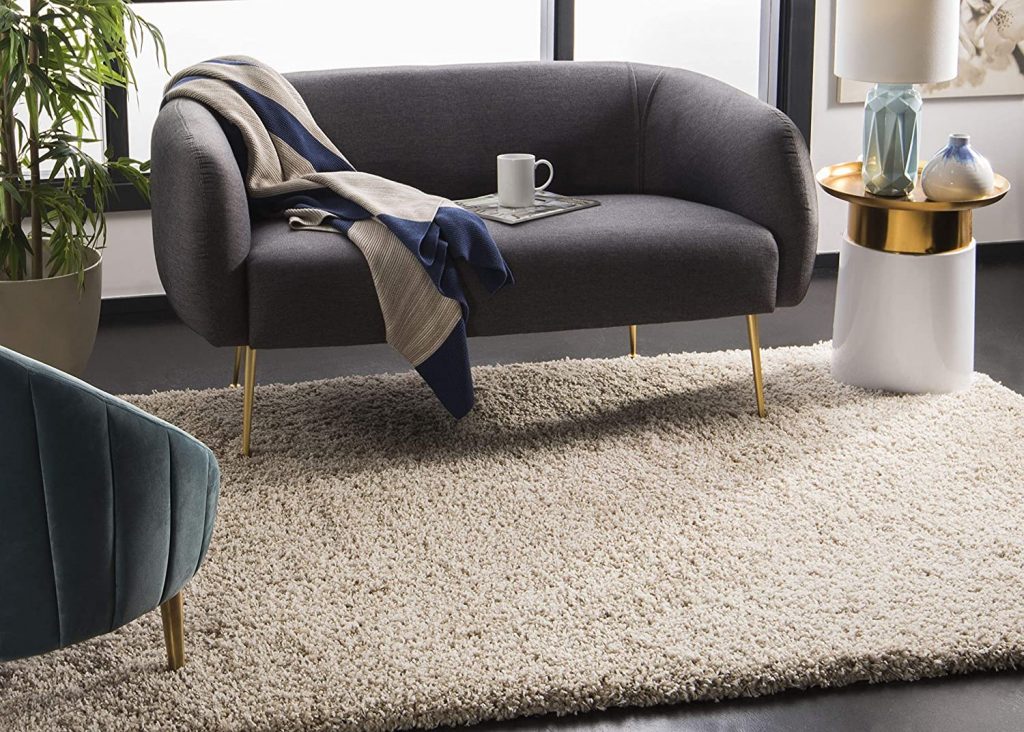 Safavieh did it again, they made us fall in love with yet another rug. This beautiful shag rug comes in several colors and is so hard not to love. When your feet hit the rug, you'll know you have pretty much bought one of the best living room rugs on the market right now.
The Safavieh shag rug is made with a high density polypropylene and is super plush. It's also very durable as it was power loomed to ensure that it would last a long time. If you have a hard floor or if you just want something cushiony under your feet, you're going to want this rug, everybody does, hence why it's one of the best selling rugs. Adding a pop of color and style to your living room has never been easier than with this shag rug by Safavieh. You can find so many different colors starting with a contemporary neutral beige to a stand out knock your socks off purple rug. No matter your style you'll love this rug.
Superior Living Room Rug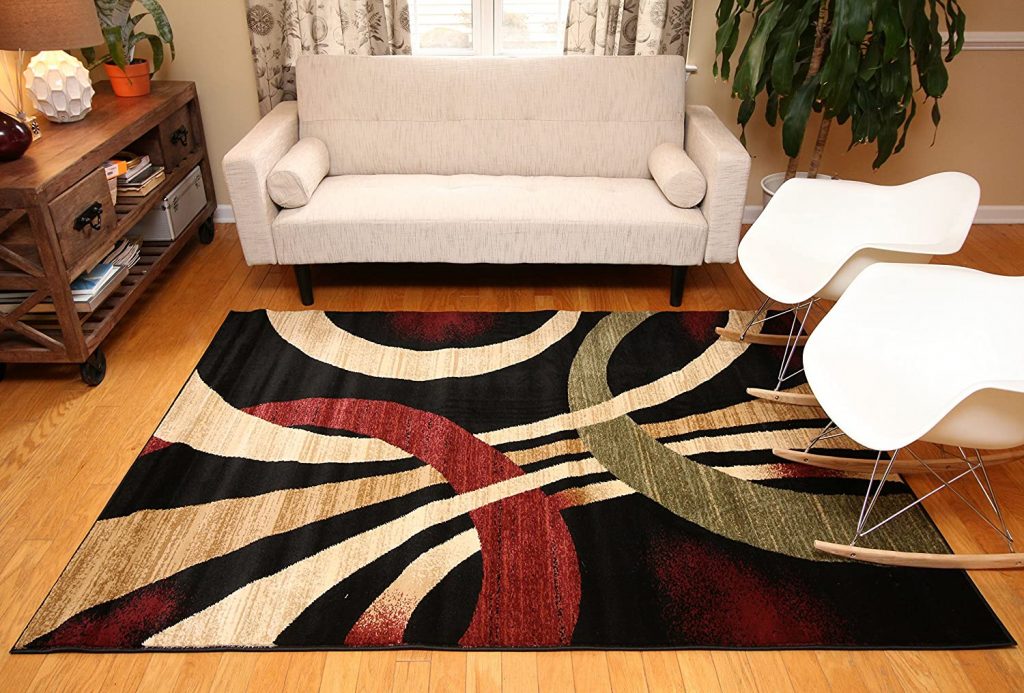 Another Turkish made rug for you, this one by New City. It's made in Turkey out of 50% wool and 50% Heatset Olefin twisted yarn. This rug is stain resistant and fringe free leaving a clean design and allowing you to only admire its unique qualities and designs it possesses.
You won't need an additional back pad for this as the backing is kind of hard on this rug, assuring that it wears well. The material is also pretty soft and feels nice to walk on. There's a certain accent of class when you put this area rug in your living room and with mostly neutral colors in the design, it will fit in perfectly no matter the décor.
Abstract Swirl By Persian Rugs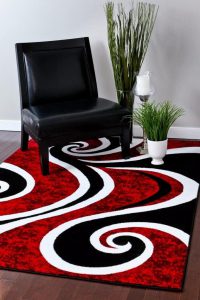 Another popular choice made by Persian-Rugs is this swirl designed abstract area rug. It can be found in a few colors ranging from red, black and white to even purple!
These bold colors and abstract designs are the perfect way to add a pop of color and chic design to your living room. Better yet, this rug doesn't just make a style statement, but also a statement of comfort.
Plush and soft under foot, you'll love the way it feels on your feet and will likely find yourself digging your toes in pretty often. If the price of the previous Persian Rugs area rug put you off, you'll find that you like this one much better.
Safavieh Florida Shag Collection Rug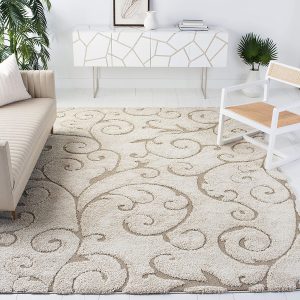 Who doesn't like shag rugs? If your thinking whether you want to buy a shag rug or not, my advice, go with it. Shag rugs are one of top rugs for the house as they simply, never go out of style. A classic, plush, soft rug that can pretty much suit any living area.
This particular shag rug, the Safavieh Florida Shag Rug, sold by Safavieh from their 'Florida Rug Collection' is definitely a hit on the market.
A very dense polypropylene pile makes this rug very plush and pleasant under foot. Don't be fooled by its softness though, this rug can withstand the test of time. The rug is of a modern style with a smoke pattern on the background and gives a very contemporary modern look and feel to the room. The color of the rug is pretty neutral and can fit in with whatever furniture and décor you have; even taming some pretentious designs you may have. With standard cotton backing, you won't have any hard spots in your rug and if you put a pad underneath of it, you'll only add to its already luxurious softness.
Persian Rugs Abstract Area Rug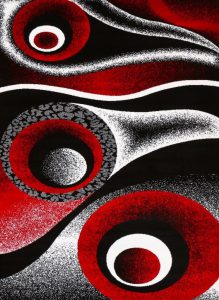 Do you enjoy having a glass of wine? If so, then this area room rug may just be the best rug for your living area. This beautiful abstract area rug by Persian Rugs is made in Turkey of high quality polypropylene, making it very stain resistant. The rug is soft, yet durable and can withstand the test of time.
Available in 5 colors and 8 sizes, click here for more info.
Available in several very bold colors, this rug is sure to make a statement in your living room. It's a very thick and plush soft rug, pleasing to the feet and eyes and would be great over a hard wood or tile floor to add comfort to the room most commonly noted for relaxing, maybe with a glass of wine, since you need not worry about stains.
Why You Need an Area Rug
We've all seen it, an ugly carpet in a beautiful room. The furniture can hide most of it, but in the middle of the floor, there it is. The hideous carpet. Buying an area rug is a much simpler solution to the problem.
Why tear up the floor and have to buy new carpet and have it installed? That just makes your home a construction zone for a while because you can't have your furniture where it should be. Too much work if you ask me.
Rugs can be found all shapes and sizes, colors and patterns to suit your own style and decor.
Or let's say there's just a stain in the middle of the floor. Your kid thought sharpie marker was a fabulous way to decorate. Just toss an area rug down and you're good to go. If they draw on that, you can always get it dry cleaned or even just replace it.
Oh and the pop of color that rugs give off, oh my goodness for me it's the best part. I love going in to a room and noticing a big pop in various places. Area rugs definitely can take a boring space and make it a fun and visually appealing one.
Area rugs can be used to cover an ugly floor, hide an obvious stain, add a pop of color, tie a room together, and that subtle plush rug can add a softness to a hard floor that otherwise would be missed
Area rugs are super versatile, for the term 'area rugs' pretty much means these rugs they are suitable for any area of the house, including the living room, bedrooms, kids room and dining room or really just anywhere that you your heart desires.
RugCritic's Final Word
There you have it, the hottest rug buys on the market. With this guide to assist you in your shopping, you're sure to find the one you want and really add that finishing touch to your living room.