When my sister in law first walked into our new house a few years back, her first thought was it was a purely white Shih Tzu sleeping comfortably on the floor. At closer inspection, she realized, 'Oh boy, that's a sheep skin rug. That's a rug?!'
Yes, it was not a dog but it's a really adorable, soft white sheepskin rug (a lambskin rug to be exact). And no, no cute and tame shih tzus were harmed in the making of these rugs or this article. (P.S. Since I liked this rug so much and that it resembles my frisky and adorable Sheepdog, I named my sheepskin area rug after my sheepdog, it now becomes a conversation starter when I have friends and family over)
With a delightfully long and fluffy pile, this genuine sheepskin rug (view here) is an irresistibly luxurious place to sink your toes into after a long day, especially when you are home after a really long, tedious and stressful day from work. You deserve the best and you deserve a good break.
Bowron Sheepskin Rug Features
Versatility
I recently wrote how a natural sheepskin rug is popularly used as a sheepskin baby rug as they are especially safe and soft for babies.
Whatever kind of flooring you have in your living room, from wooden to laminate flooring, this sheepskin rug will add great texture and warmth to your living space, mostly notably on areas like bedrooms, living rooms and yes, it is a good fit for nursery rooms! I'm sure this excellent rug will find its rightful place to your home.
Just a quick note: This is a real sheepskin rug so it's a 100% lambswool rug.
Provides Warmth
Sheep skin rugs are most certainly perfect for countries with cold climates because they offer very good warmth over the winter months because of its wooly texture.
Another thing is, this rug is very distinct amongst all other rugs because you can really say and see that it is made from Longwool Lambskin, meaning it comes from sheep hair. I like the texture. It feels like a very hairy stuffed animal – fluffy would be the perfect term to describe this rug. If you have kids then this would be a perfect choice for you because of the features it offers.
Other Features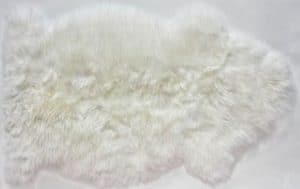 Another added benefit, it is stain-resistant and comes with a non-slip backing.
You can pretty much put sheepskin rugs anywhere since they offer varying sizes and designs, your not just limited to this bowron sheepskin (here), you can view all sheepskin rugs to choose from here.
The most popular from the above are the white sheepskin rug but you can buy sheepskin rug as a grey sheepskin rug, brown sheepskin rug, black sheepskin rug, double sheepskin rug, small sheepskin rug, Australian sheepskin rug, large sheepskin rugs, ra ound sheepskin rug and quad sheepskin rug.
And not to mention, the color white matches virtually any color so blending it with any house decor is not a problem. That's the color that I chose, though. But there are other colors that are offered so, you are definitely free to choose whatever color you desire!
Cleaning & Care
You have to clean this regularly by vacuum cleaning and hey, it's actually a machine wash sheepskin rug! That's incredibly convenient if you want to keep sheep rugs in its good and/or mint condition. Proper care of cleaning and washing can definitely make this rug last a very long time, no doubt about that.
Affordable
Best of all, it surprisingly a cheap sheepskin rug (check price), compared to other brands and types and actually lives up to its name. I was utterly surprised, I got mine on sale but generally it's quite well priced year round. From a rating of 10 to 1, 10 being the highest and 1 being the lowest, this rug definitely scores a perfect 10 from me.
To end this review, this rug is definitely perfect for me because of the reasons I stated above. It is comfortable, stylish and economically sound. It would definitely be a great idea if you get one for your home today!