Vinyl flooring is a great alternative to tile and hardwood floors due to its versatility and flexibility. It's prone to damages, though. Use the best rugs for vinyl flooring to avoid potential damages like scratches, abrasions, and stains. The area rugs and pads can help protect your vinyl flooring by keeping heavy objects and furniture from sliding or slipping and causing permanent damages.
Type of Rugs for Vinyl Floors
Are area rugs safe for vinyl plank flooring?
Well, not all.
Choose one labeled as colorfast and made of a safe material such as wool, natural fibers, or cotton. You will be able to use it without fear of damages to your vinyl flooring. Look for non-slip rugs for vinyl floors and avoid synthetic materials like latex and tough rubber.
Avoid These Material
You need to avoid rugs that come with latex and rubber backing if possible, especially ones with an old plastic mesh. Nonetheless, you can still use rubber and latex rugs if you place a tick, soft pad underneath.
What about polypropylene rugs? Are those area rugs safe for vinyl floors? While polypropylene mats are generally low maintenance and very durable, I recommend avoiding them because they can scratch your flooring.
Main Features of Rugs for Vinyl Floors
The area rugs come in a variety of materials and sizes and a wide range of features. Here are a few features you should look for in rugs for vinyl floors.
Soft Backing
Choosing a rug with wool or cotton non-slip backing is a safe bet. Natural rubber is also a good choice for vinyl flooring in terms of performance and safety. Although such a backing features strong gripping power, it doesn't stick to the vinyl floors. Even so, I suggest placing a rug pad under it just in case.
Waterproof
People living in busy homes with pets and/or kids have a hard time keeping their vinyl floors clean. Lucky for them, there are a lot of waterproof area rugs on the market. Those rugs prevent water and moisture from making stains on flooring. The spills will stay on the surface of your rug, ready to be vacuumed or blotted up.
Colorfastness
Whether you plan to purchase a modern grid or traditional oriental rug, testing for colorfastness is always recommended (if possible at all). It will help you determine whether the dyes will be bleeding into your floors and other areas when exposed to cleaning solutions or fluids. Colorfastness also matters because it ensures that the colors of your rug won't change over time in some way.
Best Rug Pads for Vinyl Flooring
Rug pads are essential for high-traffic areas. They keep the vinyl floors safe by providing an additional layer of cushioning. The pads are intended to be placed under the area rugs and they're necessary for rugs having rough backing.
When choosing the right pad for your rug, you need to pick one that is thick, durable, and made of floor-friendly materials. Be sure to choose the right size and buy a pad that provides a non-slip surface. Here are a few rug pads you need to consider buying.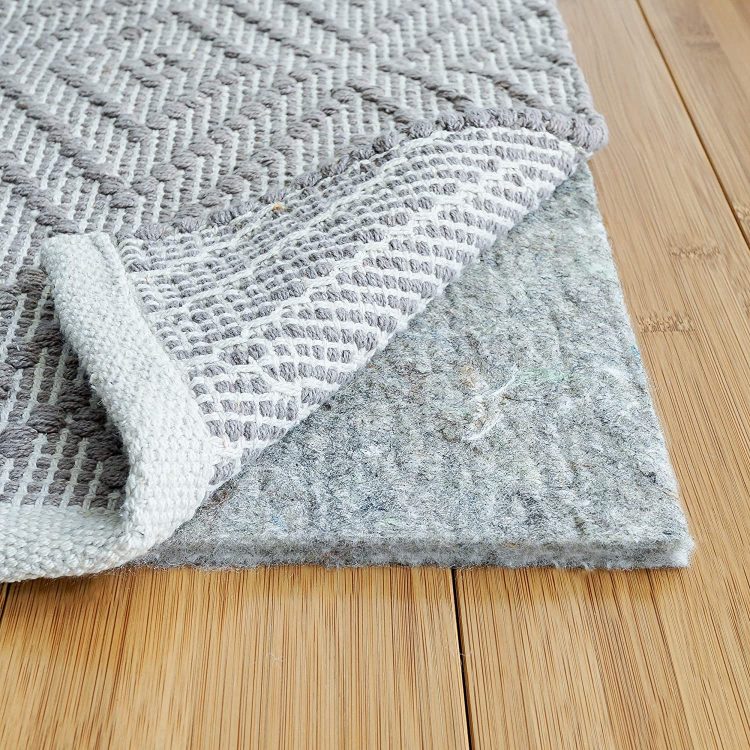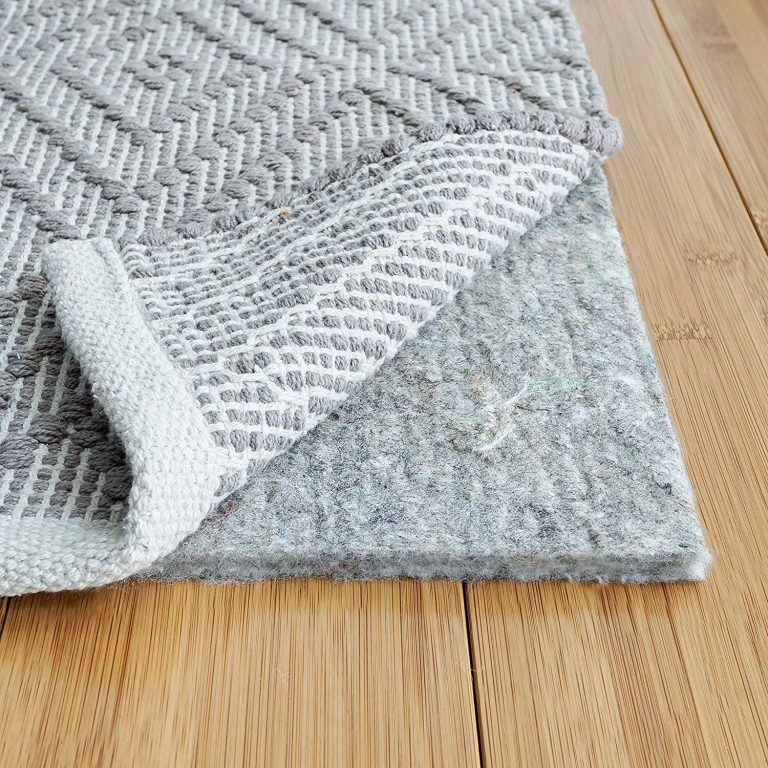 Here's another pad you should consider putting under your area rug to add extra cushioning and enhance its grip. Being a 3/8″ thick rug pad made of recycled felt, it will neither be noticeable nor stain your vinyl flooring. This protective gripper doesn't only provide an extra-plush feel to feet, but it also offers floor protection and superior comfort. You can rest assured that it will protect your vinyl flooring from damage without staining floor finishes.
Check Price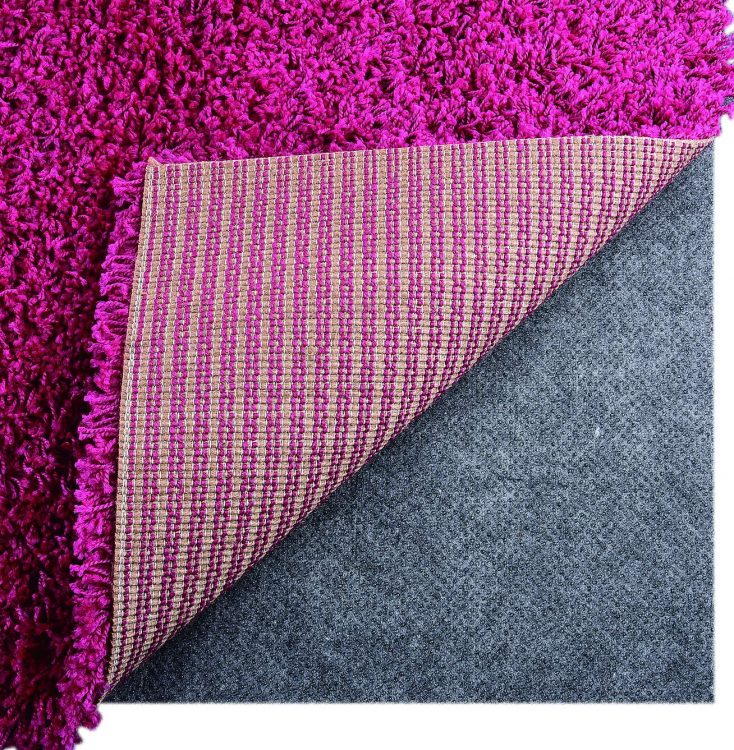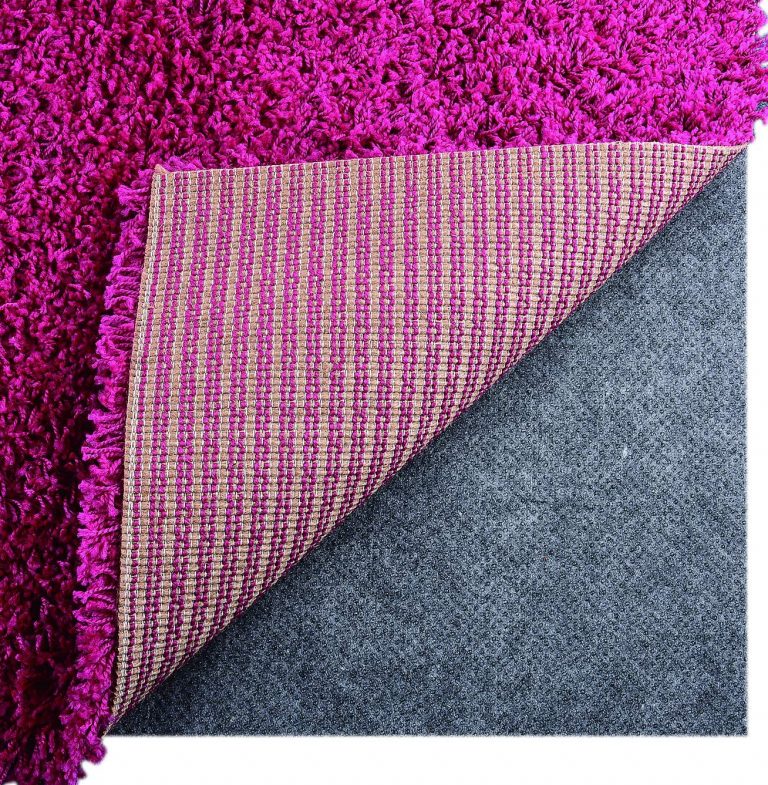 In addition to adding a luxury appearance to your home decor, this non-slip mat will protect your vinyl floor from the furniture. You can use it on just about any hard surface, including hardwood and tile flooring. Measuring 3 by 5 feet, this 0.06-inch thick pad can fit into most rooms. It is equipped with anti-slip double-sided grips that will lock your rug in place and prevent it from sliding.
Check Price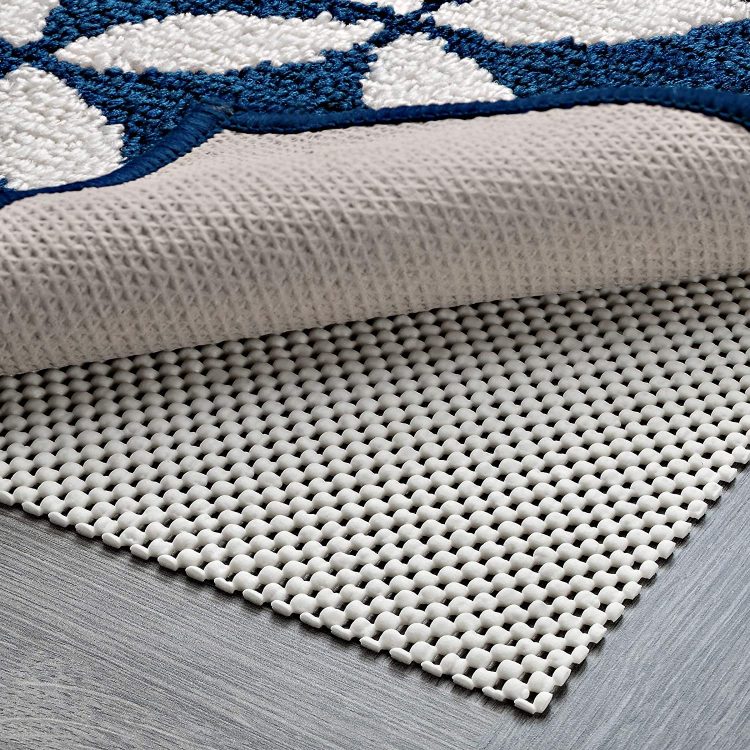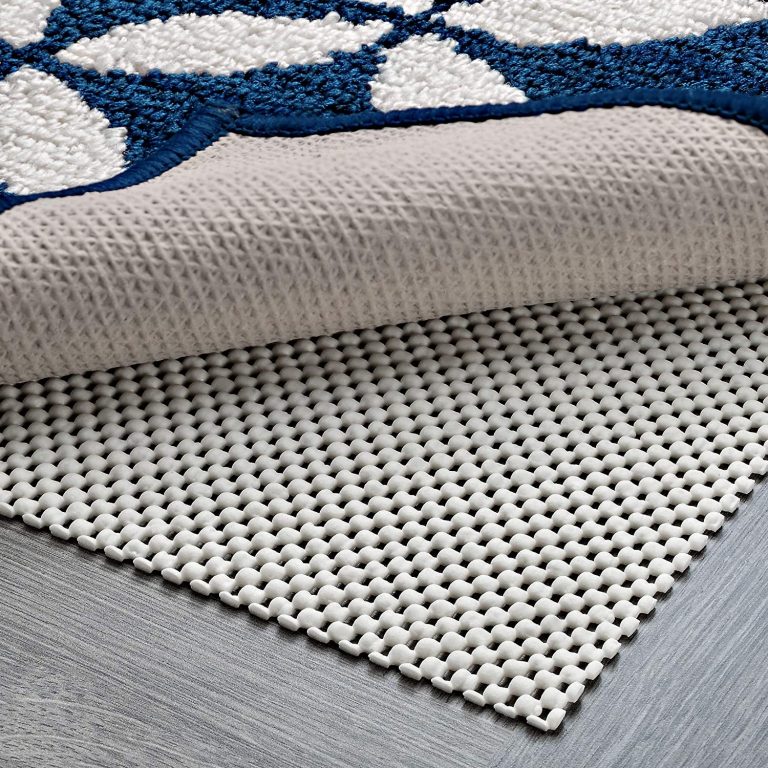 This non-slip pad will provide extra comfort while keeping your rug in place at the same time. It is recommended for people with children and pets. The pad will prevent sliding and bunching while they are playing on the floor. Note that this a pretty large mat. The actual size is 90 x 116 inches (8 x 10 feet); however, the pad can be cut to fit a particular rug.
Check Price
Key Takeaways
You are advised to search for low-profile, non-staining rugs for vinyl floors. It is critical to pick an area rug made of a material that is safe for vinyl floors. Make sure it is waterproof and colorfastness. It must come with soft backing alike. Consider using a rug pad too. Look for one that offers an anchor grip to keep your rug firmly in place and prevent slipping without damaging vinyl flooring beneath. It's worth the additional cost.